Laurel Park picks and ponderings February 26, 2021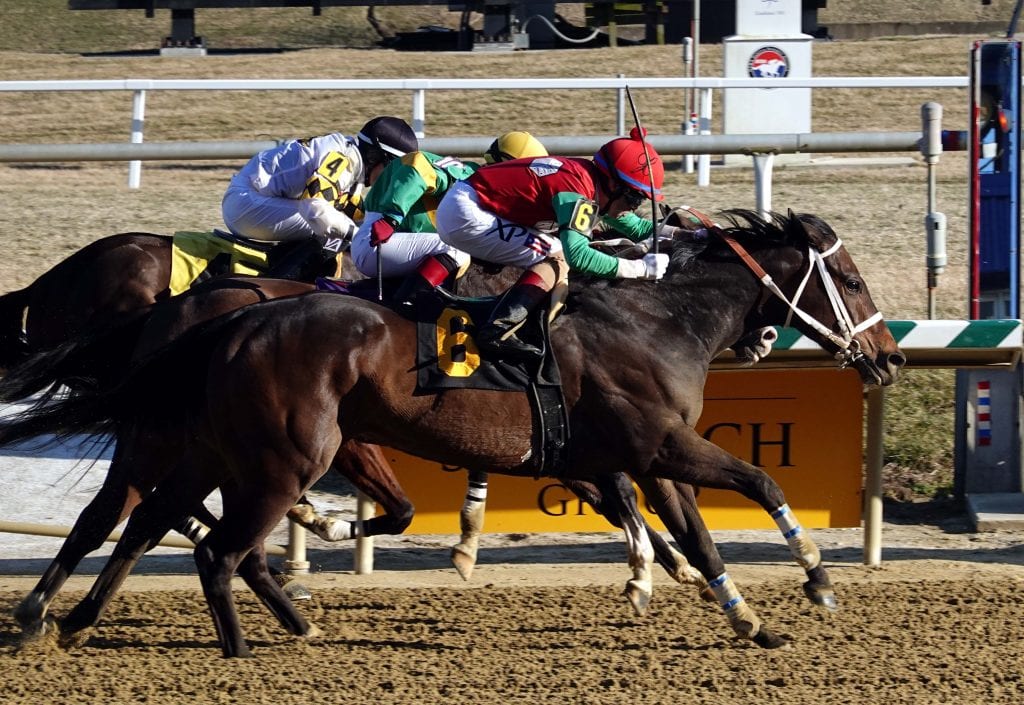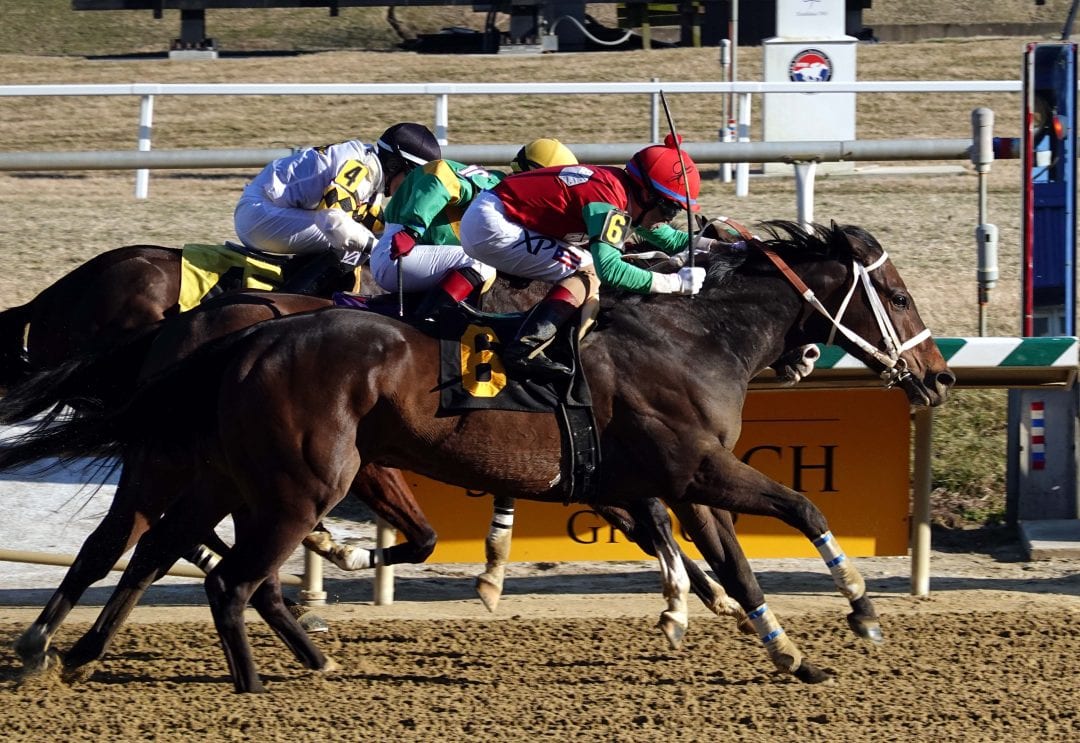 Anna's Bandit. Photo by Laurie Asseo.
In which we pick the races from Laurel Park each day…
Post time: 12:25 p.m.
Carryovers: Rainbow Jackpot Pick 6 — $1,275 Super High 5 — $1,315 Late Pick 5 — None
ANALYSIS
RACE 1: MAIDEN CLAIMING $16,000, 4-YEAR-OLDS AND 5-YEAR-OLDS, FILLIES AND MARES, 5 1/2 FURLONGS
5-2-6-4
#5 Caprichosa (8/5): Drops back in for a tag after a try against Pennsylvania-bred maidens. She ran some promising brisnet figures in the upper 60s last year, but has declined a bit in her last few. Turned in a good workout since her last start, where she backed up badly after briefly menacing. 
#2 Steely Band (1/1): It's not great that she keeps missing against similar, including runner-up finishes in her last two. However, she's never faced a field this soft, and made a moderate rally when going six furlongs two races back. Cutting back from seven furlongs last out should help the cause.
#6 Hell in a Shell (6/1): Bred by the University of Maryland, this filly will hope to run a bit faster than a terrapin on debut. Her workouts have been solid, and faces a pretty turtle-like field. She'll have to run relatively big to catch the two favorites, but no reason she can't round out the trifecta.
RACE 2: MAIDEN CLAIMING $16,000, 4-YEAR-OLDS AND 5-YEAR-OLDS, 1 MILE
5-4-6-7
#5 Hinting (10/1): He almost wired the field going 1 1/8 miles last time, after setting a nice, lonely lead. If Alex Crispin once again guns him to the lead, he can definitely get a similar trip and leave them reeling at a price.
#4 Start the Parade (3/5): Claudio Gonzalez claimed him for $25,000 out of his last start, and now drops him in for $16,000 after giving him a few weeks off. In both of his races, he's earned figures in the 70s, which would blow away these. Still, he's never gone this far, and I'm not crazy about the class drop. Going to tread a bit cautiously.
#6 Orbonthebayou (20/1): He's lightly-raced, and has improved his figure in each of his three dirt starts. Last out, he raced wide on both turns, and flattened out, but still earned a career-best figure of 56. Worth a stab to round out the exotics at a price.
RACE 3: ALLOWANCE (N/W1X), 4-YEAR-OLDS AND UP, FILLIES AND MARES, 6 FURLONGS
3-4-5-6
#3 Remain Anonymous (9/5): Finished second to a pretty nice horse last out: Hibiscus Punch, who went on to win the Barbara Fritchie last Saturday. This one raced pretty well in that spot, closing off a moderate opening quarter to finish second. She's run her two best figures in her last two races, and drilled a bullet workout last week getting ready for this race.
#4 Vics Cool Cat (8/5): The dominant speed in the field. She got caught up in a duel last out, but fought gamely in the stretch and lost by a neck. In this race, it doesn't look like there's anyone who can run with her early. That means that she can open up early and steal away.
#5 Be Good (5/1): Cuts back in distance after stretching out in her first start against winners. Her best races have come shorter, including a career-best figure of 80 earned while breaking her maiden two back. Next to Vics Cool Cat, she has the best early pace figures in the field.
ANALYSIS
RACE 4: STARTER OPTIONAL CLAIMING $25,000, 4-YEAR-OLDS AND UP, 7 FURLONGS
1-5-1A-6
#1 Shane's Jewel (2/1): This Jamie Ness trainee has won two of his last three races, including a win against roughly equivalent competition last out at Penn National. He got a fast pace to run at, but he still drew away impressively, and he's run similarly good races sprinting over this track. Looks dangerous second off the layoff.
#5 Cerulean Springs (5/2): Raced very well at this level last year, then tried stakes-quality allowance company in his most recent two. He never looked like a threat to win either one, although his figures were certainly respectable. Should find this a bit easier.
#1A Shanghai Superfly (2/1): Starts at Laurel for the first time here. He was uber-consistent all of last year, with a steady string of figures in the mid-80s. He's dropping from a n/w2x allowance at Parx, which are pretty salty affairs. In that race, he raced wide and faded. He's been given a little time off since then.
RACE 5 – CLAIMING $10,000 (N/W3L), 4-YEAR-OLDS AND UP, FILLIES AND MARES, 6 FURLONGS
6-1-3-5
#6 Long Point Beach (7/5): She looked very promising at this time last year, reeling off two straight wins with strong figures. However, she has struggled to hit her stride in her last three races. This is a giant drop in class; she was most recently seen finishing fourth in a Maryland-bred allowance after setting the pace. She's in a now-or-never spot today.
#1 Solea (6/1): In contrast, this one has been quickly climbing the class ladder. She broke her maiden impressively two back, with a career-high figure of 76, then cleared her n/w2L condition going away last out. If Long Point Beach shows up, that rival will be tough to beat, but this one looks like she can keep moving forward and be a strong contender here.
#3 Cairo Queen (3/1): Goes first off the claim for Cal Lynch, and drops from the $16,000 level. She has good tactical speed, and while she steadily ran in the 80s last year, she declined quite a bit in her last start after prompting the pace while wide. Alex Cintron gets back aboard; he was the last jockey to ride her to victory.
RACE 6: CLAIMING $5,000 (N/W3L), 4-YEAR-OLDS AND UP, 6 FURLONGS
6-1-8-4
#6 Jungle Warrior (9/5): Races for the first time since November 27, off a strong-closing third in his last start. That was his lone try at this condition, and it came while being a bit further off the pace than he might like. If he's close to the action this time, he'll be tough.
#1 Tappahannock (6/1): Showed speed and faded to third in his last start, although it represented marked improvement from his start two back, which was his first off the layoff. Has solid early pace figures, and the advantageous inside post. May be difficult to beat if he breaks cleanly and establishes position.
#8 Outside the Box (12/1): Cut back around one turn last out, after a few dull races at 1 1/16 miles. It proved beneficial, as he rallied sharply to finish second at 36/1. Gets to face a similar field here, at a distance he's proven to enjoy.
ANALYSIS
RACE 7 – STARTER OPTIONAL CLAIMING $25,000, 4-YEAR-OLDS AND UP, FILLIES AND MARES, 1 MILE
7-3-4-5
#7 Union Song (3/1): Despite displaying some lethargy early on, she closed strongly from behind to win at this level two races back. Her figure improved by three points in her last start, but she fell too far behind the pace going shorter, and wasn't a serious factor. A mile might be a bit more in her wheelhouse. 
#3 Witty Banter (9/2): Another closer, she rallied well for third in her last race at a mile, despite getting stuck behind a very slow pace. Very susceptible to getting pace compromised, but a decent exotics contender nonetheless.
#4 Lady Fox (5/2): This race will be her stiffest class test so far. She's looked impressive in her last two, both handy victories. However, those fields were so weak, it would have been more notable had she not won super-impressively. Has shown good closing speed and keeps Crispin aboard, so she's got a shot here. Just don't know if I'd take likely low odds.
RACE 8- CLAIMING $5,000 (CONDITIONED), 4-YEAR-OLDS AND UP, FILLIES AND MARES, 1 MILE
1-2-4-6
#1 Simmard Shenanigan (5/2): A regular at this level, she won at this condition five races back, and hasn't missed the board since. In both of her races this year, she finished second after falling behind a gate-to-wire winner. There's not much serious speed in here, so as long as the pace is even somewhat honest, she'll have a good shot to reel them in this time.
#2 Hoss Kitten (5/1): However, if anyone does go gate-to-wire, it'll probably be this one. She's shown speed in her last few at Penn National and Charles Town, and was a decent second when trying to come from off the pace last out. Her early pace figures aren't spectacular, but there's a chance she'll inherit the lead almost by default.
#4 Tuxedo Lemon (7/2): Simmard Shenanigan outkicked this one in each of her last two races. She got good stalking trips just off the loose leader, but couldn't capitalize. She'll need an honest pace to be a serious win contender; looks like an exotics contender regardless.
RACE 9 – ALLOWANCE OPTIONAL CLAIMING (N/W3X), 4-YEAR-OLDS AND UP, FILLIES AND MARES, 6 FURLONGS
4-3-6-2
#4 Madam Meena (9/5): She's crushed the field twice at Parx, most recently smashing a n/w2x group by 7 1/4 lengths after setting a fast pace and drawing off. Last fall, she won the Tax Free Shopping Distaff at Delaware Park, starting a four-race streak of earning a figure of 93. This is her first start at Laurel, so it's not known how she'll take to the track, but even a figure towards the floor of her range makes her very tough.
#3 Victim of Love (7/5): A Grade 3 winner last year, she's running for the first time since a third-place finish in the Ballerina Stakes at Saratoga in August. This race is almost certainly a prep for bigger and better spots down the road. She's proven over the track, having won the What a Summer Stakes last year, but might still need a race.
#6 Coconut Cake (9/2): She had been in great form in sprints, winning a n/w2x allowance with a driving rally two back. Stretched out in the Geisha Stakes last out against Maryland-breds, and couldn't last after being near the pace and moving into a fast tempo. Cuts back to a preferable distance, but also takes a jump up in class. She'll definitely race better than she did last out, but might need to improve a few points to seriously contend.
RACE 10 – MAIDEN CLAIMING $10,000, 3-YEAR-OLDS, 6 FURLONGS
1-3-8-9
#1 Get Lit (7/5): Drops to the bottom class after showing some life at the $25,000 level. Encountered some traffic last out, but still closed well after sitting in midpack early. Adds blinkers and a new jockey, in Charlie Marquez.
#3 No Imagination (8/1): Another one taking a career-low drop in class. He's also cutting back in distance from 1 1/16 miles. He showed some signs of life in his last start, showing speed before fading. Looking for some improvement on the cutback. 
#8 Always Biz (9/2): Jerry O'Dwyer firster gets Feargal Lynch aboard for the career debut. Works have been solid, but O'Dwyer isn't great with horses debuting for a tag. Watch the board.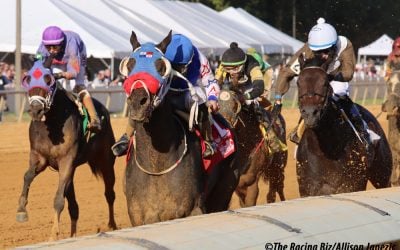 We provide full-card picks and analysis for this afternoon's races at Laurel Park.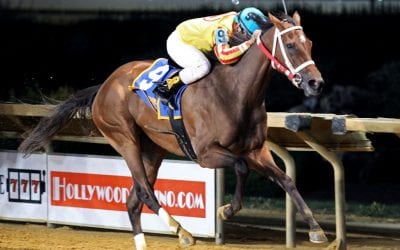 We provide picks and analysis for this evening's card at Charles Town Races.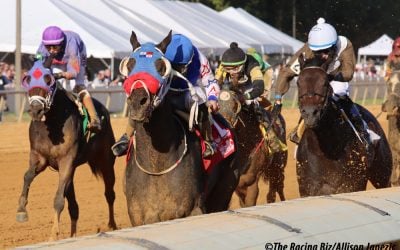 We provide full-card picks and analysis for this afternoon's races at Laurel Park.