Charlatan HEADS NTRA TOP THOROUGHBRED POLL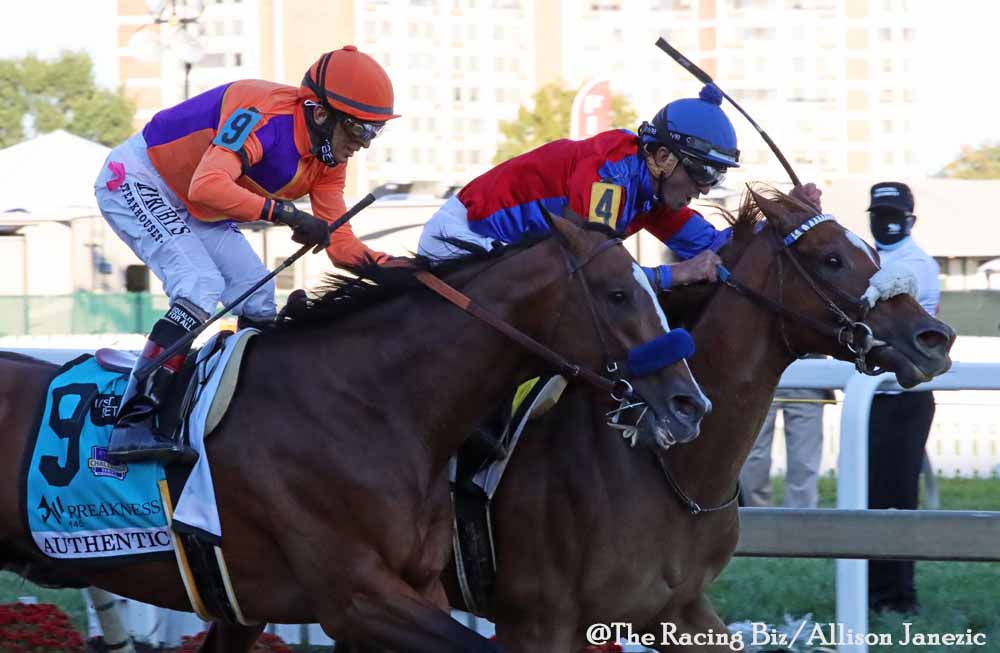 Press Release

February 22, 2021
Though he was caught in late stretch en route to finishing second in the $20 million Saudi Cup on February 20, Charlatan's game effort against international competition was enough for the son of Speightstown to garner favor among voters, who moved the colt into the No. 1 spot on this week's National Thoroughbred Racing Association (NTRA) Top Thoroughbred Poll.
FTC urged to reject HISA rules

Ten members of Congress — five Senators and five Representatives – have urged the FTC to reject HISA's proposed drug rules
Trained by Bob Baffert, Charlatan finished a length behind Mishriff in the Saudi Cup – the first time in five career starts that the chestnut colt had not crossed the wire in front. That outing earned Charlatan 25 first-place votes and 353 points to move him up one spot on the poll.
"(Charlatan) ran a big race," Baffert told the Santa Anita Park notes team on Sunday morning. "He put away Knicks Go, just ran him down, turned in a gallant effort and it's too bad he got beat. That's a demanding track. The stretch is so long, and he ran hard. The way he ran, it shows what a brilliant horse he is."
Knicks Go, who led the NTRA Top Thoroughbred Poll last week, dropped to second in the balloting with 1 first-place vote and 288 points after running fourth in the Saudi Cup.
Godolphin's unbeaten homebred Maxfield, winner of the Grade 3 Mineshaft Stakes at Fair Grounds on February 13, remains third with 5 first-place votes and 265 points while champion distaffer Monomoy Girl (6 first-place votes, 264 points) holds in fourth.
Swiss Skydiver, the champion 3-year-old filly of 2020, moved up to fifth with 160 points followed by
Grade 1 Pegasus World Cup Turf Invitational Stakes winner Colonel Liam (156 points).
Reigning champion female sprinter Gamine is seventh with 93 points with Jesus' Team (92 points), champion turf male Channel Maker (73), and champion male sprinter Whitmore (55) completing the top 10.
There were no positional changes in this week's NTRA Top Three-Year-Old Thoroughbred Poll as champion juvenile male Essential Quality remains the clear leader with 26 first-place votes and 345 points.
Life Is Good, winner of the Grade 3 Sham Stakes on January 2, remains second with 5 first-place votes and 295 points while Mandaloun, who captured the Grade 2 Risen Star Stakes on February 13, is third with 4 first-place votes and 238 points.
Holy Bull Stakes winner Greatest Honour (1 first-place vote, 225 points) sits fourth with Medina Spirit (188 points) in fifth. Caddo River (1 first-place vote, 165 points) remains sixth followed by Concert Tour (101 points), Keepmeinmind (81), and Jackie's Warrior (70). Grade 3 Withers Stakes winner Risk Taking (65 points) completes the top 10.
The NTRA Top Thoroughbred polls are the sport's most comprehensive surveys of experts. Every week eligible journalists and broadcasters cast votes for their top 10 horses, with points awarded on a 10-9-8-7-6-5-4-3-2-1 basis. All horses that have raced in the U.S., are in training in the U.S., or are known to be pointing to a major event in the U.S. are eligible for the NTRA Top Thoroughbred Poll. Voting in the Top Three-Year-Old Thoroughbred Poll concludes following the Belmont Stakes on June 5 and the Top Thoroughbred Poll is scheduled to be conducted through November 6.
Charlatan
Knicks Go
Maxfield
Monomoy Girl
Swiss Skydiver
Colonel Liam
Gamine
Jesus' Team
Channel Maker
Whitmore
Essential Quality
Life is Good
Mandaloun
Greatest Honour
Medina Spirit
Caddo River
Concert Tour
Keepmeinmind
Jackie's Warrior
Risk Taking
LATEST NEWS