LAUREL PARK PICKS AND PONDERINGS FEB. 21, 2021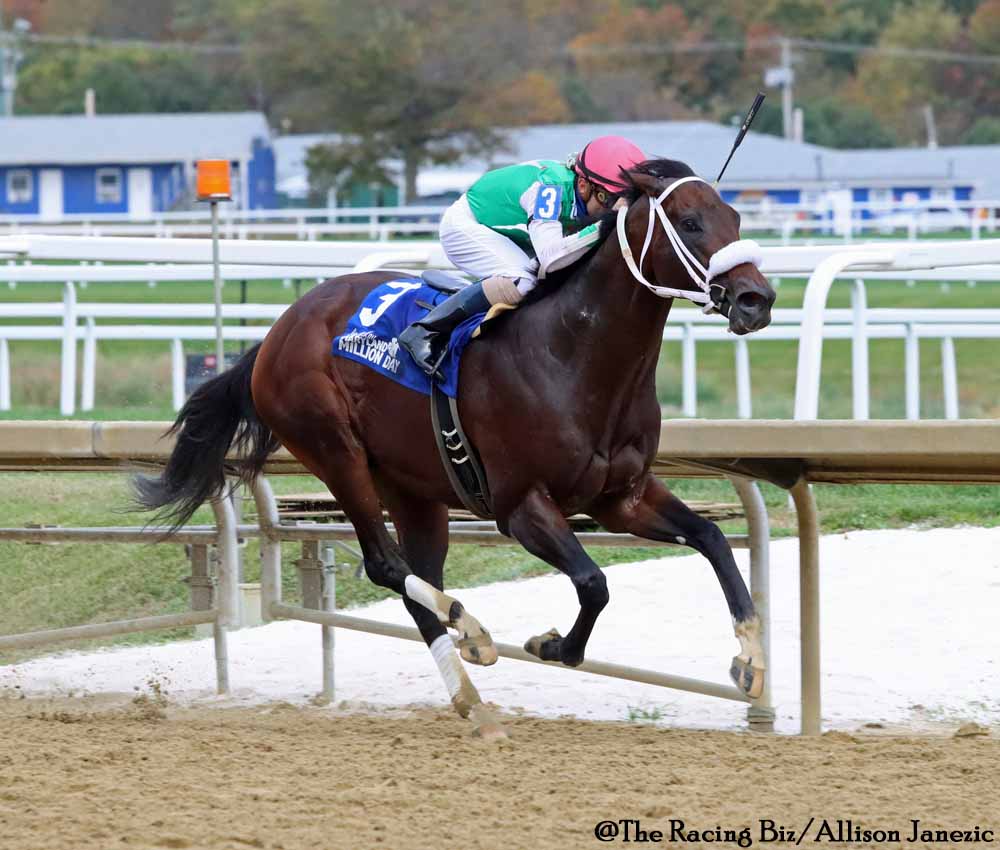 RACE 1: STARTER OPTIONAL CLAIMING $25,000, 4-YEAR-OLDS AND UP, FILLIES AND MARES, 7 FURLONGS
4-6-3-5
#4 Our Sweet Girl (9/2): Broke her maiden very impressively at Penn National in July, drawing off to win by 12 lengths in a front-running effort. This'll be her first start since then, but she's had a strong and steady worktab in recent weeks.
#6 Originally From Dot (4/5): A little suspicious of her, as she was well-supported as the favorite at this level last out, and showed little. She was taken a bit out of her element at the start, as she was bumped and lost some forward position, although she was still close up.
#3 Lucre (9/2): Ran well in her last start, which was her first race in seven weeks. After dropping way behind early, she surged to lose by only about two lengths. Will likely be heard from late.
RACE 2: CLAIMING $25,000, 3-YEAR-OLDS, 1 MILE
5-4-2-1
#5 Bananas on Fire (9/5): Comes off a win at this level, where he battled gamely in the stretch and won by a head. He earned a career-best figure of 81. In fact, he's earned at least a 78 in three of his last four races. That kind of race again would be enough to win.
#4 Silver Sun (9/2): Chased the pace last out, but got outkicked by Bananas on Fire and was third. He also earned a lifetime top figure in that race, a 75.
#2 Golden Warrior (5/2): Tries winners for the first time, off a strong maiden-breaking score where he came from well behind. The horse he nosed out came back to win at Charles Town.
RACE 3: CLAIMING $16,000 (N/W2L), 4-YEAR-OLDS AND UP, FILLIES AND MARES, 1 MILE
5-7-6-1
#5 Emperadora (3/1): She's taken giant leaps forward in her most recent five starts. Maryland-bred allowance horses might have been too much for her last out, but she ran on well for a respectable fourth. One of two in this field who has never lost at the level.
#7 Award Wanted (8/5): Most of her reputation here is staked on her race two back. She made a solid rail move to lose at this level by just 3/4 of a length. Her last race, against better, was visually dull, but she earned a career-top figure. This is her second start beyond six furlongs. The first time she tried this distance, in August, she stopped badly. I have to imagine she's matured a bit by then.
#6 Imagine Victory (6/1): In her last three races, she's gotten stuck behind slow paces and left herself too much to do. There's a chance she'll get a pace to run into, but more likely than not, she'll suck up for a piece.
RACE 4: CLAIMING $16,000 (N/W3L), 4-YEAR-OLDS AND UP, 6 1/2 FURLONGS
3-5-7-1
#3 Tom Terrific (8/1): He ran three figures in a row in the 80s when sprinting, with good rallies each time. Last out, he was on the pace in a mile race, and backed up badly. The cutback in distance should help big-time, and that last race might spook bettors.
#5 Justice of War (4/1): This guy got claimed out of his race two back by Jose Magana, from Linda Rice. He promptly ran a career-best figure of 85, That was the second start in a row where he lost a photo finish.
#7 Golazo (3/1): Surged nicely to win a n/w2L race last out. He's one of two in here who has never lost at this level. The other Commissioner Biggs, was second to this one two races back.
RACE 5: STARTER OPTIONAL CLAIMING $8,000, 4-YEAR-OLDS AND UP, 1 1/8 MILES
9-4-7-2
#9 Southside Warrior (3/1): He's gone off as the favorite four times in a row against similar, and has gotten the job done once. Kept his figure in the upper-80s range last out, when he chased the leader and ended up second. Should be forwardly placed here, and the longer run into the first turn should help with the outside post.
#4 Moti (6/1): Charles Town shipper will look to recover his form from two back, when he blew the field away with a figure of 85. Last out, he lost a place photo after rating off a slow pace. Niall Saville is always sneaky good with his Laurel starters.
#7 Always Forgiven (4/1): It's true that he got a pace to close into last out, but it was still an impressive rally. He made up seventeen lengths to lose by a neck, narrowly missing his career-best figure with an 87. Usually, he's a bit closer to the pace.
RACE 6: CLAIMING $5,000 (N/W2L), 4-YEAR-OLDS AND UP, FILLIES AND MARES, 7 FURLONGS
3-8-1-7
#3 Cougar Vision (5/2): She wasn't going to catch the runaway winner last time, but ran on solidly and outkicked the rest for second. Still fairly lightly-raced, she just missed her lifetime-top figure in that effort.
#8 Adabel (4/1): Has been running in the mid-60s/low-70s range pretty steadily within her last six, which would be enough to win this one. Closed well last out, where she fell far behind entering the stretch and ran on for fourth.
#1 Thea's Theme (8/1): Improved by ten points second off the bench, hanging on for fifth after pressing the pace. She's run figures in the 70s in the past. It wouldn't surprise to see her jump third off the layoff.
RACE 7: STARTER OPTIONAL CLAIMING $25,000, 4-YEAR-OLDS AND UP, 7 FURLONGS
1-2-9-4
#1 Visual Artist (6/1): Last out was his first start in fifteen months, and it was a good one. He struggled with some traffic trouble, but closed well for fifth, just missing his career-best figure of 82. Should keep moving forward second off the layoff.
#2 Rubber Band (5/1): Didn't beat much when he broke his maiden last out, but it was still an impressive win. He drew away after stalking in mid-pack, with a strong figure of 82. That was also on debut; his second start should be a lot better.
#9 Ice Rain (4/1): Cuts back in distance after showing speed and fading going 1 1/16 miles last out. Should be used aggressively from the outside; can his speed last going shorter?
RACE 8: STARTER OPTIONAL CLAIMING $25,000, 4-YEAR-OLDS AND UP, 6 FURLONGS
2-1-4-7
#2 Sugar Daddy (5/2): He was ridden a tad aggressively in his last start. He was moved into the teeth of a duel, including a strong second quarter. In spite of that, he battled on and lost a three-horse win photo. Hopefully, Angel Cruz won't be quite as aggressive with him this time.
#1 Fast Cash (4/1): In contrast, this one is going to be coming from far off the pace. He's put in his best rallies when going slightly longer, including a second-place finish at seven furlongs last out. Will it have the same effectiveness going six?
#4 Moonachie (5/1): Showed little in a tough New York-bred allowance at Aqueduct last out, but still ran a solid figure of 84, which fits in as a contending number here. Jeremiah Englehart shipped a winner from New York yesterday, and he'll look to do it again.
RACE 9: MAIDEN CLAIMING $16,000, 3-YEAR-OLDS, FILLIES, 1 1/16 MILES
1-5-4-3
#1 Half Empty (2/1): Anthony Farrior brings this one over from Charles Town, where she closed well with a strong wide move to finish third, beaten only three lengths. While that race was at two turns, it was only 6 1/2 furlongs. That race was inspiring enough to make me think she can go longer, especially against a crew like this.
#5 Helen Gibson (8/5): Earned a lifetime top figure last out, making up ground in a $25,000 race to finish third. Now goes third off the layoff and takes a career-low drop.
#4 Writteninthestars (9/2): It's a little concerning that her only really bad race came at two turns. Still, she's been slowly improving in her last few starts, and raced fine going a mile last out.
LATEST NEWS