BARBARA FRITCHIE AND GENERAL GEORGE FACTS AND FIGS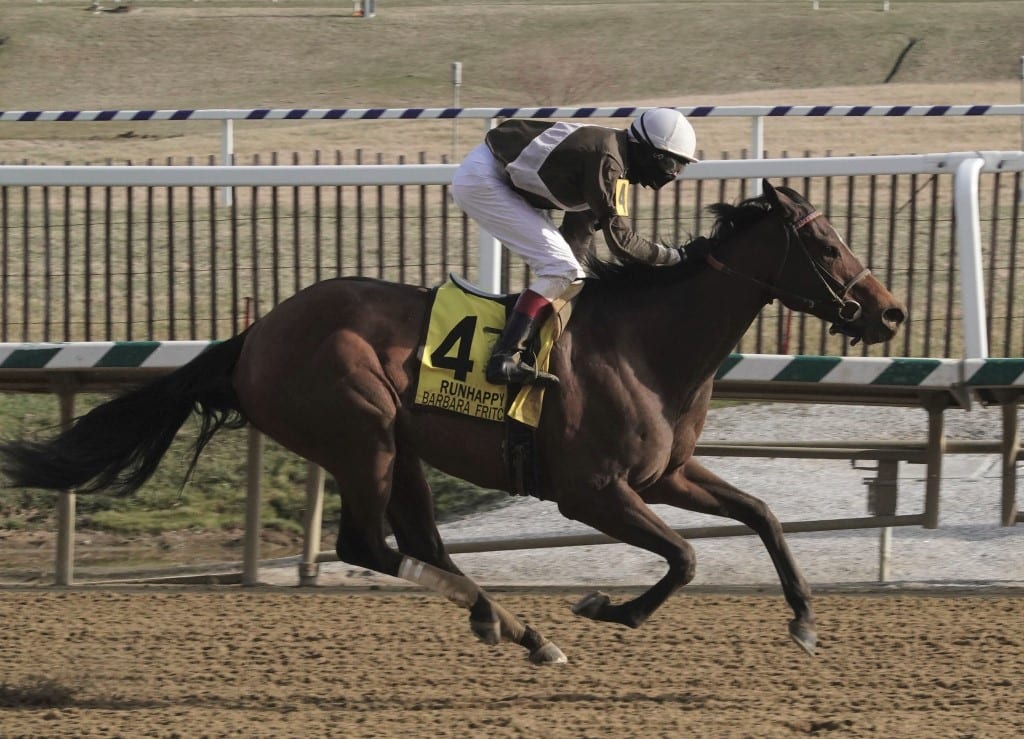 Frank Vespe

February 19, 2021
With the two biggest races of winter racing in Maryland upon us, it's time for some facts and figures about the two Grade 3 fixtures, the Barbara Fritchie (for the girls) and General George (for the boys).
Wondering who Barbara Fritchie was? Your answer is here.
Otherwise, read on for some facts and figs about the two big races:
BARBARA FRITCHIE FACTS
First contested in 1952 at Bowie, when Singing Beauty got the money. The winner earned $14,875.
The race was first run at 1 1/16 miles, for three years, and subsequently had four runnings at six furlongs and one at a mile. It's been contested at seven furlongs since 1964.
RECENT FRITCHIE WINNERS
The race was not run in 1960, 1972, or 2006.
Jockey Donnie Miller won the Fritchie four times, including, remarkably, twice in one year. In 1984, the Fritchie was run in two divisions – one of three early '80s years it was run in divisions – and Miller won both of them, with Pleasure Cay and Bara Lass.
Multi-time winners of the Fritchie include Too Bald (1968-69), the great Maryland-bred Twixt (1974-1975), Hall of Famer Xtra Heat (2002-03), and Skipat, who won in 1979 and 1981.
The fastest seven-furlong Fritchie: Tappiano in 1989. With Kent Desormeaux up, she got the trip in 1:21 2/5. The most recent sub-1:22 time was Late Night Pow Wow in 2019, who won in 1:21 3/5.
Several Fritchie winners are today remembered in Maryland with stakes races named after them. Those include Xtra Heat, Skipat, Twixt, and All Brandy, who won it in 1963.
Since 1978 the trainer with the most Fritchie wins is Michael Hushion, with three.
Most recent Maryland-based Fritchie winner: 2020 champ Majestic Reason for trainer Graham Motion.
Most recent Laurel Park-based Fritchie winner: 2015 victor Lady Sabelia for trainer Robin Graham (and owner the late Frank Wright).
GENERAL GEORGE FACTS
First contested in 1973, also at Bowie, when it went to Ecole Etage, who earned $18,265.
The race's distance bounced around from 1 1/16 miles to seven furlongs to a mile until 1989, when it settled at the current seven furlongs.
The race did not take place in 1979, 1982, 1983, or 2006.
The last General George winner at Bowie was Judge McGuire in 1984.
Jockey Mike Luzzi has won three runnings of the General George, most of any rider. Four riders – Edgar Prado, Ramon Dominguez, Donnie Miller, and Jorge Chavez – have won two each.
Since 1976, three trainers have each won a pair of General Georges to lead the way. They are Bruce Levine (2008 and 2015), Rick Dutrow (2004 and 2012), and Hall of Famer King Leatherbury (1977 and 1978).
No horse has won more than one General George.
The fastest running of the General George at seven furlongs took place in 2010, when the Chris Grove-trained Greenspring zipped the distance in 1:20 4/5 (1:20.95), which also remains the track record.
General George winners with local stakes named after them include Broad Brush (1986 winner) and Private Terms (1988).
Most recent Maryland-based General George winner: 2018 champ Something Awesome, who was based at Laurel Park with trainer Jose Corrales. Other recent Maryland-based winners include Page McKenney (2016) and Bandbox (2014).
RECENT GENERAL GEORGE WINNERS
LATEST NEWS