BACKTRACKS: ELKRIDGE, THAT CHARMER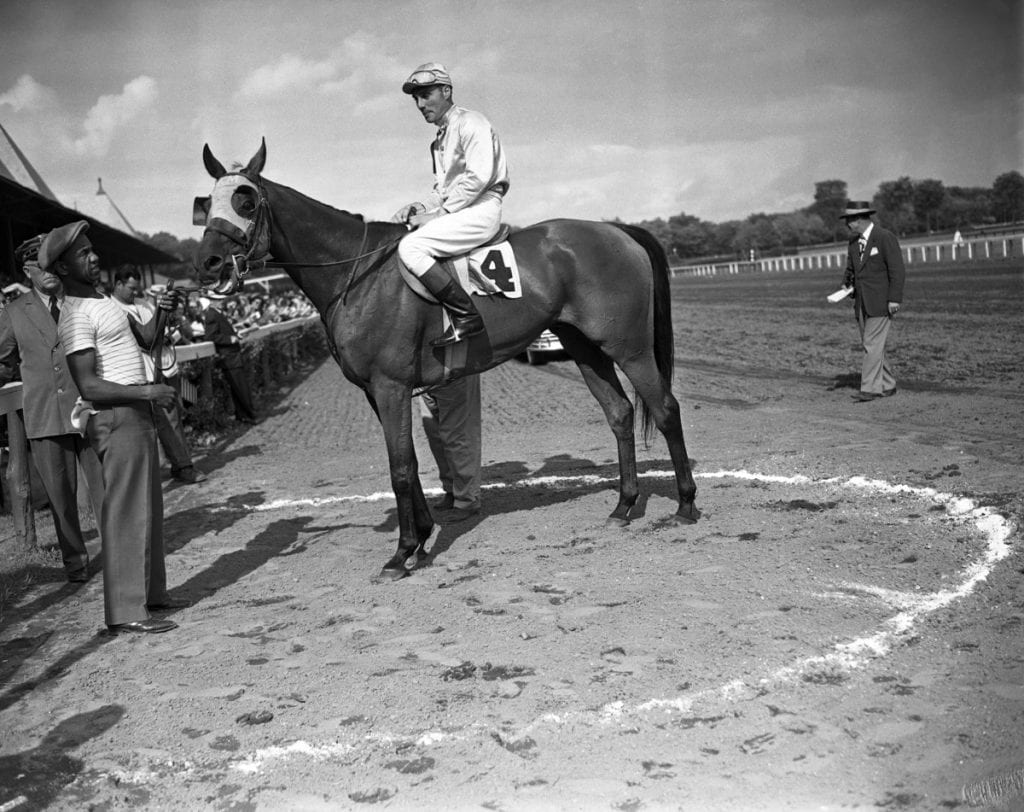 Starting from the top
Thomas Hitchcock counted August Belmont, Jr. among his many friends and fellow horsemen. Belmont and Hitchcock were early advocates for polo in the United States, playing one of the earliest games in the infield at a New York area racetrack. Hitchcock was also one of the Westchester Association members who invested in the construction of Belmont Park.
Hitchcock trained his own chasers and even a couple of flat champions, including the 1906 champion two-year-old colt Salvidere, whom he co-owned with John E. Madden. Over his decades on the racetrack, Hitchcock owned several chasers, including a gelding named Elkridge.
Elkridge was the product of two legendary Kentucky breeders, but counted Maryland as his state of birth. His sire Mate was bred at Clarkland Farm in Lexington and retired there after five seasons on the racetrack. Mate won the 1931 Preakness Stakes over Derby winner Twenty Grand.
Maryland breeder Joseph Flanagan sent his mare Best by Test, by famed sire Black Toney, to Mate, getting a plain bay colt with a tiny white star from the pairing. He was foaled at Country Life Farm in Bel Air, the county seat of Harford County, and Flanagan named him for the Elkridge-Harford Hunt and then sold him to Hitchcock as a yearling.
Hitchcock preferred to wait until the last half of his steeplechasers' three-year-old seasons to start them for the first time, allowing them to mature longer than one might with a flat racer. On September 24, 1941, he sent Elkridge out for his first start at Belmont Park, a two-mile maiden special weight which Elkridge won easily.
Five days later, Hitchcock passed away at age 80, and his horses were dispersed at Pimlico Race Course in November. There, Kent Miller purchased Elkridge for $7,000, outbidding Isabel Dodge Sloane and John Hay Whitney for the Maryland-bred chaser. When the gavel fell on this sale, Miller had the horse that was going to propel him from virtual amateur to respected horseman.
"He fitted one of those pictures"
Kent Miller counted Louisville his hometown, his closest encounter with racing limited to visits to Churchill Downs on Derby Day. Eventually, his young family settled in Aiken, SC, a winter mecca for names like Vanderbilt, Whitney, and Hitchcock, all of whom brought horses and raced them there. Miller caught the chasing bug in Aiken, expanding on his experience with Saddlebreds to racing over the jumps, learning by osmosis from the horsemen around him.
Serendipitously, he ventured to Pimlico for the fall sale in November 1941, intent on buying a horse. Still very much an amateur, Miller initially wanted to buy a horse named Bridlespur, but the horse's appearance deterred him.
Instead, despite his lack of knowledge, Miller saw something special in Elkridge: "I've been drawing horses since I have been old enough to hold a crayon and there are pictures in my mind of how a horse should look," he explained. "Elkridge fitted one of those pictures."
He bought the gelding to run in his lavender and pink silks, a one-horse stable for a man who had only stepped foot on two racetracks in his life. And what a choice that sixteen-hand chaser was!
His first season for Miller, Elkridge started twenty-one times, winning seven and finishing in the money six more times. Miller was not shy about putting his horse in tough company either: six of his seven wins were in stakes races, including the Indian River Steeplechase at Delaware Park.
He ended 1942 as the leading money winner in the steeplechase division, and he earned his first of two champion steeplechaser awards.
For the next ten seasons, Elkridge competed in many of the country's steeplechase stakes races, from the American Grand National Steeplechase at Far Hills, New Jersey to the Temple Gwathmey and more. He won the Indian River five times, the Battleship Handicap at Pimlico twice, and the Saratoga Steeplechase Handicap twice.
In his eleven seasons, from age three to age thirteen, Elkridge logged 123 starts, with thirty-one wins and thirty-three second- or third-place finishes, winning a total of $230,680 in purses. In all that time, he fell only once, when his saddle girth caught on a piece of brush, a remarkable feat.
His consistency as a chaser along with his ability to carry weight, often between 140 and 160 pounds, netted him two championships and his share of admirers, who marveled at his running style. Elkridge would save his best running for a final sprint over the last few jumps, but sometimes would make that last dash prematurely to the chagrin of his jockey, resulting in the gelding losing by short margins.
While he had plenty of fans, his biggest were the ones who always greeted him after the race. Regardless of how he ran, the Miller family loved Elkridge like he was a member of the family – and treated him as such.
"He is, in fact, a pet"
As a small stable of only a handful of horses at the most, Miller was able to establish a close rapport with his horses, Elkridge especially. He even taught the gelding to give him a "kiss," placing a cube of sugar between his teeth to encourage Elkridge to buss him. Whenever Miller said, "Kiss me," the gelding would reach for the treat, nipping if he did not get at least one.
If the family went out for doughnuts, they would bring one back for their champion chaser, offering him something doughy and full of jelly. "He is, in fact, a pet," wrote the Blood-Horse's Joe Palmer. "Perhaps the only reason why he's not allowed in the house at Camden is that in South Carolina, it is considered proper, if not obligatory, to keep the house stuffed full of dogs."
Miller retired Elkridge at the end of 1951, but the gelding did not seem at home off the racetrack, losing weight and becoming listless turned out in his South Carolina paddock. Miller brought his onetime star back to work as his stable pony, accompanying the stable's other horses to the track for their gallops. Elkridge remained in his job as stable pony and as Miller family pet until his death in 1961 at age 23.
He was inducted into the National Museum of Racing five years later and then the Maryland Thoroughbred Hall of Fame in 2013, fitting tributes to the consistent excellence Elkridge showed in his long career over the jumps at tracks all over the East.
Sources
Boniface, William. "Maryland-Bred Wins 'Chase Championship." Evening Sun (Baltimore, MD). December 10, 1942.
Boniface, William. "Star Copy Ready for Pimlico Test." Evening Sun (Baltimore, MD). March 16, 1943.
Carter, Snowden. "Miller Found Niche with Steeplechasers." Evening Sun (Baltimore, MD). November 11, 1946.
Editors and Writers of the Daily Racing Form. Champions: The Lives, Times, and Past Performances of the 20th Century's Greatest Thoroughbreds. New York: Daily Racing Form Press, 2000. 142.
Hampson, Gene F. "Sport Slants." Courier News (Somerville, NJ). July 7, 1953.
"Jumping Horse After Record." Spokesman Review (Spokane, WA). October 19, 1947.
MacDonald, Bob. "Elkridge, Aged Jumping Wonder, to Race as Long as He's Threat." News Journal (Wilmington, DE). June 30, 1951.
"Mate, Member of Big Three in Racing in 1930's, Dies." Daily Racing Form. June 26, 1953.
McCullough, Trudi. "Picker of Pimlico Winners Never Bets over $2." Evening Sun (Baltimore, MD). October 7, 1942.
Palmer, Joe H. This Was Racing. New York: A.S. Barnes & Company, 1953. 33-35.
Palmer, Joe. "Horse, at 12, Wins Big Race." Oakland Tribune. July 22, 1957.
Reidley, Mary Phyllis. "Everywhere the Millers Went the Nag Was Sure to Go." Louisville Courier Journal.
Warden, Margaret Lindsley. "Horse Sense." Tennessean (Nashville, TN). August 17, 1958.
Webster, John. "Sportscope." Philadelphia Inquirer. July 9, 1953.
Webster, John. "Sportscope." Philadelphia Inquirer. June 28, 1950.
Winants, Peter. Steeplechasing: A Complete History of the Sport in North America. New York: Derrydale Press, 2000. 173-174.
LATEST NEWS