LAUREL PARK PICKS AND PONDERINGS JAN. 29, 2021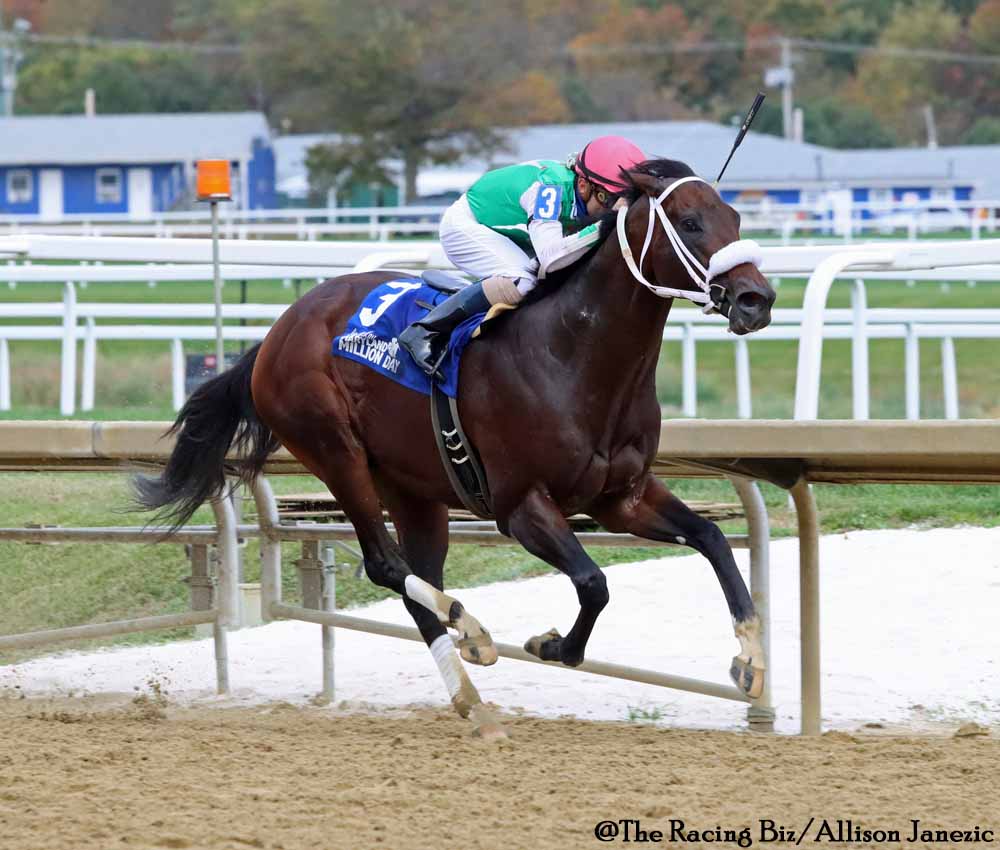 RACE 1: STARTER OPTIONAL CLAIMING $25,000, 4-YEAR-OLDS AND UP, 1 1/16 MILES
4-6-3-1
#4 Peachy Keen (9/5): Tries winners for the first time, after a dominant win against maiden claimers last out. In that race, he dropped over to the inside and set a cushy pace. It's going to be a bit tougher to do that here, but he's got lots of early speed. If he can get his trip, it could be game over.
#6 Wye Mumbo (5/2): The barn buddy of Peachy Keen (both are trained by Claudio Gonzalez), he broke his maiden in similarly dominant fashion two races back. Last out, he made what might have been a premature move, and faded in the last eighth. He also has early speed, but the outside post in a race with a short run to the first turn. Carrasco might elect to rate.
#3 Ice Rain (4/1): Ran a career-top brisnet figure of 80 in his last race, which was his first start in more than a year. It was a strong, solid effort, as he rallied wide to lose by less than three lengths. This will be his first try around two turns on dirt.
RACE 2: MAIDEN CLAIMING $25,000, 3-YEAR-OLDS, 1 1/16 MILES
6-3-5-2
#6 Gold Fellow (9/5): Gets some much-needed class relief, dropping for a tag for the first time after facing some pretty salty maiden special weight fields. Makes his first start since December 12 in this spot; trainer Dale Bennett is 30% bringing back horses off that long a break.
#3 Tipyourhattothat (5/2): Took a big step forward second out, improving his figure eleven points while losing after a game race-long battle. I'm willing to toss his debut, as he broke slowly and didn't have much of a chance against some tough horses. Now that he's proven he can show speed, he'll be tough.
#5 Carolina Chrome (6/1): Exits the same race as Tipyourhattothat. He got bet in that race at first asking, going off at 9/5. Unfortunately for him, he broke slowly, and though he had some late kick, it wasn't enough. Can he improve second time out? You'll probably get the right price if you believe.
RACE 3: CLAIMING $10,000 (N/W2L), 4-YEAR-OLDS AND UP, FILLIES AND MARES, 1 MILE
5-4-6-8
#5 Imagine Victory (9/5): She's fairly lightly-raced, making her sixth career start in this spot. Her two starts against winners have been solid, running figures in the upper 60s both times. She closed well in both recent races, but left herself with too much to do in spite of the long stretch.
#4 Ran Char (5/2): Races second off the claim for Emanuel Geralis, and stretches out from six furlongs. She's been racing kind of evenly in her last few races; will an increase in distance and a slight drop in class help the cause?
#6 Totally Perfect (10/1): Came up completely empty in her first local race last out. She picked up checks pretty consistently over the synthetic at Woodbine, and broke her maiden over normal dirt at Tampa Bay Downs. Maybe she just needed a race to get herself straight.
RACE 4: STARTER OPTIONAL CLAIMING $16,000, 4-YEAR-OLDS AND UP, 1 MILE
1-5-3-6
#1 Girls Love Me (3/1): If he can stretch out to a mile, he's a viable upset candidate. He's finished in the top tow in four of his last five, including a game win at this level going seven furlongs last out. The only time he didn't have great late pace figures was two races back, when he got a bit excitable on the lead.
#5 Air Token (1/1): He won the Concern Stakes in a 16/1 upset four back, but has struggled in his last two against stakes company. Now, he drops back to be amongst his own kind. He's the only horse in the field who has run at least a 90 three straight times. In fact, he's done it on five straight occasions.
#3 Zaya (8/1): You can toss his last race, as it was at 1 1/2 miles, and he clearly didn't enjoy the distance. Ran a big figure of 93 three back, when grinding and getting up for the win at Delaware Park. Might not have enough early speed to be a win contender, but has merit for the underneath spots.
RACE 5: MAIDEN CLAIMING $16,000, 3-YEAR-OLDS, 6 1/2 FURLONGS
4-5-8-7
#4 Inject the Light (3/1): He wasn't able to finish the deal in his last start, but still improved his figure to a 70 while finishing third. He's had some good workouts since that November 22 race. Some time off and a cutback from seven furlongs should do him good.
#5 Count the Shells (3/1): Proved that he couldn't do a mile last time, when stopped badly after showing speed. His races going shorter were better, including a second-place finish behind recent allowance winner It's Sizzling Time.
#8 Pat's Factor (5/2): Dale Capuano is 28% with debuters, and has some bullet workouts ahead of facing this marginal field. If he shows any ability, he'll be a contender.
RACE 6: CLAIMING $10,000 (N/W2L), 4-YEAR-OLDS AND UP, FILLIES AND MARES, 5 1/2 FURLONGS
1-5-2-4
#1 Solea (4/1): Impressively broke her maiden last out, drawing off to earn a big figure of 76. That's the best last-out figure in this race by six points.
#5 Scarlet Tanager (8/1): She's continued to move forward since returning off more than a year's break a few races back. She made a bold move last out to just miss in a stretch battle, earning a career-top figure of 70. Can she keep the forward momentum?
#2 Villamoura (7/2): Didn't want to go in the gate last out, was very headstrong, and stopped badly. Was in great form in her races prior, including an 83 earned in victory three races back.
RACE 7: ALLOWANCE OPTIONAL CLAIMING (N/W2X), 4-YEAR-OLDS AND UP, FILLIES AND MARES, 6 FURLONGS
#3 Trunk of Money (8/5): She got a big test in her last start. Going in, she was riding a three-race winning streak, squaring off against Fille d'Esprit. That rival outgunned her and won, leaving Trunk of Money in second. Now, this one drops into an easier spot where she's the fastest one early. It looks like this time, she'll be the one going gate-to-wire.
#6 Maryanorginger (9/2): Earned a career-top figure of 92 at Aqueduct last time, but it was a visually unimpressive race. Now, she takes a drop in class by shipping down here. She's going to sit in mid-pack and try to chase down Trunk of Money.
#1 Deep Red (7/2): Another one who suffers from a lack of early speed. She's hit the board in five of her last six, but has only come close to winning once, when she just missed chasing down Trunk of Money. A very good candidate for the underneath spots.
RACE 8: ALLOWANCE OPTIONAL CLAIMING (N/W1X), 3-YEAR-OLDS, FILLIES, 1 MILE
8-11-2-9
#8 My My Girl (5/1): She set her own fast fractions and held on to win as the big favorite last out. Look for her on the lead again. If she can get the right fractions, she can stretch her speed over a mile.
#11 Fraudulent Charge (5/2): Finished second in the Gin Talking Stakes last out, and almost won it when Street Lute got leg-weary in the last few strides. If any of her rivals here can't handle the distance, she'll be right there to pick up the pieces.
#2 Journeytothemoon (6/1): Just got up to win at six furlongs two back, then couldn't quite handle 1 1/16 miles last out. Will this race be the happy medium?
LATEST NEWS