LAUREL PARK PICKS AND PONDERINGS JAN. 16, 2021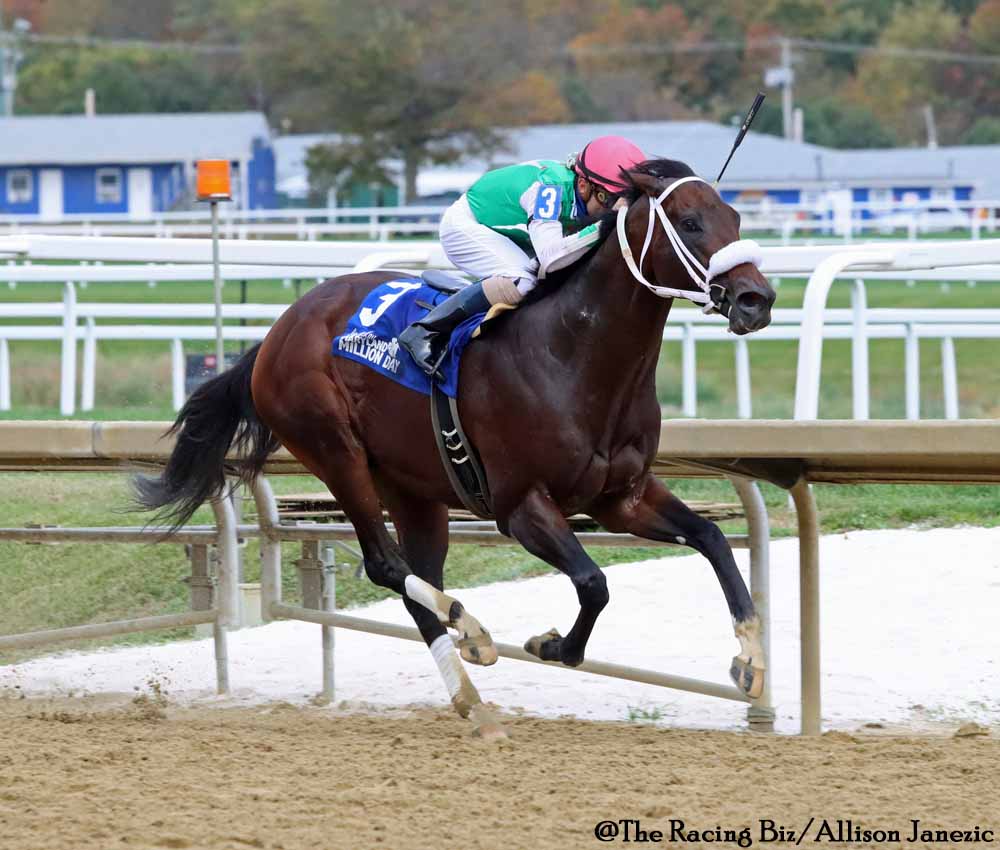 RACE 1: CLAIMING $40,000, 3-YEAR-OLDS, FILLIES, 7 FURLONGS
4-2-1-5
#4 Bless and Honor (2/1): Canadian invader makes her dirt debut in this spot. She ran well over the synthetic last out, closing well for fifth against better. This'll be her first start against winners for a claiming price. Expecting her to stalk and pounce.
#2 She's Forever (3/1): She was in way over her head last out and never looked like a contender, so I'm willing to toss that race. Two back, she crushed a maiden claiming field at Churchill Downs, drawing off while earning an impressive brisnet figure of 75. She's had time off since that dull last race, and gets some major class relief here. A serious player.
#1 What Goes On Tour (5/1): The most lightly-raced member of the field, making her third start in this spot. Runs for the first time since late October, when she handily won at Churchill. She imprvoed seventeen points in that race from her debut, and will look to take another step forward here.
RACE 2: MAIDEN CLAIMING $16,000, 4-YEAR-OLDS AND 5-YEAR-OLDS, FILLIES AND MARES, 6 FURLONGS
4-1-2-7
#4 Moonlight Miss (9/2): Ran a decent race in her dirt debut last out, showing speed before flattening out. That race was at a mile, now she gets a cutback to six furlongs. If she's forwardly placed again this time, it could be a different story at the shorter distance.
#1 Emperadora (4/1): She's been taking big steps forward in her last few, just missing her lifetime top last out. Draws towards the inside this time, a stark contrast from her last race, when she was hung wide on the pace. Should get a good trip stalking the leaders on the inside.
#2 Steely Band (7/2): Hasn't been the same since jumping up to the $25,000 level, where she's been well-beaten in her two tries there. Against similar over the summer, she consistently ran figures in the 70s, marks that would win this race. Hopes to find a friendlier field now that she's back in for $16,000.
RACE 3: CLAIMING $16,000, 3-YEAR-OLDS, 6 1/2 FURLONGS
1-2-5-6
#1 New York One (9/5): Ran some huge races at Mountaineer Park in his 2-yrar-old season, including a figure of 90 when crushing allowance foes. He then shipped to Aqueduct for two stakes tries, and he lost both by a combined 38 lengths. Here, he'll a face a much softer field where he can control the pace.
#2 You Are Awesome (5/1): The lightbulb has certainly gone on for him lately. In his eighth start, he finally broke his maiden. Next out, he made a giant rally from behind to miss by just a nose, with far and away a career-best figure. He doesn't have any early speed, so I fear he is destined for another near-miss in this spot. Nevertheless, he's a good horse to use underneath in exactas and trifecta.
#5 My Candy Biz (9/2): Runs against winners for the first time, after stalking a fast pace and drawing off at Penn National last out. It was easily his best race; he'll look to keep improving here.
RACE 4: ALLOWANCE (N/W1X), 4-YEAR-OLDS AND UP, 1 1/16 MILES
7-2-5-6
#7 Dudley Square (6/5): He's steadily run figures in the 80s while running against better n/w1x horses in New York. The closest he came to a win was two back, when he set a very slow pace and lost by a head. He probably won't get as cushy a trip here, but he'll be forwardly placed and ready to pounce.
#2 Gentleman Joe (2/1): He's also been in good form at the level, hitting the board in three straight races at this track without a win. Last out, he chased a loose leader, and didn't have a chance to catch him. Two back, he was the one setting the slow pace, but got caught by the classy Zabracadabra. I can see a similar thing happening here: this one goes out and sets the pace, only for Dudley Square to catch him the stretch.
#5 Crouchelli (8/1): The name of his game is to never win, but suck along and get a piece of the exotics, often at a decent price. I'm expecting a similar outcome here. Interesting to note the jockey change to Jevian Toledo.
RACE 5: MAIDEN SPECIAL WEIGHT, 3-YEAR-OLDS, 6 FURLONGS
2-1-8-5
#2 Hemp (2/1): He got action in his debut, going off at 2/1 despite being one of two horses in the race without experience. He ran on well for a clear cut third-place finish. This is a spot where all but one of his rivals is a first-time starter, giving him a massive edge.
#1 Silent Service (3/1): A $120,000 purchase, he'll debut for Mike Trombetta after a string of very promising workouts. The board well tell the story, but the low morning line odds indicate that this could be a very well-meant horse.
#8 Kant Beat the Rock (5/2): Another good-looking firster, he's had bullet workouts in four of his last six drills for trainer James Chapman. He's not that great with debuters, so this one might need a race, despite his promise. Taking the wait-and-see approach.
RACE 6: CLAIMING $5,000 (N/W2L), 4-YEAR-OLDS AND UP, 6 FURLONGS
7-2-1A-4
#7 Nic Nic Boom (10/1): He's only lost at this level once, after getting fanned extremely wide on the turn. There's a risk of that happening again here, but this is a weaker field than he saw last time, with the favorites looking very vulnerable. This is a good kind of race to take a price and see what happens.
#2 Mega Millions (6/1): Drops for a career-low tag, makes his third start off the layoff, and his second for Anthony Farrior. He's shown very sharp speed in his last few, but hasn't yet been able to sustain it. He'll look to change that here.
#1A True Shipman (8/1): Fifteenth time was the charm for him last out, as he drew off to break his maiden in strong style. He earned a figure of 69 in that race, just missing the lifetime top he earned two races back. He's definitely turned a corner in his last two starts, looks to keep the momentum going here.
RACE 7: ALLOWANCE OPTIONAL CLAIMING (N/W2X), 4-YEAR-OLDS ANd UP, 6 FURLONGS
2-4-7-3
#2 Belle Tapisserie (4/1): His first start for Kieron Magee was a resounding success. He dueled through contested fractions, but withstood all challenges and drew off for an impressive win. Won at this level at Delaware Park three races back. Although this is a tougher field, he's proven that he's fast and he's tough.
#4 Fortunate Friends (2/1): One of the stars of the Dilodovico barn last year, he was claimed out of his last race by Shaun Morrow. He was game in his last start, opening up a clear lead in the stretch, then withstanding late pressure to win a battle. Going to be interesting to see how he does for a new stable.
#7 Phantom Ro (9/2): Prior to his last race, he looked invincible. He had won three in a row in dominant fashion, and was facing a field where it looked like he couldn't lose. However, he did, stopping badly in the last eighth. He once again profiles as the main speed, and will look for some redemption here.
RACE 8: MAIDEN CLAIMING $25,000, 3-YEAR-OLDS, 7 FURLONGS
3-2-5-9
#3 Portal One (5/2): Got stuck in a bad pace scenario last out, but outfinished the others and was a clear-cut second, with a career-best figure of 77. Has had exceptionally strong workouts since that race, and Hugh McMahon is a sharp 19% with horses off a 46-90 day layoff.
#2 Gold Fellow (4/1): He'll cut back in distance here, after showing speed and fading in his last few. Another one who steadily runs figures in the 70s.
#5 What the Flash (10/1): Claudio Gonzalez claimed him out of his last start for $25,000, where he was a clear-cut third going a mile. He's another one who does his best running around one turn.
RACE 9: CLAIMING $5,000 (N/W3L), 4-YEAR-OLDS AND UP, 1 1/6 MILES
1-4-6-8
#1 Ego Trip (5/2): This stone-cold closer is the only horse in the race to run at least a 70 in each of his last three races. Cleared his n/w2L condition in impressive fashion two races back, and was a solid third against slightly better last out.
#4 Classy Papa (4/1): Goes second off the layoff, and drops after facing tough at Aqueduct. Won gate-to-wire around two turns at Canterbury Park last summer; should be forwardly place here as well.
#6 Runner Runner Indy (6/1): Another one who recently cleared his n/w2L condition. He was a solid fourth in his first try at this level, and has been rounding into career-best form.
LATEST NEWS