LAUREL PARK PICKS AND PONDERINGS JAN. 15, 2021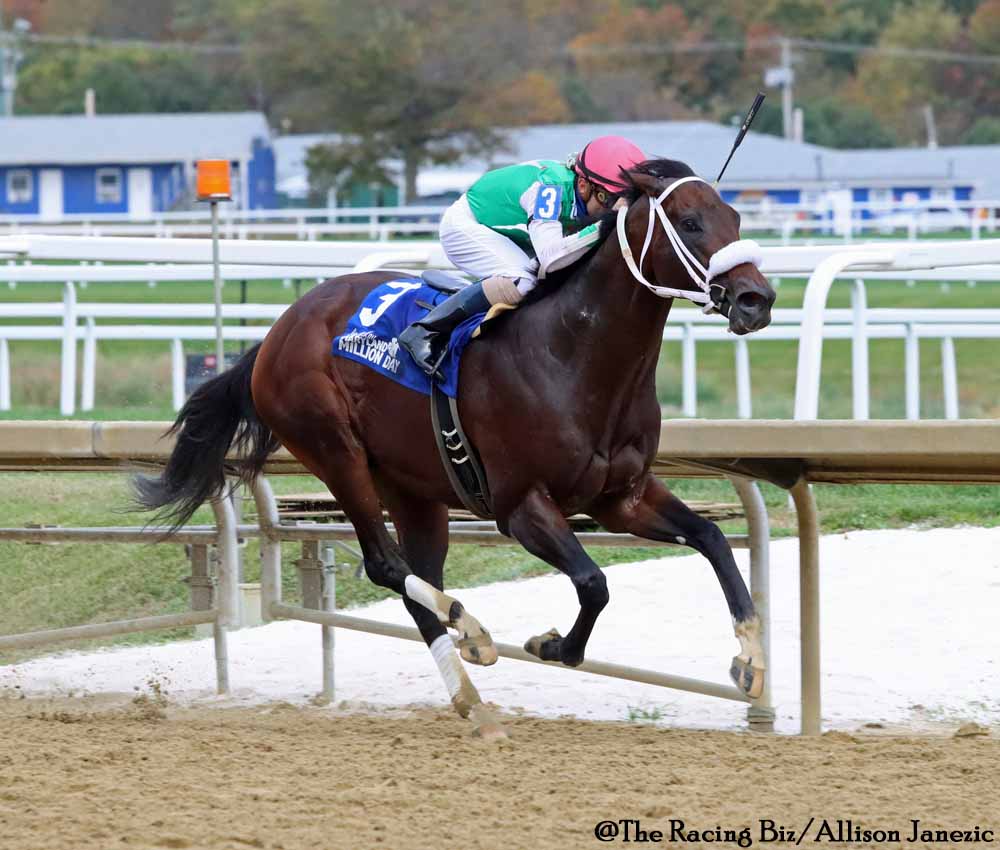 RACE 1: MAIDEN CLAIMING $40,000, 3-YEAR-OLDS, FILLIES, 1 MILE
5-6-4-2
#5 Luminist (8/5): Brittany Russell horses are always dangerous, and this one is no exception. She turned in two bullet drills at the Thoroughbred Center in early December, then worked well over the Laurel track. She catches a soft field for her debut, and should be very dangerous.
#6 Nicolar (12/1): She's been improving since stretching out for the first time two races back. Chased a dominant winner last out going a mile, but ran on well to get second, with a career-best brsnet figure of 64. You should get the right price on her, as she's proven going long.
#4 Good Measure (7/2): Another interesting firster, this one goes out for the Graham Motion barn. Works have been good, and Motion's a better-than-average 14% when debuting in a route.
.RACE 2: STARTER OPTIONAL CLAIMING $25,000, 4-YEAR-OLDS AND UP, FILLIES AND MARES, 6 ½ FURLONGS
1-4-5-2
#1 Uno Tigress (8/5): She's enjoyed great trips in all four of her races, and has capitalized each time, never finishing worse than second. Drops in class after a n/w1x win last out, and should enjoy another perfect setup here. 
#4 Union Song (6/1): A winner at the level last out, she came from far behind for the win. That's been her M.O. as of late: she hasn't shown much early speed lately, save for one race at a mile where she was forwardly placed, but always runs on well late. I think she might get outkicked by Uno Tigress, but she can still get a piece.
#5 Hydra (5/1): She's a much better horse when able to get to the lead. Last out, she was outrun early on, and wasn't much of a factor. Two races back, she held well after setting a fast pace. She'll have competition for the lead from her inside in the form of Stay Out, but if this one can get there, she's in good shape.
RACE 3: MAIDEN SPECIAL WEIGHT, 3-YEAR-OLDS, FILLIES, 6 FURLONGS
4-5-2-6
#4 Elevator Shaft (3-5): Brittany Russell must have thought a little bit more of this one than her others, as she shipped her up to Aqueduct for her debut. She got bet, rallied wide, and got up for third. She has the best last-out figure by fifteen points in this spot. If she wins like she's supposed to, the Wide Country Stakes on February 13 is a likely target.
#5 Anna Rocks (10/1): Firster has been working well at Penn National, and in what could be interpreted as a positive move, ships here for her debut. Flint Stites is a respectable 14% with first-time starters. 
#2 Likely Choice (6/1): Debuted against a tough field last out, and finished an even fifth. Workouts since that race have been sharp. Her figure of 66 from that race isn't bad when compared to those of the others, except Elevator Shaft. A logical candidate to round out exactas.
RACE 4: ALLOWANCE OPTIONAL CLAIMING (N/W2X), 4-YEAR-OLDS AND UP, FILLIES AND MARES, 1 1/16 MILES
2-1-5-3
#2 Daphne Moon (9/5): Would've liked to see a bit more out of her last race, which was her first in almost two months. It was against a tougher field than she'll see here, but she wasn't forwardly placed at all, and managed only a distant third. She's shown flashes of being very good in the past, including a figure of 92 a few races back. Hoping that version of her shows up second off the layoff. 
#1 Stay Smart (4/1): Another one looking to shake off a dull race. She was wide all the way at Parx last out and proved no factor. Prior to that, she had won three of her last four, including a strong win in the Smart N Classy at Monmouth Park. If she's looking to avoid getting caught wide, she's in luck, as she's drawn the inside post here. That'll enable her to work out the trip she wants.
#5 Persisto (7/2): The other half of the Kelly Breen team, along with Stay Smart. She's shown speed in the past, but hasn't been forwardly placed in recent starts. Now would be a good time to get aggressive, as there isn't much in speed in this race, and she could end up very loose out there.
RACE 5: CLAIMING $10,000 (N/W2L), 4-YEAR-OLDS AND UP, 7 FURLONGS
7-4-1-9
#7 Point Driven (8/5): Drops to this level for the first time, after two tries against starter optional claiming horses. He ran relatively impressive figures in the mid-70s, but visually, he was not a contender. Should find things much easier here.
#4 Catch Ya Later Bro (5/1): Ran well in his last start against better, recovering after some traffic trouble to finish fifth. He's got the best average late pace figures in the field, and is relatively lightly-raced. Alex Crispin also picks up the mount.
#1 Classy Solution (9/2): He's cutting back from a mile, and has early speed from the inside post. Will be dangerous if he's left alone out there.
RACE #6 CLAIMING $5,000, 4-YEAR-OLDS AND UP, 1 ⅛ MILES
3-6-7-2
#3 Smart Two a T (9/2): Penn National shipper wired the field last out, running a big figure of 86 while encountering steady pace pressure. This is a jump in class, but he's won against better company in his lines, and shouldn't have much trouble getting the trip he wants. 
#6 Charging Lion (4/1): Cal Lynch claimed him for $5,000 out of his last race. He's been battling well against these types, but hasn't been able to seal the deal lightly. He'll plan to rate just off the pace, then pounce on the turn. Always Forgiven outkicked him in his last start, and he shows up again here. Can Charging Lion turn the tables?
#7 King Mauro (6/1): He's got great late speed, but tends to lumber along early on, well off the pace. Last out, he got stuck behind slow fractions, yet rallied well and just missed second. Looking for him to round out the exacta or trifecta once again.
RACE #7 ALLOWANCE (N/W1X), 4-YEAR-OLDS AND UP, FILLIES AND MARES, 1 MILE
1-6-4-7
#1 Yesterdaysplan (5/1): Not sure what happened last time, but she didn't run a step. Her form prior to that race was strong, with three wins in a row, all with figures in the mid-80s. If she can shake off that poor performance, she'll be very tough.
#6 Ski Bunny (7/2): A stablemate of Yesterdaysplan, also going out for Anthony Farrior. The lightbulb has certainly turned on for her lately; she's won three of her last four races. This'll be her first try at this level, but if she can maintain her low-80s figures, she'll be a serious contender.
#4 Lookin Dynamic (3/1): Returned to dirt in her last start, against these types, and closed well up the inside for third. She's already a two-time winner at the one-turn mile on this track, and should get another good mid-pack trip. 
RACE #8 CLAIMING $5,000 (N/W2L), 4-YEAR-OLDS AND UP, FILLIES AND MARES, 5 ½ FURLONGS
5-10-7-1
#5 Sevilla Sangria (10/1): Tries this level for the first time, and looks to shake off a poor effort last time, where she stalked and tired. She has plenty of early speed, and gets Crispin in the saddle. If she's near her morning line, worth a shot.
#10 Scarlet Tanager (6/1): She's improved in every start since returning from a long break three races back. The only downside is her far outside post. It's not going to be easy to clear from the far outside, and when she got caught in a duel last time, she faded.
#7 Scamper Along (5/2): The only member of this field who has never lost against winners. Drew off to crush the field at Penn National last out. Both the second and third-place finishers in that race came back to win their next start. Of course, none of those were against super-strong fields, but still.
RACE #9 MAIDEN CLAIMING $10,000, 3-YEAR-OLDS, 7 FURLONGS
9-1-5-6
#9 Uncle Cecil (5/2): Drops from the $25,000 level, after earning two figures of 62 in both his races to date. He wasn't impressive in either race; he's looking for the change in scenery to wake him up.
#1 Luxero (15/1): Another one taking a career-low drop in class. He ran a 61 in back-to-back races to begin his career, which firmly establishes him as a contender in this group. Looks for a rebound after a dull last race.
#5 Shepherd's Will (3/1): He's had gate problems in both of his starts, but recovered to finish nicely each time. Is a major contender with a clean break.
LATEST NEWS