The week in social media: Jan. 8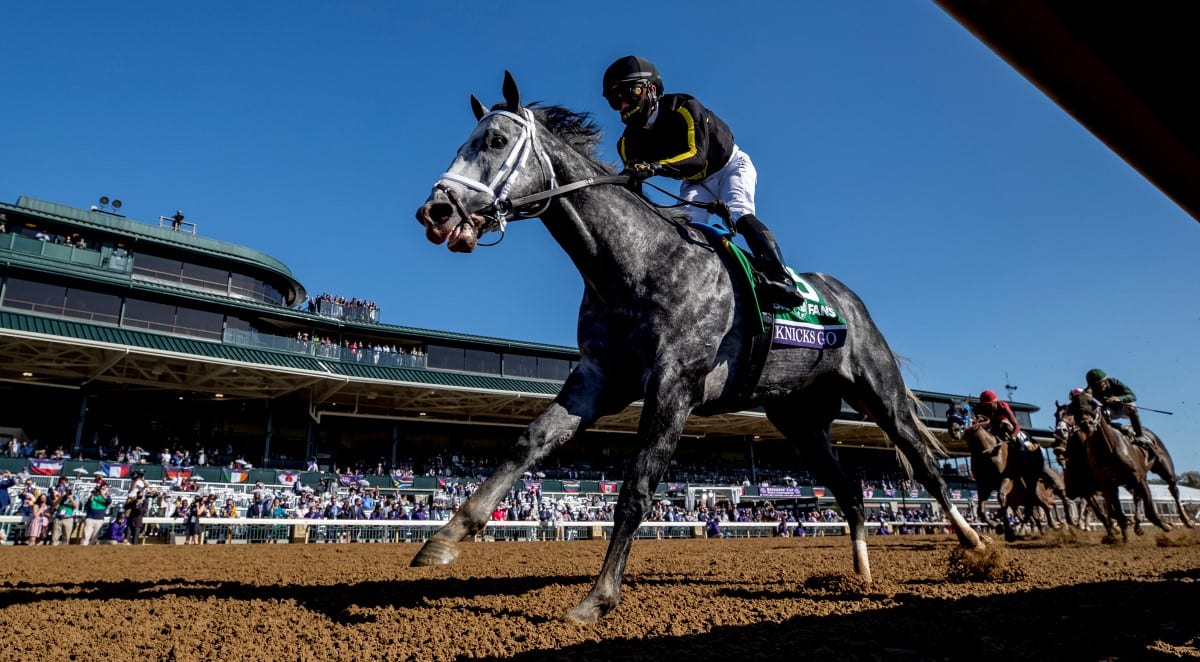 Knicks Go won the Breeders' Cup Dirt Mile at Keeneland. Photo by Alex Evers/Eclipse Sportswire/Breeders Cup/CSM.
Two Maryland-breds will be making their way to the Pegasus World Cup Invitational, a legendary trainer has announced his retirement, and a Maryland-bred has kicked off the new year with a stakes victory.
Here is the 411 on what racing fans in the Mid-Atlantic region have been talking about on social media this past week: 
On to the Pegasus
On January 3 sixteen top thoroughbreds were invited to compete in the 5th running of the $3 million Pegasus World Cup (G1). Among those sixteen elite thoroughbreds are Knicks Go and Harpers First Ride, who both are Maryland-breds.
Multiple graded stakes winner and millionaire Knicks Go will enter the Pegasus World Cup on a three-race winning streak. The five-year-old son of Paynter's most recent victory came in brilliant fashion at the Breeders' Cup last November, where he claimed glory in the Grade 1 Dirt Mile, smashing the track record along the way.
Bred by Sabrina and Angie Moore, Knicks Go is owned by Korea Racing Authority and is trained by Brad Cox. Knicks Go has visited the winner's circle five times from seventeen starts and has collected earnings of $1,348,995.
Like Knicks Go, Harpers First Ride is another five-year-old Maryland-bred who will enter the Pegasus World Cup on a winning streak of his own. The dark bay gelding has won two straight and flaunts a record of ten wins from seventeen total starts, including a score in the Grade 3 Pimlico Special in 2020.
Bred by Sagamore Farm, Harpers First Ride is owned by MCA Racing Stable LLC and is conditioned by Claudio Gonzalez. This fellow son of Paynter has banked earnings of $573,055.
Other possible contenders for the Pegasus World Cup include Charlatan, Code of Honor, Jesus' Team, Kiss Today Goodbye, Mr. Freeze, Sharp Samurai, Sleepy Eyes Todd, Tax, and True Timber.
The 1 1/8-mile Pegasus World Cup is set to take place on January 23 at Gulfstream Park and will be accompanied by the $1 million Pegasus World Cup Turf Invitational Stakes (G1).
A legend retires
Johnathan Sheppard, a highly accomplished owner, breeder, trainer, and Hall of Famer has announced his retirement from American racing after a decorated career of 56 years. While his contributions to American racing have come to a close, the freshly turned 80-year-old will continue to train a small stable based in Ireland.
Formerly based in West Grove, PA, Sheppard had a spectacular career in which he trained countless horses to success on dirt, turf, and in steeplechasing. Some of his many accomplishments include winning a race at Saratoga Racecourse for 47 consecutive years, earning champion steeplechase trainer honors a total of 26 times, and leading the National Steeplechase Association with a total of 1,242 scores as a trainer.
A winner of 15 Eclipse Awards, Sheppard is responsible for conditioning two thoroughbreds, Café Prince and Flatterer, to Hall of Fame careers. Sheppard was inducted into racing's Hall of Fame himself in 1990.
During his career, Sheppard also played the role of the NSA's president from 2004 through 2006. The trainer also contributed to the sport by aiding in various research projects that took place at the University of Pennsylvania's New Bolton Center. Always willing to talk to media members and aiming to introduce new members into the sport, the dedicated trainer was given the honor of receiving the NSA's F. Ambrose Clark Award in 2013.
When combining the world of flat racing and the world of steeplechasing, Sheppard has claimed victory a total of 3,426 from nearly 21,000 starts, totaling $88.7 million in career earnings.
Pete's Play Call scores
Eight-year-old gelding Pete's Play Call made his first start of 2021 a winning one, capturing the Gravesend Stakes at Aqueduct for his second straight triumph.
Pete's Play Call was away alertly in the 6 ½-furlong dash to press the pace. The chestnut son of Munnings pulled away from his rivals as he charged down the muddy stretch. After shutting down the bid of eventual runner-up Stan The Man, Pete's Play Call crossed the wire and stopped the clock in a final time of 1:17.63.
Bred in Maryland by Mr. and Mrs. Charles McGinnes, Pete's Play Call is owned by Michael Dubb and trained by Rudy Rodriguez. He has visited 14 wins from from 46 starts and has banked earnings of $648,421.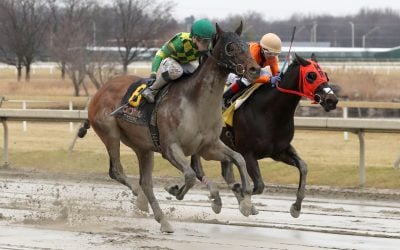 Va-bred Repo Rocks dominated the field in Saturday's Grade 3 Toboggan at Aqueduct, earning his and rider Andrew Wolfsont's first graded win.