HARPERS FIRST RIDE HEADED TO G1 PEGASUS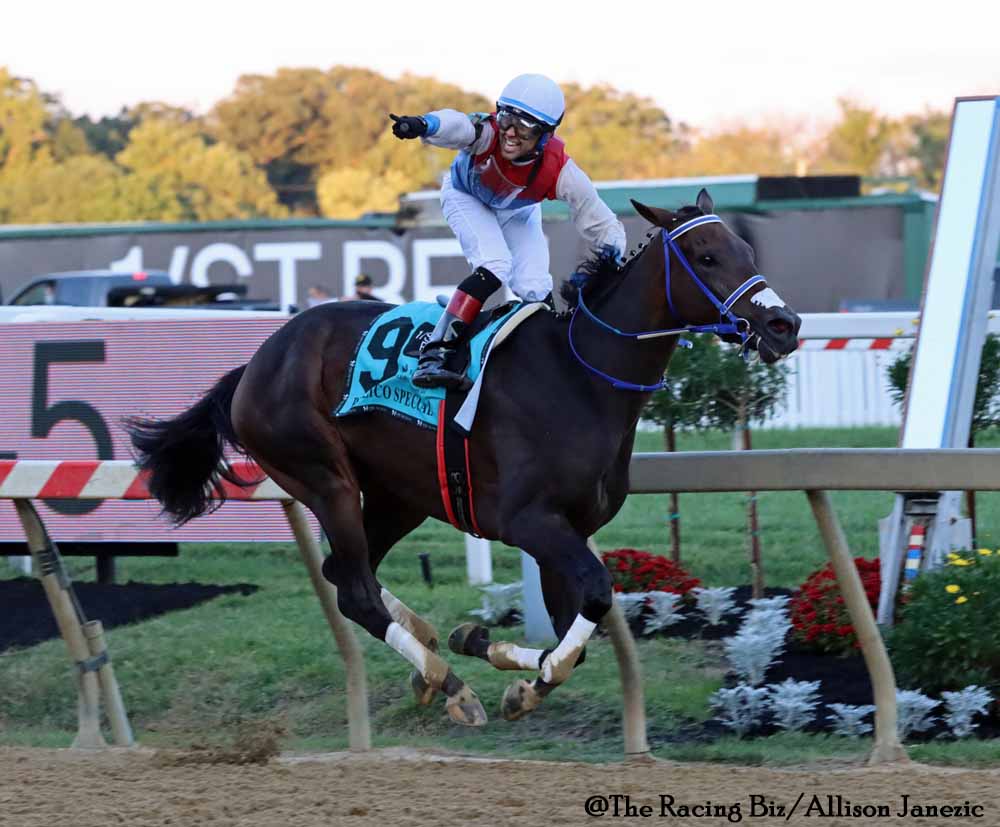 HARPERS FIRST RIDE (MD) (PAYNTER) !!! TO THE PEGASUS WORLD CUP INVITATIONAL STAKES G1!! US 3,000.000 JANUARY 23 2021

Good luck to all connections!! Thanks and congratulations to all out team!!! pic.twitter.com/2kD0kyNYdR

— ClaudioGonzalezRacingStables (@CGRacingStables) January 4, 2021
"Harpers First Ride (MD) (Paynter)!!! To the Pegasus World Cup Invitational Stakes G1!! Good luck to all connections!!" the Claudio Gonzalez Racing Stables account tweeted Sunday evening. "Thanks and congratulations to all out [sic] team."
Harpers First Ride is one of two Maryland-breds in the main body of the race. The other is Breeders' Cup Dirt Mile winner Knicks Go, now training at the Fair Grounds for conditioner Brad Cox. Knicks Go and Harpers First Ride are rated first and third, respectively, in the latest Mid-Atlantic Thoroughbred/The Racing Biz Top Midlantic-bred Poll.
The two Maryland-breds will contend with a talented group of runners in the nine-furlong Pegasus. That group includes Charlatan, who returned from a lengthy absence to win the Grade 1 Malibu easily last time out; and Mucho Gusto, the defending Pegasus champion who's earned nearly $4 million in his career.
Also invited are multiple Grade 1 winner Code of Honor and Sleepy Eyes Todd, easy winner of the Grade 2 Charles Town Classic this past August.
Harpers First Ride has won two straight and four of five overall. The four-year-old Paynter gelding earned his top win in the Grade 3 Pimlico Special in October, outdueling Owendale to score by two lengths.
Gonzalez had intimated he'd go looking for deeper waters following his runner's win in the Native Dancer Stakes at Laurel Park the day after Christmas.
"He proved that he won his races easy and maybe he has to take the next step and race with the big guys and see how he does," Gonzalez said then. "It all depends on how he's doing after the race, day by day, and we'll make a decision what we're going to do."
Gonzalez paid $30,000 to claim Harpers First Ride in September 2019 out of a maiden race at Churchill Downs. He won that day and really hasn't stopped winning since. Overall, Harpers First Ride has won 10 of 17 career races while banking $573,055.
While he showed promise in 2019, as a three-year-old, it was the 2020 season that saw Harpers First Ride, who was bred by Sagamore Farm, take off. He won three allowance races early in the year and earned his first black type with a win in Laurel Park's Deputed Testamony Stakes September 5.
Since then, he's added the Pimlico Special, Richard W. Small, and most recently Native Dancer Stakes to his resume. The lone blemish in his last five: a runner-up effort, after a wide journey, behind the promising Monday Morning Qb in the Maryland Million Classic.
All of that recent success has come with regular pilot Angel Cruz in the irons.
Gonzalez, who started on his own by winning six races in 2012, has won at least 118 races in each of the last four years. He has three graded stakes wins to his credit, two of them coming in 2020. In addition to Harpers First Ride's score in the Special, Fly On Angel won the Grade 3 Charles Town Oaks last August.
LATEST NEWS