Laurel Park picks and ponderings December 26, 2020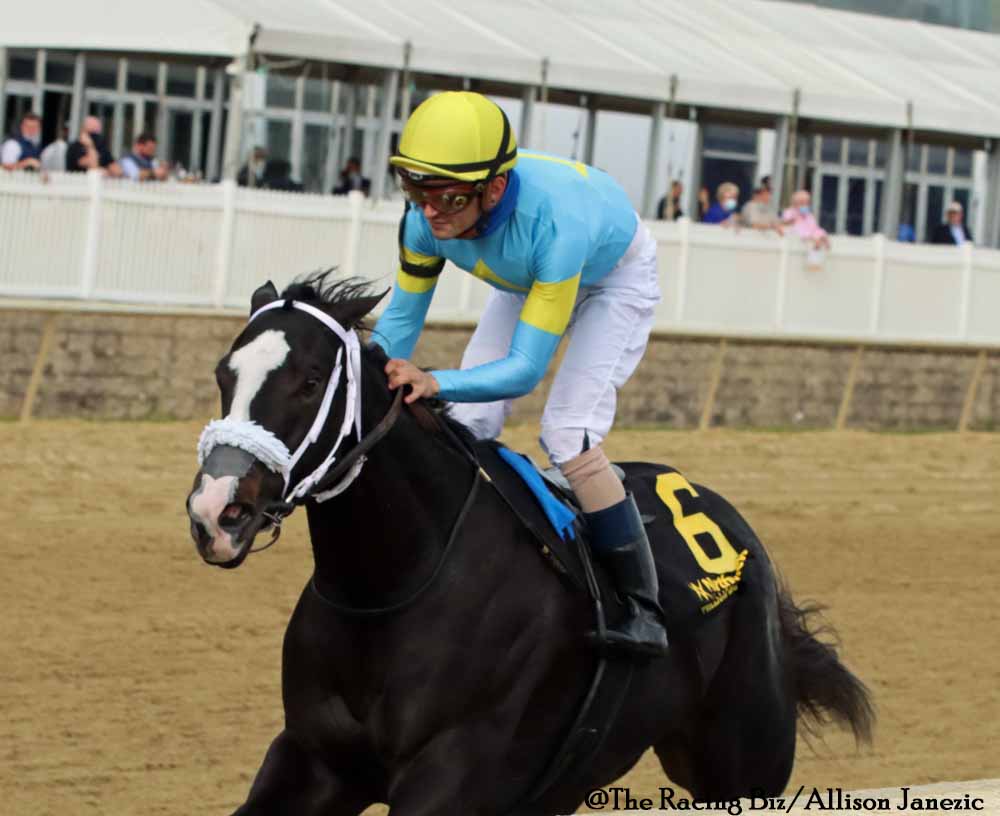 Hello Beautiful. Photo: Allison Janezic
In which we pick the races from Laurel Park each day…
Post time: 12:25 p.m.
Carryovers: Rainbow Jackpot Pick 6 — $9,551 Super High 5 — $0 Late Pick 5 — $0
ANALYSIS
RACE 1: HEFT STAKES, 2-YEAR-OLDS, 7 FURLONGS
4-6-1-5
#4 No Cents (7/5): A winner of three in a row, including a win against a tough field in the James Lewis Stakes last out. He enjoyed a great stalking trip in that race, but there's enough speed in here that he could sit just off the pace and pounce again. This'll be his first start beyond his six furlongs, however, it didn't look like he had any distance problems in that race.
#6 Singlino (3/1): He ran a big race in the Maryland Juvenile Futurity, battling with heavily favored Jaxon Traveler in the stretch to finish a clear-cut second. His only recent bad race was in the James Lewis, when he encountered traffic trouble on the turn and backed up. He's got tons of speed from the outside, and will likely try to take this field gate-to-wire.
#1 The Wolfman (6/1): He's only got one race under his belt, which was a strong win in a $40,000 maiden claimer. The horse he chased down on the lead, Escapability, came back to lose a maiden special weight by a neck in his next race. Looks to improve second time out. 
RACE 2: GIN TALKING STAKES, 2-YEAR-OLDS, FILLIES, 7 FURLONGS
5-6-2-3
#5 Street Lute (8/5): Already a three-time stakes winner, she handily won the Maryland Juvenile Fillies in her last start. Her form has been startlingly consistent, running a brisnet figure between 84 and 86 in each of her five races. Has good tactical speed and a strong middle punch which will serve her well in this spot. It'll be interesting to see what her connections do if she wins handily again. Will they keep her at shorter distances, or stretch her out with eyes on bigger prizes?
#6 Out of Sorts (7/2): After an impressive maiden win, she was well-bet in the Smart Halo Stakes. She broke a tad awkwardly, and was near the back early on. Although she closed well, Street Lute got the jump on her, and Out of Sorts ended up second. Her best race came when she began cleanly. If she breaks well here, she can stalk the leaders and make her move in tandem with Street Lute.
#2 Aug Lutes (5/1): Runs for the first time on dirt, after starting her career 2-for-2 on synthetics. She stalked and pounced in both her wins, and will likely sit the same trip here. Ran an 80 in both of her wins, so she'll have to step it up a few points to win this one. 
RACE 3: ANNE ARUNDEL COUNTY STAKES, 2-YEAR-OLDS, FILLIES, 1 1/16 MILES
2-7-3-8
#2 The Grass is Blue (9/5): She was well-bet in the Songbird Stakes at Keeneland last out, off two impressive wins to begin her career. However, she fell well behind early on, over a track that was playing towards speed, and was not a factor. Chad Brown gave her some time off since that last start, and now stretches her out. He's good with horses gong a route for the first time, and she looks well bred for two turns. 
#7 Miss Leslie (3/1): Took a big step forward in her first start for Claudio Gonzalez, drawing off to crush an allowance field while earning an 84, far and away her career-best figure. She also looks like the type who will enjoy going longer. That's probably why Gonzalez elected to run her here, rather than in the Gin Talking, even though she's never been beyond six furlongs.
#3 Zeyaraat (8/1): Won her lone dirt start with a strong closing rally, despite racing greenly in the stretch. Gets back to this surface after two tries going long on grass. Ran on well in the Selima Stakes, then raced wide throughout next out and wasn't a factor. She's shown hints that she can go long on the dirt, and merits consideration as a possible value play.
ANALYSIS
RACE 4: HOWARD COUNTY STAKES, 2-YEAR-OLDS, 1 1/16 MILES
5-6-3-2
#5 Shackqueenking (5/2): Ran a very solid race in his first try against winners. He battled on the lead in the early stages with a longshot, then dismissed that rival, and gave favored Hello Hot Rod a good battle most of the way. Although Hello Hot Rod drew off to win, Shackqueenking finished six lengths clear of third place. Broke his maiden two starts back at this distance, pulling away against a solid maiden field. Should be tough while sitting on or near the pace.
#6 Ain't Da Beer Cold (9/2): He has only one good figure in his past performances, but it was earned at this distance. He grinded out a n/w1x win going two turns two starts back, fending off a slew of rivals after setting the pace. One of them, Market Cap, reappears in this race. It appears as if he'll have to be on the pace to have a chance. When he doesn't get the early lead, he doesn't run his best. Fortunately for him, he has the best early pace figures in the race, so he should be able to get where he needs to go.
#3 Reassured (6/1): This deep closer will get his class test today. He closed from way downtown to win as the heavy favorite against $40,000 maiden claimers last out. He has a strong closing punch, but it may not be enough against these. Worthy of consideration for the underneath spots.
RACE 5 – WILLA ON THE MOVE STAKES, 3-YEAR-OLDS AND UP, FILLIES AND MARES, 6 FURLONGS
5-1-9-7
#5 Malibu Mischief (9/2): No one has been in front of this filly in six straight races, as she's blown fields off their feet both in the mid-Atlantic and in New York. Last out, she burst to the front, set a slow opening quarter, turned up the heat in the second quarter, and left them reeling. She's going to get some pace pressure in here, especially from Never Enough Time, but she looks fast enough early that it shouldn't be much of an issue. Notably, Trevor McCarthy, who rode her last time, is back this weekend, and gets the mount. 
#1 Don'tletsweetfoolya (2/1): She's got a nice little winning streak of her own, reeling off four straight victories. In the Primonetta Stakes last out, she was able to set her own terms up front, and drew away from the competition. She doesn't look quite as fast as Malibu Mischief early on, but also has plenty of early speed, and the inside post. Jevian Toledo will need to be aggressive.
#9 Club Car (5/2): In contrast to the speedballs described above, she tends to sit just off the pace. She won a n/w2x allowance in strong fashion two back at Churchill Downs, before finishing second in the Holiday Inaugural Stakes at Turfway Park. She rated near a fast pace, and held off everyone except a longshot who came from dead last. Expect another fast pace for her to run into here.
RACE 6: DAVE'S FRIEND STAKES, 3-YEAR-OLDS AND UP, 6 FURLONGS
8-6-3-2
#8 Laki (5/2): Closed strongly in his last start, but got nailed on the wire by Whereshetoldmego, who he'll have to face here as well. This one's been in more consistent form, however, including a win in the DeFrancis Dash two races back. He loves this track, and has the best closing punch of anyone in the race. He's also shown early speed, and should get first jump on the closers.
#6 Whereshetoldmetogo (7/2): He's rounding into career-best form, crossing the wire first in two consecutive stakes races. He's shown a strong middle punch in his last three races, and closed strongly to just get up and win last out in the Frank Whiteley.
#3 Taco Supream (6/1): His two best figures this year have came since returning from a brief layoff two races back. Sat a great trip and powered away to beat a tough n/w3x field last out. Could close for a piece and provide some good value underneath.
ANALYSIS
RACE 7 – NATIVE DANCER STAKES, 3-YEAR-OLDS AND UP, 1 1/16 MILES
4-1-2-6
#4 Harpers First Ride (3/5): Only a wide trip in the Maryland Million Classic has been able to slow him down as of late. He crushed the field in the Richard Small Stakes as much the best, stalking the pace an drawing off to a big win. Of course, three races back, he battled with Owendale to win the Pimlico Special. A win would be the cherry on top of a monster year.
#1 Cordmaker (7/2): He tends to run the same race every time. He stalks the pace, looks like he's going to make a menacing move, and flattens out. Managed to suck up for second behind Harpers First Ride in his last race; this is looks like the kind of field where he can do that again. 
#2 Hall Pass (8/1): Stretched out to a mile last time, and the extra distance did him well. He came from well out of it to win a solid n/w3x allowance going away. Should run on well again here.
RACE 8: ALLAIRE DUPONT STAKES, 3-YEAR-OLDS AND UP, FILLIES AND MARES, 1 1/16 MILES
5-4-2-3
#5 Ice Princess (3/1): Ran big in her first race off the layoff, in the Comely Stakes. She chased loose leader Mrs Danvers all the way around, but held clear for second, with a lifetime top figure of 94. In the start before that, she got stuck behind a slow pace, but closed well to just miss. Should be a menacing presence coming from behind. 
#4 Eres Tu (2/1): A perfect 2-for-2 on the year, she stalked the pace and drew off to win the Thirty Eight Go Go Stakes last out. There's not a ton of speed in here, so she could end up sneaking away and setting an easy pace.
#2 Another Broad (7/2): Steadily ran figures in the 90s all year long, but faced much better, and wasn't very visually impressive as a result. Returns to her home state, and faces easier competition. The pace dynamics may work against her, however, as she's a stone-cold closer. This could be another scenario where she closes well, but it won't matter with the slow pace in front of her.
RACE 9 – CLAIMING $5,000, 3-YEAR-OLDS AND UP, FILLIES AND MARES, 6 FURLONGS
4-1-8-9
#4 Majestic Pic (7/2): Seeks a rebound off a dull race, where she didn't show much early speed, and wasn't much of a factor. She ran back-to-back figures of 84 in the two races prior; both of those races would be good enough to win this one. Anthony Farrior claimed her out of her last race, and she also gets a jockey upgrade to Sheldon Russell.
#1 Blue Sky Venezuela (8/1): Closed well for second in her first start off the layoff last out. She has competitive speed and pace figures, and can run on for a piece at a price. 
#8 Polished Gal (8/1): She's been in sharp form on dirt lately, winning her last two on this surface, with dramatically improving figures. The big question will be if she can handle the jump from conditioned claimers to the open level.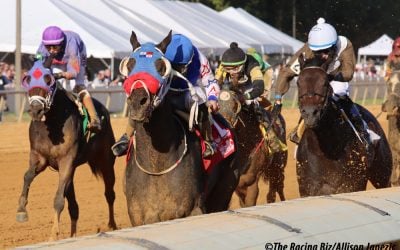 We provide full-card picks and analysis for this afternoon's races at Laurel Park.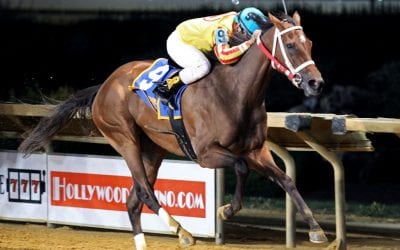 We provide picks and analysis for this evening's card at Charles Town Races.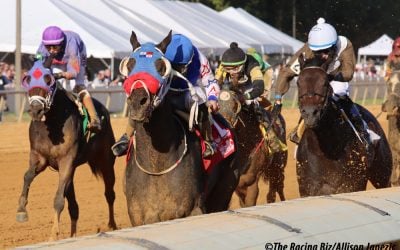 We provide full-card picks and analysis for this afternoon's races at Laurel Park.