Laurel Park picks and ponderings December 20, 2020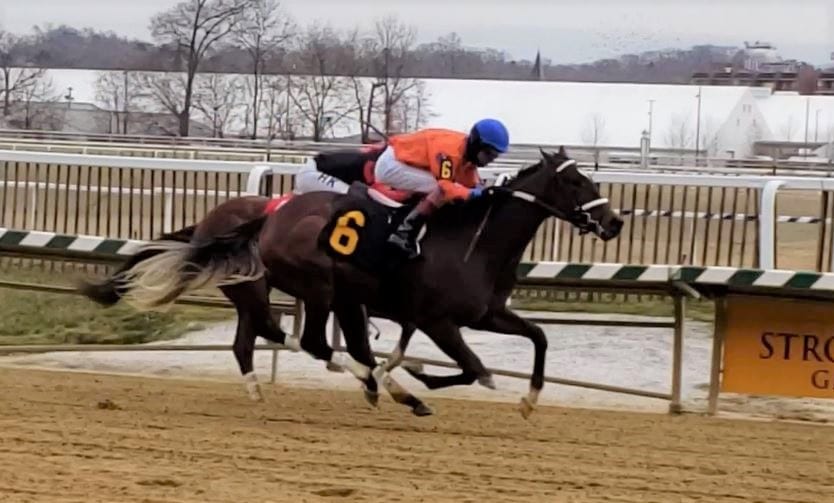 Virginia Beach. Photo: the Racing Biz
In which we pick the races from Laurel Park each day…
Post time: 12:25 p.m.
Carryovers: Rainbow Jackpot Pick 6 — $8,141 Super High 5 –$2,198 Late Pick 5 — $0
 ANALYSIS
RACE 1: STARTER OPTIONAL CLAIMING $25,000, 3-YEAR-OLDS AND UP, 1 MILE
3-5-2-1
#3 And Seek (3/1): Midwestern invader was plucked out of his last start at Churchill Downs by Fenneka Bentley, and makes his local debut here. He had to battle on the lead in his last several races. The key here will be to go to the lead, and he'll have to be aggressive to get there. As long as the tempo is somewhat mild, he should be good shape for the stretch run. 
#5 Welling (2/1): Made a rather heroic rally last out, closing from eighteen lengths back to lose by just a head against similar. Usually, he's a bit closer to the pace. He's shown fight in the stretch in his last few, and should do the same here.
#2 Royal Thunder (7/2): The primary threat to And Seek's front-running dreams. He's set the pace in each of his last three, only to stop in the final eighth each time. Generally, he gets pretty excitable and opens up big leads. If he can manage to reserve some energy early, it might help him out late.
RACE 2: CLAIMING $10,000 (CONDITIONED), 3-YEAR-OLDS AND UP, 1 1/16 MILES
4-5-8-3
#4 Boston Light (3/1): Ness trainee ships from Parx, where Ness is dominant, to here, where he's not quite as good. Still, this one is in good form right now, having run a brisnet figure of at least 77 three straight times. Last out, he stalked the pace and handily beat a n/w2L claiming field. 
#5 Lectric Choke (5/2): He's been knocking on the door at this level, hitting the board four straight times without a victory. He's been going off at progressively lower odds each time, to boot. Will the claim by Anthony Farrior be what he needs to put him over the top?
#8 Instigated (3/1): A winner of three in a row, all of them on the front end. There's no serious early speed to contend with here. If he wasn't drawn in the far outside post, I'd be all over him. Even with the bad draw and the short run into the first turn, he looks fast enough to clear the others and hold on. 
RACE 3: MAIDEN CLAIMING $25,000, 2-YEAR-OLDS, 1 MILE
6-7-9-8
#6 Bananas on Fire (8/5): Comes off a career-best effort. Against similar, he showed speed for most of the way, then faded, while holding onto second. His figure of 78 is the best last-out number by five points, and is far and away a lifetime top. He'll likely pull the same move again, can he sustain his speed this time?
#7 Grey Giant (9/2): Second-timer made mild ground on debut at Penn National, going this distance at two turns. Ran a sharp figure of 73 in that first start, and should take some steps forward second out. 
#9 What the Flash (4/1): Takes a career-low drop in class; he was most recently seen going for $40,000. He had been improving before his last race, but struggled after a wide trip. Looks for a rebound here.
ANALYSIS
RACE 4: STARTER OPTIONAL CLAIMING $25,000, 3-YEAR-OLDS AND UP, FILLIES AND MARES, 7 FURLONGS
1A-5-7-2
#1A Margie's Heaven (2/1): The better half of the Hugh McMahon entry, although both look formidable. This filly's got abundant early speed, finishing second after setting the pace last out. The horse who caught her last time, Ski Bunny, came back to win at this level yesterday.
#5 Union Song (7/2): Just missed in two in a row against weaker, then had a bad break last out, and lost forward position. She recovered well and finished fourth after a wide trip. If she breaks well, she has the late pace figures to make a serious impact.
#7 Castilleja (12/1): Tries winners for the first time after a sharp maiden score at Penn National. She has plenty of early speed, and hasn't run a bad race yet in her brief career. I'm not sure if she' classy enough for these just yet, but she merits respect as a possible value play.
RACE 5 – MAIDEN CLAIMING $10,000, 3-YEAR-OLDS AND UP, FILLIES AND MARES, 6 FURLONGS
10-11-6-3
#10 Miss Old Bay (5/2): Plunges in class after two disappointing efforts against better. One of the lighter-raced members of the field, with just three starts to her name so far. Her plan will be to wire this field, and she looks fast enough to do it.
#11 Solea (6/1): Ran big first off the layoff two starts back. She chased a loose leader, but closed well on the inside for third. She was pulled up last out, but has a solid workout since then, suggesting that she's ready to get back to her best form. 
#6 Cornetta's Choice (7/2): Steadily ran figures in the 70s over the summer, numbers that would be good enough to win this one. She hasn't been the same since coming off a three-month break, but she now cuts back in distance, and Damon Dilodivico is good with horses third off the layoff. 
RACE 6: MAIDEN CLAIMING $10,000, 2-YEAR-OLDS, FILLIES, 5 1/2 FURLONGS
12-9-11-3
#12 Awfully Foxy (6/1): Improved eight points in her second career start, recovering well after a bad break to lose second by less than two lengths. Adds blinkers for this run. 
#9 Quickstrike (7/2): Comes out of the same race as Awfully Foxy. This one got involved in a speed duel, and dueled her partner into oblivion while holding on to a solid third. In four races, she's hit the board every time, but hasn't yet gotten the job done. Will be tough on the front end, but there's enough speed in here that she could get softened up again.
#11 Lady Quintessa (6/1): Speaking of early speed, this filly looks like the fastest early. She looked clear in her last start at Penn National, after sitting just off fast fractions early. However, she got tired in the last eighth, and was caught in the final few strides. Still, she's been hanging in there more and more each time out. She'll look to build on that last race.
ANALYSIS
RACE 7 – CLAIMING $10,000 (N/W2L), 3-YEAR-OLDS AND UP, FILLIES AND MARES, 6 FURLONGS
10-4-2-11
#10 Villamoura (5/2): Broke her maiden in gate-to-wire style two back. Last out, she broke slowly, was rushed up, and wasn't much of a factor against better. She's one of three in here who has never lost a n/w2L claiming race. There's lots of speed in here, but she could outrun them early, and will prove tough to catch if she can get to the front.
#4 Catch the Sky (5/1): In contrast to all the speed signed on here, this filly is a stalker. She got the trip and powered away to break her maiden two races back, with a big figure of 78. A mile didn't suit her well last out. Cutting back to six furlongs, the distance where she won her first race, should help.
#2 Promenade Princess (6/1): Earned a career-best figure of 71 last out, closing strongly in the stretch to miss by just a neck. She'll go six furlongs on dirt for the first time; all her races thus far have been shorter. 
RACE 8: ALLOWANCE (N/W1X), 3-YEAR-OLDS AND UP, 7 FURLONGS
2-11-5-4
#2 In the Loop (7/2): Won two in a row against claimers, then chased Karan's Notion around the track last out and finished second. That rival came back to finish a game second in a n/w2x allowance yesterday. This one has speed from the inside, and no one as tough as Karan's Notion to deal with early on. The trainer/jockey team of John Robb and Xaiver Perez have been on fire as of late. 
#11 Russeldoingthings (4/1): Turned in a gutsy effort to beat Maryland-breds in his last start, just missing a lifetime top figure with a 91. Finished a solid third at this level two races back, in his first race back off a long break. Looks to have a lot of upside for top connections. 
#5 Oxide (6/1): His first start off the claim from the midwest, at this level going a mile, was a complete disaster. He bounced back very nicely when facing Maryland-breds, battling on in the stretch to win by a head, with a lifetime top figure. 
RACE 9: CLAIMING $5,000 (N/W2L), 3-YEAR-OLDS AND UP, 7 FURLONGS
6-2-7-3
#6 What's the Chances (9/5): Has taken big steps forward in his last two, including a powerful maiden win last out. He's the only horse in the field who has never lost against winners, and will be very tough if he runs his usual race. 
#2 Seize the Day (3/1): Ran a big race on the lead at Charles Town last out, getting caught late after setting the pace. He's fast enough to set he pace here, just a matter of if he can hold on.
#7 Little Bay (12/1): Came from way downtown to break his maiden two back, with a strong closing rally. Didn't show much last out; he'll look for a rebound here.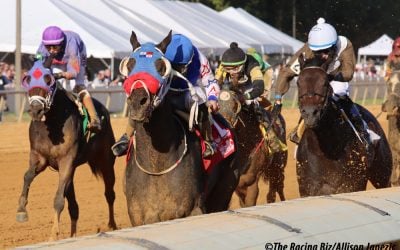 We provide full-card picks and analysis for this afternoon's races at Laurel Park.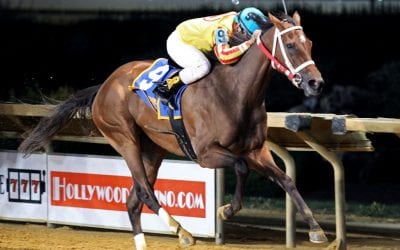 We provide picks and analysis for this evening's card at Charles Town Races.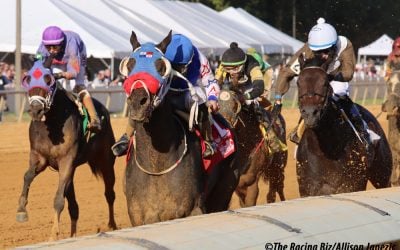 We provide full-card picks and analysis for this afternoon's races at Laurel Park.