Laurel Park picks and ponderings December 19, 2020
n which we pick the races from Laurel Park each day…
Post time: 12:25 p.m.
Carryovers: Rainbow Jackpot Pick 6 — $6,605 Super High 5 — $525 Late Pick 5 — $0
ANALYSIS
RACE 1: MAIDEN CLAIMING $40,000, 3-YEAR-OLDS AND UP, 1 MILE
2-3-5-7
#2 Peachy Keen (3/1): He was disappointing in his last race, a spot where he was clearly one of the two best on paper. He flattened out and was a nondescript third at 4/5. Cuts back from 1 1/16 miles to a mile, a distance where he's much more effective, and goes first off the claim for Claudio Gonzalez. 
#3 Ratify (5/2): Has hit the board in both his dirt races, both times against better competition. The last time he was seen at this level, he got a good trip stalking the pace and led briefly before being caught. That was his second start off the layoff; he's had a few more starts under his belt since then to improve his game.
#5 Reticent (4/1): Recovered well from a bad break last out at Parx to finish fourth on debut. Adds lasix for his second start; Jeremiah Englehart is 25% with that angle.
RACE 2: STARTER OPTIONAL CLAIMING $25,000, 3-YEAR-OLDS AND UP, FILLIES AND MARES, 6 FURLONGS
1-5-3-2
#1 Foggy Dreams (2/1): Chased a perfect-trip rival in her last race, but drew off from the others to finish a clear-cut second. Faces a field with a lot of speedballs who don't usually have a lot left for the stretch drive. This field could come back to this stalker. 
#5 Mortal Storm (6/1): Gets a needed cutback in distance from 1 1/16 miles. Her best recent races have come in sprints. Earlier in the year, she showed speed, now, she tends to stalk and suck up for a piece. She might need more of a punch to win this race, but she can come along for the ride underneath at decent odds. 
#3 Le Weekend (8/5): This speedy filly won two in a row at Dealware Park over the summer, both times going gate-to-wire. Drops in class after facing much tougher in her last two, but she's drawn a speedy rival to her direct inside: Tarawa. If she can outrun that one in the opening quarter, she can set her own pace, and might prove tough to catch. 
RACE 3: MAIDEN CLAIMING $10,000, 2-YEAR-OLDS, 5 1/2 FURLONGS
2-3-1-4
#2 You Are Awesome (9/5): Matched her career-high brisnet figure of 69 last out, finishing third while closing behind a gate-to-wire winner. She takes a further drop from the $16,000 level here. John Robb gives the riding assignment to his go-to rider, Xavier Perez, for the first time.
#3 Helms Deep (5/2): Ran a gigantic race going a mile last out. He dueled going a mile through fairly fast fractions, then gave way after about a half mile. Although he lost by ten lengths, he still outfinished his dueling partner, who he'll face again here, by a wide margin. The shorter distance should be helpful for his speed.
#1 Yoinks Scooby (6/1): Got action on debut, going off at 9/1 in a race where he was the only first-time starter. He broke slowly, was rushed up in a duel with Helms Deep, and promptly gave way. Should improve here with a clean break.
ANALYSIS
RACE 4: CLAIMING $5,000 (N/W2L), 3-YEAR-OLDS AND UP, 1 1/8 MILES
4-8-3-6
#4 Two Doors Down (5/2): Tries winners for the first time, after a big effort in her second race off a long layoff. She closed from well out of it, then prevailed in a stretch duel to win with a career-best figure of 76. Shouldn't have too much trouble with the stretchout from a mile. 
#8 Runner Runner Indy (2/1): Keeps knocking on the door at this level, hitting the board five times in a row without a win. Her figures are easily the most consistent in the field, and she's raced well in her two-turn efforts, facing disadvantageous race flows both times. Today could be the day, but I don't know if I'd want to take her at low odds. 
#3 Stand My Ground (7/2): Took a big step forward third off the layoff, closing for third after encountering some traffic trouble. Her figure of 67 represents a six-point improvement from her second race off the bench.
RACE 5 – STARTER OPTIONAL CLAIMING $16,000, 3-YEAR-OLDS AND UP, 7 FURLONGS
1-8-4-6
#1 Nomo Ron (9/5): He's been doing good things since coming from the midwest, winning two in a row, then just missing against the very classy Fortunate Friends. He already beat a field like this one pretty easily three back; no reason to expect that this will be any different. 
#8 Flat Out Flying (6/1): His name suits his running style; he likes to come from well out of it. That hasn't gone so well for him in his last few, but they've been against better, and in some of those races, he was behind very slow paces. He should have enough here to outkick everyone except Nomo Ron. 
#4 Baptize the Boy (3/1): Ran huge in the Maryland Million Sprint two back, stalking the pace and outfinishing everyone, except the very speedy Karan's Notion, who took them gate-to-wire. Looks to shake off an uncharacteristically dull try in his last race. His workouts since that November 12 effort suggest he's rounding bac into top form, which saw him rattle off figures in the low 90s pretty steadily. 
RACE 6: ALLOWANCE (N/W1X), 3-YEAR-OLDS AND UP, MD-BRED, 5 1/2 FURLONGS
10-8-3-7
#10 Odds On (7/2): Ran huge in victory two back, recovering from a bad break to win going away. Last out, he chased the tough Phantom Ro, but actually improve his figure five points, to a 91, from that last win. Has good tactical speed and a strong closing kick, which will serve him well here.
#8 Redeem Eddie (5/2): Dueled gamely in the stretch last out to miss by a head, just missing his career-top mark with a 90. He's one of many in here with plentiful early speed. Whether he goes for the front, or chooses to sit back, he'll be in good shape either way.
#3 Seven on the Rocks (8/1): He's crossed the wire first in two of his last five, but his form has been a bit inconsistent as of late. Earned figures of 89 and 93 in those two aforementioned races, which would be good enough to win. If the good version of him shows up, he'll be great value.
ANALYSIS
RACE 7 – MAIDEN CLAIMING $25,000, 2-YEAR-OLDS, FILLIES, 1 MILE
3-8-7-4
#3 Wonderwall (3/1): Cuts back to a mile, the distance where she ran her career top figure, and drops from the $40,000 level. She's run at least a 66 in each of her three races; only one horse has gotten to that mark even once within their last three.
#8 Flyin It (4/1): Closed well despite falling behind slow paces in each of her last two races. Unfortunately for her, there's not much speed in here, either, but she should still run on well for a piece.
#7 Mikey's Jewel (4/1): She's improved in each of her three starts, most recently coming from behind to lose by just a length against similar going longer. She has some pretty severe issues breaking from the gate. If they ever get resolved, she'll be tough.
RACE 8- ALLOWANCE OPTIONAL CLAIMING (N/W2X), 3-YEAR-OLDS AND UP, 5 1/2 FURLONGS
4-5-3-1
#4 Frank'sgunisloaded (5/1): Taking him in this race is taking a leap of faith as to if he can break. He was well-bet in his last start, his first in a while, but he dwelt and was pulled up. Earlier this year, he was in great form going longer, running figures as high as 101. Claudio Gonzalez worked him from the gate last time, which went well, as he turned in a bullet drill going four furlongs. This stalker should get a fast pace to run into.
#5 Karan's Notion (9/5): Outran a tough field to wire the Maryland Million Sprint two starts back, then bowled over an allowance field for his first triumph against open winners. This will be a big litmus test. He's got tough speed drawn to his inside, in Stroll Smokin. He might be fast enough to sneak clear and avoid getting in a duel. If he can zoom clear, he might be tough to catch. 
#3 Carey Times (10/1): Looks to rebound after getting caught in a speed duel last out. He ran two huge races earlier in the season at Laurel, coming from off the pace in one of those wins. Should sit just off the pace, and take advantage if the leaders burn each other out.
RACE 9 – STARTER OPTIONAL CLAIMING $25,000, 3-YEAR-OLDS AND UP, FILLIES AND MARES, 1 1/16 MILES
7-8-1-3
#7 Ski Bunny (3/1): Tries this level again, after drawing off to win impressively last out. Stretches back out from a mile, but that shouldn't be an issue. Some of her best figures have come when going 1 1/16 miles. 
#8 Isabellaalexa (5/1): It's not an ideal post for this speedster at this distance. She won two in a row going gate-to-wire, but when she wasn't able to get to the front last time, she struggled. Alex Cintron will have to be aggressive early on, but if he is, that strategy will pay dividends. 
#1 Tequila Fog (7/2): She's set and equaled a lifetime top figure in two races since coming off a long layoff. Could make things tough for Isabellaalexa, as she also has early speed. Brittany Russell is good at everything, but she's 29% with horses going third off the layoff.
Blue Ska, Kevin MacLeod (incompetech.com)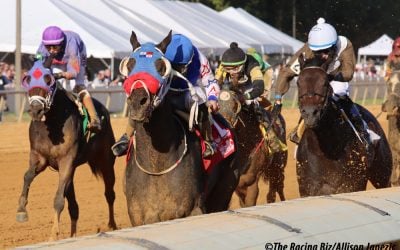 We provide full-card picks and analysis for this afternoon's races at Laurel Park.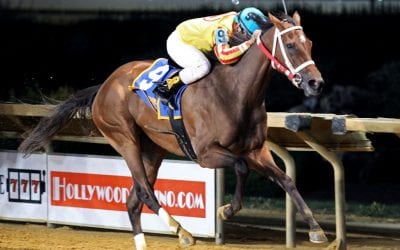 We provide picks and analysis for this evening's card at Charles Town Races.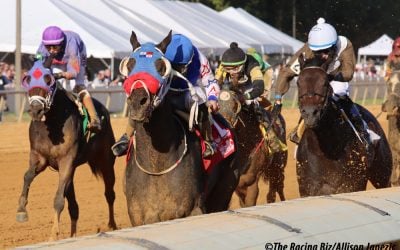 We provide full-card picks and analysis for this afternoon's races at Laurel Park.