Laurel Park picks and ponderings December 17, 2020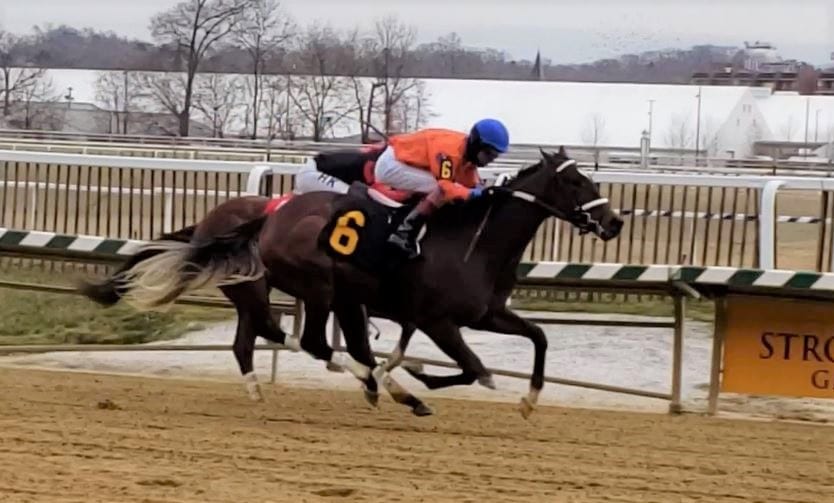 Virginia Beach. Photo: the Racing Biz
In which we pick the races from Laurel Park each day…
Post time: 12:25 p.m.
Carryovers: Rainbow Jackpot Pick 6 — $5,251 Super High 5 –$1,458 Late Pick 5 — $0
TODAY'S LIVE RACE CARD HAS BEEN CANCELED.
 ANALYSIS
RACE 1: MAIDEN CLAIMING $16,000, 3-YEAR-OLDS AND UP, FILLIES AND MARES, 6 FURLONGS
6-1-4-5
#6 Lady Magnolia (2/1): Her only race going short on dirt was a solid one. She finished second in her debut, which was last June, behind Shippy. That rival went on to finish third in the Schuylverville Stakes next out, and won the Blue Sparkler Stakes earlier this year. This is this filly's first start in for the tag, after a few tries going longer at a variety of distances. Worth a look, if only because she's not yet a proven loser under these conditions.
#1 Warrior's Blade (7/2): Drops from the $20,000 level at Monmouth Park, after a solid fourth with a rocky trip. She took a needed step forward in that race, running a career-best brisnet figure of 62 on dirt.
#4 Top Hat Boss (5/2): Woodbine invader is the dominant early speed in the field. She battled on the lead last out, dueling her rival into a 24-length defeat, and held well until the last sixteenth. Should be a tough customer on the front end once again.
RACE 2: CLAIMING $5,000 (CONDITIONED), 3-YEAR-OLDS AND UP, 1 1/16 MILES
4-5-6-2
#4 Seattle Ric (5/1): In his last start, he got burned up in a very fast pace, and unsurprisingly stopped badly. Two back, when getting only light pressure, he had enough to battle on until the end. He'll almost certainly get pressure from Instigated, but he looks fast enough to outrun him early and avoid getting caught in a duel.
#5 Instigated (8/5): A winner of his last three races, with all of his wins coming after he was on or near the pace early on. If Seattle Ric tires on the front end, this guy will be in the catbird seat ready to pounce, and from there, the rest will have a hard time catching him.
#6 Five Card Draw (4/1): The wild card of the field. He's been fairly impressive going shorter lately, with his trouble-marred trip last out his only bad effort within his last six races. He's run on well in his one-turn victories, going away easily after stalking the pace two races back. Has a win at a mile on his resume; if he can handle the extra sixteenth, he'll be tough.
RACE 3: MAIDEN CLAIMING $10,000, 3-YEAR-OLDS AND UP, 1 1/8 MILES
6-7-2-3
#6 Bourbon Agogo (7/2): No one else in the field has gone this long on dirt this far, and I don't think most of them can get this distance without assistance from a golf cart. He was a solid fifth going 1 1/2 miles four races back at Delaware Park, and closed well off slow paces in his next two. Last out, he was wide the entire way, and didn't have much of a chance after that. He can just wait for the field to come back to him, show some mild kick late, and get by for the win.
#7 Nicky Bear (6/1): He's in career-best form, running lifetime top figures in back-to-back races. Both times, he's been stuck behind slow paces, but came on well at the end. Probably should've won his last start at Penn National, when he had all day to go by. Still, the race represents a career-best figure, and if can improve off it, he should be able to finish the job. 
#2 Boston Billy (10/1): Adds lasix for the first time. He got bet last out against similar at Charles Town, but got hung wide the whole way. The distance is a big question, but lasix makes him interesting.
ANALYSIS
RACE 4: STARTER OPTIONAL CLAIMING $25,000, 3-YEAR-OLDS AND UP, 6 FURLONGS
7-1-4-2
#7 Jovis (3/1): Enjoyed a good stalking trip in his last race, and drew off to win easily against a tougher field than he'll see here. He's got some of the best early pace figures in the race; the only one who can go with him early is Hard Fought, who looks like cheap speed. This one can sit off his rival, watch him tire, then pounce and draw off.
#1 No More Talk (7/2): Another stalking type. He's steadily run figures in the mid-80s all year long, including a sharp 85 at this level last out. There he rated off the pace and just missed against Odds On, a four-time winner against these types this year. Should get an ideal trip on the rail. 
#4 Dial Operator (5/1): Makes his first start since August 30, and his second since February 1. In that last race, he had a tough trip against Jersey-breds and was a solid second. He's shown flashes of brilliance during his career, including a giant figure of 104 against tough allowance company last summer. Based on his past performance lines, which are littered with long breaks, he doesn't look like the sturdiest type. Still, this should be an easy enough field for him if he can bounce back.
RACE 5 – CLAIMING $16,000 (CONDITIONED), 3-YEAR-OLDS AND UP, 1 MILE
1-7-6-5
#1 Boston Light (3/1): Both halves of the Ness entry have a shot here; I'll give the edge to this half. Scored a sharp win at Parx last out, coming from just off the pace to win going away. This'll be his first try against winners, and it looks like he's in career-best form. In a race without much pace, he could end up with a comfortable trip on the front end.
#7 Pitching Ari (2/1): Drops from the starter optional claiming level, to a lifetime-low class level. He just missed against much better two back at Parx, lasting after a duel before getting nailed on the wire. Had a nice hot streak on this track this winter, winning four in a row before the break. Got pace-compromised last out, and it's possible that happens again. If it doesn't, though, he'll be tough.
#6 Walk Away Joe (3/1): Another stone-cold closer, he's run good speed and pace figures as of late, but hasn't been able to put it together in a winning effort. Won two in a row during the summer meet, so the closing punch is there somewhere. Should get at least a piece.
RACE 6: MAIDEN CLAIMING $10,000, 2-YEAR-OLDS, FILLIES, 5 1/2 FURLONGS
2-10-5-11
#2 Awfully Foxy (6/1): Improved sharply in her second race, moving well while wide and missing second by less than two lengths. Gets blinkers on and cuts back in distance. She's had awkward breaks in her last two races; a clean start will be important.
#10 Lady Quintessa (5/1): Once a Todd Pletcher trainee, this'll be her fifth start for the Scott Lake barn. She used to be a pure speed-and-fade type, but has been showing more and more stamina as time has gone on. Takes a career-low drop in class in here.
#5 Quickstrike (7/2): Keeps knocking on the door, with four in-the-money finishes, but no wins in her career. Her last race was far and away her best start. She shook off her dueling partner, causing her to lose by seventeen lengths, and held on well to finish third. Could cause some trouble for Lady Quintessa on the front end.
ANALYSIS
RACE 7 – ALLOWANCE OPTIONAL CLAIMING (N/W1X), 2-YEAR-OLDS, FILLIES, 1 MILE
6-3-5-2
#6 Champagne Toast (10/1): One of the few in here with positive experience going long, she showed good closing speed to win at 1 1/16 miles last out. She should relish the long stretch of the one-turn mile. Sheldon Russell, far and away the top jockey at Laurel right now, keeps the mount.
#3 Guns Blazing (9/2): She also showed promise going long in here last start. Got a good trip just off the pace, then drew off to win at a mile impressively. She's never run worse than a 74 in three career starts, making her one of the most consistent members of the field.
#5 Fraudulent Charge (7/2): Just like the other two, she broke her maiden going away in her last start. That win was on debut, however, making her the only horse in the race to have never lost. She didn't show as much closing speed as I might like to see, while being worked on, so it's not clear how far she wants to go. Still, it's very possible she improves second time out.
RACE 8: ALLOWANCE (N/W1X), 3-YEAR-OLDS AND UP, FILLIES AND MARES, MD-BRED, 5 1/2 FURLONGS
9-4-8-6
#9 Halfinthewrapper (9/2): This race will be the litmus test for this filly. She's won three of her last four, with all her wins coming in dominant front-running style. Those wins have come against conditioned claimers, where she was able to run them off their feet. Here, she'll have to outrun a fairly tough field. Can she do it? I think you'll get the right price on it, and there's no one in here who can run with her early. The trick will be to hold off the closers.
#4 Patriotic Punch (6/1): Drops back to the state-bred level after a wide trip against open horses. She rattled off three in a row against gems of a slightly lesser water earlier in the year, rating off the pace and closing well. Sheldon Russell picks up the mount, replacing the tandem of Katie Davis and Trevor McCarthy, who had been alternating rides.
#8 Naughty Thoughts (3/1): She's got the most class in the field, with a win in the Wide Country Stakes in February on her resume. However, she's had just one start since mid-March, a disappointing effort in the Dogwood Stakes at Churchill Downs. She returned to the worktab in late October, and the drills have been sharp. Interested to see how she does, but not at low odds.
RACE 9: MAIDEN CLAIMING $10,000, 3-YEAR-OLDS AND UP, FILLIES AND MARES, 1 1/16 MILES
2-5-1-7
#2 Time Travel (4/1): Lightly-raced filly makes her fourth career start, and adds lasix for the first time. Made some decent ground in the stretch last out going a mile, while matching her lifetime top.
#5 Lady Fox (8/5): Tries this level for the second time, after encountering some trouble in her debut at this class. Steadily runs figures in the 70s, which would be enough to win this race. Alex Crispin, after a slow start, has been running golden lately.
#1 Abilify (3/1): She's gotten some time off since a discouraging effort last out at Presque Isle Downs. Showed some ability before that, including a near-miss against similar two back.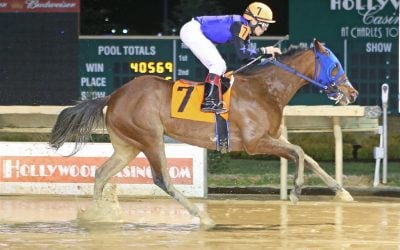 Which Charles Town trainers are off to hot starts? Asking for a friend; no, wait, actually asking for the betting public. Answers within…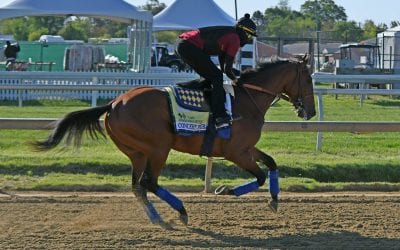 The fourth Kentucky Derby future wagering pool will kick off Friday, and 2yo champ Forte is the top individual choice on the morning line.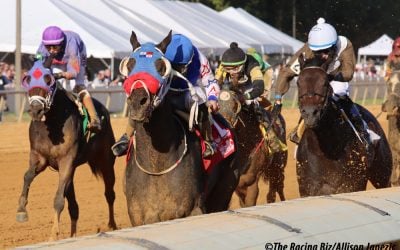 We provide full-card picks and analysis for this afternoon's races at Laurel Park.