Laurel Park picks and ponderings December 10, 2020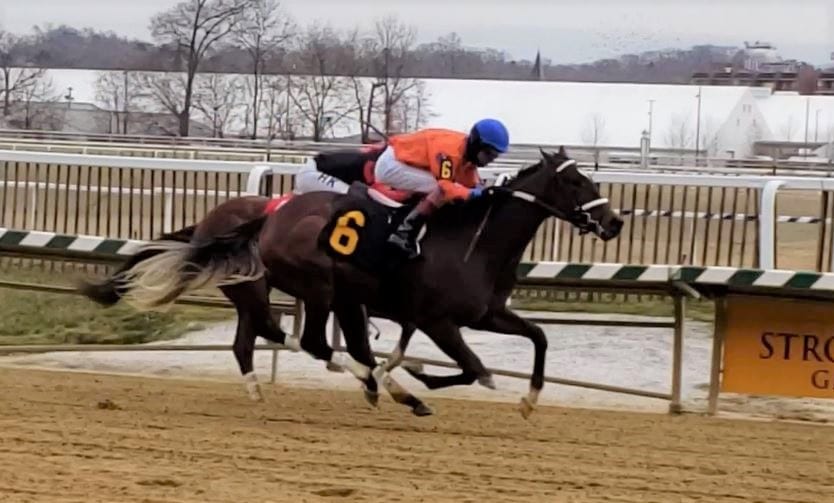 Virginia Beach. Photo: the Racing Biz
In which we pick the races from Laurel Park each day…
Post time: 12:25 p.m.
Carryovers: Rainbow Jackpot Pick 6 — $9,136 Super High 5 –$0 Late Pick 5 — $0
 ANALYSIS
RACE 1: MAIDEN CLAIMING $40,000, 2-YEAR-OLDS, 1 1/16 MILES
3-7-6-1
#3 Dandy Yankee (6/1): He was fairly well-bet in his debut, but fell well behind and was ninth. Usually, it can be a trap to bet horses who close well sprinting going long, but it is somewhat promising that he ran on well at the end of the race. In a race with a vulnerable favorite, I'll take a shot with him.
#7 Reassured (1/1): The aforementioned vulnerable favorite, who will almost certainly be odds-on. It's true that he ran well in his last start, closing from well out of it to finish second after a stretch battle. However, that was a similar field as he'll see here, and I feel like if he was ever going to win, that race was going to be the time. He's got the best speed figures in the field, and is worthy of respect, but if he wins at low odds, it won't be with my money on him.
#6 Steady Eddie (12/1): Took a big step forward in his last race. He improved his figure fourteen points, up to a 62, when showing speed and fading. In his debut, he didn't show speed at all. It's a good sign to see a horse finally show at least some ability second out. Can he put it all together here?
RACE 2: CLAIMING $5,000, 3-YEAR-OLDS AND UP, FILLIES AND MARES, 1 MILE
7-3-1-5
#7 Makin' Out (8/5): She's a perfect 2-for-2 since entering the Jerry O'Dwyer barn. Last out, she stalked the pace and drew off to win going two turns at Penn National. Should sit a great trip and get the jump on the closers.
#3 Petion Lass (7/2): If you back her, you can't say she won't give you a thrill. She's a deep closer who always puts in a good run, but most of the time, it's not good enough. Stretches out from six furlongs in this spot; she's finished in the top two in four of her last five races at this distance. 
#1 Folk Magic (9/2): Showed little in her first start off the layoff. Ran steadily good races over the summer, including an impressive on-the-pace win at Delaware Park two back. She's had a sharp workout since that comeback effort, and looks to fire a top effort here with more prep under her belt.
RACE 3: MAIDEN CLAIMING $16,000, 2-YEAR-OLDS, FILLIES, 7 FURLONGS
5-8-2-4
#5 Twice Served (3/1): Ran the best of anyone who was on the pace in her last race. She battled in the stretch to lose to a Russell filly who came back to win her next start. Should be tough on the lead once again.
#8 Miss Moreno (9/2): The only one in the field who has never lost for a tag. She chased the very promising Out of Sorts last out and faded. There's no one in this field of that one's caliber. The drop in class should be what she needs to at least improve on her last race.
#2 She's All Courage (5/2): Drops after debuting at the $25,000 level. Her performance was visually unimpressive, but her speed and pace figures fit right with these.
ANALYSIS
RACE 4: ALLOWANCE OPTIONAL CLAIMING (N/W2X), 3-YEAR-OLDS AND UP, 1 1/8 MILES
6-3-4-2
#6 Plot the Dots (5/2): Got up to beat n/w1x allowance horses going a mile last out, after a gutsy stretch battle. The runner-up in that race, Zabracadabra, came back to win as the big favorite. He's run a lifetime top figure in each of his last two starts, and has finished in the top two in five of six over this track. If he runs well here, he may begin targeting stakes company.
#3 Colonel Juan (6/1): Claudio Gonzalez claimed this one out of his last race, and it's no secret how good Claudio is first off the claim. Him and Angel Cruz haven't been as good of a trainer/jockey combo as they were over the summer, but they nevertheless merit respect. Looks to rebound off a dull effort against cheaper; prior to that, he had been closing well off slow paces.
#4 Beyond the Victory (4/1): We'll know in about the first fifteen seconds if this horse has a shot. He's a need-the-lead type; if he can't get a clear advantage, he's in trouble. There's some in here who have better early pace figures, but they're not necessarily speedsters by trade. If no one decides to press him, he could get quite loose on the lead. From there, he'll be tough to catch.
RACE 5 – MAIDEN CLAIMING $40,000, 2-YEAR-OLDS, FILLIES, 1 MILE
4-8-7-3
#4 Speed Lane (5/2): Drops back in for a tag after a solid try against straight maidens last out. The horse who beat her home sat a perfect trip stalking the pace and had a big pace edge. This one ended up in a tie for second that day, improving her figure seven points from her debut.
#8 Dare to Promise (8/1): Races for the third off the layoff here. She had a troubled trip going long last out, which caused her to fall well off a slow pace. Closed well when going six furlongs two races back. 
#7 Offlee Graysful (6/1): Exits the same race as Dare to Promise. She got hung wide throughout the 1 1/16 mile contest, but held on well and lost by just 2 1/2 lengths. She adds blinkers here; Jamie Ness is 23% with first-time blinkers.
RACE 6: STARTER OPTIONAL CLAIMING $25,000, 3-YEAR-OLDS AND UP, 6 FURLONGS
2-3-9-5
#2 Escape (8/5): Runs for the first time since March 13. That last race was a giant win at Aqueduct, where he beat starter allowance company by 5 1/4 lengths. His figure of 98 is the best last-out figure in the race by eleven points. He's a stalker who will likely get a hot pace to run into. 
#3 Tauber (8/1): Another stalking type, he's finished in the top three in his last nine races. Not sure if he'll be able to outrun Escape in the stretch, but he can certainly pick up the pieces for the minors at a decent price.
#9 Workin on a Dream (6/1): He tried to engage with the leaders last out, and it didn't go so well. Held in well when sitting just off the pace against better earlier in the year. Should improve going first off the claim for Jamie Ness.
ANALYSIS
RACE 7 -MAIDEN CLAIMING $10,000, 3-YEAR-OLDS AND UP, 7 FURLONGS
1-2-7-3
#1 Burgess (4/1): Raced well in his first start off a long break. He came from well behind to finish fourth, losing second by 1 1/2 lengths. He doesn't have much early speed, but his powerful closing punch should carry the day.
#2 Pay the Kid (9/2): Another one who showed a lot of closing speed in his debut. He was fairly well bet, going off at 14/1, but had an awful break. He closed well to finish sixth, after falling almost twenty lengths behind early. Would've been nice to see a gate workout since that last start, but even if he breaks awkwardly again, he won't be completely out of it. 
#7 Orbonthebayou (5/1): He's only raced one time, fading after showing brief foot on grass in June. He's never lost at this level, and he's never lost on dirt. By default, that's worth a bet in a race like this. 
RACE 8: ALLOWANCE OPTIONAL CLAIMING (N/W1X), 2-YEAR-OLDS, FILLIES, 6 FURLONGS
5-7-6-2
#5 Mit Mazel (6/1): She ran a big race to break her maiden last out. She encountered pace pressure, but dismissed it and drew off to win. Claudio Gonzalez claimed her out of that race, always a good sign. Looks to go out to the lead once again, and stay there.
#7 Adelaide Miss (2/1): Broke her maiden on grass impressively at Colonial Downs, with a sharp closing rally to just get up and win. This will be her first start against winners. Will her form translate?
#6 Miss Wild (3/1): Was dazzling on debut over the summer at Monmouth Park, winning by fifteen lengths with a huge figure. She faced a tougher n/w1x field last out, and got blown away by Prodigy Doll. Hung in well against the rest, losing second by less than three lengths. She's had a good bounce-back workout since then. 
RACE 9: STARTER OPTIONAL CLAIMING $25,000, 3-YEAR-OLDS AND UP, 6 FURLONGS
6-1-5-3
#6 Moonachie (7/2): Made his first start in almost four months last out, and it was a big one. He battled on a hot pace, dueled his rival into defeat, then pulled clear in the stretch. Even though he was caught late, it was still a pretty impressive run. 
#1 Point Driven (4/1): Comes out of a very impressive maiden score. He crushed the field by eight lengths, stalking the pace and pulling away impressively. He's got some of the best late pace figures in the race. Not concerned too much about the jump in class; that performance last out would win this race easily.
#5 Zen Pi (3/1): Another one coming off an impressive maiden win, having crushed a $40,000 field last out. He improved sharply first off the claim for Dale Capuano, who added lasix. Will that keep this one in good form?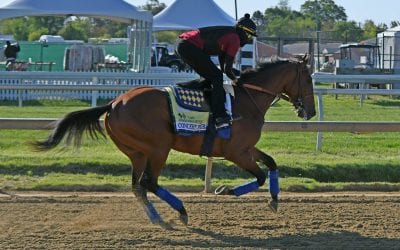 The fourth Kentucky Derby future wagering pool will kick off Friday, and 2yo champ Forte is the top individual choice on the morning line.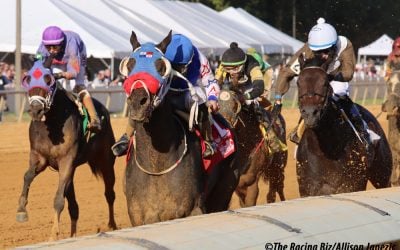 We provide full-card picks and analysis for this afternoon's races at Laurel Park.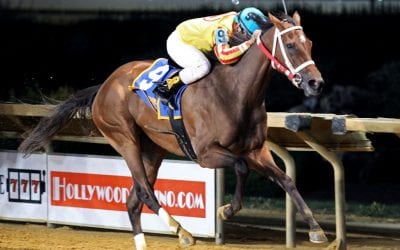 We provide picks and analysis for this evening's card at Charles Town Races.