LAUREL: 10 STAKES WINNERS COLLIDE IN WHITELEY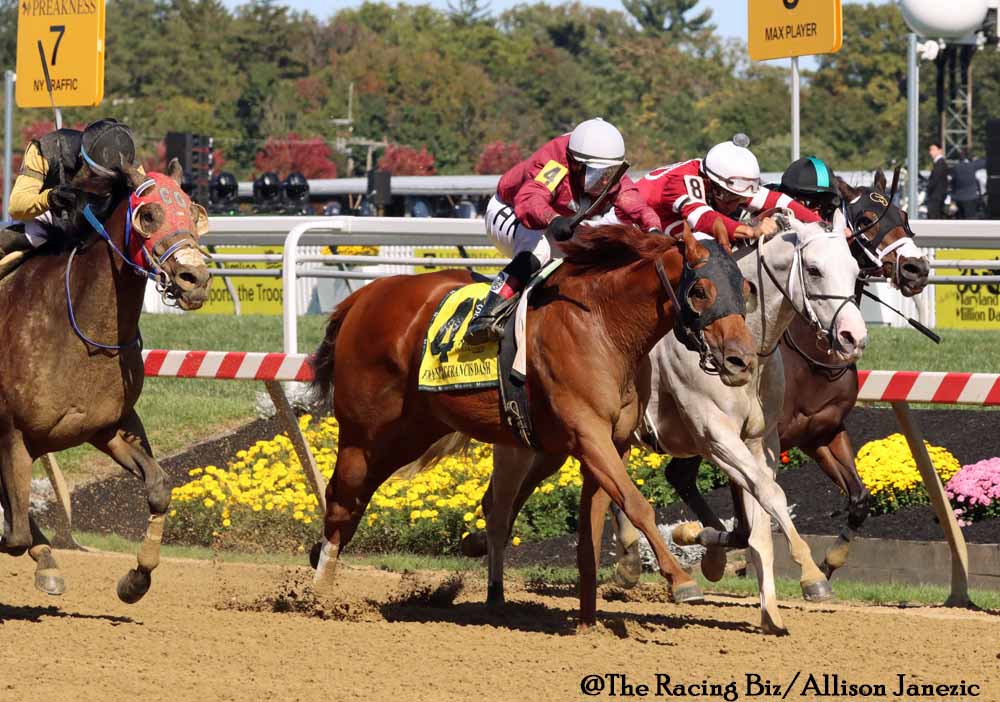 Press Release

November 27, 2020
Gary Barber, Wachtel Stable and Terp Racing's Grade 2 winner Still Having Fun has found a tough spot to make his comeback, facing fellow graded winners Laki and Majestic Dunhill and a total of 10 stakes winners in a field of 14 for Saturday's $100,000 Frank Y. Whiteley.
Trained by Laurel Park-based Tim Keefe, Still Having Fun has raced just six times the past two years following his breakout season of 2018 where he won three stakes including the Woody Stephens (G2) and purses of more than $470,000, and was third in the Malibu (G1).
The 5-year-old Old Fashioned gelding ran fifth in the Toboggan (G3) and third in the General George (G3) over the winter, returned from the pause in racing amid the coronavirus pandemic to be eighth in the Carter (G1), then went back to the sidelines. He returned to the work tab in early October and has been breezing steadily since.
"He's doing well, he's fine. We had a couple little hiccups here and there but he's back on track and training well, training super. I'll be anxious to get him back and see what he can do. I've been very pleased with him," Keefe said. "Obviously any spot in which I put him is going to be a tough spot. He doesn't have any conditions, so any race is going to be a tough race. We just want to see if he's back to his old form.
"He's always trained very well. I'm happy with everything he's doing in the morning but until you put him the racing environment in the afternoon to see not so much what they remember but make sure his interest is still there and if he's got that competitiveness he's always had," he added. "He shows it in the morning. I have no reason to think he won't in the afternoon. He's a little bit older, a little bit more mature, so I'm looking forward to getting him back running."
Laki and Eastern Bay, separated by a nose while respectively running 1-2 in the Frank J. De Francis Memorial Dash (G3) Oct. 3 at Pimlico Race Course, return in the Whiteley. A stakes winner each of the last four years, 7-year-old Laki snapped a string of three straight runner-up finishes in the De Francis, which was his first career win at Pimlico. He has a record of 8-6-3 in 19 lifetime starts at Laurel.
"Just how it unfolded early, I thought things might have went a little differently. I thought we'd be a little bit closer and as it worked out we were in the exact right spot we should have been," trainer Damon Dilodovico said. "But I did have anxieties early on because he always seems to find a little bit of trouble when he races at Pimlico. I was a little bit concerned about that but he stepped up and ran huge.
"He's doing well. I was happy that we were able to give him a little time after the Dash," he added. "Most of his races off a layoff have been very competitive so we're looking forward to this weekend. Hopefully he gets a clean trip."
Eastern Bay and turf stakes-winning stablemate Complete Pass were both entered by trainer Claudio Gonzalez. Robert D. Bone's Eastern Bay won the six-furlong Polynesian before his rally came up just short in the De Francis, one of three wins from five starts since being claimed.
"He didn't break sharp that day and that's why he was so far back. When you lose like that, it hurts," Gonzalez said. "But I always say this is a classy horse. We just have to keep him happy. When he's happy he runs his best, and he's very happy right now. It's going to be tough. He's going to have to run."
Bone also owns Completed Pass, an accomplished grass sprinter that is also coming off a tough defeat over Preakness (G1) weekend, losing by a neck in the Jim McKay Turf Sprint over a yielding course. Winner of the Laurel Dash on grass Sept. 7, he last tried the dirt when fifth in a third-level allowance July 4.
"Based on how he's training every day, we talked to the owner and decided to run because he's training really good in the morning," Gonzalez said. "We're going to give him the winter off because there's no more grass [races]. He's doing really good, so we decided to run."
R.A. Hill Stable's Majestic Dunhill is coming off a head victory over next-out winner Share the Ride in the seven-furlong Bold Ruler, contested Oct. 31 in the Belmont Park mud. The 5-year-old gelding has shown a fondness for Laurel by hitting the board in all four of his starts, including a runner-up finish in the General George (G3) and a third in the Polynesian in 2019. Also third in the 2017 Laurel Futurity, he won the seven-furlong City of Laurel in 2018.
Rounding out the field are 2020 Say Florida Sandy winner Arthur's Hope; Penguin Power, a multiple stakes winner with 13 wins from 17 starts; 2019 Maryland Million Sprint winner Taco Supream; 2018 Star de Naskra winner Whereshetoldmetogo; 2018 Buffalo Man winner Zenden; Arch Cat, third to Majestic Dunhill in the Bold Ruler; Bybee, Charge to Victory and Day the Music Died.
"He's been wonderful, actually. I don't think he could be doing any better at the moment, to be honest," said Brittany Russell, trainer of Whereshetoldmetogo. "[We wanted to] stay home and run him out of his stall. He's had success at Laurel. I'm really looking forward to running him this weekend. I hope he shows up and runs as well as I think he could."
LATEST NEWS