KARAN'S NOTION DOUBLES UP IN LAUREL ALLOWANCE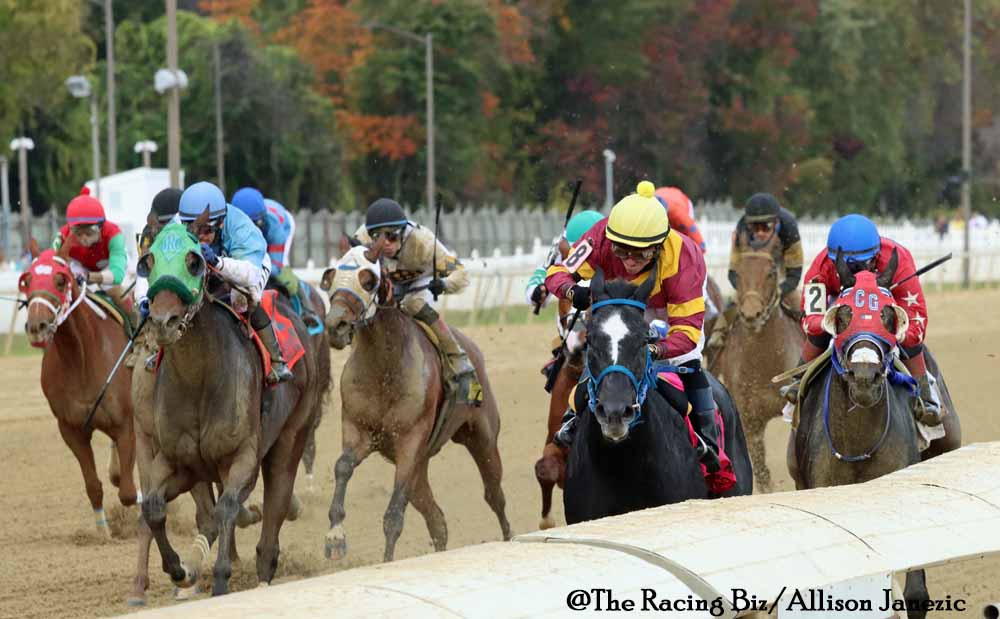 Press Release

November 19, 2020
Following up on his upset victory in last month's Maryland Million Sprint against fellow state-bred/sired horses, Karan's Notion returned to dominate open company Thursday at Laurel Park and earn himself another shot against stakes competition.
With regular rider Yomar Ortiz up for breeder, owner and trainer Nancy Heil, Karan's Notion ($4) sprinted six furlongs in a sharp 1:08.93 over a fast main track to capture Thursday's fifth race, an optional claiming allowance for 3-year-olds and up, by 1 ¾ lengths.
It was the second straight win and fourth in nine starts for Karan's Notion, who became just the second 3-year-old in the past 19 years to win the Maryland Million Sprint and the ninth overall in its 35-year history. The gelded son of Great Notion was the first Maryland Million starter for Heil, who has trained horses in Maryland for more than 50 years.
"It's been wonderful," Heil said. "He saved my life, this horse."
Unlike the Maryland Million, where Karan's Notion was allowed to get away with an uncontested lead, he was outrun to the early lead by In the Loop to his inside but found himself on top after going the opening quarter-mile in 22.53 seconds. Ortiz remained a passenger as Karan's Notion put away In the Loop through splits of 44.74 and 56.50 and coasted to the wire under a hand ride.
"The other horse break a little bit sharper but my horse is fast," Ortiz said. "I just kept him relaxed let him make one move, and he just keeps going."
In the Loop stayed on for a clear second, 2 ½ lengths ahead of Abuelo Paps. Absolved was another neck back in fourth.
"I actually told [Ortiz] in the paddock, 'They're going to want to go with you this time. Nobody's going to give you the race, so you send him out of there,'" Heil said. "The other horse outbroke him, but he just kept going. You could see the horse took himself right on by on his own."
There are two sprint stakes remaining for 3-year-olds and up at Laurel in 2020, and Heil said she would consider both – the $100,000 Frank Whiteley Jr. Nov. 28 and $100,000 Dave's Friend Dec. 26, both going six furlongs.
"We wanted to run him I the Frank Whiteley. If the nine days is enough to recover, I'm not sure," Heil said. "If not, we'll miss that one and go in the one in December."
LATEST NEWS