LAUREL: WHO'LL STEP FORWARD IN SMART HALO?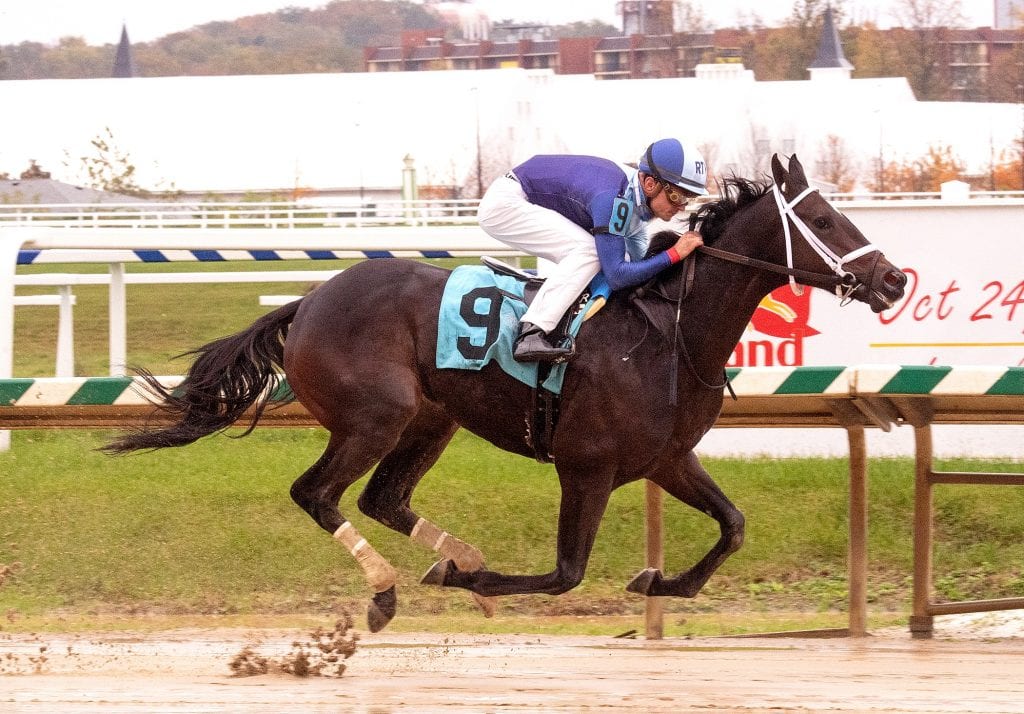 Press Release

November 12, 2020
Juvenile fillies Out of Sorts and Prodigy Doll, impressive last out winners over Laurel's main track, will square off for the first time as they make their stakes debut in Saturday's $100,000 Smart Halo.
Respect the Valleys' Out of Sorts, a $1,000 yearling purchase last fall, is taking the step up to stakes company just 13 days off a 10 ¾-length maiden special weight romp Nov. 1 at Laurel. The Dramedy filly ran a half-mile in 46.73 seconds before being geared down in the stretch by jockey Sheldon Russell, completing six furlongs in 1:11.62.
"I know it's back kind of quick but I think her maiden win she did it easy enough and she's come right out of it so we'll give it a shot," trainer Brittany Russell said. "I think she ran a pretty good number. Naturally, I wish she would have broken her maiden a few weeks earlier so we could have given her a little bit more time. She won by a lot but she did it easy. She did it within herself and she's come out of that race bouncing and doing well, so that's kind of all you can ask for when you're trying to wheel one back quick."
Out of Sorts broke slowly and raced near the back of the field in her debut, a maiden special weight also going six furlongs Sept. 25 at Pimlico Race Course. Favored in each of her two starts, she showed some late interest to get up for fourth and reaffirmed the connections' faith in her.
"With her it's kind of been about her mind. She seemed to be fragile-minded early on and after that first run she really seemed like she grew up. She came around mentally. Not that she was ever bad or ever a problem by any means but with the 2-year-old fillies, sometimes they can have all the ability in the world but they have to have the mind to back it up," Russell said.
"I feel like now she's had some racing and she kind of gets it, she's very, very mature in the morning. She's very businesslike," she added. "I do know she had the ability. Now that we see her brain can handle it and she's maturing, I think that makes us feel even better about what we have."
Sheldon Russell will ride back from Post 2 of eight. All fillies will carry 122 pounds.
HnR Nothhaft Horse Racing's Prodigy Doll enters the Smart Halo off two sharp wins, the first coming in a 5 ½-furlong maiden special weight over her home track of Penn National Oct. 22. Trainer Bernie Houghton shipped her to Laurel for an entry-level optional claiming allowance going six furlongs 20 days later, and she cruised by nine lengths in front-running fashion.
"She's a nice one. She certainly surprised the heck out of me the other day. I talked the owner into letting me run her," Houghton said. "She won the first time at Penn National and did it pretty easy so you couldn't really gauge her. It's a big jump going from a maiden race at Penn National to an allowance race at Laurel. I really liked her and I thought she would run well. Did I think she would run like she did? Not exactly. That shocked me a little bit."
Prodigy Doll, by champion juvenile Shanghai Bobby, made two starts in Kentucky in June before being sold privately and moved to Houghton, who brought filly Crabcakes to Laurel to win four stakes from 2016-18. The trainer gave her three months between races and she has responded with back-to-back wins.
"When I got her I said we've got to give her a little time off. She'd run twice already as a 2-year-old, early, and I don't like to run them that much," Houghton said. "We gave her time off and I just freshened her up a little bit.
"She had the experience with two races under her belt, she just needed time. I think that race at Penn National was a good confidence booster for her. She just handled those horses," he added. "The step up in class is always a concern for me but she came out of the race great, she had a nice, slow easy work the other day and she's ready. She's coming into the race perfectly."
Lucky 7 Stables' stakes winner Street Lute suffered her first career loss when she finished second by a neck behind Miss Nondescript in the Maryland Million Lassie Oct. 24. In her previous start, she won the 5 ½-furlong Small Wonder Sept. 26 at Delaware Park.
Five fillies exiting maiden victories – Be Sneaky, Supreme Blessing and Swirling Dancer at Laurel and shippers Docs Seven from Arlington Park and Donnybrook Girl from Parx – round out the field.
The Smart Halo recognizes the winner of the first Maryland Million race ever run, the 1986 Lassie, by a neck over In the Curl. A daughter of one of Maryland's top sires, Smarten, she went three-for-three as a juvenile for Canadian-based trainer Jim Day.
LATEST NEWS