All Authentic in final NTRA Top Thoroughbred Poll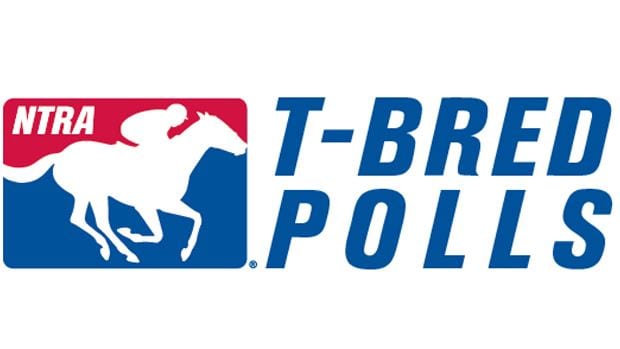 From a National Thoroughbred Racing Association release
At the conclusion of the $6 million Breeders' Cup Classic on November 7, little question remained as to who the top horse in the country was. After putting an emphatic stamp on his career with a track record-setting triumph in the 10-furlong test at Keeneland, Authentic stands above his classmates and older rivals as he leads the final editions of both the 2020 National Thoroughbred Racing Association (NTRA) Top Three-Year-Old Thoroughbred Poll and NTRA Top Thoroughbred Poll.
Owned by Spendthrift Farm, My RaceHorse Stable, Madaket Stables, and Starlight Racing, Authentic retired to Spendthrift Farm Monday morning having capped off a career that saw him win six of eight starts, with five of those victories coming this season. The son Into Mischief came into the Breeders' Cup having already earned top-level wins in the Kentucky Derby and Haskell Stakes this year but it was his gate-to-wire, 2 ¼-length victory over stablemate Improbable in the Classic that had trainer Bob Baffert proclaiming him the best in the nation.
Poll voters concurred. Not only does Authentic maintain his lead in the Top Three-Year-Old Thoroughbred Poll with 37 first-place votes and 370 points, the bay colt takes over the No. 1 spot in the Top Thoroughbred Poll with 34 first-place votes and 355 points.
"He won the Kentucky Derby, the grand jewel of them all, and then beats one of the toughest, deepest Breeders' Cup fields that I've ever been in," Baffert said after Authentic arrived at Spendthrift Farm Monday morning. "There is really not a whole lot more that a horse can accomplish. I think he's proven he is the best of his class, he was the best of the year. One thing about him, these great horses, he could have won the Sprint, the (Dirt) Mile, or the Classic. I'm just so fortunate and blessed that I got to train him."
Improbable, who is also trained by Baffert, drops one spot to No. 2 on the Top Thoroughbred Poll with 2 first-place votes and 311 points after having his three-race win streak broken by Authentic in the Classic. The son of City Zip also retired after the Breeders' Cup to join the stallion roster at WinStar Farm.
Champion Monomoy Girl carved out a bit of history for herself on Saturday by becoming just the fourth horse to win the Breeders' Cup Distaff twice. The daughter of Tapizar, who was purchased by Spendthrift Farm for $9.5 million at the Fasig-Tipton November sale Sunday evening, lands in the third spot on the Top Thoroughbred Poll with 1 first-place vote and 309 points.
Multiple Grade 1 winner Vekoma, who also joins the Spendthrift Farm stallion roster for 2021, ranks fourth with 132 points followed by Preakness Stakes heroine Swiss Skydiver (111 points) and Belmont and Travers Stakes winner Tiz the Law (107). Gamine, winner of the Breeders' Cup Filly & Mare Sprint, ranks seventh with 104 points followed by multiple Grade 1 winner and Filly & Mare Turf runner-up Rushing Fall (100 points), who sold for $5.5 million to representatives of Coolmore Stud at the Fasig-Tipton November Sale.
Fan-favorite Whitmore, who earned a stirring victory in the Breeders' Cup Sprint, ranks ninth with 97 points while champion Maximum Security (82 points) rounds out the top 10.
Coming in behind Authentic on the Top Three-Year-Old Poll is Sackatoga Stable's Tiz the Law, who holds onto the second spot with 306 points. Swiss Skydiver ranks third with 295 points followed by fellow Grade 1 winners Gamine (259 points), Happy Saver (185) and Honor A. P. (115).
Kentucky Oaks winner Shedaresthedevil (89 points) sits in the seventh spot ahead of Art Collector (74 points) and Jesus' Team (62). Max Player (53 points) completes the top 10.
The NTRA Top Thoroughbred polls are the sport's most comprehensive surveys of experts. Every week eligible journalists and broadcasters cast votes for their top 10 horses, with points awarded on a 10-9-8-7-6-5-4-3-2-1 basis. All horses that have raced in the U.S., are in training in the U.S., or are known to be pointing to a major event in the U.S. are eligible for the NTRA Top Thoroughbred Poll. This year, as a result of the Triple Crown schedule being altered due to the coronavirus pandemic, voting in both the Top Three-Year-Old Thoroughbred Poll and the Top Thoroughbred Poll was conducted through the conclusion of the Breeders' Cup in November.
NTRA TOP THOROUGHBRED POLL
Authentic
Improbable
Monomoy Girl
Vekoma
Swiss Skydiver
Tiz the Law
Gamine
Rushing Fall
Whitmore
Maximum Security
NTRA TOP THREE-YEAR-OLD POLL
Authentic
Tiz the Law
Swiss Skydiver
Gamine
Happy Saver
Honor A. P.
Shedaresthedevil
Art Collector
Jesus' Team
Max Player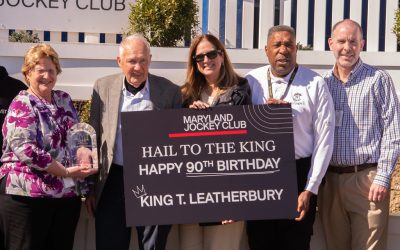 Hall of Fame trainer King T. Leatherbury, 90 years old today, was feted with a small ceremony at Laurel Park.