BREEDERS' CUP: AUTHENTIC RUNS TRUE IN CLASSIC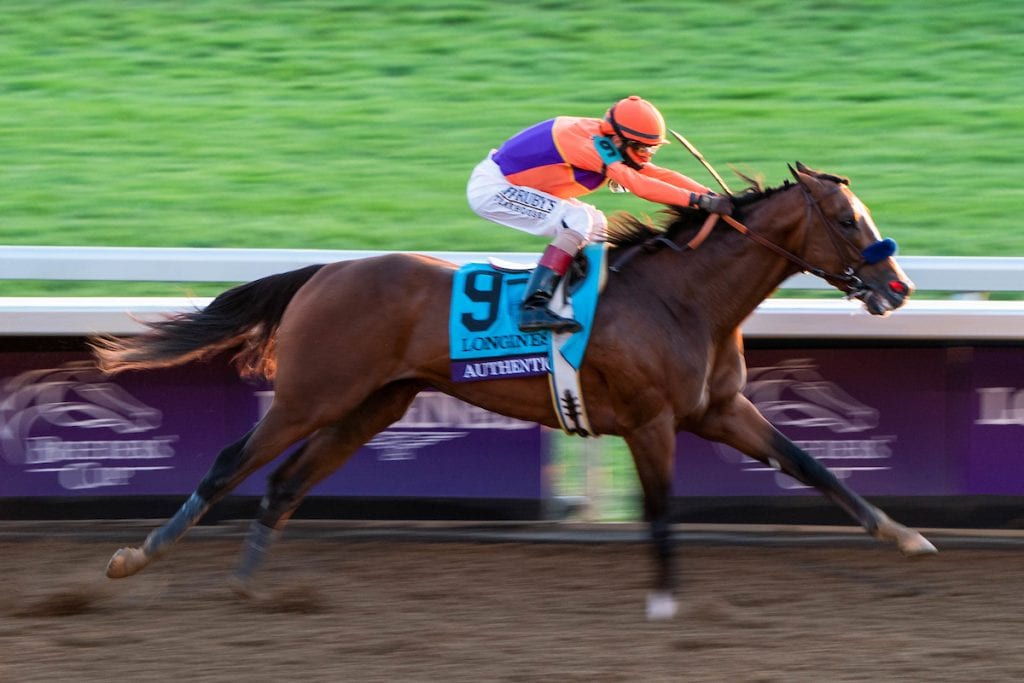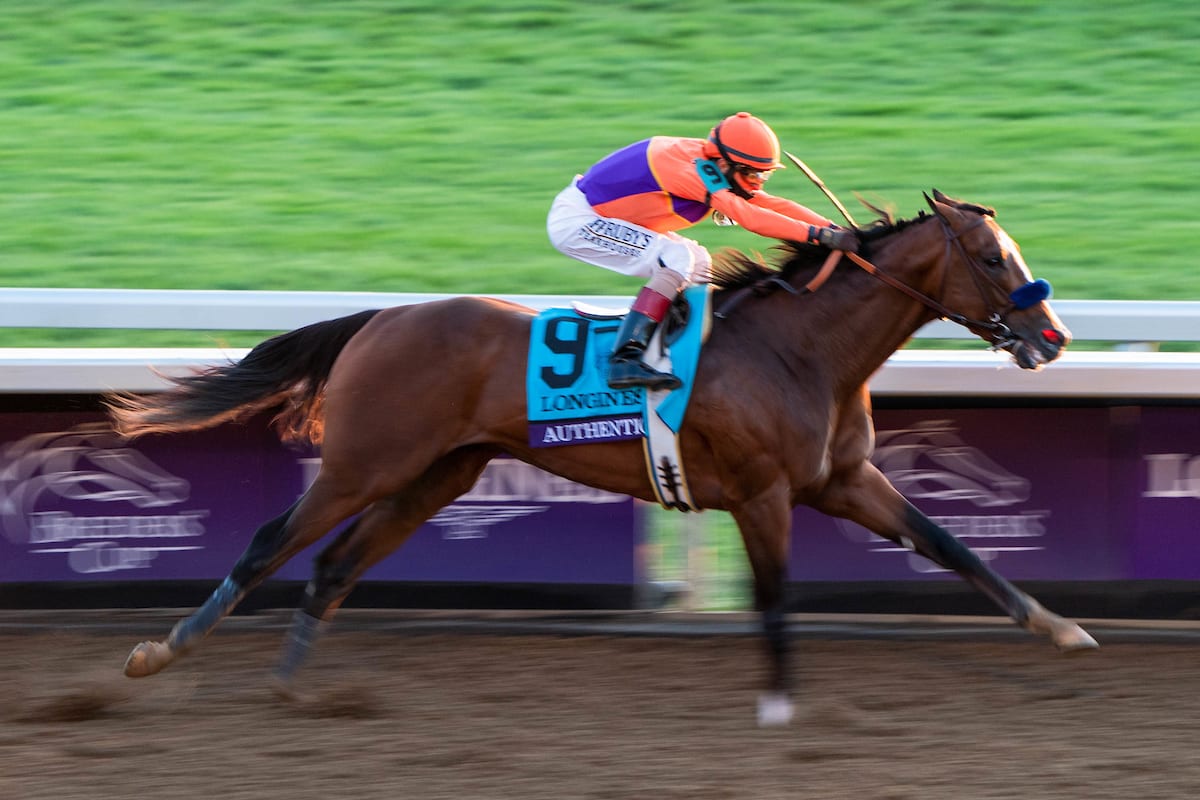 Against a salty field that included eight horses — of 10 to run — who'd earned at least $1.5 million, Authentic, with John Velazquez up, made short work of his rivals. He was at least a length clear at every point of call, and in the lane, much as he had done in winning the Kentucky Derby in September, he had plenty in the tank to hold off Improbable.
The official running time of the Classic was 1:59.19, a Keeneland track record for the distance. It makes sense that it would be a record; it was the fourth dirt race of the day to yield a track-record time. On the other hand, a timing malfunction led the opening quarter to be posted in a preposterous 17 seconds before it was removed. The official chart has no incremental fractions, only the final time. In other words: who knows?
Still, it was a stellar effort from Authentic, who was in complete command from very early in the contest.
"Bob [Baffert] said to take him to the lead so he doesn't wander so much and keep his mind on running," said winning rider John Velazquez. "It worked out. He did everything I wanted him to do."
Of course, it didn't work out for the nine runners left in Authentic's wake, or their connections.
"I don't know what the pace was because they messed up the fractions," said WinStar Farm's Elliott Walden, co-owner of runner-up Improbable. "But they kind of walked the dog out there."
"What can I say?" wondered Gabriel Saez, who was aboard eighth-place finisher By My Standards. "The horses didn't come back. Speed-biased all day long."
The win capped a somewhat tumultuous period for Baffert. He logged the Classic win and a win in the Breeders' Cup Filly and Mare Sprint with Gamine, who won off by six lengths in — yup — a track record time of 1:20.20 for seven furlongs.
But he's also been fighting multiple medication violations, two of involving Gamine and another involving Charlatan, a horse he trains who had won a division of the Arkansas Derby. And he was the subject of an unflattering New York Times article claiming that he "has gained the enmity of rivals who believe that he has persistently cheated," suspicions fueled in part by the drug positives his horses have received.
Baffert, of course, trains for numerous prominent owners — including some who have been vocal about the importance of cleaning up what they say is racing's drug problem.
Baffert obliquely referred to the issues following the Classic.
"That was awesome," he said. "I tell you what, I needed that, didn't I?"
Authentic, a three-year-old son of Into Mischief, continues to improve. He's now won six of eight in his career while earning nearly $6.2 million. More to the point, a horse who was life-and-death to hold off Ny Traffic — a nice enough horse who's eligible for a second-level allowance — in the nine-furlong Haskell in July now has won the country's two most important 10-furlong races. He won the Kentucky Derby in September before finishing second to Swiss Skydiver in the Preakness.
"I think Johnny (Velazquez) got to know him a lot better and he's just a quirky guy," Baffert said. "But when I saw him out there, he's catching up with these older horses. That's what they do at this time of year, what a horse. He's the real deal."
Authentic is owned by a cast of thousands, including Spendthrift Farm LLC, MyRaceHorse Stable, Madaket Stables LLC and Starlight Racing. He was a $350,000 yearling.
Authentic paid $10.40 to win as the third choice in the wagering. He was followed home by second choice Improbable, and the $1 exacta returned $22.70. Longshot Global Campaign, 25-1 at post time, finished third, a length behind Improbable. Tiz the Law, the 3.20-1 favorite, finished sixth.
LATEST NEWS