Laurel Park picks and ponderings October 30, 2020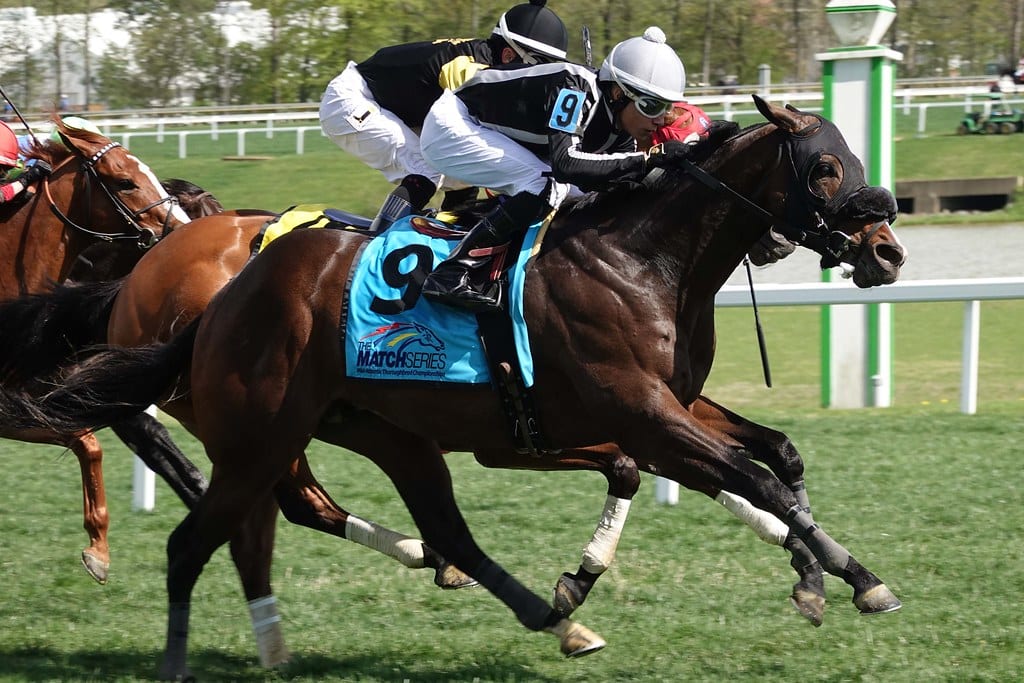 Dirty. Photo by Allison Janezic.
In which we pick the races from Laurel Park each day…
Post time: 12:25 p.m.
Carryovers: Rainbow Jackpot Pick 6 — $0  Super High 5 –$766 Late Pick 5 — $3,866
 ANALYSIS
RACE 1: STARTER OPTIONAL CLAIMING $25,000, 3-YEAR-OLDS AND UP, 1 MILE
2-1-11-12
#2 Fast Master: Just missed in a stretch battle with Bobby G last out, who was coming off a win in a tough starter allowance at Pimlico. He's already won three times on this track this year, including a strong win in a decent claiming field.
#1 Dixie Drawl: Technically, this is the same level that he was just racing at, but this is a much easier field than he saw last out. He was a bit farther off the pace than he might have liked to be, and ended up third. He won two in a row earlier in the year while on or near the pace. Should be used aggressively from the inside post.
#11 Confessor: Drops from the n/w2x level at Delaware Park, a class he won at two back, then was no factor in last out. He'll enjoy the steep class drop, and has a strong closing kick that'll be right at home here.
RACE 2: CLAIMING $10,000 (N/W2L), 3-YEAR-OLDS AND UP, FILLIES AND MARES, 6 FURLONGS
1-6-7-5
#1 Union Song (8/5): Got in a pace battle in her local debut with Cairo Queen, and held on for second while that rival skipped away to a win. This one's brisnet figures are clearly the best in the race, and she has early speed while cutting back from a sprint.
#6 Awesome Pal (6/1): Take out her last race, where she was bumped in the midst of a move, and she's in pretty good form. Tries winners for just the third time, after a strong maiden win where she pressed the pace and drew off. An interesting longshot alternative. 
#7 Thea's Theme (3/1): New York invader goes third off a long layoff. She ran a figure of 78 in her debut as a 2-year-old, then got a bit too ambitious and tried stakes company. This start will be the test to see if she's got anything left in the tank. 
RACE 3: ALLOWANCE OPTIONAL CLAIMING (N/W1X), 2-YEAR-OLDS, 1 MILE
7-2-5-4
#7 No One to Blame (3/1): Impressive maiden winner at Delaware comes in off a third-place finish in the Nownownow Stakes at Monmouth. He's already shown this distance is no problem, and he's had a strong drill at Fair Hill since that last race. 
#2 Plamen (3/1): Turned in an impressive maiden-breaking effort last out at Pimlico. He dueled his rival into sound defeat, then pulled away to win by almost four lengths with a sharp figure of 81. He's drawn towards the inside again, so you can expect Victor Carrasco to once again send and try to hold on.
#5 Nice Ace (2/1): He was just 3/4 of a length from becoming a stakes winner last out. He won the battle but lost the war in the Fitz Dixon at Presque Isle, pressing the pace and disposing of the early leader. Unfortunately for him, another rival got an easier trip, and got outkicked. This'll be his first start beyond 6 1/2 furlongs, so the distance remains a question for him. Nonetheless, he's classy and has speed.
ANALYSIS
RACE 4: STARTER OPTIONAL CLAIMING $25,000, 3-YEAR-OLDS AND UP, FILLIES AND MARES, 6 FURLONGS
7-1-6-5
#7 Vics Cool Cat (5/1): She made her first start in almost seven months, and ran a lifetime top figure after getting into a scrum in the stretch. There's a chance she bounces off that big race, but considering she ran so huge and didn't show any signs of rust, she could also move forward and leave this field in the dust. Based on the morning line, the price should be right.
#1 Uno Tigress (6/1): Impressively broke his maiden last out at Delaware after a great stalking trip. Trainer Dale Bennett is 17% first off the claim. 
#6 Positive Force (2/1): It's one thing to come in second once or twice in a row, quite another to finish as the runner-up four times in a row. Last out, she dueled in the stretch, but lost by a head as the 7/5 choice. I would imagine similar odds will be afoot here, and she's the kind of favorite I'd be willing to fade.
RACE 5 – MAIDEN SPECIAL WEIGHT, 2-YEAR-OLDS, 1 MILE
14-7-3-6
#14 Romp: Shug McGaughey and Forest Boyce are always a dangerous team, and they'll get together again on this third-time starter. He fell behind a slow pace last out, and made up good ground to just miss finishing third. His brisnet figure improved by ten points in that race, to boot.  
#7 Market Cap: Comes out of the same race as Romp. In that race, he set the pace while racing wide, and held well until the last eighth. He also improved sharply from his debut. This race was originally scheduled for the grass, but he was entered as a main-track-only. That's a positive sign to me; it shows that his people were always focused on running him on dirt.
#3 T Minus Ten: Ran on well in his first start to get third. His last two workouts have been bullets. Another one entered for main-track-only. 
RACE 6: ALLOWANCE OPTIONAL CLAIMING (N/W3X), 3-YEAR-OLDS AND UP, 6 FURLONGS
4-5-8-6
#4 Fortunate Friends (5/1): He was bet down to 4/5 at this level last out, and fell further off the pace than he might've liked. He closed well in the stretch, but it didn't do his backers much good, as he finished fourth by less than two lengths. It's a pretty salty bunch here, but he likes this track and has beaten tough fields before. The price should be right.
#5 Hold Me Black (9/2): Raced wide every step in his first start off the Claudio Gonzalez claim, but still battled gamely and just missed. He's run at least a 92 four times in a row, and has good tactical speed. This might be a bit of a class shock for him; while the starter allowances in the midwest are often tough affairs, they aren't as good as this race.
#8 Taco Supream (4/1): He's taking a legit class drop, after being a non-factor in the Polynesian Stakes last out. In the race prior, he was second to Top Line Growth. Notwithstanding his poor Maryland Million Classic effort, that's a pretty legit horse. When facing more normal company, this gelding has shone brightly. He's finished in the top two in fifteen of 23 starts over this track. He always runs figures in the 90s, has a good closing kick, and has been working well.
ANALYSIS
RACE 7 – CLAIMING $16,000 (CONDITIONED), 3-YEAR-OLDS AND UP, FILLIES AND MARES, 5 1/2 FURLONGS
15-6-9-11
#15 Halfinthewrapper: She knows only one way to run, but it's been a productive way. She's won three of her last five, bursting to the lead every time and drawing off. Should be able to outrun her rivals from the outside and pull away.
#6 Magical Anna: Got plenty of action against n/w1x company last out, but showed little. In the race prior, she wired a better field with a strong figure. Halfinthewrapper is going to make it tough to get to the lead once again, but this filly's got the option to stalk and pounce. 
#9 Proud Mandate: Last out, she got run off her feet by Halfinthewrapper, but managed to outkick most of her rivals to get third. I expect a similar story here.
RACE 8: ALLOWANCE (N/W1X), 3-YEAR-OLDS AND UP, 7 FURLONGS
5-4-10-3
#5 Moose Lodge (7/2): A lot of these have had plenty of tries at this level without success, so I'll try the most lightly-raced member of the field. He ran a huge figure of 94 when breaking his maiden on debut at Monmouth Park, then closed well to finish third in his first start at this level. Trevor McCarthy gets the mount for the first time.
#4 Stone Courageous (4/1): Chased the speedy Carey Times all the way around last out, and held on to second, with a career-top figure of 95. He's got a strong middle punch, and should sit a good trip stalking the leaders.
#10 Royal Crusader (8/1): He steadily runs figures in the upper 80s/low 90s, and has some of the best late pace figures in here. Could sneak under the radar and go off at a very bettable price.
RACE 9: MAIDEN CLAIMING $40,000, 2-YEAR-OLDS, 6 FURLONGS
1-4-3-8
#1 Hello Hot Rod (3/1): The Russells unveiled a promising 2-year-old on Thursday, and they've got another one debuting here. He's been working steadily, and has the advantage of the inside post. The board will tell a lot of the story.
#4 It's Sizzling Time (9/2): Lived up to his name in his debut, showing speed before fading in the last eighth and losing by just a neck. I have to imagine the same speedy strategy will be employed here.
#3 Doubleoseven (8/1): He got knocked around in his debut and was forced to make a big rally just to get fourth. If he breaks cleanly, that strong rally he showed in that first start could prove even more effective.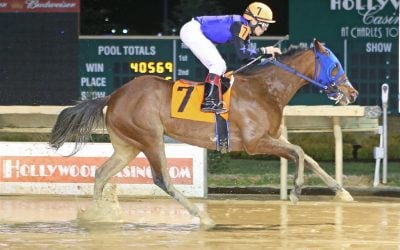 Which Charles Town trainers are off to hot starts? Asking for a friend; no, wait, actually asking for the betting public. Answers within…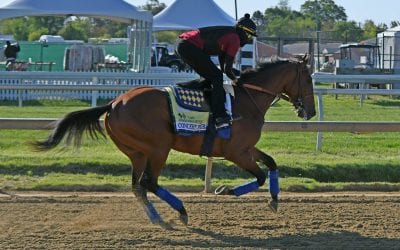 The fourth Kentucky Derby future wagering pool will kick off Friday, and 2yo champ Forte is the top individual choice on the morning line.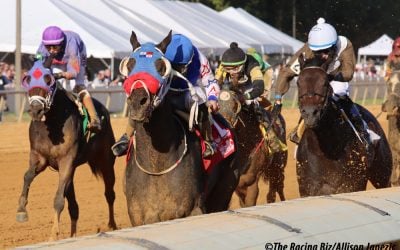 We provide full-card picks and analysis for this afternoon's races at Laurel Park.