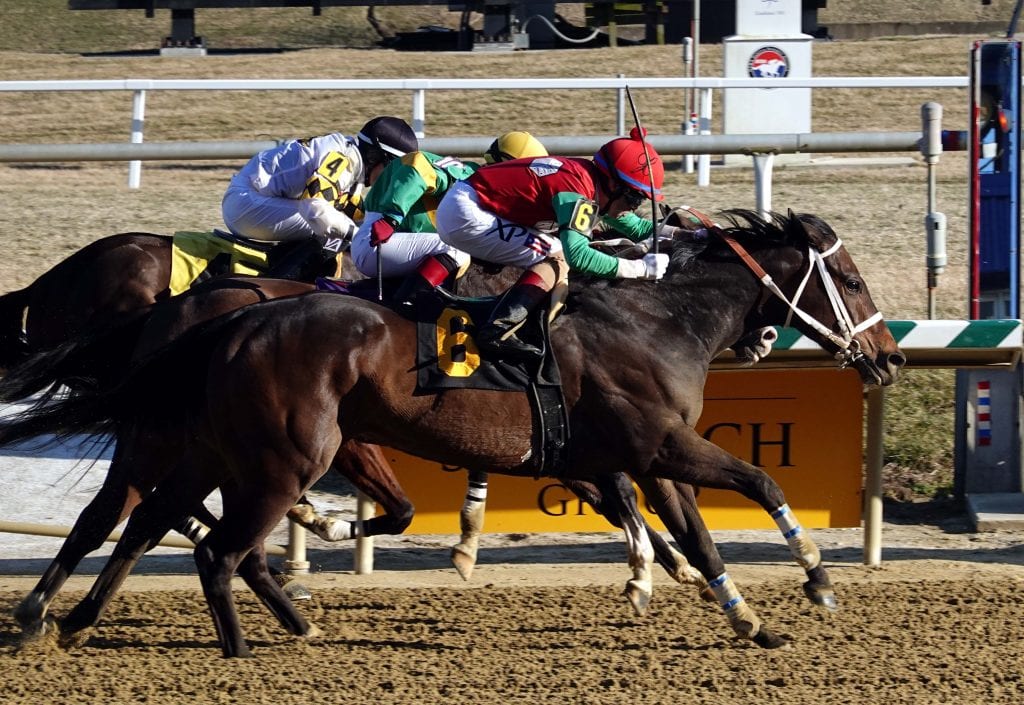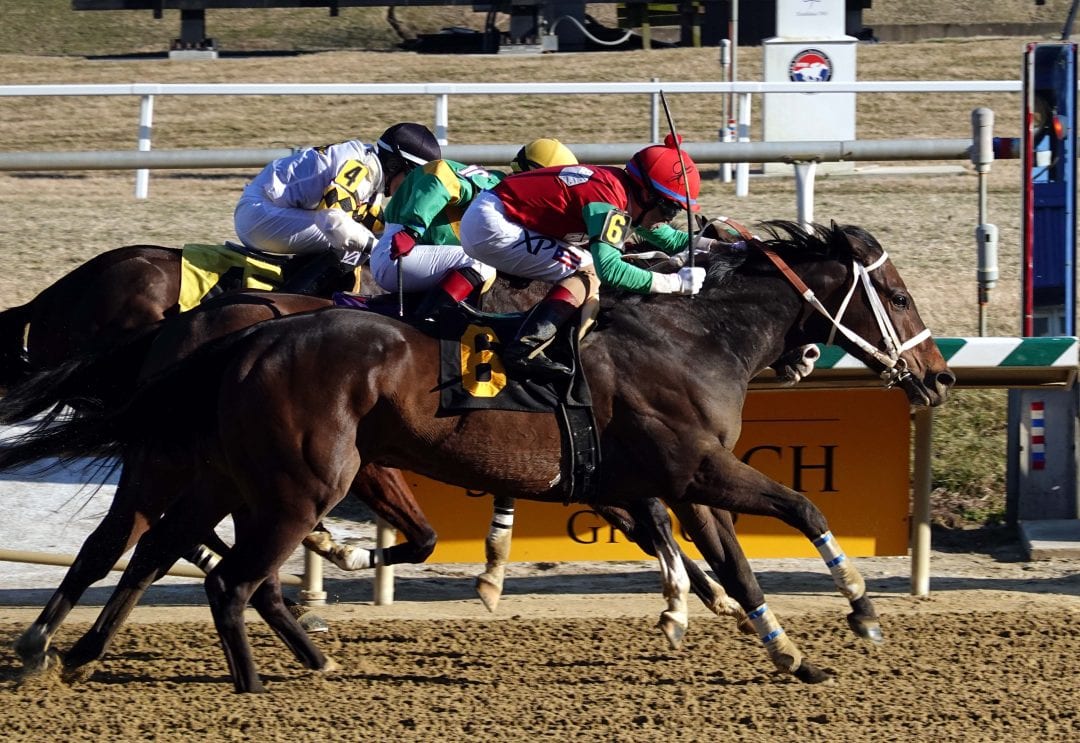 Anna's Bandit. Photo by Laurie Asseo.
In which we pick the races from Laurel Park each day…
Post time: 12:25 p.m.
Carryovers: Rainbow Jackpot Pick 6 — $6,446  Super High 5 — $611 Late Pick 5 — $37,728
ANALYSIS
RACE 1: STARTER OPTIONAL CLAIMING $25,000, 3-YEAR-OLDS AND UP, 1 1/16 MILES
2-4-5-1
#2 Galatians (6/5): He's beginning to get his feet back under him after returning from a long layoff. In his last start, he got a great trip stalking the pace and was clear late, only to get caught. Damon Dilodovico is 24% third off the layoff, so it's reasonable to expect he'll have this one ready to fire a maximum effort here.
#4 Royal Thunder (4/1): Broke his maiden in sharp fashion two back, driving down the stretch to get up for the score. Got hung wide in a tough allowance field last out; I think you can draw a line through that race. This field is much softer, and he should get an easier trip.
#5 Silent Malice (8/5): Comes off a maiden win where he got a ridiculously easy lead and drew off. The upside is that there isn't much speed in here, so he could set another slow tempo and put them to sleep. 
RACE 2: CLAIMING $16,000 (N/W2L), 3-YEAR-OLDS AND UP, FILLIES AND MARES, 5 1/2 FURLONGS (GRASS)
10-4-6-8 (DIRT: 3-13-1-9)
#10 Splashertown (3/1): Looks to get back to the grass, after a strong maiden win in her most recent effort on the lawn. She ran away from a maiden claiming field, earning a brisnet figure of 79. It's a tough post draw here, but she looks fast enough to get to the front and hold on.
#4 Princess Rosie (12/1): The lightbulb finally went on for her three starts back, as she stalked the pace and drew off to break her maiden in her fifteenth starts. There's lots of speed signed on here, and if Splashertown can't get to the rail and flattens out, that could open the door for a closer like this one.
#6 Zip it Jess (6/1): Goes on grass for the first time since June 30 at Gulfstream Park. She made mild ground in that race to get third, running a strong figure of 77. Trevor McCarthy, who had a big day yesterday, gets the mount for the first time, and should keep her in mid-pack. That could prove to be the ideal spot.
RACE 3: MAIDEN CLAIMING $40,000, 2-YEAR-OLDS, 1 MILE
9-3-7-4
#9 Market Cap (8/5): Dueled through a sharp pace around two turns last out, and held well to finish third. Sheldon Russell gets aboard for the first time, and should have his mount once again be forwardly placed. 
#3 King Alan (7/2): Claudio Gonzalez and Angel Cruz team up once again. This gelding was sixth after getting bet in his first start at this level, but he did make up some ground in the stretch. His people are hoping that the extra distance does him good. 
#7 Alpha Queue (9/2): He's taken some steps forward in each of this three starts, improving his figure by five points. Turned in a solid four furlong drill in 48 3/5 seconds since that last race.
ANALYSIS
RACE 4: STARTER OPTIONAL CLAIMING $25,000, 3-YEAR-OLDS AND UP, 1 MILE
7-8-3-2
#7 Shane's Jewel (3/1): Parx form can be a bit suspect, but that was still a pretty impressive gate-to-wire win in his last start. What's more, this looks like a very paceless race, with a lot of deep closers signed on. He could get to the front and be long gone.
#8 Colonel Juan (5/1): He's got some mild early speed, usually sitting just a few lengths off the pace, then rocketing on. Last out, he chased a loose leader all the way around, but still held on for second. Even if Shane's Jewel sneaks away and gets gone, it bodes well for Colonel Juan to hold on to the runner-up spot.
#3 Cerulean Springs (4/1): Won a dramatic stretch battle in a n/w2x allowance over this track two back, prevailing by a nose. In that race, he was much more forwardly placed than usual. Generally, he comes from far back and grabs a piece, but on that day, he was right up on the lead. A repeat of that strategy would serve him well.
RACE 5 – ALLOWANCE (N/W1X), 3-YEAR-OLDS AND UP, 1 1/16 MILES (GRASS)
2-8-3-12 (DIRT: 5-13-10-15)
#2 Old Dominion (5/2): Catches a pretty soft field, and has early speed from an inside draw. Last out, he chased the leader, caught him, and was nailed by a closer. This time, it looks like he'll be able to control things up top.
#8 Speed Game (8/1): He's had plenty of tries at this level, but he's been steadily improving since returning from a long break in July. Closed well for third in her last race, finishing behind King's Honor, who had a significant pace advantage, and the uber-classy closer Mr d'Angelo.
#3 Fly the W (10/1): The distance is a big question mark; he's never been beyond six furlongs in his career. It looks like he's got the breeding to go long, however. Ran a lifetime top last out at Pimlico, despite a rough break that took him out of his element. He's also lightly-raced; this is just his fourth lifetime start, and his second try at this level.
RACE 6: MAIDEN CLAIMING $10,000, 3-YEAR-OLDS AND UP, 5 1/2 FURLONGS
8-5-9-13
#8 Booyakasha (7/2): The Maryland scouts have brought another one back from Kentucky, this one going first off the claim for Bruno Tessore. He flattened out after being on the pace against tougher last out. Now, he drops in class, and has some strong figures compared to the others. He's also lightly-raced, making just his fourth career start in this spot.
#5 Despite Odds (10/1): He's taken steps forward in each start, showing speed and hanging in for third last out. Should once again show speed fifth time out. 
#9 Little Bay (6/1): Comes out of the same race as Despite Odds. In contrast to his front-running rival, he was way behind in the early going, then charged down the stretch to overhaul that rival and get second. Looks to rally and grab a piece once again.
ANALYSIS
RACE 7 – ALLOWANCE OPTIONAL CLAIMING (N/W2X), 3-YEAR-OLDS AND UP, FILLIES AND MARES, 1 MILE (GRASS)
8-10-7-2 (DIRT: 8-11-9-6)
#8 On the Town (7/2): Shug McGaughey and Forest Boyce are always tough when they team up, hitting at 31% recently. This filly was severely pace-compromised in his last race, but still closed well for fourth. Usually, she's closer to the pace, as she demonstrated when winning on dirt last out.
#10 Fed Up Fired Up (8/1): Outfinished On the Town in her last start, rating off the pace and kicking on to win a n/w1x race impressively. She's been steadily improving since returning from the layoff, with two figures of 87 or higher in her most recent outings. 
#7 Repatriated Gem (4/1): Closed frantically to impressively win at allowance at Monmouth Park two back, winning after falling seventeen lengths back at the half.  Although she's run higher figures in the past, she's never had a more visually impressive race. Mike Stidham and Trevor McCarthy team up for this one; they're 3-for-4 with their recent horses.
RACE 8: MAIDEN CLAIMING $10,000, 3-YEAR-OLDS AND UP, FILLIES AND MARES, 5 1/2 FURLONGS
5-9-4-2
#5 Willow Drive (4/1): Took a giant step forward in her last race, almost wiring the field at 41/1 before wilting in the last eighth. Gets a cutback from six furlongs here. Alex Crispin, who had an excellent meet at Delaware, keeps the mount. 
#9 Cassey's Girl (8/5): Drops for a career-low tag in just her fourth career start. Stopped badly after racing wide last out, but was in good form prior to that, and has had some sharp works since.
#4 Carrot Cake (8/1): Closed very wide against slightly better last out, finishing a sharp fourth in her first dirt start of the year. That represented a step forward; in her dirt races last year, she would tire about rating just off the pace.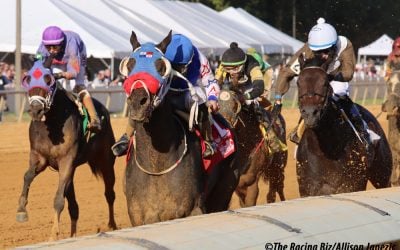 We provide full-card picks and analysis for this afternoon's races at Laurel Park.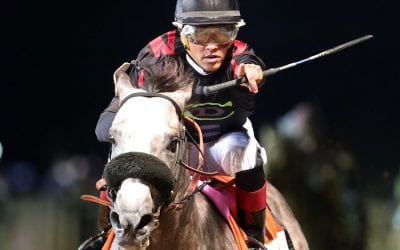 We've got Charles Town picks and preview today as the track presents its Friday card!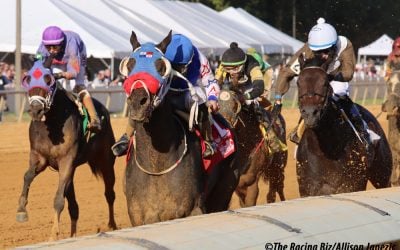 We provide full-card picks and analysis for this afternoon's races at Laurel Park.