Laurel Park picks and ponderings October 24, 2020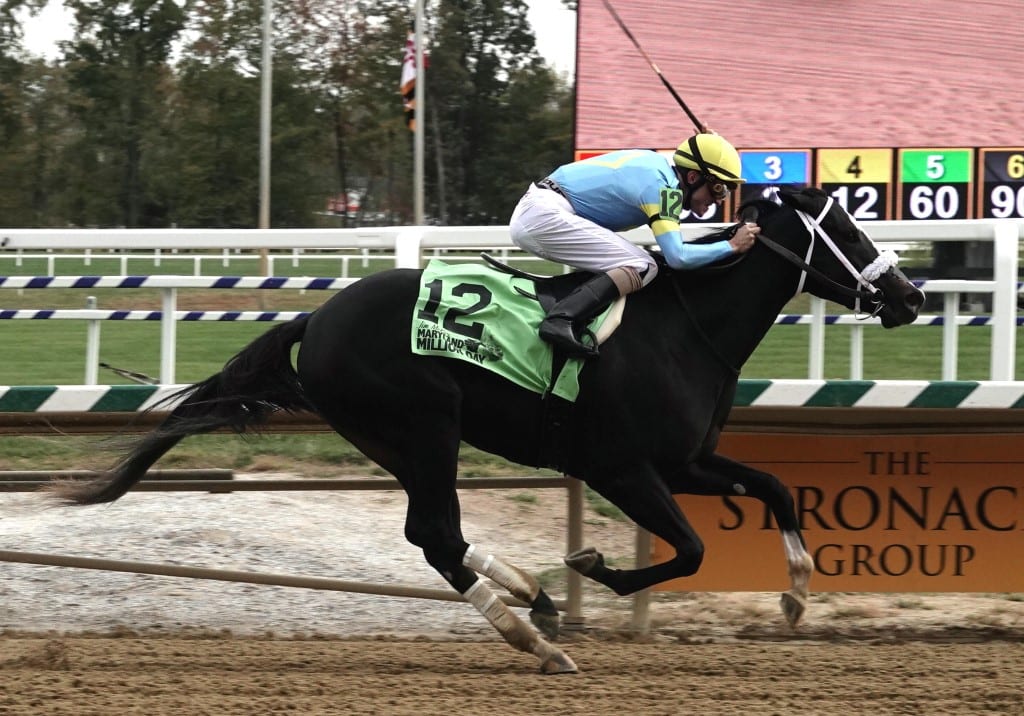 Hello Beautiful wins on Maryland Million day 2019. Photo: Laurie Asseo
In which we pick the races from Laurel Park each day…
Post time: 11:25 a.m.
Carryovers: Rainbow Jackpot Pick 6 — $2,070 Super High 5 — $1,358 Late Pick 5 — $0
ANALYSIS
RACE 1: MARYLAND MILLON TURF DISTAFF STARTER HANDICAP, 3-YEAR-OLDS AND UP, FILLIES AND MARES, 1 1/8 MILES (GRASS)
11-1-7-6
#11 Firth (2/1): The post draw isn't ideal, but she still looks like the dominant speed in the race. She went gate-to-wire two grass races back, then held in well until the last eighth against better. As long as she can clear to the front in the opening eighth, she'll be tough to catch. 
#1 Brushing (15/1): Mountaineer invader closed off a fast pace to win going away last out. Two races back, she got a more reasonable pace to run into, but still won by two lengths while pulling away. This is definitely a step up in class, but I'm still expecting a solid closing rally.
#7 Who U Gonna Call (12/1): She's hit the board three times on the year, rating off the pace and making up mild ground each time. Look for her to possibly sneak into the exotics at a price. 
RACE 2: MARYLAND MILLION DISTAFF STARTER HANDICAP, 3-YEAR-OLDS AND UP, FILLIES AND MARES, 7 FURLONGS
8-7-1-3
#1 Odd Gal (3/5): Far and away the likeliest winner on the card, she's won four of six since joining the Jamie Ness barn earlier in the year. Last out, she encountered pressure on the pace, but drew off to win by 5 1/4 lengths. She routinely runs brisnet figures in the 80s, something her rivals struggle to do even once. 
#5 Silver Sides (15/1): Goes first off the claim for Bruno Tessore, who is 22% with such horses. She was in career-top form prior to a poor last start, when she stumbled at the start and was forced wide. Will look to avoid trouble here and rediscover that good form.
#3 I Love You (3/1): Loomed boldly in each of her last three races, but flattened out every time and held on for an exotics spot. She usually runs figures in the high-70s, and even went as high as an 82 when finishing second over this track two races back. Trevor McCarthy hops aboard, always an encouraging sign.
RACE 3: MARYLAND MILLION LADIES, 3-YEAR-OLDS AND UP, FILLIES AND MARES, 1 1/8 MILES (GRASS)
8-6-3-1
#8 Something Magical (7/2): Hasn't quite been able to round into form this year, with figures a few cuts below her usual standard. She's tended to make good middle moves, then flatten out. Still, she's shown ability going two turns before, including a defeat by just two lengths in a n/w2x race at Delaware Park earlier this year. That's a key asset in this race, which features a lot of horses who have made their bones in sprints.
#6 Redeem My Heart (4/1): Returns from a start at Churchill Downs where she may have been in over her head. Two races back, she made up a lot of ground in the stretch to lose the Mrs Penny Stakes by less than two lengths, just missing behind the classy It's a Journey. Stretches out to 1 1/8 miles for the first time, and should close well in the stretch. 
#3 Epic Idea (5/1): McCarthy picks up the mount on this filly, who stretches out around two turns for just the second time in her career. Her best figures have come going one turn, but she raced well going two turns last year, sitting off the pace and running a figure of 82 in just her fourth start. Taking into account maturity, it's reasonable to believe that she can at least duplicate that figure here, which makes her a prime contender.
ANALYSIS
RACE 4: MARYLAND MILLION LASSIE, 2-YEAR-OLDS, FILLIES, 6 FURLONGS
8-4-7-2
#8 Miss Nondescript (4/1): Enjoyed a good stalking trip in her debut, and won a battle in the stretch to prevail by a nose. Goes first time for the Trombetta barn here. In a race with lots of speed, she should be able to rate off the pace and make a move should the leaders tire.
#4 Street Lute (5/2): Ran a huge race last out in the Small Wonder Stakes. She dueled with the other favorite, Heart Full of Soul, put her away, and drew off to win by 5 1/2 lengths. Showed the ability to rate in her maiden win, stalking the pace and getting up to earn a big figure of 86. 
#7 Trip to Freedom (2/1): Broke her maiden in dominant fashion last out, running away from a maiden claiming group by nine lengths, earning a figure of 85. That was a pretty soft field, and it's unlikely she'll be able to get as easy of a lead this time. Still, she showed plenty of promise, and has every right to build on that race. 
RACE 5 – MARYLAND MILLION STARTER HANDICAP, 3-YEAR-OLDS AND UP, 7 FURLONGS
7-1-10-11
#7 V.I.P. Code (7/5): How can you not love a horse like this? Since joining the Jamie Ness barn in January, he's won five of eight, while running figures in the 90s or better six times. If he runs his race, he's going to be impossible to beat. While he did lose his three starts at Laurel this year, he had a brutal trip in one of hem, and got outkicked by Belfour in another. He also wasn't on the lead in either of those races, but as long as Jamie Rodriguez gets him to the front here, he should be good.
#1 Odds On (8/1): Got entangled in a pace duel last out at Pimlico, and flattened out to third. When he stalked the pace, in his two races prior, he got up to win, while running two consecutive figures of 88. Should get a good trip rating on the inside, and could get up for a piece at a decent price.
#10 Smokin Hot Factor (8/1): Cuts back after a dull try at 1 1/16 miles last out. The last time he went around one turn at Laurel, he drew off to an impressive win, and had closed sharply behind Odds On in the race prior. If Kevin Gomez can keep him fairly close, his punch could be impactful.
RACE 6: MARYLAND MILLION TURF SPRINT, 3-YEAR-OLDS AND UP, 5 1/2 FURLONGS (GRASS)
9-8-1-6
#9 Fiya (6/5): If there was a future book for the 2021 Breeders' Cup Turf Sprint, I'd bet this horse. He was dominant in his maiden win, unspeakably good in a Maryland-bred allowance, then absolutely crushed an allowance group at Belmont Park. The sky's the limit.
#8 Love You Much (6/1): He's hit the board in five of six this year, without crossing the wire first. The perfect kind of horse to round out exactas: he tends to sit mid-pack and make a solid move, only to just miss in the end. 
#1 A Great Time (5/1): Closed frantically in The Very One Stakes to win by a length, despite relatively slow fractions in front of her. When she got a more normal setup two back at Presque Isle Downs, it didn't slow her down; she still closed and got up for the victory. Should be an imposing closing threat.
ANALYSIS
RACE 7 – MARYLAND MILLION NURSERY, 2-YEAR-OLDS, 6 FURLONGS
6-4-7-2
#6 Moochie (3/1): Broke her maiden in very impressive fashion at Delaware, driving to the lead and holding on to win clear. You can draw a line through her poor last race: she acted up in the post parade and got loose, but still ran, and lost by 21 lengths. That was also on grass, now, she gets back to dirt and is reunited with Xavier Perez. Should be tough on the front end. 
#4 Alwaysinahurry (6/1): Drew off to break his maiden impressively last out, opening up a clear lead and winning going away. He comes in here with the top last out figure in the race, an 87, a lifetime top by several points. 
#7 Sky's Not Falling (3/1): The classiest member of the field, he's hit the board in several stakes already this year. He has a bit of a problematic running style; he tends to make a move in the stretch, then flatten out in the stretch. Granted, a lot of those were against better company than he'll see today, but still, he should've won at least some of those races. Can he seal the deal here?
RACE 8: MARYLAND MILLION DISTAFF, 3-YEAR-OLDS AND UP, FILLIES AND MARES, 7 FURLONGS
7-8-6-10
#7 Le Weekend (10/1): Ran them off their feet in each of her last two starts at Delaware, earning figures in the 90s both times. Last out, she outfinished her dueling partner by seven lengths, after setting a sharp quarter in 22 seconds, and a half in 44 3/5 seconds. Should be tough on the lead. 
#8 Quiet Imagination (12/1): McCarthy had his pick between this one and Le Weekend, and he ended up picking this Tom Woolley trainee. A very steady sort, she's hit the board in six of seven over this track, just missing in each of her last two races. She'll look to stalk and pounce, and could round out some tickets at big odds.
#6 Hello Beautiful (1/1): After setting sky-high expectations as a 2-year-old, she's disappointed in her last two starts against stakes company. She had a valid excuse in the Audobon Oaks, when she was knocked around at the start and lost crucial early position. In the Prioress Stakes, however, she got the trip she wanted, but had absolutely nothing in the stretch. Granted, it was against a tough field, including Frank's Rockette, but you'd think she could've held on a little bit better. I'll be cheering for her, but off that last race, I can't play her at low odds.
RACE 9 – MARYLAND MILLION TURF, 3-YEAR-OLDS AND UP, 1 1/8 MILES (GRASS)
9-12-6-7
#9 Nick Papagiorgio (7/2): A three-time winner on grass last year, he finished in a dead heat with Cannon's Roar last out, earning a lifetime top figure in the process. He won twice on the Laurel grass earlier this year, showing a lot of heart in the stretch both times. Ness and McCarthy are tough when teaming up.
#12 Cannon's Roar (9/2): He was clear in the stretch last out, but ended up tying for the win with a surging Nick Papagiorgio. That was his third win in a row, both times stalking the pace and grinding on in the stretch. He's hit the board in ten of twelve over the Laurel lawn. Wouldn't be surprised to see another stretch battle between him and Nick Papagiorgio.
#6 Somekindofmagician (5/1): The "other" Ness in the field, he impressively beat a conditioned claiming field three back, then ran a season's top figure when just missing against allowance company last out. The horse he lost to in that race, Sandy Lane Kitten, has won four of his last five at various mid-Atlantic tracks. 
RACE 10 – MARYLAND MILLION SPRINT, 3-YEAR-OLDS AN DUP, 6 FURLONGS
3-8-10-4
#3 Onemoregreattime (3/1): He's been facing pretty salty competition all summer long. Last out, he was on the pace in the Polynesian Stakes, and ended up fifth, behind Eastern Bay, Laki, and Threes Over Deuces. Those are some of the fastest horses on the mid-Atlantic circuit. This one usually runs figures in the 90s, and has a strong middle punch.
#8 Karan's Notion (12/1): He made noise when breaking his maiden a few starts back, winning by thirteen lengths and earning a big figure of 94. He hasn't been able to quite run back to that form, but he's going to be dangerous on the front end at a price.
#10 Let's Play Nine (5/1): Makes his first start since March 13, after holding on to win a Maryland-bred allowance by a nose. He's never been worse then second in four career starts, while running at least an 88 every time out. It's a tough ask first off the bench, but he's been working well, and Trombetta is a solid 16% with horses off long layoffs.
RACE 11: MARYLAND MILLION CLASSIC, 3-YEAR-OLDS AND UP, 1 1/8 MILES
5-7-3-1
#5 Harpers First Ride (8/5): He did the home team proud in the Pimlico Special, getting a heads-up ride from Angel Cruz and hanging on to win. He now returns to Laurel, where he's 6-for-7 lifetime. In his prep for the Pimlico Special, the Deputed Testamony Stakes, he stalked the pace and drew off to win handily. He's in top form, and should run another big one. 
#7 Top Line Growth (2/1): A track record holder at Laurel, he's a perfect 4-for-4 over this track, never winning by less than 3 3/4 lengths. He ran huge first off a long layoff two starts back, then finished second in the Salvator Mile behind favored Pirate's Punch. Should get a similar trip as Harpers First Ride.
#3 Monday Morning QB (5/1): No three-year-old has never won this race, but he's got as good a shot as any to rewrite history. He finished second in the Federico Tesio Stakes in his last dirt start, behind eventual Jockey Club Gold Cup winner Happy Saver, after setting the pace. Gets back to the dirt after a dull grass try last out, and will try to control the pace.
RACE 12: MARYLAND MILLION TURF STARTER HANDICAP, 3-YEAR-OLDS AND UP, 1 1/8 MILES (GRASS)
7-14-8-2
#7 Earned It (6/1): Made some decent ground in the stretch last out to get third at big odds. He's in improving form on the surface, and is worth a shot at a possible price. 
#14 Barin (12/1): Comes out of the same race as Earned It, a spot where he fell seventeen lengths behind, but still rallied for a solid fourth. He's the type who usually doesn't get the job done, but can come on for the exotics. 
#8 Martini Kid (6/1): Goes second off a brief layoff, after getting caught up in a funky pace scenario last out at Penn National. Takes a drop after facing some tougher company earlier in the year, and has steadily been running figures in the upper 70s.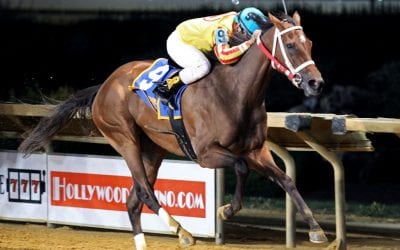 We provide picks and analysis for this evening's card at Charles Town Races.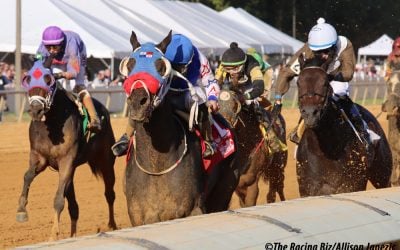 We provide full-card picks and analysis for this afternoon's races at Laurel Park.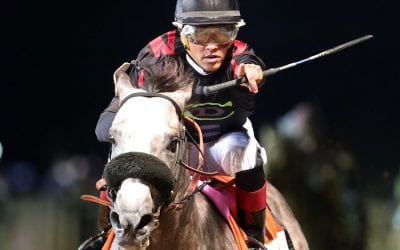 We've got Charles Town picks and preview today as the track presents its Friday card!