Happy Saver jumps in NTRA Top Thoroughbred Poll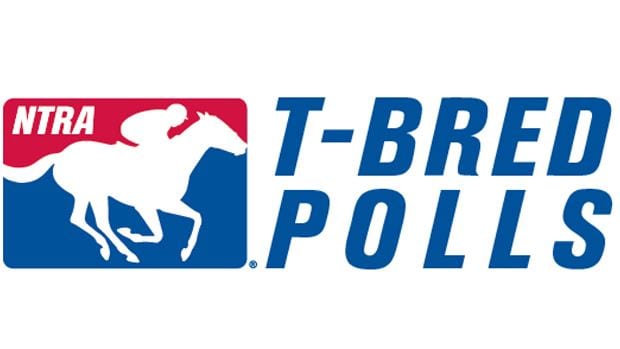 From a National Thoroughbred Racing Association release
When he surged up the rail and hit the finish line first in the Grade 1 Jockey Club Gold Cup on October 10, Happy Saver inserted himself into the discussion of top tier contenders in the sophomore male division. Indeed, when the votes were tallied in the latest National Thoroughbred Racing Association (NTRA) Top Three-Year-Old Thoroughbred Poll, the son of Super Saver found himself among the elite.
Happy Saver bested a field that included such older foes as graded stakes winner Tacitus in the Jockey Club Gold Cup to give trainer Todd Pletcher his long-awaited first triumph in the storied race. That victory, which also marked the colt's first try against graded stakes company in four career starts, earned Happy Saver 174 points this week to move him into the fifth position. Following a debut victory on June 20 at Belmont Park, Happy Saver prevailed going two turns at Saratoga en route to a triumph in the September 7 Federico Tesio Stakes at Laurel Park, ahead of his Jockey Club Gold Cup outing.
"What he's been able to accomplish you don't see very many other horses do," Pletcher told the NYRA publicity team of Happy Saver. "He went from a seven-furlong maiden on June 20 to a mile and an eighth allowance at Saratoga, to a mile and an eighth stake at Laurel and came back to Belmont and then to win a Grade 1 going a mile and a quarter against older horses is something you don't see very often."
Whether Happy Saver heads to the Breeders' Cup Classic at Keeneland on November 7 is still to be determined. Should he end up in that starting gate, his list of challengers will likely include Kentucky Derby winner Authentic, who continues to hold the top spot in the Three-Year-Old Poll.
Authentic, who was beaten a neck by the filly Swiss Skydiver in the October 3 Preakness Stakes, earned 17 first-place votes and 342 points to hold onto the top spot for yet another week. Belmont and Travers Stakes winner Tiz the Law remains second with 8 first-place votes and 328 points with Swiss Skydiver (12 first-place votes, 326 points) in third.
Grade 2 winner Art Collector (203 points) holds down the fourth position ahead of Happy Saver while Grade 1 winner Honor A. P., who has been retired to stud, drops one spot to sixth with 129 points.
Multiple Grade 1 winner Gamine (103 points) is seventh with Kentucky Oaks winner Shedaresthedevil and Max Player now tied for eighth with 80 points apiece. Grade 2 winner Mystic Guide, who was second in the Jockey Club Gold Cup, rounds out the top 10 with 57 points.
With sophomore runners taking the top two spots in the Jockey Club Gold Cup, the handicap division had no major shifts this week. Multiple Grade 1 winner Improbable remains out front in the NTRA Top Thoroughbred Poll with 32 first-place votes and 365 points as the son of City Zip has won three straight top-level contests.
Champion Maximum Security, runner-up to Improbable in the Grade 1 Awesome Again Stakes on September 26, is second with 2 first-place votes and 271 points. Tom's d'Etat (2 first-place votes, 218 points) is third followed by Vekoma (1 first-place vote, 202 points) and champion Monomoy Girl (191 points).
Multiple graded stakes winner By My Standards remains sixth with 147 points while Authentic (124 points) and Tiz the Law (117) rank seventh and eighth, respectively. Swiss Skydiver (104 points) and multiple Grade 1 winner Rushing Fall (71) complete the top ten.
The NTRA Top Thoroughbred polls are the sport's most comprehensive surveys of experts. Every week eligible journalists and broadcasters cast votes for their top 10 horses, with points awarded on a 10-9-8-7-6-5-4-3-2-1 basis. All horses that have raced in the U.S., are in training in the U.S., or are known to be pointing to a major event in the U.S. are eligible for the NTRA Top Thoroughbred Poll. Voting in both the Top Three-Year-Old Thoroughbred Poll and the Top Thoroughbred Poll is scheduled to be conducted through the conclusion of the Breeders' Cup in November.
NTRA TOP THOROUGHBRED POLL
Improbable
Maximum Security
Tom's D'Etat
Vekoma
Monomoy Girl
By My Standards
Auhentic
Tiz the Law
Swiss Skydiver
Rushing Fall
NTRA TOP THREE-YEAR-OLD POLL
Authentic
Tiz the Law
Swiss Skydiver
Art Collector
Happy Saver
Honor A. P.
Gamine
Shedaresthedevil
Max Player
Mystic Guide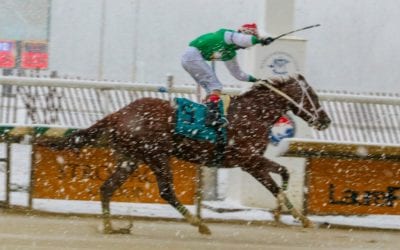 The nominations for the Barbara Fritchie Stakes upcoming at Laurel Park include several local runners, among them last year's show horse Fille d'Esprit.