MIDLANTIC-BREDS DRIVE YEARLING SALE MARKET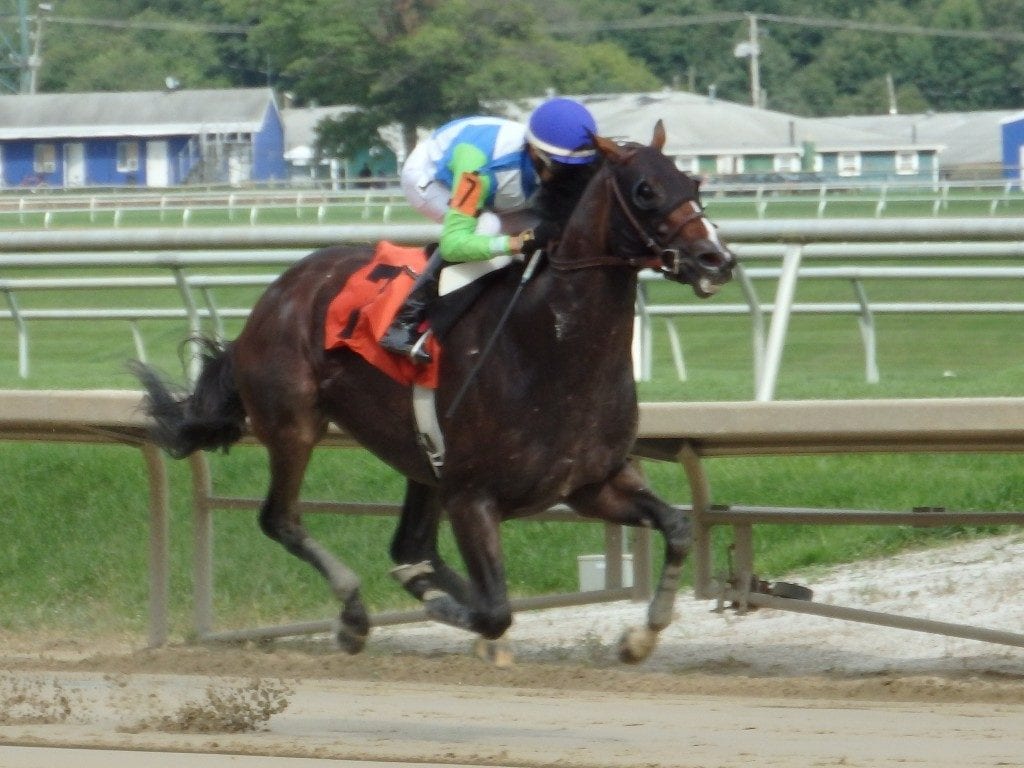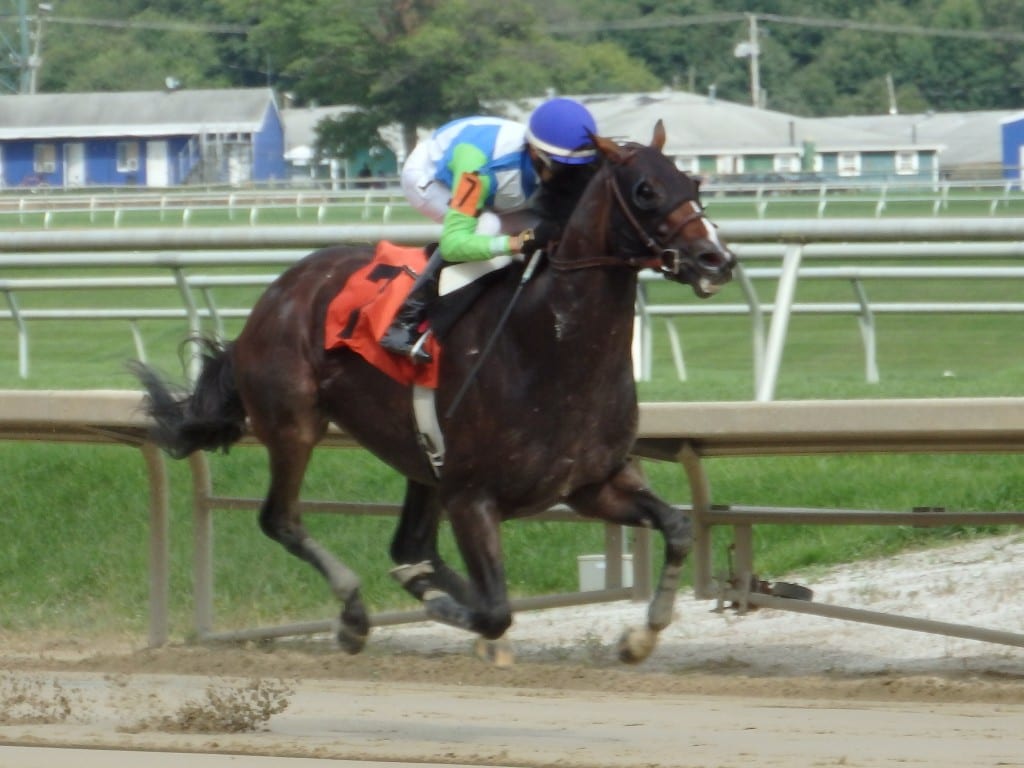 Linda Dougherty

October 7, 2020
Horses bred in the region were a hot commodity at the Fasig-Tipton Midlantic fall yearling sale October 5-6 at the Timonium, Md. salesgrounds, with Pennsylvania and Maryland representing the three highest prices of the 379 head sold.
Overall, the sale's final statistics were nearly unchanged from 2019, despite concerns about what effect the volatile economy would have due to the COVID-19 pandemic.
Average price of $24,172 and median of $14,000 were comparable to last year, while gross sales of $9,161,200 reflected an increase of 26.3 percent, due to 79 more horses being sold. The buyback rate was 21.7 percent, also nearly even with last year's 21.3 percent rate.
Midlantic-breds — horses bred in Maryland, Pennsylvania, New Jersey, Virginia, and West Virginia — accounted for 237 of the hips to sell, with a combined value in excess of $5.5 million.
The sale-topper was a Pennsylvania-bred chestnut colt from the first crop of champion Gun Runner, who brought a bid of $270,000 from Lambe Bloodstock. Consigned by Becky Davis, agent, the colt (Hip 371) is out of Stormy Tak, by Stormy Atlantic, and was bred by Jon A. Marshall.
Adding to the colt's appeal was the big update to his catalogue page, as Stormy Tak's half-sister Melody Lady became the dam of a Grade 1 winner when her 4-year-old colt Volatile captured the Alfred G. Vanderbilt Handicap at Saratoga this summer.
Two Maryland-bred colts commanded the second- and third-highest prices. The Beaver family's Bell Gable Stable went to $250,000 to buy Hip 451, a son of Flatter out of Apple Cider, by More Than Ready, bred by Sycamore Hall Thoroughbreds and consigned by Northview Stallion Station. Apple Cider, out of the multiple graded stakes winner Who Did It and Run, is a half-sister to two stakes winners.
"We live right next door to Northview in Chesapeake City, and so we'd seen the colt on their farm," said Nick Beaver, who owns Bell Gable with his wife, Delora. "He really stood out. He was very correct, had a great attitude, and a beautiful pedigree. When we went to the sale, we weren't looking to buy any other horse but him, and we were lucky enough to get him."
Beaver said that the colt is likely going to Merryland Farm in Maryland, owned and operated by the Pons family, for breaking, and then will be Delaware Certified, with plans beyond that to be determined. His future, though, could expand beyond the Mid-Atlantic region, but Beaver isn't putting the cart before the horse, so to speak.
"We don't rush our horses; we take our time," he said.
Bell Gable currently has horses at Delaware Park with trainer Jamie Ness, and also keeps broodmares at Country Life Farm.
The other Maryland-bred colt, Hip 383, was bought for $240,000 by West Bloodstock, agent for Repole and St. Elias Stables. A Street Sense colt bred by Robert T. Manfuso and Kathryn M. Voss, he's out of Tanca, by Polish Numbers, who is the dam of three stakes winners, including Cordmaker, an earner of $451,490.
Fasig-Tipton grouped all New York-breds at the beginning of the first session, which it stated was to accommodate yearlings that weren't able to be sold because of the cancellation of Saratoga sales this summer due to COVID-19.
A New York-bred colt from the first crop of Cupid out of multiple stakes producer Gottah Penny topped that first session, selling for $160,000 to the Xtreme Racing Stables LLC of Vicki and Mike McGowan, who have a small racing stable at Delaware Park with trainer Mac Robertson.
The McGowans purchased the colt, Hip 4, from the consignment of Eaton Sales, agent. He's a half-brother to stakes-placed Brokered and Copper Gem, and his dam is half sister to Grade 1 winner Run Man Run.
The top price for a filly in the first session was Hip 6, a New York-bred daughter of Overanalyze bought for $120,000 by Cutair Racing from the consignment of Hibiscus Sales, who also is the breeder. The filly is out of the multiple stakes winning Distorted Humor mare Heavenly Humor, and is a half-sister to multiple stakes winner and recent Vosburgh Stakes (Gr. 2) runner-up Funny Guy and stakes winner Super Humor.
While Hibiscus Stables, based in New York and headed by Mike Oliveto, has sold horses at the Midlantic sale before, its eight-horse draft is the first that they've consigned themselves.
"We brought eight horses here and seven are homebreds," said Oliveto. "We thought it would make more sense for us to sell them ourselves. It's a lot of work, but it's turned out well."
Four of Hibiscus Stable's horses sold for an average price of $57,750. The top-priced Overanalyze filly was a pleasant surprise for Oliveto and his team.
"We didn't know we'd get that much for her when we arrived (at Timonium), but there was a lot of interest in her and people did a lot of their own vetting, and by the time she went into the ring we thought she'd sell well," he said.
Hibiscus is comprised of racing and breeding partnerships and bought the filly's dam at Fasig-Tipton's New York Saratoga Fall Mixed Sale in 2015 for $25,000 from the consignment of Maryland-based Bill Reightler, in foal to Big Brown.
Another horse from the Hibiscus consignment that sold well was Hip 316, a Pennsylvania-bred colt by Bernardini out of R Frosty One, by Southern Success, who won two Pennsylvania-bred stakes during her career. The colt, the only one that Hibiscus didn't breed, was bought by Novogratz Racing Racing Stables, Inc. for $70,000.
"I thought this sale, overall, was hit or miss," said Oliveto. "The better horses are selling well, the middle was soft, and the bottom was non-existent. There was a strong after-market, though; three RNA horses we were interested in were sold by the time we got back to the barn area."
Grassroots Training & Sales, a pinhooker based in Ocala, was the top buyer by gross, purchasing 15 yearlings for $320,500, while BSW/Crow bought four for $290,000. Joe Besecker was the top buyer by volume, purchasing 16 hips.
Marshall Silverman sold 48 of the 60 horses he brought to Timonium and was the leading consignor, with gross sales of $860,400. Northview Stallion Station was the second-leading consignor with 29 of 40 horses selling for $745,700.
Of the top 10-selling yearlings, one was sired by a regional stallion. Hip 313, a Maryland-bred colt from the first crop of Divining Rod, was bought by Roy and Gretchen Jackson's Lael Stable from the Reightler consignment for $100,000. The colt is out of Reappearance, by Kafwain, a half-sister to graded stakes winner Mr. Impatience; she is also the dam of $105,548-earner Child's Play.
Divining Rod, a graded stakes-winning son of Tapit, raced for the Jacksons and stands at Country Life Farm for $5,000, live foal. Twenty-four of his offspring sold at the sale, the most of any sire. They averaged $24,258.
TOP REGIONAL SIRES BY NUMBER SOLD
| | | | | |
| --- | --- | --- | --- | --- |
| SIRE | HIPS SOLD | GROSS VALUE | AVERAGE | MAX |
| DIVINING ROD | 24 | $ 582,200.00 | $ 24,258.33 | $ 100,000.00 |
| HOLY BOSS | 13 | $ 134,500.00 | $ 10,346.15 | $ 27,000.00 |
| UNCLE LINO | 12 | $ 308,000.00 | $ 25,666.67 | $ 75,000.00 |
| PEACE AND JUSTICE | 12 | $ 122,700.00 | $ 10,225.00 | $ 31,000.00 |
| MOSLER | 9 | $ 88,200.00 | $ 9,800.00 | $ 26,000.00 |
| GOLDEN LAD | 8 | $ 88,500.00 | $ 11,062.50 | $ 30,000.00 |
| WEIGELIA | 8 | $ 135,500.00 | $ 16,937.50 | $ 52,000.00 |
| IMAGINING | 8 | $ 125,000.00 | $ 15,625.00 | $ 45,000.00 |
| FRIESAN FIRE | 6 | $ 73,200.00 | $ 12,200.00 | $ 38,000.00 |
| GREAT NOTION | 6 | $ 155,500.00 | $ 25,916.67 | $ 50,000.00 |
LATEST NEWS