FOR women trainers PREAKNESS MEMORIES – AND QUESTIONS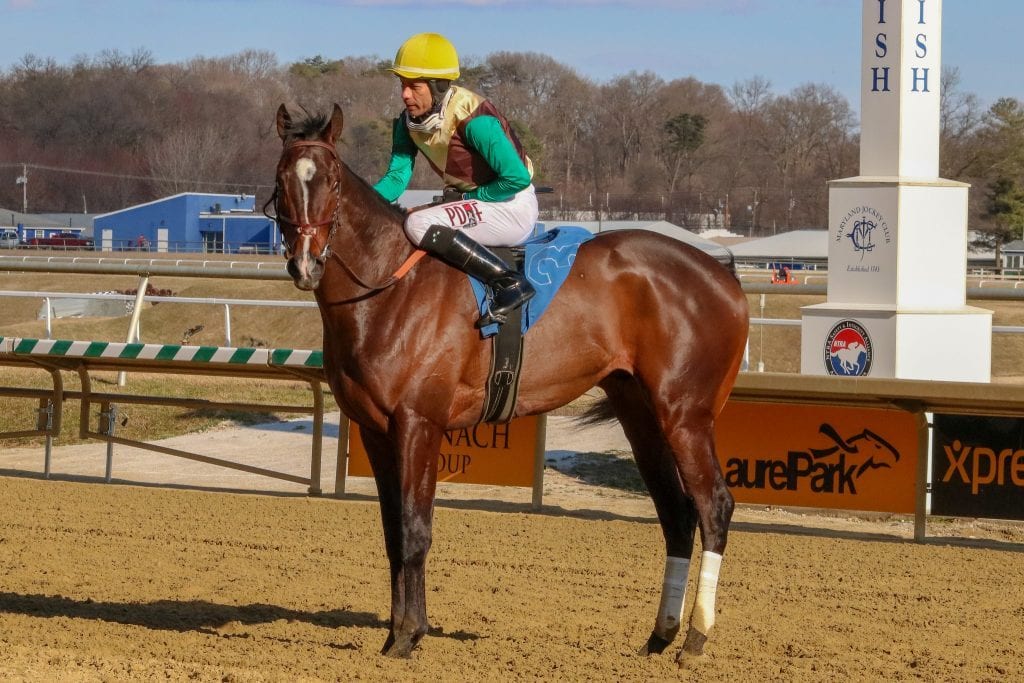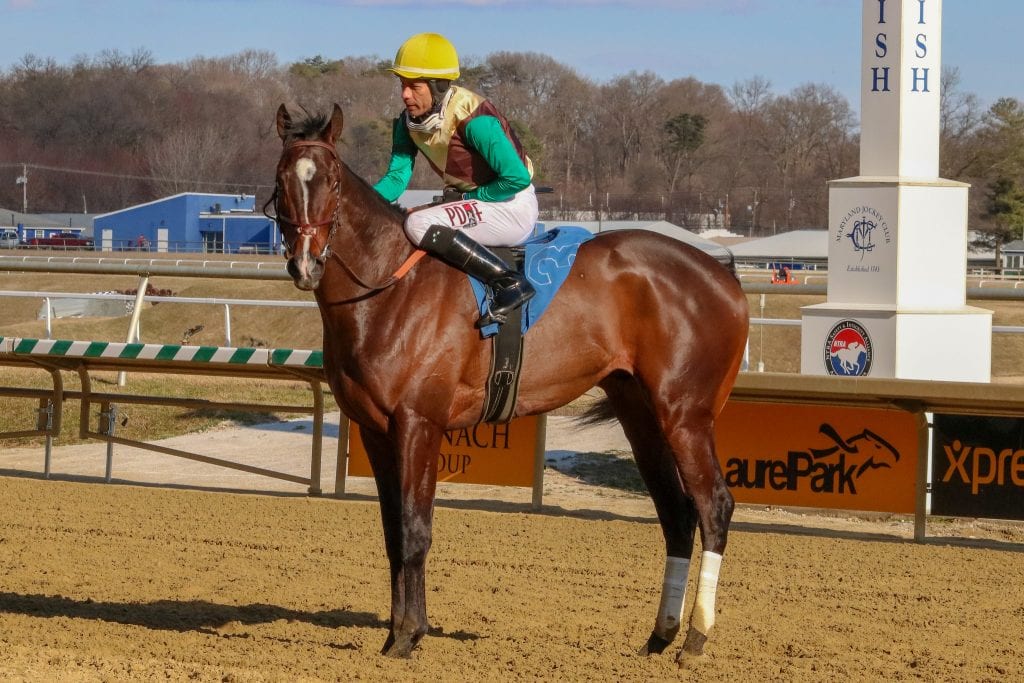 Frank Vespe

October 1, 2020
Eleven runners are expected to face the starter in Saturday's $1 million Preakness Stakes. All 11 are trained by men.
It's the sixth time in seven years that no female trainer will have a runner in the race. Why is that?
According to Kelly Rubley, a Fair Hill-based trainer who brought Alwaysmining to last year's Preakness, the dearth of female trainers in the race isn't a result of, or a judgment on, women's ability to train horses at a high level.
"I think women are very good with horses," she said. "I think we read horses very well, and I think horses react well to women."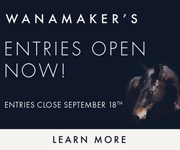 Rubley is one of just three Maryland-based female trainers to saddle a Preakness starter since 2000 — Linda Albert and Nancy Alberts are the other two — and Alwaysmining was the most well-fancied of the trio. After compiling a six-race win streak, Alwaysmining went off as the Preakness fourth choice, at odds of 6.60-1.
But after racing up close and looming a threat, he emptied out to finish 11th.
"We were thrilled right up to about [the quarter-pole]," Rubley said. "Still glad we did it."
Greg and Caroline Bentley, who race as Runnymoore Racing, bought Alwaysmining privately and eventually placed him with Rubley, who struck out on her own in 2014 and has seen her runners' earnings increase every year to date. She is starting to attract the sort of deep-pocketed owners who might get her access to more Preakness runners in future.
That question – of access to high-quality runners – certainly is one challenge.
"It doesn't seem like a lot of women are getting those kinds of horses," admitted trainer Linda Albert. She's won nearly 700 races in a career that began in 1988.
Post Time returns with a flourish

Last year's champion 2-year-old Maryland-bred made his first sophomore start in impressive fashion, winning the PImlico allowance feature.
Albert saddled Water Cannon – a modest purchase who jumped up – in the 2004 Preakness.
The son of Waquoit cost Nonsequitur Stable just $37,000 as a two-year-old in training in 2003 but took his connections all the way to the following year's Preakness.
Water Cannon lost the first six starts of his career before Albert added blinkers. He then ripped off five consecutive wins, including scores in the Miracle Wood, Private Terms, and Tesio.
"With the blinkers, I thought they got him to focus a little better," Albert said. Each race, he improved a bit, and each step he took led the connections to the next one.
In the Preakness, though, he was never much involved and finished 10th, and last, at odds of 39-1. An outcome not entirely unexpected but disappointing all the same.
The defeat still stings Albert a bit. But at the same time, she asks, "What are you gonna do? The owner may never get another shot like this. When you get five wins in a row, that's the logical step. I just wish it had been more successful."
Consolidation is clearly one challenge facing all trainers – women and men – whose stock is below the top rung. Whereas in 2000, nearly 10,000 trainers had at least one North American starter, in 2019 that number had declined by basically half, to 4,959.
What's more, a smaller number of trainers is taking a larger proportion of purse money. In 2000, the top 10 trainers accounted for about 26% of the total purse earnings of the top 100 trainers. By 2019, that number had risen to nearly 34%.
And last year the top five trainers – Chad Brown, Steve Asmussen, Todd Pletcher, Brad Cox, and Mark Casse – accounted for more than 22% of the earnings of the top 100.
An added problem: sometimes good horses start with one trainer and then get moved to a bigger name. Witness Max Player, who began his career with Linda Rice – whose barn was 15th in the nation in earnings in 2019 and tops among women — but then was moved to Asmussen prior to the Kentucky Derby.
One way around that conundrum is to breed, own, and train your own. That way if they get good, you can still hang onto them.
That's the path followed by the late Nancy Alberts, who in 2002 saddled her homebred Magic Weisner in the Middle Jewel. The Ameri Valay gelding – off at odds of 45-1 – came flying late to be second, falling less than a length short of what would have been the greatest Preakness upset of them all. War Emblem, the Kentucky Derby winner, managed to hold on in Baltimore only to see his Triple Crown dreams dashed in the Belmont.
While for Linda Albert and Water Cannon, the Preakness trip was in some ways an unexpected development for a late-blooming horse, for Nancy Alberts it was the point of the season, her son Will Alberts said.
According to Will, after Magic Weisner had rallied late to win the Maryland Juvenile Championship – at odds of 12-1 – Laurel Park's stakes coordinator suggested Alberts put her horse on the path to the Preakness.
He won three straight to start his three-year-old campaign. But the gelding had a wide journey in the Tesio and could only manage a second-place finish. That led many to conclude that "Magic" didn't belong with the big boys.
"People started telling my mom [Magic Weisner] was going to embarrass Maryland," Will Alberts recalled. "She said, 'Other people say I'm going to embarrass myself.'"
But Nancy Alberts was steadfast; her horse was a real runner.
"She was a bit stubborn," Will recalled with a laugh. "But she also believed in her horse."
And with good reason. He followed his stunning runner-up effort in the Preakness with a fourth in the Belmont, a win in the Grade 2 Ohio Derby, and a second – again to War Emblem – in the Grade 1 Haskell. Then he got West Nile virus and ultimately had to be retired – but not before he'd banked more than $888,000.
"Her lifelong dream was to wake up and look out her kitchen window and watch her horses," Will Alberts said of his mother. "Magic let her buy the little farm in Sykesville."
Whatever the reasons for the dearth of female-trained Preakness starters – whether bad luck, industry consolidation, or old-fashioned sexism — the stats are striking. From 1996 through 2004, nine of 97 Preakness starters – 9.3% — were trained by women. Since, just three of 174 have been. That's 1.7%.
As always in racing, success might be the best medicine. It may be that the paucity of female trainers in the biggest races creates a vicious cycle; fewer women in big races begets fewer women trainers, and so on.
But at the recently completed Laurel Park summer meet, for example, six of the top 31 trainers by earnings were women, Rubley among them. Perhaps that can help spur a virtuous cycle in response.
"After the Preakness when I started watching some of the media coverage… a lot of people put me as a role model for women," Rubley recalled. "It was pretty darn exciting."
LATEST NEWS