PREAKNESS: MR. BIG NEWS "GETTING BETTER ALL THE TIME"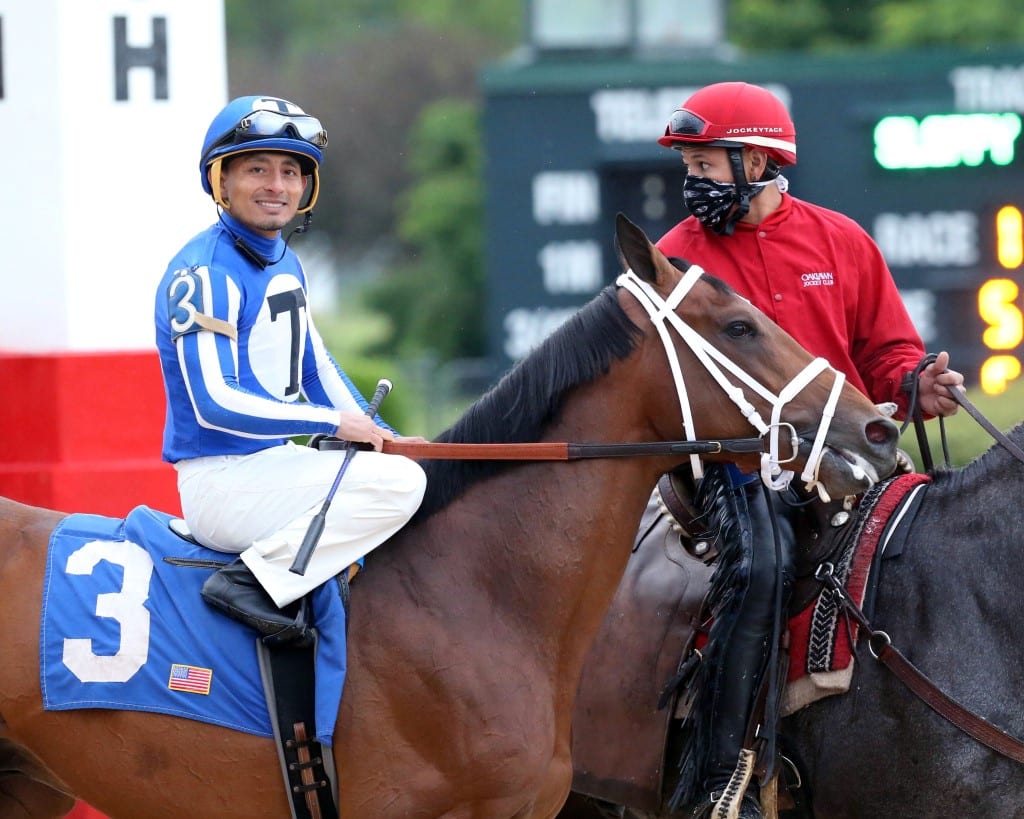 Frank Vespe

September 27, 2020
It would have been big news, indeed, if Mr. Big News had won the Kentucky Derby September 5. The Giant's Causeway colt made a menacing move, circling the far turn to reach contention, but he couldn't quite seal the deal.
"He gave me a pretty good thrill. Between the three-eighths pole and the quarter pole, I thought he might win the whole thing," said Bret Calhoun, the trainer of Mr. Big News. "I thought the ones on the front end had gone pretty quick and might come back to us a little bit. But they ran huge races and didn't back up."
Calhoun was a guest on Saturday's Off to the Races Radio, powered by The Racing Biz.

Mr. Big News eventually settled for third – at odds of 46-1. He was just over three lengths behind winner Authentic and two behind runner-up Tiz the Law, while Honor A. P. was nearly two lengths farther back in fourth. Of those horses, only Authentic and Mr. Big News are Preakness-bound.
It was the best result of Mr. Big News's career to date, and Calhoun likes what he's seeing from his charge heading into the October 3 Preakness. He's posted two half-mile works since the Derby, going the distance in 48 4/5 seconds on September 18 and then in 50 2/5 seconds on September 25.
"We had two nice breezes in between," Calhoun said. "We haven't asked him for a lot; he's pretty fit, pretty ready, we think he's continued to move forward. Everything seems to be going his way."
Mr. Big News, owned by Chester Thomas' Allied Racing Stable LLC, has two wins, and nearly $470,000 in earnings, from eight career starts. He won the Oaklawn Stakes back in April – a "win and you're in" contest for the Preakness – but had been fifth and sixth in two graded tries prior to the Kentucky Derby.
It's a pretty nice resume for a runner who was a $95,000 auction purchase as a yearling. That, in fact, continues what's been Calhoun's career-long trend: getting good results from what the market perceives to be middling stock. The trainer has nearly 3,200 wins and over $86 million in career earnings, which he's achieved without a win in a Triple Crown races; his two Breeders' Cup victories both came in 2010.
"I'm pretty proud of what we've accomplished with less than what's perceived to be the top yearlings that we do," he said. "So I feel very fortunate to have done what we've done."
Calhoun said that Gabriel Saez, who rode Mr. Big News in Louisville, will have the return mount in the Preakness. In fact, he said, they'll approach the Preakness the same way they approached the Derby: let the horse settle and make a big run.
"We know our horse. We know what he's capable of and what he likes, what he doesn't like," the trainer said. "Gabe's pretty aware of the trip that he likes. And we'll just try to stick to our game plan and whatever happens in front of us happens."
In the Derby, what happened up front was that Authentic carved out fast early fractions and then still had enough in the tank to kick on home. Mr. Big News trimmed his deficit down to 3 ½ lengths leaving the quarter pole, but made virtually no headway the rest of the way.
"Well, first off, I'm a little intimidated by Authentic," Calhoun joked. "I thought it was an impressive race in the Derby… Obviously, we're hoping for a lively pace in front of us [in the Preakness], and come closing into it. But we're not going to change anything."
Mr. Big News didn't break his maiden until January and has done his best work to date with ample time between his races. In that regard, the Covid-19 pandemic, which forced the Triple Crown races later in the year and enabled the Maryland Jockey Club to increase the time between Derby and Preakness, has played to his advantage.
"If the Preakness had been back in two weeks we probably wouldn't have run," Calhoun said. "He's a late-developing three-year-old. He seems to be getting better all the time. It's one of the reasons for the spacing: we kind of let him develop his own pace."
Which, if Calhoun has his druthers, might be right on time to wear Black-Eyed Susans.
LATEST NEWS