MAX PLAYER LATEST TO JOIN PREAKNESS RANKS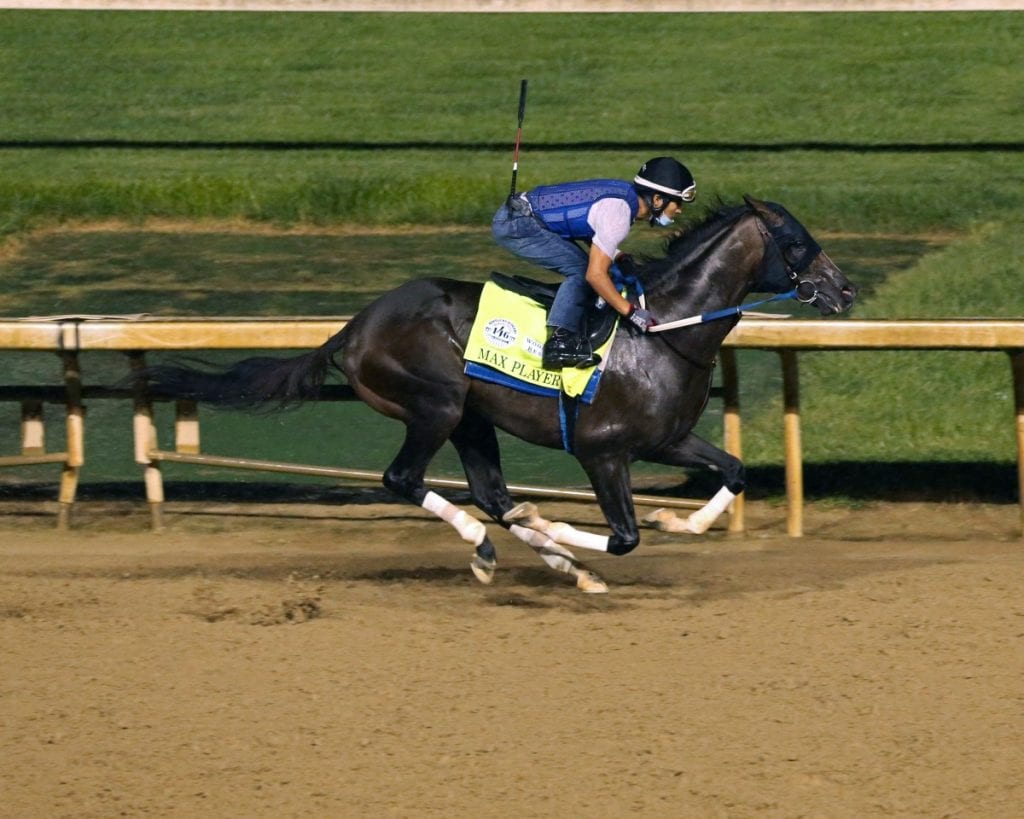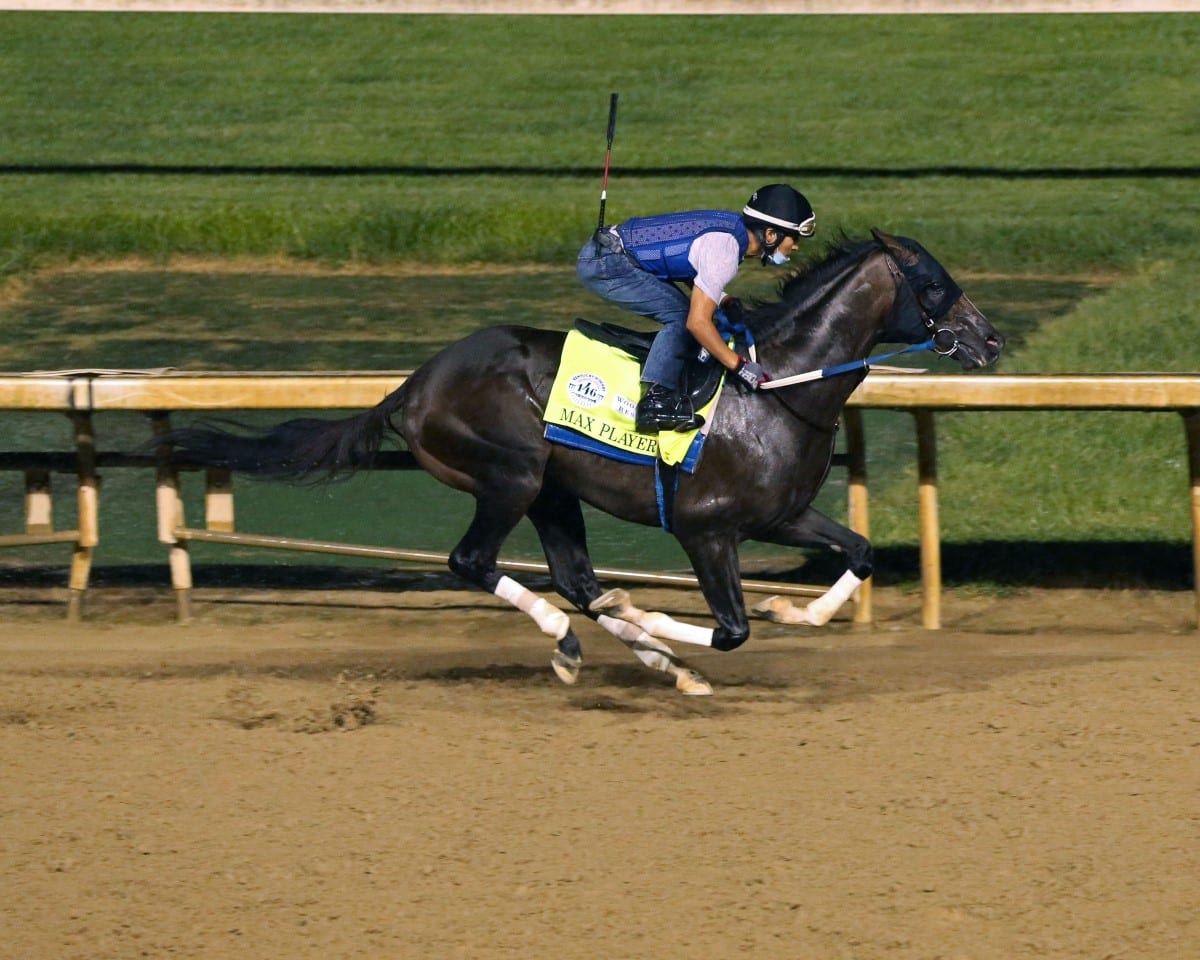 Press Release

September 23, 2020
Max Player is headed to the Preakness Stakes (G1), which as it currently stands will stamp him as the only horse to compete in all three legs of the Triple Crown — plus Saratoga's Travers Stakes (G1).
Owned by George Hall and the SportBLX Thoroughbreds company he co-founded, Max Player finished third in the Belmont Stakes (G1), third in the Travers and most recently fifth in the Sept. 5 Kentucky Derby (G1). Hall of Fame trainer Steve Asmussen, winner of the 2007 Preakness with Curlin and the 2009 edition with the filly Rachel Alexandra, ran Max Player for the first time in the Derby, with New York-based Linda Rice previously training the Honor Code colt.
Hall won the 2011 Belmont Stakes with 24-1 shot Ruler On Ice. Max Player was his best finish out of four starters in the Kentucky Derby and his first to run in the Churchill Downs classic since Louisiana Derby (G2) winner Pants On Fire came in ninth in 2011.
"I'm very excited because I haven't been in the Preakness yet," Hall said by phone. "Steve and I stay in close contact. He shares a lot of information with me, and we discuss things. So it's been great. We both agreed we'd take a lot of things into consideration before there was a decision.
"First, and most importantly, how was the horse feeling and was the horse up for it? Because we don't want to do anything that is not in the interest of the horse. After the Kentucky Derby, he looked like he wanted to keep running. Steve watched him closely, and he was in great shape. He's galloped well. He's breezed well. We felt the horse was at the peak of his game and is ready to run.
"The next thing is, are we going to be competitive? I really feel like we will be competitive. If you look at the Belmont Stakes, where we were third, he didn't have such a great trip. We got really caught behind a lot of horses and had to move around a lot and still wound up being third because he came on so strong at the end. In the Travers, he again came on strong to be third. It's no shame to lose to Tiz the Law, as everybody knows. We feel like he's a really good horse.
"When we started to look at the Preakness, I think the view is that he's in perfectly good health. He's in good shape, and he needs to develop. Reviewing the Kentucky Derby, he really came out of the gate slow (from post 1) and was far behind in the first jump. If we can get a little better trip out of the gate, maybe get a better post position and not fall so far behind and give him so much work to do at the end, we think that we can be competitive."
Paco Lopez, known for getting horses into a race, has the Preakness mount on Max Player, Hall said. "That's what Paco is known for. Obviously, we want to stay in the race, but we have to be careful because he is going to be a closer, no matter what. I'm sure Steve will give Paco the correct instructions."
Max Player won Aqueduct's 1 1/8-mile Withers Stakes (G3) on Feb. 1 after winning a maiden race at Parx on his second attempt. He did not run again until the June 20 Belmont, which this year also was 1 1/8 miles instead of the traditional 1 1/2-miles because of the COVID-forced changes to the 2020 Triple Crown.
"He had a long layoff before the Belmont, but then he's had a robust campaign since," Hall said. "What's most important to us is that he stays healthy and has a good 4-year-old and hopefully 5-year-old career. We didn't really think there was negative toward running in the Preakness that would affect his long-term prospects as a 4-year-old. We're pretty excited about what he's going to do be doing in the future, too."
Hall bred Max Player through his K & G Stables, named for his children Katherine and George, with the colt raised on his Annestes Farm in Versailles, Ky. Hall owns 86 percent of Max Player, with SportBLX Thoroughbreds owning the other 14 percent. Co-founded by Hall with Joe De Perio, SportBLX Thoroughbreds allows people to buy micro-shares in racehorses, similar in basic premise to Myracehorse, a minority owner in Kentucky Derby winner and Preakness favorite Authentic.
More micro-shares in Max Player, which will come out of his majority interest, likely will be available for purchase next week, Hall said.
Asmussen also is running Monmouth Park's Pegasus winner Pneumatic in the Preakness, with Joe Bravo to ride.
LATEST NEWS