KARAMANOS WINS LAUREL SUMMER MEET RIDING TITLE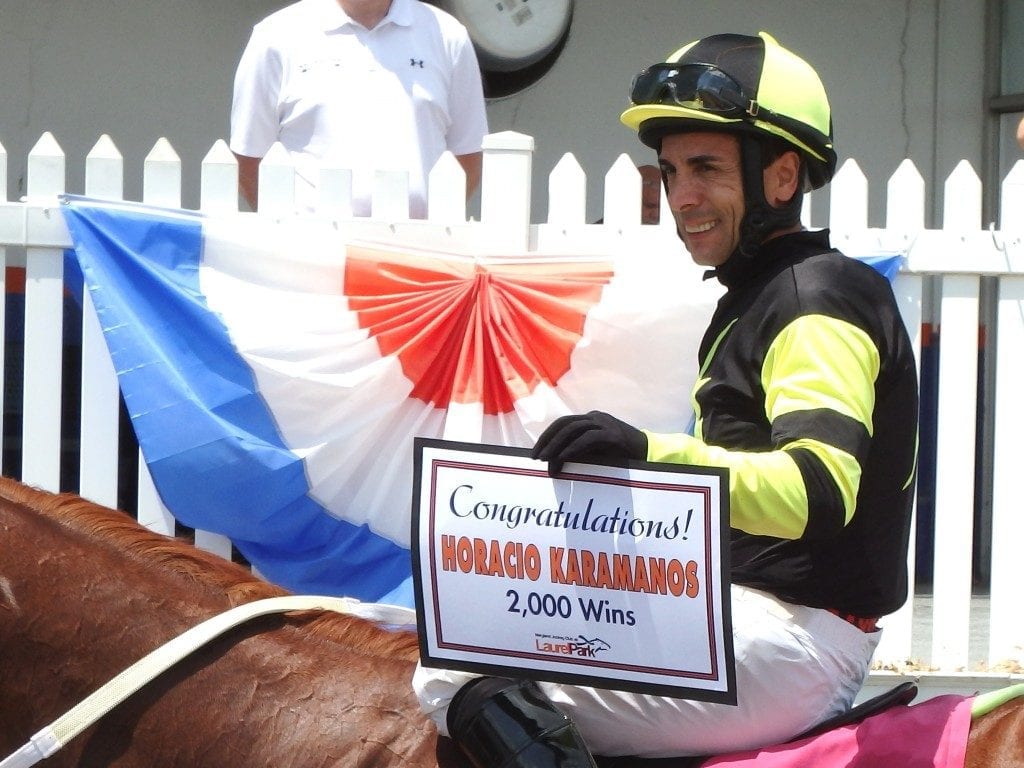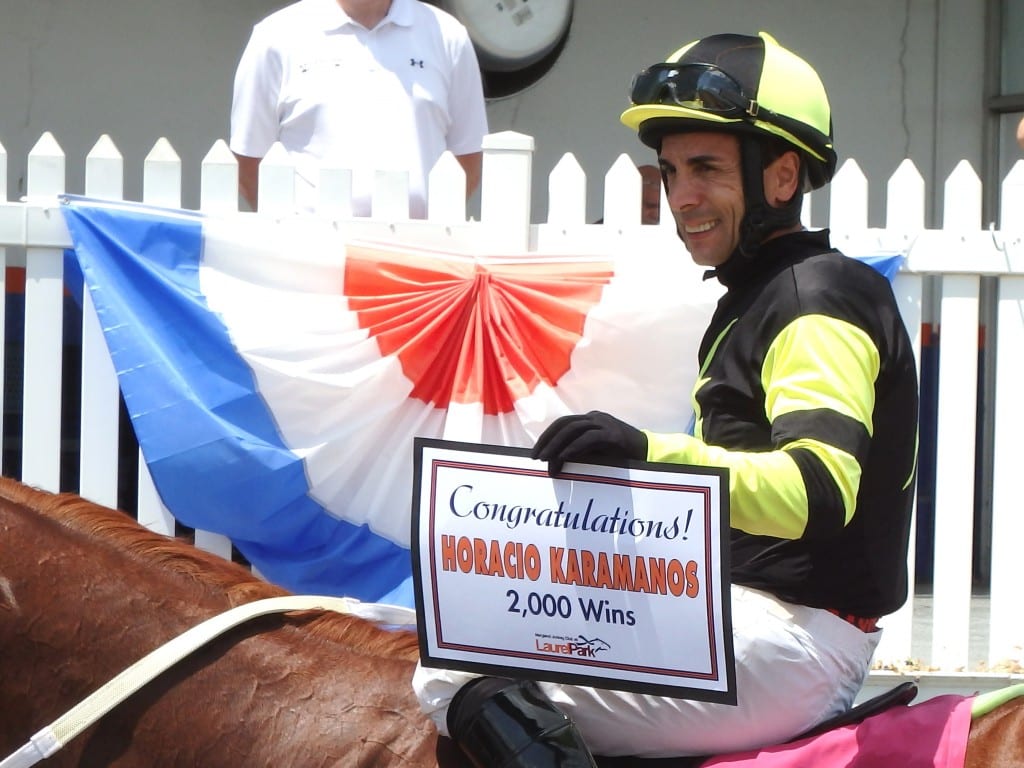 Press Release

September 19, 2020
Though he didn't wind up with a victory on the card, and had to hold off the late charge from a two-time state champion, jockey Horacio Karamanos left Saturday's closing day program a winner after clinching the summer meet riding title at Laurel Park.
Karamanos was blanked on four mounts Saturday, finishing second three times and ending the extended summer stand with a one-win edge over runner-up Jevian Toledo, 42-41, who won twice to close the gap. Karamanos earned his first title since sharing the 2017 Preakness Meet at Pimlico crown with Feargal Lynch and Kevin Gomez.
"I kept finishing second today, I couldn't win. Sometimes you win and sometimes you don't have the luck. That's what happened to me today," Karamanos said. "But it's the game. You need some luck. I think I had beautiful luck because I didn't get hurt or anything like that. To me, when I finish my races in one piece it's my best win, and I think for everybody it's the same."
It is the sixth Maryland meet title for Karamanos, who won Pimlico outright in 2003 and 2010 as well as finishing first during Laurel's 2002 summer and 2007 fall stands. He ranked second in purse earnings with more than $1.35 million, trailing only Toledo's $1.52 million.
Toledo, Maryland's leading overall rider in 2015 and 2017, won twice Saturday aboard Created Special ($3.60) in Race 3 and Quiet Company ($14.80) in Race 7 to get within one, but was second with favored Beacon Hill in Race 8 and sixth on Shezalemondropkid in Race 9. Karamanos' lone win over closing weekend came in Friday's fourth race with Successful Zip ($6.60).
Seventeen-year-old apprentice Charlie Marquez, riding his last day in Maryland before moving his tack to New York with Hall of Famer Angel Cordero Jr. as his agent, captured the ninth race finale on Gennie Highway ($18) and finished third with 34 wins.
"I feel so good. We had a beautiful meet and good competition with my friends. We had good luck this year," Karamanos said. "I had nice horses to ride and good people to ride for like [trainers] Damon [Dilodovico], Jose Corrales, Ferris Allen. I'm so happy because this is my home. This is the place I want to live forever."
Represented by agent and ex-rider Frank Douglas, Karamanos had five wins in his first 50 mounts to open the summer meet once live racing resumed in Maryland May 30 following a 2 ½-month pause amid the coronavirus pandemic. When the calendar turned to July, Karamanos caught fire with 11 multi-win days including hat tricks July 4, July 25 and Aug. 14.
A native of Argentina, where he won more than 1,500 races before coming to the U.S. in 2000, Karamanos landed full-time in Maryland in 2002 and tied a Laurel Park record with seven winners on a single card that October. He also owns multiple riding titles at Colonial Downs in neighboring Virginia.
Laurel was the site of Karamanos' 2,000th career victory aboard Liquid Aloha on Father's Day, June 17, 2017. Over Labor Day weekend, he won the $100,000 Twixt Sept. 5 for trainer Ferris Allen on Wicked Awesome.
"I want to say thank you to my agent, my wife who supported me and my beautiful daughter. All my friends help me, all my trainers support me," Karamanos said. "I try hard all the time with my people so I feel really confident in myself to ride."
Claudio Gonzalez finished as leading trainer with 27 wins to earn his 13th career title and 10th in the last 11 meets in Maryland dating back to Laurel's 2017 spring stand. Damon Dilodovico was second with 16, while Jamie Ness and Jose Corrales tied for third at 15.
One of Gonzalez's main clients, Robert D. Bone, wound up as the meet's leading owner with 14 wins, five ahead of Ness' Jagger Inc.
Live racing moves to Baltimore for the six-day Preakness Meet at Pimlico which runs Sept. 24-28 and Oct. 1-3. The final three days will feature a blockbuster lineup of 16 stakes, nine graded, worth $3.35 million in purses highlighted by the 145th running of the Preakness Stakes (G1) Oct. 3.
LATEST NEWS