RIDER KATIE DAVIS RIDING HOT STREAK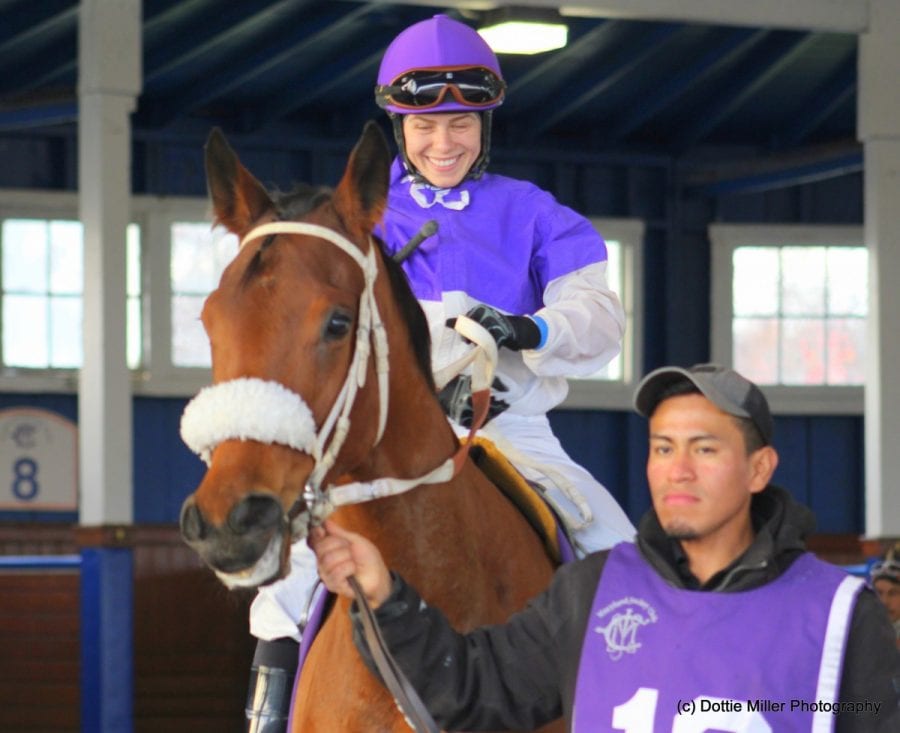 Press Release

September 16, 2020
After going a month between starters, jockey Katie Davis is making up for lost time.
The 28-year-old fiancée of fellow rider Trevor McCarthy has registered seven wins with her last 15 mounts including a hat trick Sept. 12, the last live racing day at Laurel Park. She is named in three of 10 races when action resumes Thursday at Laurel, and two of nine races Friday.
A Maryland regular since late 2016, Davis rode three programs at Colonial Downs in neighboring Virginia before the meet was closed down Aug. 14 with a number of positive coronavirus results. One of them was McCarthy, and though she tested negative she joined him in quarantine for two weeks.
With agent John DiNatale handling her book, Davis returned to action Sept. 3 and rode at least one winner each day that weekend including a two-win day Sept. 4. She has also finished third twice during her recent stretch.
"When I came back from the quarantine I was kind of lost and confused on what I wanted to do, because all the agents were pretty much taken. I really needed somebody to push me," Davis said. "You can only do so much with yourself. I got very lucky. Trevor kind of put the word out for me a little more.
"Frank Saumell, the clerk of scales, said he had a longtime friend that had been in the business for 30-some years, 40 years. He used to be a trainer but he really wanted to get back in the game and become an agent," she added. "That was probably the best thing that ever happened to me."
Read about Katie Davis' first career stakes win, in 2017, here.
DiNatale won 145 races and more than $1.5 million in purses in a training career with stops and starts between 1976 and 2009. One of his best horses was Stonewall Sue, who ran fifth in the 1994 Maryland Million Distaff and 1995 Shamrock Stakes at Laurel.
"A lot of people do know him, people that have been in the game a lot longer. Just picking him up really gave me that confidence that I needed," Davis said. "Not that Trevor didn't give me confidence in that way, but the confidence in my own business to succeed and ride smart and keep going. That's what really lifted me up off my feet.
"Even the first week John and I were together he was like, 'Keep doing what you're doing, don't change a thing. You're riding smart and giving your horses every opportunity to win.' That alone shows that I can do this. I can perform well with the horses."
Davis has 229 wins from 1,882 career starters and purse earnings of more than $6.1 million. She is one of six children that grew up around the sport while their father, Robbie, was winning 3,382 races between 1981 and 2002 primarily on the New York circuit. Older sister Jackie and younger brother Dylan are also professional jockeys, respectively based in Pennsylvania and New York.
Davis is ranked 63rd in the most recent Top Midlantic jockey ratings with 2.263 points.
In addition to her agent, Davis continues to lean on her father for his input. His mother, Davis' grandmother, passed away Sept. 1.
"Recently we've been talking a lot more. I really sat him down and said, 'C'mon, it's time to look at my races now. You've been looking at Dylan's for far too long,'" Davis laughed. "I sent him all my races, even if I finish last or got in a bad spot and ask him what he thinks I can do differently. He told me I was doing good and riding smart and my left hand was amazing. It's important to use both hands."
LATEST NEWS