PREAKNESS: DERBY 3RD MR. BIG NEWS PROBABLE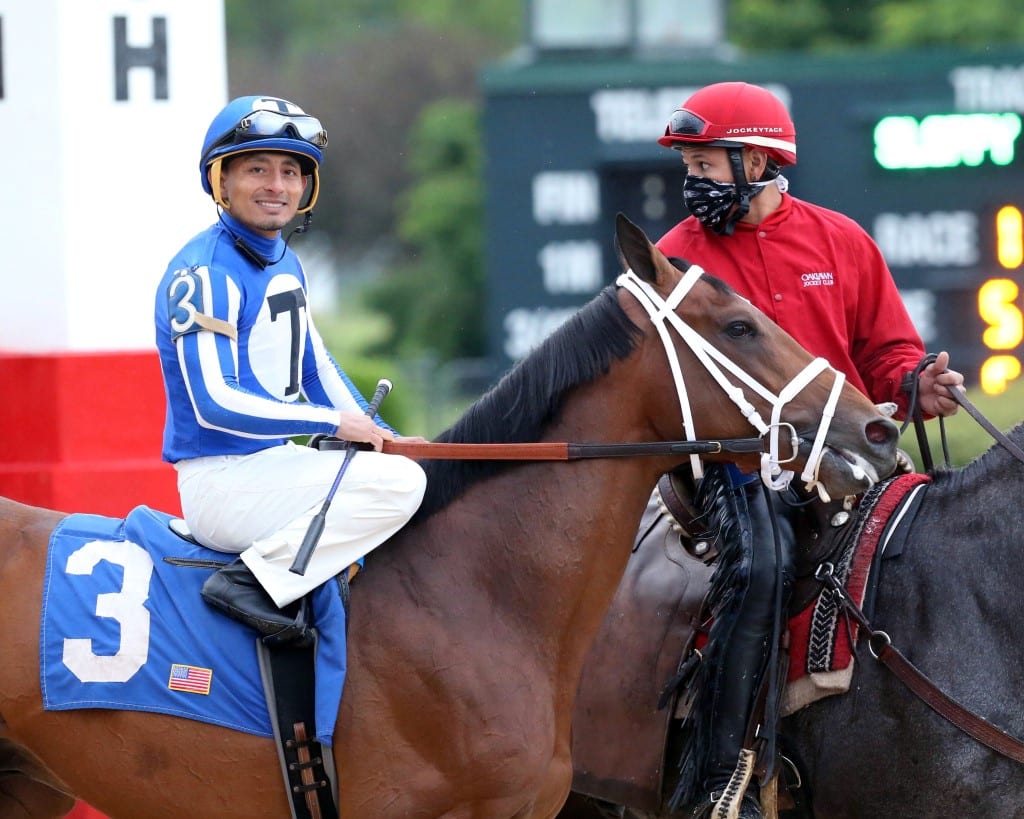 Press Release

September 15, 2020
Trainer Bret Calhoun termed Allied Racing's Kentucky Derby third-place finisher Mr. Big News "probable" for the Preakness Stakes but that a final decision likely will be made after the colt works later this week.
"Right now he came out of the Derby well; we're definitely pointing that direction," Calhoun said at Churchill.
Mr. Big News rallied from 10th to finish third in the Kentucky Derby, 3 1/4 total lengths behind victorious Authentic and two lengths behind heavy favorite Tiz the Law. The Giant's Causeway colt earned a free spot in the Preakness Stakes by virtue of winning Oaklawn Park's $200,000 Oaklawn Stakes at 46-1 odds, almost identical to his Derby odds. In between those races, Mr. Big News was sixth in Keeneland's Grade 2 Toyota Blue Grass Stakes won by Preakness candidate Art Collector.
Calhoun said the Preakness decision will be almost solely made on "just how he's doing," not on the other horses showing up.
"I want him to be coming into the Derby just like he came into the Derby," he said. "If he's going that good, we'll run. Who else is running really doesn't have a big bearing. We're getting to the end of the 3-year-old races, so my options are either run him there, go to the turf or back off. I really don't want to run him against older horses at this point in time. So if he's doing really, really well, like he was coming into the Derby, we'll definitely run in the Preakness."
Of the Derby, Calhoun said, "At the three-eighths pole I got pretty excited. I thought he might win the whole thing. I knew they were going pretty fast in front him, and I thought they might back up to him. He was moving pretty good to them. But the 1-2 finishers are very, very good horses and when they straightened up, they went on and we didn't close the gap very much from there."
Two other Preakness contenders — Ellis Park Derby winner Art Collector and Pegasus Stakes winner Pneumatic — also look to be on track for the Preakness.
Art Collector, scratched out of consideration early Derby week after nicking a piece of flesh off his left front heel in training, worked a half-mile in 48.10 seconds on Saturday at trainer Tommy Drury's Skylight Training Center base under jockey Brian Hernandez Jr. Drury said the son of 2006 Preakness winner Bernardini likely will ship into Churchill Downs within the next few days and work over that track this weekend.
"He seems good," Drury said. "He breezed over the weekend, just kind of a maintenance half-mile. Brian felt he was as good as he's ever been. As long as everything is going right, we're going to shoot for Baltimore. But as always, we're going to let him take us along. We're going to get him settled in here (Churchill Downs) and make sure everything is OK, and at some point over the weekend I'd guess he'll go five-eighths. I'd say if everything goes well there, we're on target for the Preakness."
Meanwhile, Pneumatic worked five-eighths of a mile Sunday over Saratoga's Oklahoma training track in 1:01 2/5. The Uncle Mo colt will remain there with assistant trainer Scott Blasi until shipping to Pimlico.
"He's training really well," Asmussen said. "Obviously we were encouraged with his Pegasus. We thought it was his strongest race to date. It appears the Derby participants have come out in good order, and the Preakness ought to be a great race."
LATEST NEWS