Mr. Big News has "great perk" in Preakness spot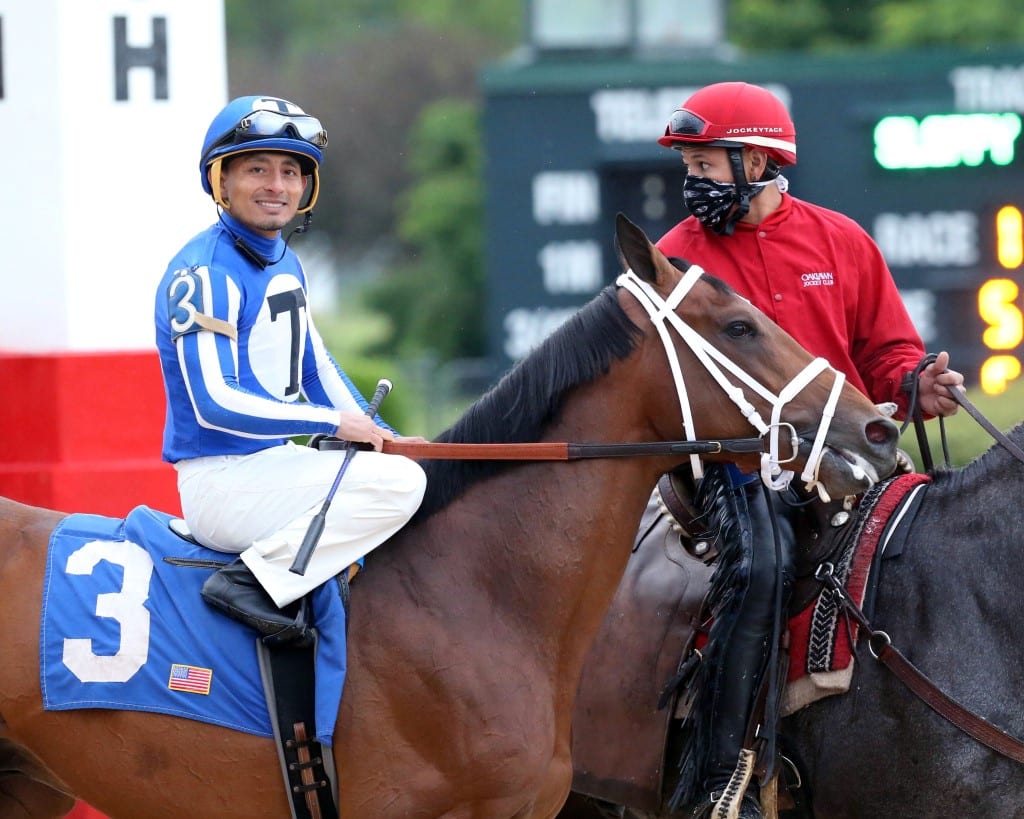 Mr. Big News won the Oaklawn Stakes at Oaklawn Park, a Preakness "win and you're in" race. Photo Oaklawn Park.
Allied Racing Stable's Mr. Big News continues to do well following a victory over the weekend that gave the promising 3-year-old an automatic berth in the 145th Preakness Stakes and has his connections "pretty excited" about joining the Triple Crown chase.
Mr. Big News became the first horse to qualify for the 1 3/16-mile Preakness at Pimlico Race Course with his 46-1 upset of the Oaklawn Stakes April 11. In cooperation with Oaklawn Park, it marks the second straight year the race winner earned a free trip to Old Hilltop.

Last year's Oaklawn winner, Alex and JoAnn Lieblong's Laughing Fox, finished fifth in the Preakness to War of Will.
"We're pretty excited about getting this berth to the Preakness," trainer Bret Calhoun said. "That's a great perk there. It would be a great race for us to point toward. Hopefully, we can find out soon when that's going to be and where the points races are going to be and kind of set up a schedule for him, but I'd love to be pointing toward the Preakness."
Racing has been paused in Maryland since its last live program at Laurel Park March 15, out of health concerns due to the COVID-19 pandemic. The Preakness was originally scheduled for May 16, its traditional two weeks after the Kentucky Derby (G1), which has been postponed to Sept. 5.
Eleven times the Preakness was run prior to the Derby and twice, in 1917 and 1922, both races were on the same day.
In 1945, the Derby was held on June 9, followed seven days later by the Preakness – the only time it was run in June while in Baltimore. The Preakness was held five times in June while run in New York, four coming at the Brooklyn Jockey Club's Gravesend Course between 1894 and 1908. The other was in 1890 at Morris Park.
Calhoun, a winner of 3,137 races since 1994, has never run a horse in the Preakness. His lone Triple Crown starter came last spring when By My Standards finished 11th in the Derby.
"I think that's what most trainers and owners aspire for – they want to be on the Triple Crown trail, they want to compete in the Classics," Calhoun said. "It's kind of the pinnacle. It's what we're all working hard for every day."
In 2009, Calhoun won the Jim McKay Turf Sprint on the Preakness undercard with Mr. Nightlinger. It would be the last of 10 career wins, including a pair of Grade 3 stakes, for the son of Indian Charlie.
"I've run a few more up there during Preakness week," Calhoun said. "I think [Mr. Big News] would fit well there. There again, you've got the distance that he needs in the Preakness. I know sometimes it can play for speed, but really it seems like it's been pretty fair.
"You always seem to get a rainstorm about race time. Of course it's going to be a different time of year this year, but obviously he handled the off going well last time," he added. "I think distance wise it ought to suit him well and I don't really have any concerns about coming to that surface, either."
After racing near the back of a 13-horse field over a sloppy track at Oaklawn, Mr. Big News was swung wide at the quarter pole by jockey Gabriel Saez and came with a steady run through the stretch to win by a half-length over fellow closer Farmington Road.
It was the first stakes win for Mr. Big News, who broke his maiden in his season debut Jan. 20 at his winter home of Fair Grounds. He ran fifth in the Risen Star (G2) Feb. 15 and was left out of the Louisiana Derby (G2) last month when he didn't draw into the body of the race.
Calhoun and Allied's Chester Thomas, a Kentucky-based coal and energy entrepreneur, did not lose any confidence in the horse heading to Arkansas, where Mr. Big News was sent off as the ninth betting choice.
"We thought the horse was starting to show he was that kind of horse. He had trained like that at the Fair Grounds, the only difference was we didn't know how he would handle shipping and running on a different surface," Calhoun said. "Had I known he was going to run as well over that surface as he did training at Fair Grounds, I'd have been even more confident.
"We've had high expectations. We knew as we got more ground for him he'd be better," he added. "He's been making improvements all along. I wasn't shocked, by any stretch of the imagination, but very happy."
Mr. Big News returned to New Orleans the morning after the race and "everything's been very good for him since. He pulled up from the race good and it seems like he's recovered well," Calhoun said.
"I think one of my biggest concerns is that his pedigree is kind of slanted toward turf. He's out of a Galileo mare by Giant's Causeway, and though he was really training well at the Fair Grounds, you don't know when you go to a different surface whether that's' going to come into play or not," he added. "Mentally I wasn't ever worried about it, but the change in surfaces I was a little concerned. Now it looks as if he's handled the two different tracks well, so that gives you more and more confidence to ship to other tracks."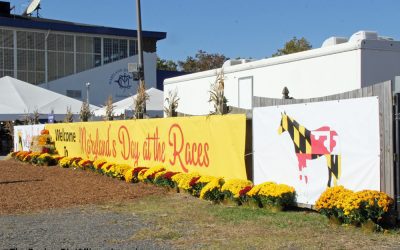 A bevy of defending champions and local stars headline the pre-entries for Jim McKay Maryland Million, which will take place at Laurel Park on Oct. 14.