LAKI TO BE CONSIDERED FOR G3 DE FRANCIS DASH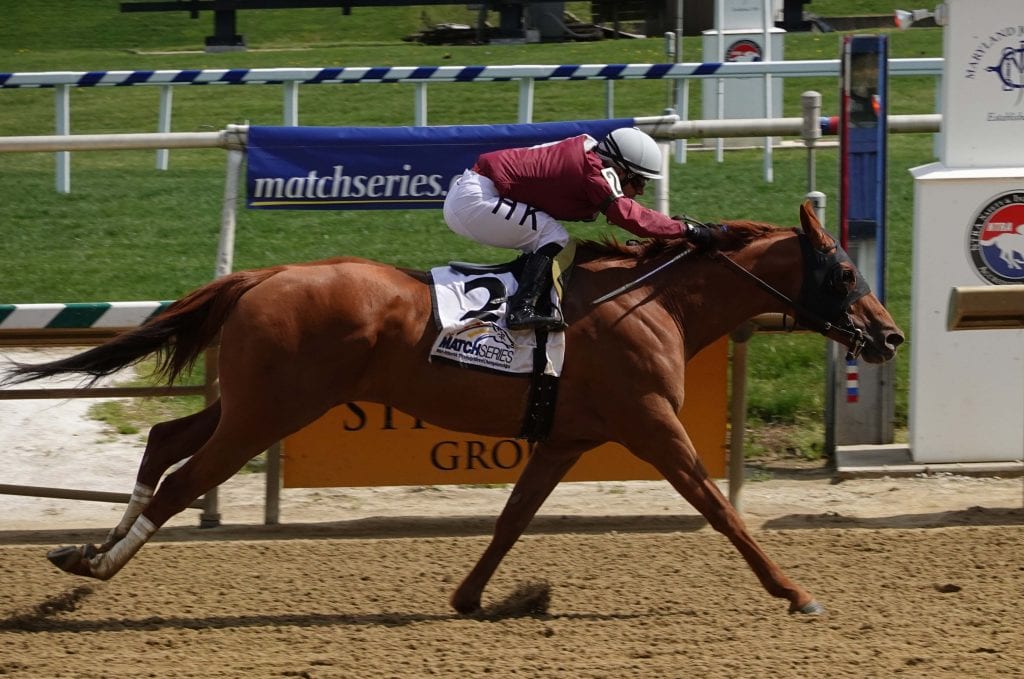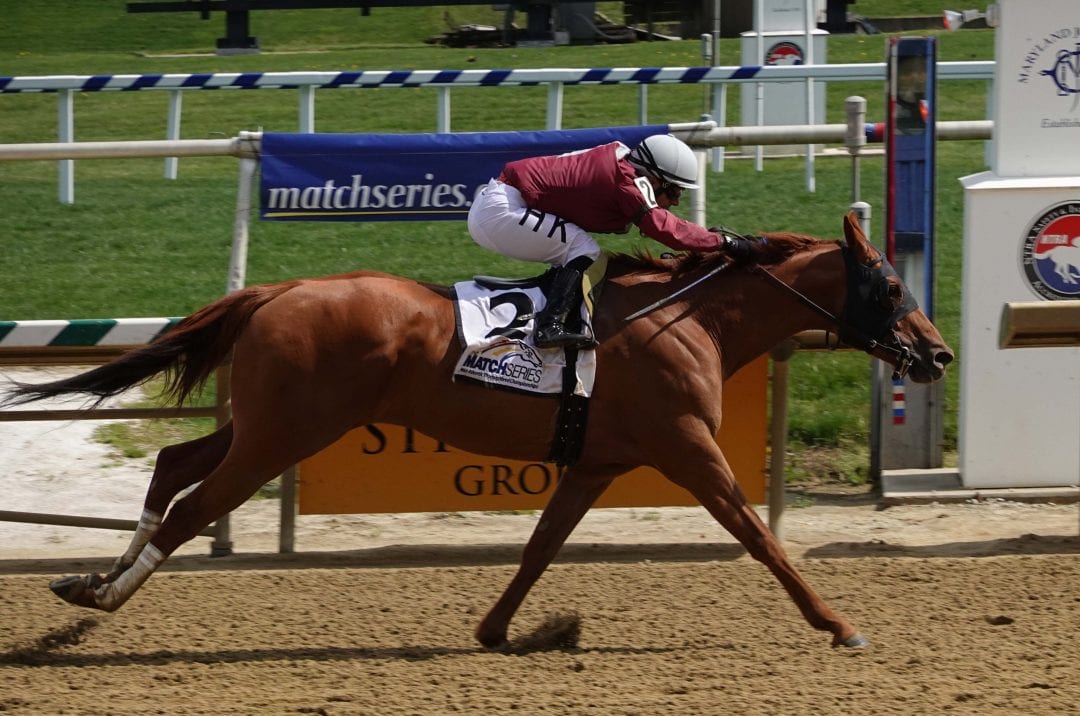 Press Release

September 12, 2020
Hillside Equestrian Meadows' multiple stakes-winning sprinter Laki, exiting his third straight runner-up finish this year in the Sept. 5 Polynesian at Laurel Park, may attempt to end that streak and give trainer Damon Dilodovico his first career graded triumph in the $200,000 Frank J. De Francis Memorial Dash (G3) Oct. 3 at Pimlico Race Course.
The 29th running of the six-furlong De Francis for 3-year-olds and up will be contested on the undercard of the 145th Preakness Stakes (G1) as part of a Preakness weekend featuring 16 stakes, nine graded, worth $3.35 million in purses Oct. 1-3.
For the first time this year, the Preakness will be run as the final jewel in a refashioned Triple Crown and serve as a "Win and You're In" qualifier for the Breeders' Cup Classic (G1) Nov. 7 at Keeneland.
Bred in Maryland by Tom Michaels and Lorna Baker, Laki has won stakes each of the past four years for Dilodovico, who entered Saturday's nine-race program as the second-leading trainer at Laurel's summer meet with 16 wins, ranking third with $502,313 in purse earnings.
"I have to consider Laki for the Dash," Dilodovico said. "I think six furlongs is a good distance. I used to swear he would take it a little bit further, and maybe he would with the regular time frame in between starts. The Dash would give him a month and that's close to what I want for him. I won't be surprised if we end up going up there. He came out of the last race well and he's doing great."
Laki got a belated start to his season, in part due to the ongoing coronavirus pandemic, but opened with a victory in the five-furlong Oceanport Centennial Stakes July 3 at Monmouth Park. Since then he has run second in a pair of open seven-furlong allowances at Laurel July 25 and Aug. 20 and the six-furlong Polynesian – beaten less than two lengths combined.
"Just a little help somewhere along the line and he could be 4-0 this year. He always shows up. We're just blessed to have him," Dilodovico said. "The last time it was more me running him back quick. It's awful hard to pass up a spot where you know you're going to be the favorite and it's in your own backyard at a distance you feel he prefers. I really probably should have taken him out of the seven-eighths race two weeks earlier and just focused on that race."
A nine-time winner from 27 starts with $563,662 in purse earnings, Laki has raced twice at Pimilico, both in the Maryland Sprint (G3), finishing fifth in 2017 and sixth in 2018. He ran second behind Switzerland in the 2018 De Francis, which has only been run at Pimlico twice in its history – its 1990 debut and 2004.
Named for the late president and chairman of both Laurel Park and Pimlico, and not run in 2008 or 2010, the De Francis' illustrious roster of past winners includes Hall of Famer Housebuster and fellow sprint champions Cherokee Run, Smoke Glacken, Thor's Echo and Benny the Bull. Lite the Fuse is the lone two-time winner (1995-96).
The De Francis was run as a Grade 1 from 1999 to 2009, a Grade 2 from 1994-98 and a Grade 3 in 1992-93 and since 2016. In between, Dilodovico trained 8-year-old Immortal Eyes, owned by the late Bobby Abbo, to a 9-1 upset of the 2013 De Francis for what likely is the biggest win of Dilodovico's career to date.
IMMORTAL EYES WINS THE DE FRANCIS DASH
"When we won it a couple years ago, it was listed. I'm still oh-fer in the graded events," Dilodovico said. "He could be the one. He definitely has the talent to do it."
Besides the 2018 De Francis, Laki ran third in the 2019 General George (G3). His other stakes wins have come in the 2017 Not For Love, 2018 Polynesian and Howard Bender Memorial and 2019 Frank Whiteley Jr., all at Laurel.
Dilodovico said he also plans to nominate Vince Campanella's Fortunate Friends to the De Francis. The 4-year-old Florida-bred gelding won for the third time this year in a seven-furlong optional claiming allowance Sept. 10 at Laurel, a front-running 2 ½-length triumph over a sealed sloppy main track as one of three horses entered for the $50,000 tag.
"The owner is letting me be patient with him and we've been picking spots and I think we're kind of learning that he likes seven-eighths of a mile," Dilodovico said. "With him, finding that distance and just not having to be too hard on him has benefited him. Now he just wants more and more and more. He just wants to train now. He's 4 so he's got youth on his side. He's definitely performing.
"He's another one that's come out of the race well and we'll see what we can do with him," he added. "Vince, he's willing to take chances and be aggressive with the spotting of his horses. It makes things a lot easier when you've got a guy that's willing to do that."
Summer meet-leading trainer Claudio Gonzalez said earlier this week that he plans to run Polynesian winner Eastern Bay back in the De Francis. Eastern Bay was third, a neck behind Laki, in the Aug. 20 allowance at Laurel. Gonzalez's first of two career graded wins came in the 2017 De Francis with Chublicious.
LATEST NEWS