GRADED STAKE MAY BE NEXT FOR DONTLETSWEETFOOLYA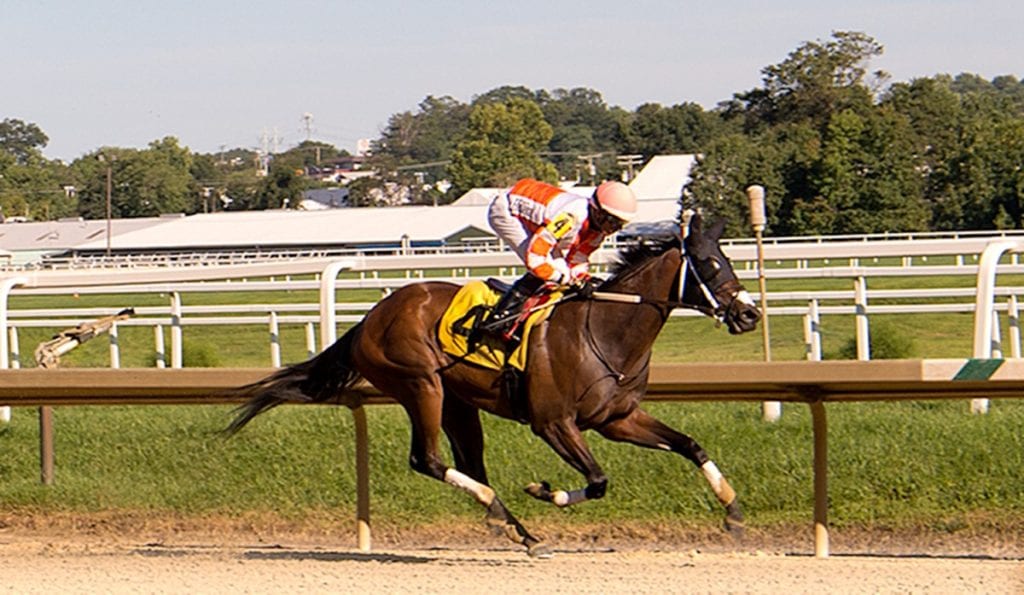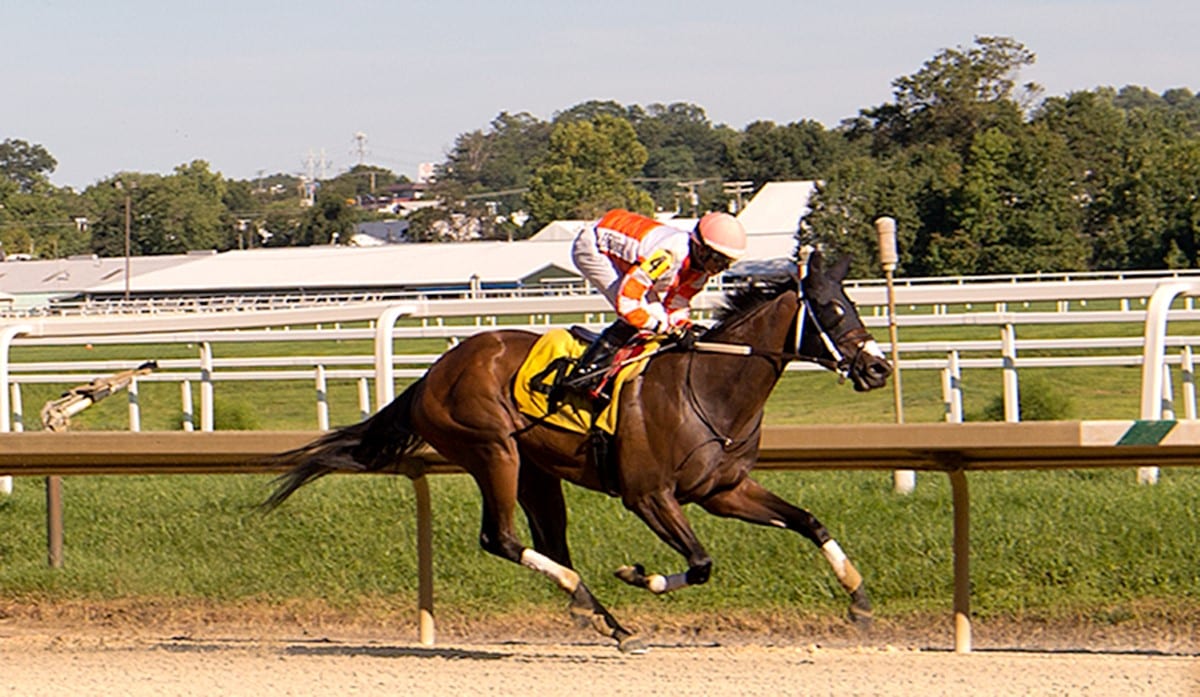 Press Release

September 9, 2020
Coming in the midst of Preakness Prep Weekend, when the Maryland Jockey Club served up nine $100,000 stakes over the course of two days, Donletsweetfoolya's first time facing winners was a race that could have easily been overlooked. She made sure it wasn't.
Five Hellions Farm's promising 3-year-old filly, a bay daughter of Grade 1 winner Stay Thirsty, turned in a second-straight eye-catching performance Sept. 5 at Laurel Park, rolling to a front-running 8 ¾-length open allowance triumph in 1:22.06 for seven furlongs.
Post Time returns with a flourish

Last year's champion 2-year-old Maryland-bred made his first sophomore start in impressive fashion, winning the PImlico allowance feature.
The effort came six weeks after Dontletsweetfoolya graduated in a 9 ½-length maiden special weight romp, running six furlongs in 1:10.27 against three overmatched rivals on a sloppy and sealed main track. Jevian Toledo, battling for Laurel's summer meet riding title with Horacio Karamanos, was aboard for both races.
"She was impressive in her maiden win, too, but so many things went her way – it was a short field, it was on the slop – but she came out of that race so good, miles ahead of herself," trainer Lacey Gaudet said. "It was just really nice to see her get back against a legit field and on a dry surface and show a little bit more of the horse that we think that she can be."
The connections gave some consideration to sending Dontletsweetfoolya to the seven-furlong Charles Town Oaks (G3) Aug. 28 for 3-year-old fillies, as well as a seven-eighths sprint at Saratoga, but opted to keep her home and take the next step in her progression.
"Maybe in a different year after an impressive maiden win like that, we might have gone elsewhere," Gaudet said. "We were teetering on the edge of shipping her. Do we want to get it over with and see how she goes? It was nice that the seven-eighths race went here. What was impressive to me was that she got the distance on a dry surface and it's just going to make her that much better of a horse in the future."
Dontletsweetfoolya ran twice at 2 last fall, finishing fifth and third in a pair of maiden special weights during the fall. She got the winter off and a late start at 3 due to the ongoing coronavirus pandemic, debuting with another third June 19, a race where she drifted five deep midway on the turn.
"These owners, they are just incredible to work with. They've really let us be able to do the right thing by her," Gaudet said. "She's getting more and more mature with everything she does. I think she's going to be fun."
The fun could include making her stakes debut Oct. 3 on the undercard of the 145th Preakness Stakes (G1) at Pimlico Race Course in either the $250,000 Black-Eyed Susan (G2) at 1 1/8 miles or the $150,000 Miss Preakness (G2) going six furlongs. Both are for straight 3-year-old fillies.
"Right now, those are the two options that we're bouncing around. The only difference between them both would probably be how well she's going into the weekend," Gaudet said. "To me, if you're going this route and you're going in that direction I like to keep going in one direction. I hate to go backward, but I think the two turns is a lot to ask. I guess I would think it would be a little bit easier right now, in the spot that we're at, to back her up to three-quarters at Pimlico.
"At Pimlico you can only go three-quarters or two turns, so it's a little hard. She's speed. She's so naturally fast. It's a really tough call. Here [at Laurel], we could go the one-turn mile and you wouldn't hesitate trying that," she added. "But when you throw two turns at them, that's a lot different. She is a filly that in her first couple of starts we were a little worried about her. In the mornings she's lugged out and blown the turn, she did it in one of her early races. Obviously this is a good year to try it because you don't have to worry about the crowd, so that would maybe help her a little bit."
For the health and safety of its horses and horsemen, the Preakness Meet at Pimlico will follow Laurel's lead and be held without spectators. Gaudet felt Dontletsweetfoolya benefited from not being rushed or shipped to find a spot during the height of the pandemic that paused racing in much of the country earlier this year.
"I think the good part about this year is that we've been super patient about staying home, whereas a lot of other people were trying to make up for lost time. I just don't know who's going to be very tough when we get to Preakness time," Gaudet said. "We did mention, 'Do we just throw everything against the wall and since you're going to Pimlico and it's a speed-favoring track, just go for the Black-Eyed Susan?' Those are things we're going to have to talk about in the next week or two.
"It is a little quick back. It's the end of her 3-year-old year – do we just wait and try and go to New York or Kentucky in the fall and not worry about Preakness weekend? She's not Maryland-bred, but we really don't want to ship too far," she added. "[The BES] would be like throwing two things at her, shipping her and stretching her out super far, but she's always been an impressive filly and with every race she's making it a little easier to try things with. The way she came out of the last race, we really weren't that afraid to try and ship her. We're obviously glad that we didn't have to. Now, I'm excited to get her to stretch out."
LATEST NEWS