Authentic new leader in NTRA Top Thoroughbred Poll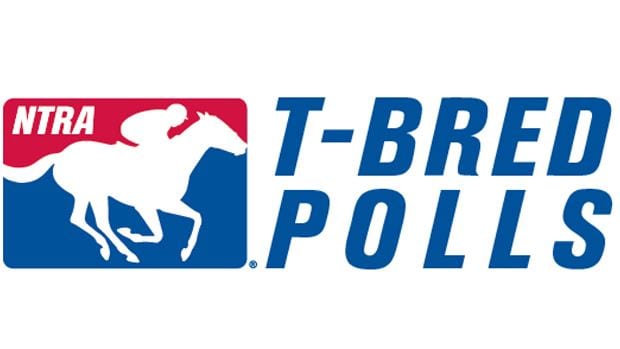 From a National Thoroughbred Racing Association release
At every point of call in the 146th edition of the Kentucky Derby, Authentic found himself in front of his sophomore rivals. When the votes were tallied in the latest National Thoroughbred Racing Association (NTRA) Top Three-Year-Old Poll, the son of Into Mischief was again the one who could not be caught as he takes over sole position of the No. 1 spot from longtime leader Tiz the Law.
Authentic, who last held the top spot in the poll on March 23, captured the September 5 Kentucky Derby in frontrunning style, besting heavily favored Tiz the Law by 1 ¼-lengths. The victory not only provided Hall of Fame trainer Bob Baffert his record-tying sixth triumph in the 10-furlong classic, it earned Authentic 21 first-place votes and 354 total points as he improved his overall mark to five wins from six career starts.
Owned by Spendthrift Farm, My Racehorse, Madaket Stables, and Starlight Racing, Authentic previously annexed the Grade 1 Haskell Stakes on July 18 for his first top-level triumph. He and stablemate Thousand Words, who was a late scratch in the Kentucky Derby after rearing and falling the paddock, are both expected to contest the Preakness Stakes at Pimlico Race Course on October 3.
"If they're working well and all going well, they'll go to the Preakness," Baffert said from Churchill Downs on Sunday. "We're planning on both if they're doing well."
The Kentucky Derby marked the first loss for Tiz the Law since last November but the Grade 1 Belmont and Travers Stakes winner didn't lose much regard among pundits. The son of Constitution still earned 16 first-place votes and 349 points this week as he dropped one spot to second.
Blue Grass Stakes winner Art Collector, who had to miss the Kentucky Derby due to a minor foot injury, ranks third with 259 points, just ahead of Honor A. P. (258 points), who finished fourth in the "Run for the Roses."
Kentucky Oaks runner-up Swiss Skydiver (134 points) ranks fifth followed by Thousand Words (131), and Oaks heroine Shedaresthedevil, who joins the top 10 in the seventh spot with 90 points.
Max Player, fifth in the Kentucky Derby, sits eighth with 85 points as King Guillermo (79 points), and beaten Oaks favorite Gamine (72) complete the top 10.
With Authentic taking over the top spot in the sophomore ranks, Baffert now trains the No. 1 ranked horses on both weekly polls as champion Maximum Security continues to hold down first place in the NTRA Top Thoroughbred Poll.
The 4-year-old son of New Year's Day earned 26 first-place votes and 340 points to maintain the lead position in the wake of his most recent triumph in the August 22 Grade 1 Pacific Classic Stakes.
Multiple Grade 1 winner Vekoma remains in second with 8 first-place votes and 260 points followed by Tom's d'Etat (3 first-place votes, 232 points) and fellow Grade 1 winner Improbable (198 points).
Champion Monomoy Girl moves up to fifth with 197 points after capturing the Grade 1 La Troienne Stakes on September 4, her third victory in as many starts this season. By My Standards, who won the Grade 2 Alysheba Stakes on the Oaks undercard, advances four positions to sixth with 150 points followed by champion Midnight Bisou (146 points) and Tiz the Law (128). Authentic joins the Top Thoroughbred Poll for the first time in ninth with 111 points as multiple Grade 1 winner Rushing Fall (78 points) rounds out the top 10.
The NTRA Top Thoroughbred polls are the sport's most comprehensive surveys of experts. Every week eligible journalists and broadcasters cast votes for their top 10 horses, with points awarded on a 10-9-8-7-6-5-4-3-2-1 basis. All horses that have raced in the U.S., are in training in the U.S., or are known to be pointing to a major event in the U.S. are eligible for the NTRA Top Thoroughbred Poll. Voting in both the Top Three-Year-Old Poll and the Top Thoroughbred Poll is scheduled to be conducted through the conclusion of the Breeders' Cup in November.
NTRA TOP THOROUGHBRED POLL
Maximum Security
Vekoma
Tom's D'Etat
Improbable
Monomoy Girl
By My Standards
Midnight Bisou
Tiz the Law
Auhentic
Rushing Fall
NTRA TOP THREE-YEAR-OLD POLL
Authentic
Tiz the Law
Art Collector
Honor A. P.
Swiss Skydiver
Thousand Words
Shedaresthedevil
Max Player
King Guillermo
Gamine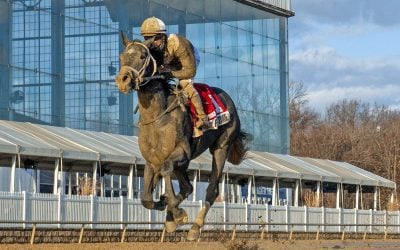 Two-year-old Post Time continued to impress with a dominant, rallying score in Saturday's Mayrland Juvenile Championship and may be on to bigger things.