Laurel Park picks and ponderings September 7, 2020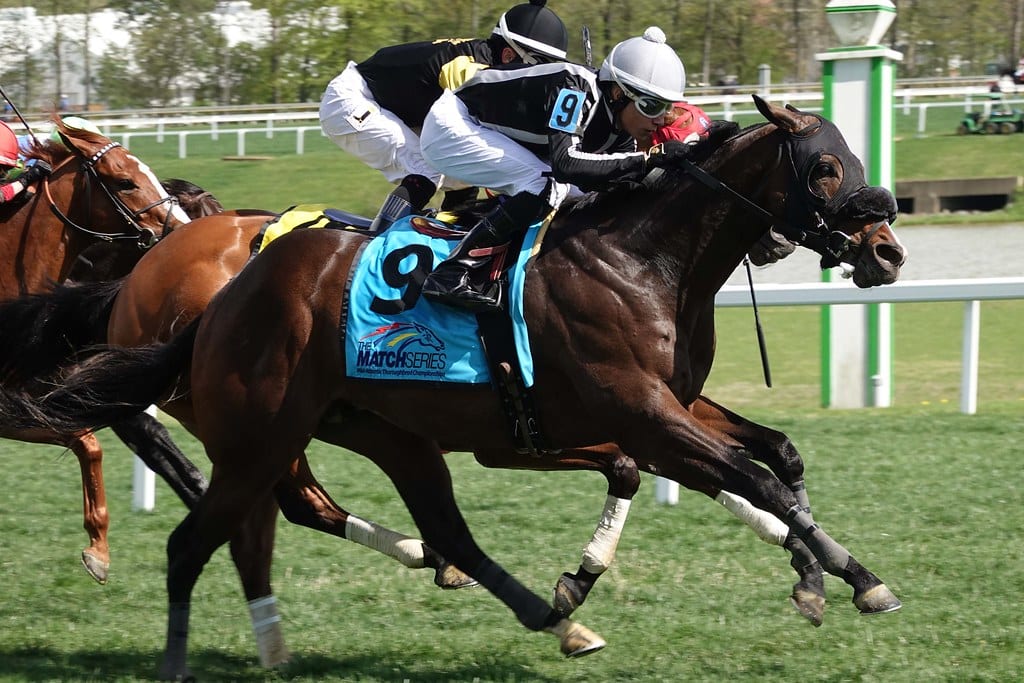 Dirty. Photo by Allison Janezic.
In which we pick the races from Laurel Park each day…
Post time: 12:40 p.m.
Carryovers: Rainbow Jackpot Pick 6 — $6,256  Super High 5 –$0   Late Pick 5 — $0
Notable: Until further notice, no fans are allowed to attend the races at Laurel Park. For more info, click here.
ANALYSIS
RACE 1: MAIDEN CLAIMING $25,000, 3-YEAR-OLDS AND UP, 1 1/16 MILES (GRASS)
12-6-10-5
#12 Abdaa (7/2): Encountered some serious traffic trouble in his last two races at Parx. Both times, you could argue it cost him the race. He ran figures in the mid-60s in his first two career starts, with clean trips. If Trevor can keep him out of traffic, he's going to run another big race. 
#6 Galactic Slam (12/1): Ran a deceptively big race last out at Delaware Park. He had no chance after getting stuck behind a very slow pace, but closed well in the stretch regardless. There's not a ton of pace here, either, but if he can get even something to run at, he could surprise. 
#10 Souper Cohiba (8/1): Mike Trombetta trainee finally gets to the grass, after getting washed off twice. Showed speed and faded both times on dirt, and as noted, there's not a lot of speed in here. Could end up with a very favorable pace setup.
RACE 2: MAIDEN CLAIMING $25,000, 2-YEAR-OLDS, 6 FURLONGS
2-4-6-7
#2 Natty Beau (5/2): In his first race, he tried to run on the front end with a rival who had experience, and got tired, losing by 2 1/4 lengths. Now, he's the only one with experience in this race. Should go to the lead and dismiss any challengers. 
#4 King Alan (2/1): Angel Cruz and Claudio Gonzalez team up on this first-timer, who has been working well at Parx. Gonzalez is an impressive 30% with horses who make their first career start in maiden claiming races. 
#6 Passage of Lines (5/1): He's been working very strongly lately, including a bullet workout at five furlongs three works back, and a recent four-furlong drill in 48 seconds. The board will tell the story; if he's less than his 5/1 morning lines, he might be live.
RACE 3: ALLOWANCE (N/W1X), 3-YEAR-OLDS AND UP, FILLIES AND MARES, 1 MILE (GRASS)
1-9-2-8
#1 Sailingintothewind (4/1): Raced against winners for the first time last out, and almost went gate-to-wire before fading in the last sixteenth. Gets a cutback in distance from 1 1/16 miles, and faces a field without much serious speed. Breaking from the inside post, she should have no trouble getting a cozy lead. 
#9 Lookin Dynamic (10/1): Had to close into the slow pace Sailingintothewind set last out, and did so effectively. She rallied to finish fourth, running a career-top figure in grass by eleven points. A strong candidate to rally for an exotics position once again.
#2 Fed Up Fired Up (8/1): She's taken a step forward in all of her races this year, most recently getting a fast-closing third at this level. Has hit the board in eleven of twenty one over this track. 
ANALYSIS
RACE 4: CLAIMING $16,000 (CONDITIONED), 3-YEAR-OLDS AND UP, FILLIES AND MARES, 6 FURLONGS
6-2-1-4
#6 Go Amanda (9/2): Horacio Karamanos and Damon Dilodovico are always a dangerous jockey/trainer combination, and Dilodovico is a blindingly impressive 41% with horses running for the same claiming price as last time. While this is a jump in class, she was game in winning a n/w2L claiming race last out, with a lifetime top figure. She was forwardly placed last time, after trying to come from behind in her past few. 
#2 Jumping Michelle (6/1): Had been in good form prior to her last start, when she was badly outrun and eased. Since that race, she has a sharp four-furlong workout in her lines, so I imagine she'll be ready to fire a big one again. This'll be her second race off a nine-week break. 
#1 Magical Luna (4/1): It's a near-certainty that she'll be on the lead early on, given her blazing speed and inside post position. In her last dirt race, she wired a field at this level, matching her career-high figure. Going to be tough if she can sneak clear. 
RACE 5 – ALL ALONG STAKES, 3-YEAR-OLDS AND UP, 1 1/8 MILES (GRASS)
5-2-4-9
#5 Nay Lady Nay (2/1): Chad Brown sends out two fillies who will, in all likelihood, be the two favorites. This filly improved sharply in her second race of the year, getting up to win the Matchmaker Stakes with a strong closing rally. She has tactical speed and a strong closing kick, both assets in a race like this. 
#2 No Mo Lady (6/1): Impressively won a tough allowance race two races back, then weaved her way through traffic to get second in the Indiana General Assembly Stakes. She ran back-to-back career top grass figures in those races, which were also her first two races off the layoff. Could be primed to run a big race.
#4 Theodora B (4/1): Finally broke through against stakes competition last out, with a win in the Dance Smartly Stakes. She showed speed in that race; most of her would-be rivals on the front end look pretty cheap. Could steal this one if she gets the right fractions.
RACE 6: LAUREL DASH STAKES, 3-YEAR-OLDS AND UP, 5 1/2 FURLONGS (grass)
7-1-6-8
#7 Completed Pass (5/2): Since he remembered how to break, he's been a different horse. He went gate-to-wire against allowance company over this track two back, followed by a game effort in the Rainbow Heir Stakes last out at Monmouth Park. He'll have to contend with Oldies But Goodies in the early stages, but he's more resilient than that one, so he can brush him off and have enough for the stretch battle.
#1 Wet Your Whistle (8/5): A grade 1 winner last year, this will be his second start of 2020. In his season debut, he came from way out of it to win at Presque Isle Downs. If he gets back to last year's form, he'll be very tough.
#6 Tempt Me Twice (8/1): Battled in the stretch to lose by a neck last out at Delaware, holding on despite a very strong second quarter in less than 23 seconds. Should sit just off the pace early, then make a big middle move.
ANALYSIS
RACE 7 – FEDERICO TESIO STAKES, 3-YEAR-OLDS, 1 1/8 MILES
4-7-5-6
#4 Happy Saver (1/2): He would've been one of the favorites in the Jim Dandy Stakes last Saturday, but he scratched out of that spot for here. He's been very impressive in both his starts, including a handy n/w1x win at this distance last out at Saratoga. There's not going be much value in betting him to win. It looks like a race to just watch and see how impressive he'll be, and if it's enough to merit "new shooter" hype before the Preakness.
#7 Letmeno (5/1): Crossed the wire first in the Iowa Derby last out, but was disqualified. He ran a gutsy race, setting a fast pace and holding on in the stretch. Look for him to show speed once again. 
#5 Mexican Wonderboy (10/1): Gulfstream Park invader got hung wide last out, and was compromised as such. When he got a more ground-saving journey two races back, he got away late for an impressive win. 
RACE 8: HENRY CLARK STAKES, 3-YEAR-OLDS AND UP, 1 1/16 MILES (GRASS)
6-1-8-4
#6 Split the Wickets (12/1): Has put in very strong closing rallies in his last two starts, most recently flying after a wide trip to get third in the Kentucky Downs Preview at Ellis Park. His only dull race in his last few was when he went first off the layoff over Churchill Downs's speed-favoring grass. Should be heard from late. 
#1 Doctor Mounty (9/2): Another closer getting off the Churchill grass. He returns to his favorite grass track here; with a 3-for-4 record over the Laurel surface. Shug McGaughey and Forest Boyce don't get to team up too often down here, but when they do, they're dangerous. 
#8 Serve the King (7/2): Chad Brown's got another one: this one from a n/w1x allowance at Monmouth. He won that race impressively, rating off a mild pace and kicking off. The only time he's lost in four career starts was when he was ridiculously pace-compromised at Belmont; that won't happen here. Trevor getting the mount helps the cause. 
RACE 9: WEBER CITY MISS STAKES, 3-YEAR-OLDS, FILLIES, 1 1/16 MILES
5-7-1-9
#5 Overjoyed (6/1): She was very sharp in winning a n/w1x allowance at Monmouth last out. She rated just off the pace, then drew off professionally to win by 3 1/4 lengths, with a lifetime top brisnet figure of 95. Looks like she's improving at the right time, and should sit another great trip. I wouldn't be surprised if she won this one going away.
#7 Project Whiskey (3/1): After an upset win in the Delaware Oaks two races back, she finished a clear-cut second in the Monmouth Oaks after hanging around on the pace. She's improved with every start as a 3-year-old, and it looks like she'll fire a big one here.
#1 Grand Cru Classe (2/1): 2-for-2 in her brief career, she beat a tough maiden field going away at Gulfstream, then handily won a n/w1x allowance at Belmont after being on the pace. Should get a good trip being on or near the pace on the inside. I don't think she'll be worth a bet if she's at or near her 2/1 morning line, however.
RACE 10: MAIDEN CLAIMING $16,000, 3-YEAR-OLDS AND UP, 5 1/2 FURLONGS (GRASS)
7-9-5-11
 #7 Next Stop Pokipc (3/1): Had a rough time last out after steadying early and costing himself position. He re-rallied to finish second in a photo, improving seven points from his prior lifetime top. Lauralea Glaser, one of the top-riding jocks on the circuit, keeps the mount.
#9 Degas (5/2): Races for the first time since February 20, after a dull effort in his first try against maiden claimers. Drops for a career-low tag here, and ran his best figure going short last fall. If he can bounce back first off the break, will be very tough.
#5 Hair of the Dog (8/1): The top speed horse in the race. He was gigantic three races back, lasting on a fast pace to get second. His key will be to set the pace, while not getting pressed too much. That's how he ran two back; when he finished third after light pace pressure, he ran a career-top figure.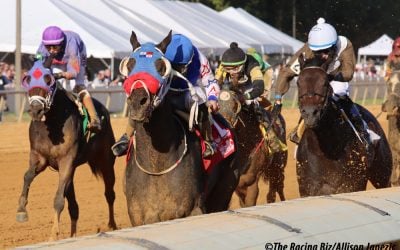 We provide full-card picks and analysis for this afternoon's races at Laurel Park.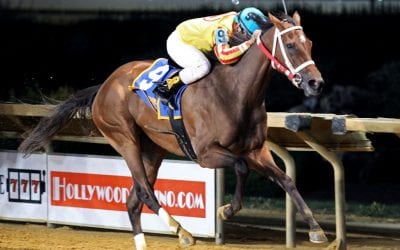 We provide picks and analysis for this evening's card at Charles Town Races.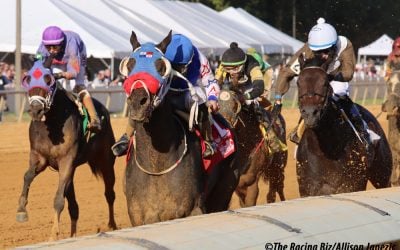 We provide full-card picks and analysis for this afternoon's races at Laurel Park.