Laurel Park picks and ponderings August 29, 2020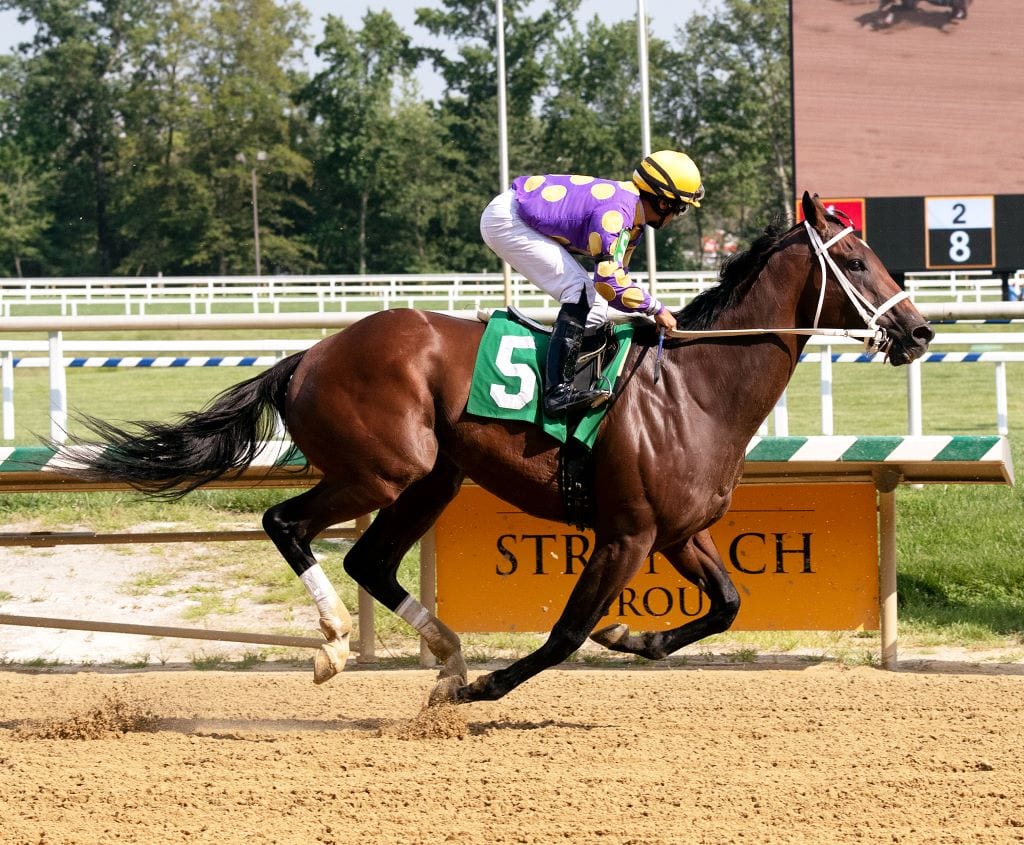 Old Time Revival.
In which we pick the races from Laurel Park each day…
Post time: 12:40 p.m.
Carryovers: Rainbow Jackpot Pick 6 — $3,994 Super High 5 — $0 Late Pick 5 — $0
Notable: Until further notice, no fans are allowed to attend the races at Laurel Park. For more info, click here.
ANALYSIS
RACE 1: STARTER OPTIONAL CLAIMING $25,000, 3-YEAR-OLDS AND UP, 6 FURLONGS
1-2-6-5
#1 Tauber (9/5): If he wins this race, it's safe to say the fourth race on July 3 can be marked as a key race. He finished second in that one, sandwiched in between two next-out winners. His brisnet figure of 84 is a career-top on dirt by a long way, but he had been in similar good form in several grass tries. Should stalk the pace and roll on with it late. 
#2 Seven on the Rocks (5/2): He's begun to round into top form again, after tailing off towards the end of last year. He got blown out by Bourbon Street, who is better than anyone in here with the exception of Tauber, in his last race, but was well-clear of the others and raced willingly in the stretch. This is an easier bunch than he's seen in either of his two races this year, which should play to his benefit. 
#6 Off the Record (5/1): Looks to be rounding into top form in his third start of the year, and has the fastest early pace figures of anyone in the race. Lauralea Glaser has been riding ridiculously well as of late, so I expect her to do the right thing, and send this one right to the lead.
RACE 2: STARTER OPTIONAL CLAIMING $25,000, 3-YEAR-OLDS AND UP, 5 1/2 FURLONGS
9-2-5-6 (GRASS: 9-5-2-1)
#9 Seven Gems: He's got some good dirt form way back in his lines, and has early speed to spare. Especially if the field scratches down to only a few runners, he could have a very easy time getting to the lead and can cruise from there. 
#2 Coop Tries Harder: Has been keeping the best dirt company of anyone in the race, most recently holding his own in a n/w2x contest at Monmouth Park. He earned a sharp figure of 80 in that race while finishing third, and earned an 88 two dirt races back.
#5 Oak Bluffs: Hard-knocking Jersey-bred does his best running on grass, but finished a respectable third in his most recent dirt start, rallying after a bad beginning. He does very well on off tracks, and if the weather forecast is any indication, today's track should be just to his liking.
RACE 3: CLAIMING $5,000, 3-YEAR-OLDS AND UP, 5 1/2 FURLONGS
1-3-2-6
#1 Hammer's Vision (9/5): A winner of four of his last five, he's got blazing early speed from the inside, and a victory at this level two races back. Should go right to the lead and not get caught. 
#3 Smokin Hot Factor (7/2): Has been racing evenly in his last few starts, taking a conditioned claiming event two races back after getting a good stalking trip. His closing style should be good enough for a slice here. 
#2 Odds On (7/2): Willing to give him a pass on his last start, as he broke awkwardly and lost all chance. In the dirt start prior to that, he got involved in a tough speed duel and gave way. If he breaks cleanly here, and manages to stay off Hammer's Vision, he can hang around for the minor shares. 
ANALYSIS
RACE 4: MAIDEN SPECIAL WEIGHT, 2-YEAR-OLDS, 1 MILE
9-4-7-1 (GRASS: 4-7-5-11)
#9 Depository: Raced greenly on debut, but still closed well to get second. The distance is the big question: that race was at five furlongs, and this is a mile. However, I don't think anyone else in here really wants this distance on the dirt, so as long as he moves forward, he'll be good.
#7 Cyclo: Another one coming off a good performance in a five-furlong race, he showed speed on debut at Colonial Downs and gave way late. It's true that this is a big increase in distance, but if he can slow things down enough on the lead, it could play right into his hands. 
#4 Gandolfo: $185,000 debuter for Arnaud Delacour looks well-bred for both dirt and grass. Works at Fair Hill have been strong; the board will tell the full story on him. 
RACE 5 – CLAIMING $16,000 (CONDITIONED), 3-YEAR-OLDS AND UP, 1 MILE
13-9-14-16 (GRASS: 2-1-7-11)
#13 Marden: He's got by far the best dirt form in the race, steadily running figures in the 80s. His most visually impressive races are at a mile; in his most recent start, he went 1 1/16 miles and flattened out. The only question is how he'll handle the long layoff, as he hasn't raced since March 6. 
#9 Lectric Choke: Goes first off the claim for Dale Capuano after a dominant n/w2L win last out. He'd been knocking on the door against starter optional claiming foes in the winter; that last race was likely just so he could get an easy paycheck. He had been improving in mile races prior to the break; look for him to be closing strongly here.
#14 Dharmaster: His first start off more than a year's layoff wasn't that impressive, but it was probably intended as simply a screw-tightener. He lost the Private Terms to Twisted Tom and O Dionysus as a 3-year-old, and ran in the high 70s as a 5-year-old. Mike Trombetta should have him cranked here.
RACE 6: CLAIMING $5,000 (N/W2L), 3-YEAR-OLDS AND UP, FILLIES AND MARES, 6 1/2 FURLONGS
2-6-4-3
#2 Ragtime Suzy (1/2): I can't try too hard to beat this favorite. She's plunging in class from the $16,000 n/w2L level, and consistently runs figures better than those of the rest. An easy horse to single in the pick 4 or pick 5 and move on. 
#6 Just for Spite (4/1): If you insist on trying to beat Ragtime Suzy, and you can forgive this one's last race, she's your most likely alternative. Two races back, she held well after setting a fast pace at Delaware, earning a strong figure of 72. Last out, though, she didn't make it to the early lead and was well-beaten. It would've been nice to see a workout since then, so there could be some confidence she's ready to return to top form. Still, she's lightly-raced, and is dropping back to a level where she raced well in the past.
#4 Laurel Lady (12/1): Another one with good lines that are obscured by a bad last race. She was hung wide every step last out after an awkward break, and unsurprisingly stopped. In her prior dirt start, she showed fight down the stretch to break her maiden, the culmination of a string of good tries. Can she keep her improvement going?
 ANALYSIS
RACE 7 – ALLOWANCE (N/W1X), 3-YEAR-OLDS AND UP, MD-BRED, 5 1/2 FURLONGS
4-1-9-2 (GRASS: 2-3-12-4)
#4 Padrino's Heart: In a race with tons of speed, he's a stalker. He has pace figures good enough that he can sit just off the litany of cheap speeds signed on here, then pounce and draw off. Last time, he got outkicked by Francatelli and wound up second; I think anyone, with the possible exception of Karan's Notion, is going to have a hard time outkicking anyone else here.
#1 Crush It: Another one who should be coming from behind, he closed well at this level last out to get third. The running lines are somewhat distorted by the powerful performance of Galerio; take him out of the picture, and Crush It was a strong closer who missed catching second by just half a length.
#9 Karan's Notion: I know I said earlier that there's a lot of speed in here, but I can't get over how impressive that maiden win was. He went gate-to-wire to win by thirteen lengths, earning a figure of 94. Last out, he was rushed up after an awkward start, and couldn't last on the lead. I think there's a chance, albeit a small one, that he can get clear from the rest and draw off. One more chance, I say.
RACE 8: ALLOWANCE OPTIONAL CLAIMING (N/W2X), 3-YEAR-OLDS AND UP, 1 MILE
8-7-1-10 (GRASS: 4-2-12-3)
#8 Westerland: This race will be thought of as the rematch between Hanalei's Houdini and Tattooed after their rough 1-2 finish last time, but I'll take a shot against both of them. This guy has early speed and staying power, with his most recent main track win a dominant stalking score over the synthetic at Turfway. On conventional dirt, he held his own way back when against better at Belmont Park and Churchill Downs.
#7 Tattooed: Got put him by disqualification over Hanalei's Houdini in his last race. His liability is his total lack of early speed, which sees him get a lot of checks, but rarely a trip to the winner's circle. Still, he's consistently run figures in the high 80s/low 90s in recent outings, and he's no stranger to competition like this. 
#1 Hanalei's Houdini: Got clear in the last eighth last out, before hitting a wall and drifting out, causing a disqualification. I'm not quite sure if he wants to go a mile, but his tactical speed should at least get him in contention turning for home. If no one else is close enough to him at that point, he could pull it off.
RACE 9: CLAIMING $10,000 (N/W2L), 3-YEAR-OLDS AND UP, 6 FURLONGS
4-2-1-6
#4 Lordhavemercy (3/1): In a race where a lot of the contenders hate to win, I'll give this guy the edge. He's never lost a n/w2L claiming race, he's lightly-raced, and he gets blinkers on. While he's tailed off in his last two races, he had wide journeys in both of those races. I have to imagine he'll improve if he saves more ground.
#2 Gone Home (3/1): Tends to show speed and fade, but there's no one fast enough to go with him here. This could be the time when he sneaks away to a clear lead and doesn't look back.
#1 Moon Watcher (9/2): Ran a lifetime top last out after boxing on while chasing a loose leader. This is another lightly-raced type; it's only his fourth career start.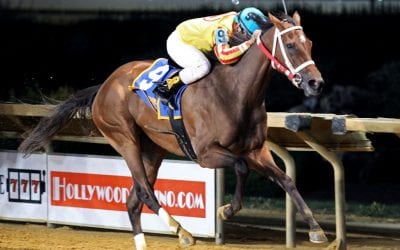 We provide picks and analysis for this evening's card at Charles Town Races.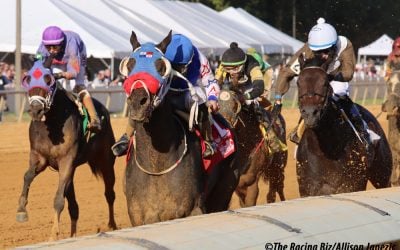 We provide full-card picks and analysis for this afternoon's races at Laurel Park.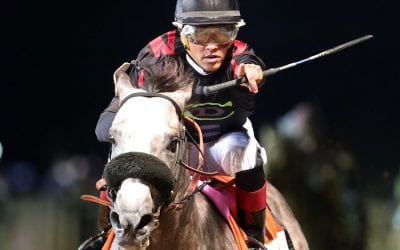 We've got Charles Town picks and preview today as the track presents its Friday card!