Laurel Park picks and ponderings August 1, 2020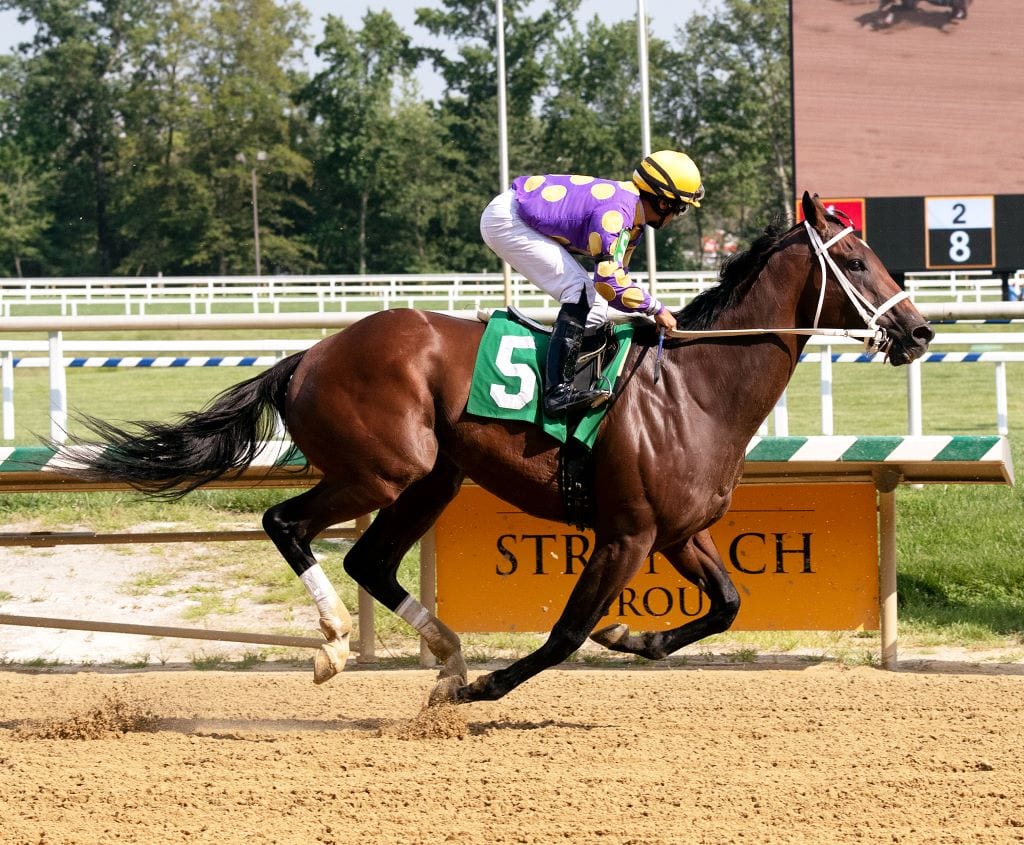 Old Time Revival.
In which we pick the races from Laurel Park each day…
Post time: 12:40 p.m.
Carryovers: Rainbow Jackpot Pick 6 — $5,389 Super High 5 — $0 Late Pick 5 — $0
Notable: Until further notice, no fans are allowed to attend the races at Laurel Park. For more info, click here.
ANALYSIS
RACE 1: CLAIMING $5,000 (N/W2L), 3-YEAR-OLDS AND UP, 1 1/16 MILES
2-6-1-4
#2 Giant Viking (8/1): Ran what might be described as an ambitious race last out at Delaware Park. At the half, he was twelve lengths in front of the others, setting ridiculous fractions in the process. To the surprise of few, he tired badly from his exertions and backed up badly. Now, he faces a field where he's the dominant speed, and gets the hot hands of Victor Rosales. He should be able to ration out his mount's speed, and guide him to victory.
#6 Voodoo Valley (5/2): Twice in a row, he's made what looked like promising moves, only to falter both times. He had somewhat of an excuse last time, in that he was wide throughout. If nothing else, at least he was a very clear-cut second in that spot. Also making his third start off the layoff here.
#1 Lectric Choke (6/5): Boy, this is a big class drop. Almost too big of a class drop. He was last seen racing in starter optional claiming company on grass, and not seriously contending. Over the winter, he was competitive against better, most recently losing by a nose against 3-year-old claimers. Consistently earned brisnet figures in the mid-70s in that span, which would likely make him a winner here. It looks as if his people are looking for the easy win in this spot. I don't blame them, but that doesn't mean I want to bet him at short odds.
RACE 2: ALLOWANCE (N/W1X), 3-YEAR-OLDS AND UP, 6 FURLONGS
Off the turf.

4-3-6-9.

Dirt selections: 4-3-9-7
#4 Youngest of Five: Unlike the favorite in race 1, this looks like a favorite I would want to bet. He turned in a game performance last out at Churchill Downs, rallying wide to win on a track where it's not easy to come from off the rail. Goes first off the claim for Hugh McMahon, who is 18% with that angle, and should sit a good trip off the leaders.
#3 Correjon: Made his first start off the layoff last out at Charles Town, and had a tardy break in a 4 1/2 furlong race. That doomed him to defeat. In his past life, he consistently ran figures in the low 90s, which would beat everyone in here, including Youngest of Five. It's all a matter of if you trust him to regain that ability.
#6 Daystrike: Trainer Damon Dilodovico has been on fire as of late, winning with nine of his last 26 starters. His last dirt start was kind of a letdown, but it was also his first start since the fall, and he's shown great dirt form in the past, running figures as high as 97. He's had two races under his belt since that comeback effort, let's see how he does getting back to the main track.
RACE 3: CLAIMING $8,000, 3-YEAR-OLDS AND UP, FILLIES AND MARES, 6 FURLONGS
6-3-5-4
#6 Hashtag Selfie (2/1): Wasn't able to cross to the inside in her last start, at Parx, and wasn't able to fire. She clearly prefers it on this track, with a 9-for-29 lifetime record, showing blazing speed almost every time out. The outside draw clearly isn't ideal, but I trust Carlos Carrasco to put her on the lead and keep going.
#3 Swirrlie Shirlie (5/2): Got the perfect stalking trip in her last start, rating off the leader, then drawing off once she gave way. She's been in strong form at the Laurel summer meet, never finishing worse than second in three starts, while running figures in the mid/upper 70s every time. Hashtag Selfie might prove tough to run down, but I'm looking for a strong effort from this one nonetheless.
#5 Rein Supreme (9/2): Goes third off the layoff after losing a game stretch battle against slightly better last out. Looks to recover the strong form of last year, which saw her win six of thirteen races.
ANALYSIS
RACE 4: MAIDEN CLAIMING $40,000, 3-YEAR-OLDS AND UP, 1 MILE
Off the turf. 

2-1-8-3. 

Dirt selections: 6-3-4-2
#2 Deshackled: Managed to get in a speed duel going a mile in his last dirt start, which is not that easy to do, all things considered. He promptly stopped on a dime. This time out, though, there's no one fast enough to go with him, so he could end up lonely on the lead. From there, the sky's the limit.
#1 Call Me Plucky: The polar opposite of Deshackled, he has no early speed whatsoever. In both of his starts, he was twelve lengths or more off the early lead, then closed well in the stretch to get third. It looks like his kick is more powerful on grass than on dirt, but this isn't exactly a field of world-beaters. As long as he is feeling like himself, he's going to run on and at least get a piece of the action.
#3 Percentage: Goes second off the layoff, after an awkward beginning in his last race. His lone dirt start, which took place last August, was respectable, as he closed to finish a clear-cut second. Pimentel and Rubley are always a tough jockey/trainer combo.
RACE 5 – CLAIMING $16,000 (N/W2L), 3-YEAR-OLDS AND UP, FILLIES AND MARES, 6 FURLONGS
Off the turf. 

11-1-4-5.

 Dirt selections: 1-4-9-3
#11 Fusi: Tries winners for the first time, after breaking her maiden in a sharp front-running effort at Belmont Park last out. She's got the most early speed in the field; the only question is if she can clear to the early lead from the outside post, or if she'll encounter a challenge. If she doesn't, it's ballgame.
#1 Judi Blue Eyes: Just missed at the level last out, coming from well off the pace to lose in a photo. She steadily runs figures in the 70s and has the best closing punch of anyone in the race. A must-use in multi-race bets.
#4 Millie Child: Got up for third at 42/1 in her most recent dirt try, making good ground in the stretch. Could certainly slip through the cracks in the wagering and surprise at a price again.
RACE 6: MAIDEN CLAIMING $10,000, 3-YEAR-OLDS AND UP, 6 FURLONGS
5-8-7-1
#5 Air Token (9/2): Finished a solid second last out, but got outkicked in the stretch by Bayano, who towered over the rest of that field. Take him out of the mix, and Air Token beats a field just like this one by 3 1/4 lengths. This'll be his fourth career start; it's always a positive to see lightly-raced horses in fields like this.
#8 Lucerito (2/1): He's even more lightly-raced than Air Token; this is his third career outing. He finished third in his debut, behind two horses who came back to win their next start. Stretched out to 1 1/16 miles in his last race; that didn't do him any favors. It looks like he's finally found a set of circumstances that suit him; I'm willing to give him another chance at low odds.
#7 G Man (8/1): Was third behind Air Token in his last race, and it looked as if he hit the wall in the last eighth of the seven-furlong contest. I'm hoping he can time and sustain a move a bit better in a six-furlong contest.
ANALYSIS
RACE 7 – CLAIMING $16,000 (N/W2L), 3-YEAR-OLDS AND UP, 5 1/2 FURLONGS
Off the turf. 

6-10-13-11.

Dirt selections: 6-10-11-15
#6 Goodluckchuck: Recent maiden breaker has shown several dimensions in his career. Early on, he was a speedball who tended to give way turning for home. More recently, he tends to stalk the pace and pounce. In his last race, he rated just a length off the early lead, then powered down the stretch for the score. Pimentel gets the mount for the first time.
#10 Inside Risk: Improved sharply in his second race off the bench, running on well down the stretch to get third and earn a career-best figure of 77. Looks to be forwardly placed with a good late kick.
#13 Devotion in Motion: Flashed lots of early speed on the grass in his last two at Penn National, and held on well both times. This is in sharp contrast from his winter efforts on dirt, when he didn't do much running at all. Is he simply better on grass, or has he improved enough that he can contend on any surface? We'll find out.
RACE 8: ALLOWANCE OPTIONAL CLAIMING (N/W2X), 3-YEAR-OLDS AND UP, 1 MILE
Off the turf. Dirt selections: 9-4-7-1
#9 Pretty Good Year: Ran against a much stronger n/w2x bunch than this one in his last race. He closed well from tenth to lose by 2 1/2 lengths, after being temporarily blocked and forced to shift several paths. Earned a career-top figure of 94 in there, now takes a drop and goes second off the layoff.
#4 Bobby G: Missed by a nose two races back to Bustoff, who loves this track and would almost certainly be the favorite if he was here. Last out, he was soundly defeated by Fortunate Friends, who's one of the top sprinters on the circuit. Steadily runs figures in the 90s, and looks like a serious threat against this group.
#7 Tattooed: A classic bridesmaid type, he was second at this level four times between last year and this one. Seeking a rebound from a dull effort last time, when he faced a stakes-quality field and was a non-threatening sixth.
RACE 9: ALLOWANCE (N/W1X), 3-YEAR-OLDS AND UP, FILLIES AND MARES, 1 MILE
5-6-2-1
#5 Indy Takes Charge (3/1): Second to the brilliant Hello Beautiful last out, she'll seek to flatter that one's form here. Goes third off the layoff for Cal Lynch, and looks to have good tactical and late speed.
#6 Global Ambition (2/1): One of two in here for Michael Matz, she was last seen finishing fourth at this level at Gulfstream Park in January. The winner of that race, Dream Marie, has placed in stakes three times since then, and is entered in the Monmouth Oaks today. Wouldn't be surprised if this one needed a screw-tightener, but she's improved in each of her three starts, and Matz should have her in good shape.
#2 Breviary (6/1): Is that maiden win too good to be true? She absolutely smoked a maiden claiming field last out, earning a strong figure of 88. That represents a 26-point increase from her debut. This is a major jump in class, and she might get overwhelmed. Still, a last race like that, especially at a price, is worth respecting.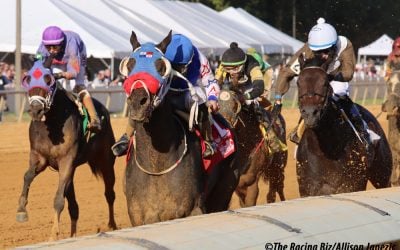 We provide full-card picks and analysis for this afternoon's races at Laurel Park.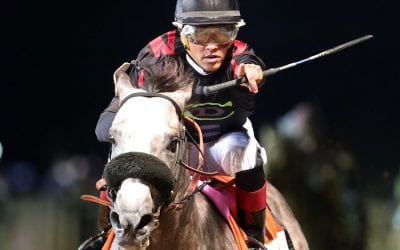 We've got Charles Town picks and preview today as the track presents its Friday card!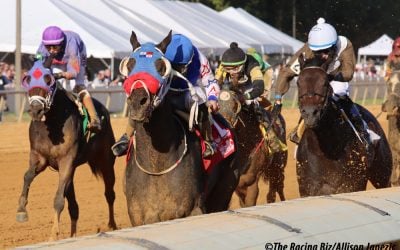 We provide full-card picks and analysis for this afternoon's races at Laurel Park.