Laurel Park picks and ponderings July 18, 2020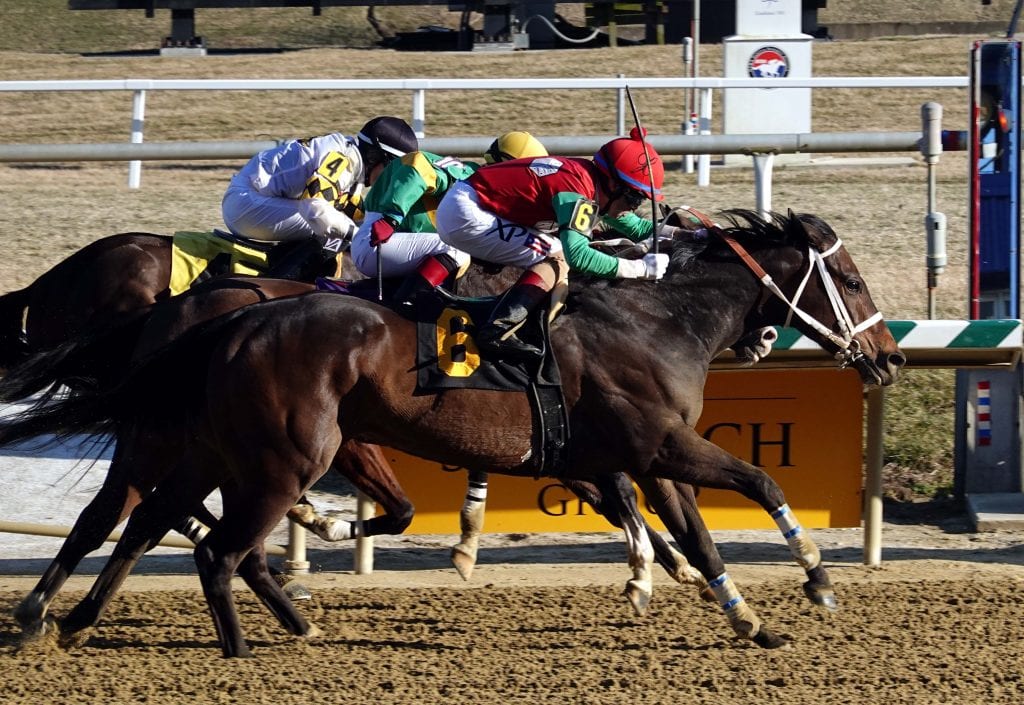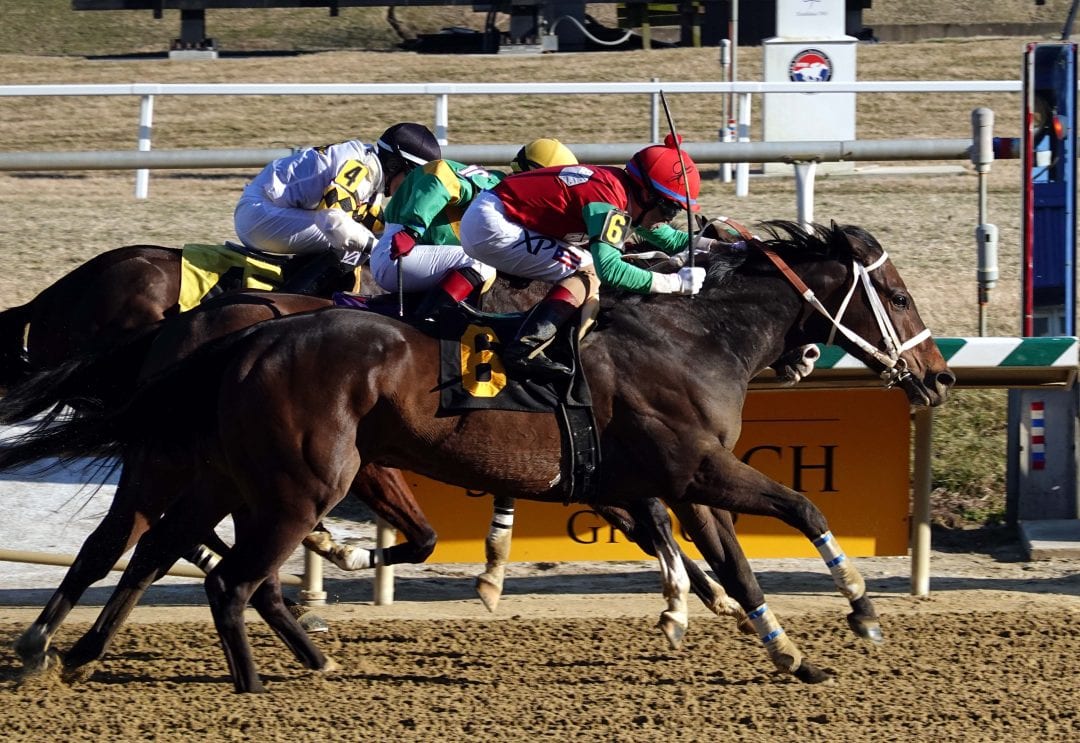 Anna's Bandit. Photo by Laurie Asseo.
In which we pick the races from Laurel Park each day…
Post time: 12:40 p.m.
Carryovers: Rainbow Jackpot Pick 6 — $8,051  Super High 5 — $0 Late Pick 5 — $0
Notable: Until further notice, no fans are allowed to attend the races at Laurel Park. For more info, click here.
lANALYSIS
RACE 1: STARTER ALLOWANCE $5,000, 3-YEAR-OLDS AND UP, FILLIES AND MARES, 6 FURLONGS
6-4-5-3
#6 Dorothyfromdublin (9/2): She was declared a non-starter in her last race, after the assistant starter inadvertently held her in the gate for too long. Despite losing her usual tactical spot, she raced on well to get third, with the best last-out brisnet figure in the field. It would take an incredible stroke of bad luck for her to have a break that lousy again, and if she runs that well with a bad trip, she should cruise under normal circumstances.  
#4 Joyful Noise (6/1): Also coming off rough trips, she had to check while making rallies in both of her starts off the break. She came in third both times, racing against big fields in each of those spots. Now, she's in a field of seven, and should have clear sailing to make a rally.  
#5 Lonely Drifter (2/1): 38% first off the layoff? Believe it: Anthony Farrior is insanely good off a long layoff. He's sending this mare out for the first time since November 24, when she was fifth against a very salty starter field. She loves Laurel, with an 8-for-16 record over the track, and missing the board just three times. Obviously a very good, hard-knocking mare, I'm just a bit wary of someone coming off that big a break, no matter how good the trainer is.
RACE 2: MAIDEN CLAIMING $10,000, 3-YEAR-OLDS AND UP, FILLIES AND MARES, 6 FURLONGS
7-4-2-8
#7 Tenderness (8/5): Drops in for a career-low tag, and goes first off the claim for Jamie Ness. At first glance, it looks a little interesting that Ness claimed her for $16,000, then dropped her in for $10,000. However, there's no $16,000 race in the book that fits her until August 8, so it's likely a matter of Ness just not wanting to wait that long. Should take a step forward second off a long break. 
#4 Beckinsale (3/1): She's had very blurry career form. She fell way behind on a speed-favoring track in her debut at Churchill, then stretched out over the synthetic next out at Turfway, then turned in a dud first off the break going long on the grass. Now, she's finally getting to where I think she wants to be: in a dirt sprint against a weak field. To boot, it's her first try for this claiming tag. 
#2 Awesome Pal (6/1): Ran some good figures against better over the winter, then got fanned ridiculously wide last out and lost all chance. I have to figure she'll improve second off the layoff here. 
RACE 3: ALLOWANCE OPTIONAL CLAIMING (N/W3X), 3-YEAR-OLDS AND UP, 5 1/2 FURLONGS (GRASS)
4-3-8-1
#4 Completed Pass (7/2): After a few starts in a row of being unable to leave the gate, he finally broke well in his last race, which was on dirt. He showed brief speed and flattened to finish fifth. Now gets back on his preferred surface. Last year, before he forgot how to break, he showed some blazing speed to win or place in three stakes. Getting back to the lawn should do him wonders. 
#3 Tricks to Doo (5/2): Made his first start off a long vacation last out, and almost ran down a wild loose leader who held on by a length. A once very promising 2-year-old, he should take a step forward second off the break, and he was moving forward at about this time last year before being sidelined. Trevor's at Monmouth today, but Feargal Lynch gets aboard. 
#8 Stroll Smokin (6/1): He tried to make his first grass start in a while last out, but it was washed away. Not that it slowed him down: he took a n/w2x allowance on dirt that day instead. He's got plenty of early speed, and if Completed Pass forgets how to break again, he could end up loose on the lead.
ANALYSIS
RACE 4: MAIDEN CLAIMING $10,000, 3-YEAR-OLDS AND UP, FILLIES AND MARES, 6 FURLONGS
6-4-9-8
#6 Thundrinthevalley (7/2): Visually unimpressive in her first two races, but her figure of 67 in her first start, earned after a slow break, might be good enough to win this race. She now drops in for a career-low price and cuts back from 1 1/16 miles on the grass. Mike Trombetta is 23% with horses switching surfaces. 
#4 Sophie Rules (7/2): Her lone dirt race so far came at Saratoga as a 2-year-old, where she showed speed and faded. She clearly couldn't get 1 1/16 miles in her last race, but getting back to her preferred circumstance, sprinting on the dirt, should be what she needs. 
#9 Keeper in Spite (5/2): The kind of horse who I couldn't bet to win, but could easily use underneath in trifectas and superfectas. Every time out, she shows speed and gives way. Last out, against a similar field, she had a clear lead at the eighth pole, but was caught late. Granted, she ran a very big figure in that race, a 78, and even if she declines a few points, that would be good enough to win. Still, a horse who keeps finishing as the runner-up in races like this is not one I want to bet at low odds. 
RACE 5 – CLAIMING $16,000 (CONDITIONED), 3-YEAR-OLDS AND UP, 5 1/2 FURLONGS (GRASS)
3-11-6-13
#3 Geyser (7/2): That was a pretty impressive comeback race last out, closing well at this level to lose by just a half length. He's the only member of the field to have run at least an 80 in each of his last three races, with the latter two coming at this track in the fall. He's had a few more tries at this level than I might like to see, but those strong races can't be ignored. What's more, he ran a relatively low late pace figure last out, and still came flying, compared to the rest. Second off the layoff, it should be an even more powerful punch. 
#11 Mr. Edgar (9/2): Gulfstream Park shipper got to the lead from the 12-hole in his last start, and manged to set the pace an draw off to an impressive score. There's plenty of sharp speed drawn to his inside, so he'd really have to hustle if he wanted the lead again, but he's shown enough good tactical speed to make me believe all the same.
#6 Cooke Brothers (6/1): Carlos Carrasco's lone riding win this meet came on this horse back on June 20; now he's back aboard. The horse has won two in a row stalking and pouncing, and earned some strong figures last summer on the grass at Ellis Park, with an 80 on debut and a 75 second time out. Should be able to work out a trip just off the pace.
RACE 6: CLAIMING $5,000 (N/W2L), 3-YEAR-OLDS AND UP, FILLIES AND MARES, 7 FURLONGS
3-7-4-6
#3 Cheers N Applause (9/2): Broke her maiden in sharp fashion two races back, then drew into contention in the stretch in her first start against winners and was outkicked. I don't know how she'll be at seven furlongs, but I'll take a shot on a lightly-raced horse like this one.
#7 Heelstothesky (4/1): Drops to a career-low level, after a visually unimpressive race against $10,000 horses in her last race. She's raced three times since returning from a 19-month layoff, and has run in the mid-60s in two of those three efforts. Those numbers would be good enough here.
#4 Girl Next Door (6/1): Fell back early and made a bold nine-wide sweep to pick off some horses in the stretch, finishing less than a length behind Cheers N Applause. Lightly-raced filly makes her sixth career start, and clearly woke up when switching back to dirt. Should pick up some pieces, at least.
ANALYSIS
RACE 7 – MAIDEN CLAIMING $40,000, 3-YEAR-OLDS AND UP, FILLIES AND MARES, 5 1/2 FURLONGS (GRASS)
10-7-9-2
#10 Coconut Cake (3/1): What a debut! Down fifteen lengths in the early going, she closed frantically late to lose a three-horse photo. Drops for a tag for the first time, which is a bit of an interesting move, considering how well she ran against better. Still, the talent looks to be there.
#7 River Trappe (8/1): She didn't have as much traffic first out as the comment lines would indicate, but it nevertheless wasn't a great deal for her. Jorge Ruiz was overly patient with her in the stretch, not really asking her to go late despite finding a hole in the stretch. Horacio Karamanos now gets aboard her, and hopefully will be a bit more aggressive. That debut figure of 67 was sharp, if she gets a good trip off the pace again, I'm looking for big things from her.
#9 Bound for Broadway (5/1): Another one coming off a big debut, she dueled all the way around last out with Bourbon Gal, who looked much the best on paper going into the race. Still, this one held on for a clear-cut second, dueling another rival of hers into the ground. There's no one in here as good as Bourbon Gal, so things should be easier.
RACE 8: CLAIMING $5,000, 3-YEAR-OLDS AND UP, 5 1/2 FURLONGS
6-3-7-2
#6 High Roller (5/2): Got a great stalking trip last out at Delaware, swooped up, and won going away. There's some high-quality speed horses in here, too, and if they burn themselves out, he could get the perfect trip and roll on by.
#3 Ummu Ummu Ummu (3/1): One of the aforementioned speed horses, he was much further from the pace than usual last out, and he ended up a mild fourth against better. In spite of that, he ran a career-high figure of 86. He won two in a row against weaker over the winter while on the pace, so it'll be interesting to see what strategy Marquez employs here.
#7 Tambora (6/1): Tried to set a really fast pace at Delaware last time, in the same race High Roller exits, and it backfired. In the race before that, he sat *off* a fast pace, and got up to win at big odds. I would employ that strategy if I was Kevin Gomez.
RACE 9: ALLOWANCE OPTIONAL CLAIMING (N/W2X), 3-YEAR-OLDS AND UP, 1 1/8 MILES (GRASS)
4-3-8-5
#4 Papal Law (7/2): Came *this* close to wiring the field in his last start, which was his first race in several months. Faces an easier n/w2x field here, with a race under his belt, and no one to pressure him on the front end. He shouldn't have anyone else to blame if he coughs this up. 
#3 Artemus Bridge (5/1): Turned in a strong, driving effort in his last race, closing from behind to score against n/w1x foes at Delaware. He's another one going second off the layoff. 
#8 Mr. d'Angelo (5/1): A 17/1 winner of the Maryland Million Turf in his final start last year, he now makes his bow as a 4-year-old here. As previously noted, there's not going to be much early speed here, so he's not going to have a pace to close into. I'll have to take the watch-and-see approach with him.
RACE 10 – CLAIMING $16,000 (N/W2L), 3-YEAR-OLDS AND UP, FILLIES AND MARES, 1 MILE (GRASS)
7-4-8-10
#7 Shezalemondropkid (2/1): Despite some good-looking form in her past lines, she was relatively glossed over in the betting last out, going off at 5/1. She had no chance with the way the pace scenario set up, but battled gamely in the stretch to lose a three-horse photo for second. I don't think she'll get dismissed so easily this time.
#4 Dawlish (10/1): Lightly-raced filly was in the middle of a move last time when she checked and lost serious momentum. Makes her second start off the layoff and gets lasix for the first time. 
#8 Instinctive (9/2): Tries a n/w2L claiming race on the grass for the first time, and has some very dangerous early speed. Look for Marquez to be aggressive with her early on.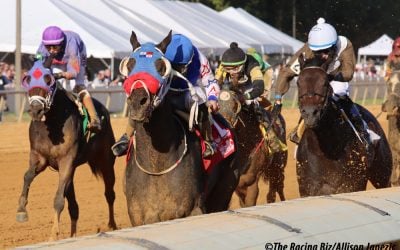 We provide full-card picks and analysis for this afternoon's races at Laurel Park.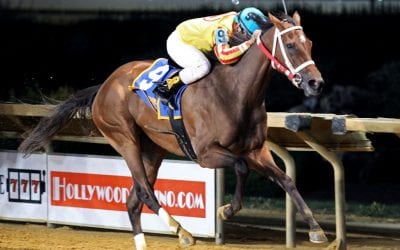 We provide picks and analysis for this evening's card at Charles Town Races.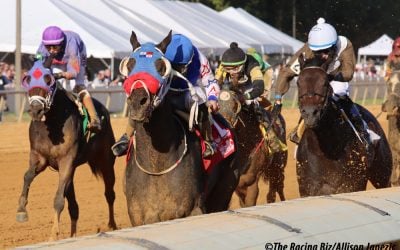 We provide full-card picks and analysis for this afternoon's races at Laurel Park.