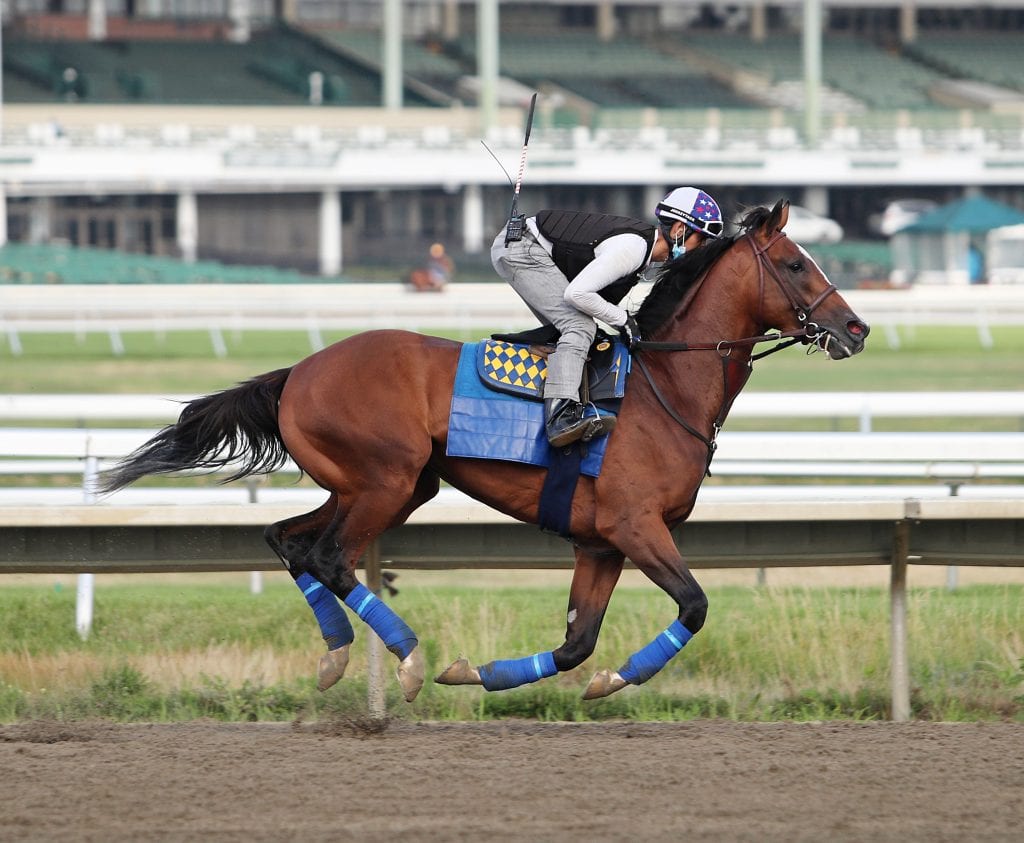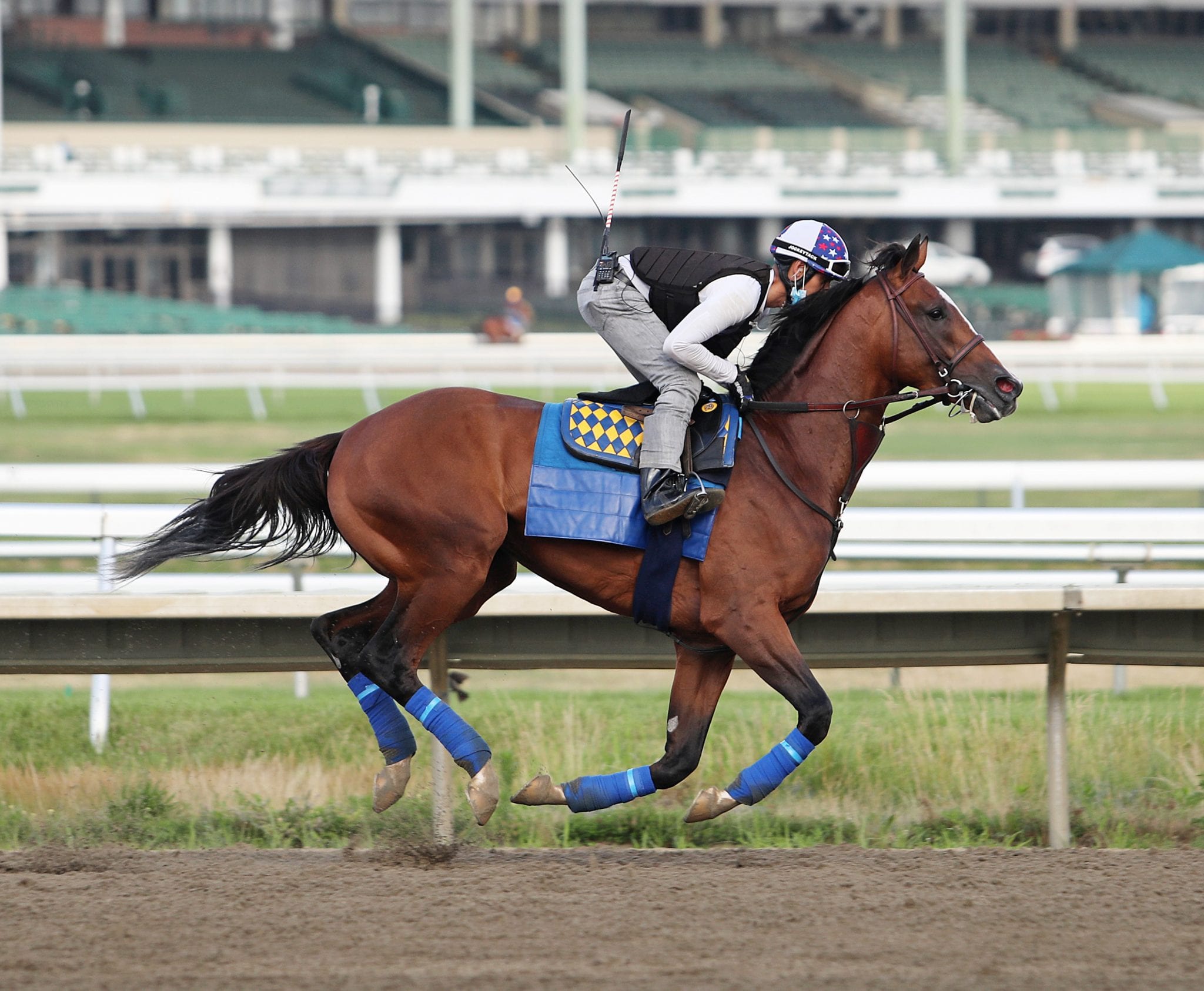 Bob Baffert has a strong affinity for Monmouth Park.
In fact, the Hall of Fame trainer has ever since he brought Anet to New Jersey to race in the Haskell Invitational in 1997.
"I love Monmouth Park," Baffert said during a media conference call Wednesday, preparing for Saturday's $1 million, Grade 1 TVG.com Haskell Stakes. "I love the track there. Speed horses do well there. The Haskell has always been an important race for me."
Indeed. In 2002, Baffert said he cut short his honeymoon with wife Jill to saddle War Emblem in the Haskell.
War Emblem, the Kentucky Derby and Preakness winner that year, also won the Haskell. It's how Baffert said he remembers his anniversary, thanks to the Haskell and War Emblem.
It was the second of a record eight wins for Baffert-trained horses in Monmouth Park's biggest event.
Baffert has also been associated with Max's Hot Dogs in nearby Long Branch. Before Baffert had a near-fatal heart attack in 2012, it was a good luck ritual for Baffert to stop at Max's and have a hot dog for lunch prior to the Haskell.
Baffert said the trick was not to get any mustard or ketchup on his suit in case his horse won the Haskell and he had to appear on camera in the winner's circle.
While Baffert will remain in his southern California office for Saturday's Haskell, someone – more than likely assistant trainer Jimmy Barnes – will have to make sure to stop at Max's prior to the race.
Who's going to mess with Baffert's success?
Saturday, Baffert has the 4-5 morning line favorite Authentic heading the field of seven 3-year-olds. In addition to the $1 million purse, the Haskell also offers the winner 100 points towards the Kentucky Derby. Hall of Fame jockey Mike Smith will be aboard Authentic.
Although Authentic wasn't the best of Baffert's immensely talented of 3-year-olds in his stable (that title could have gone to either Charlatan or Nadal) at the beginning of the year, Authentic is the best of the field now, ever since both horses went down with injuries, with Nadal's a career-ending left front lateral condylar fracture.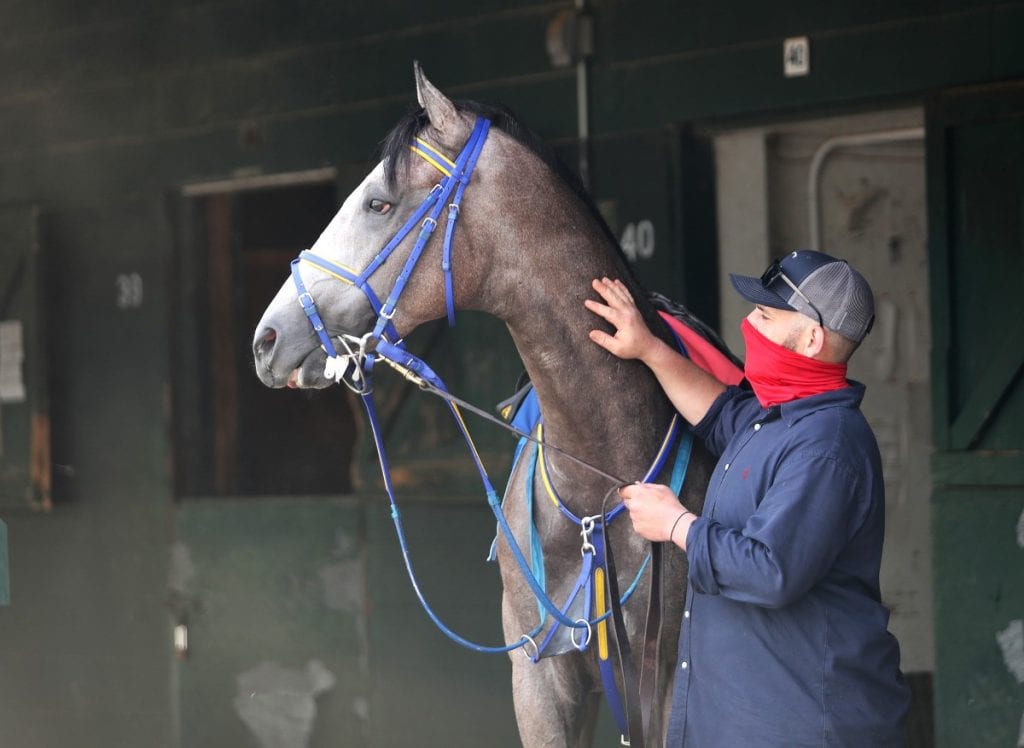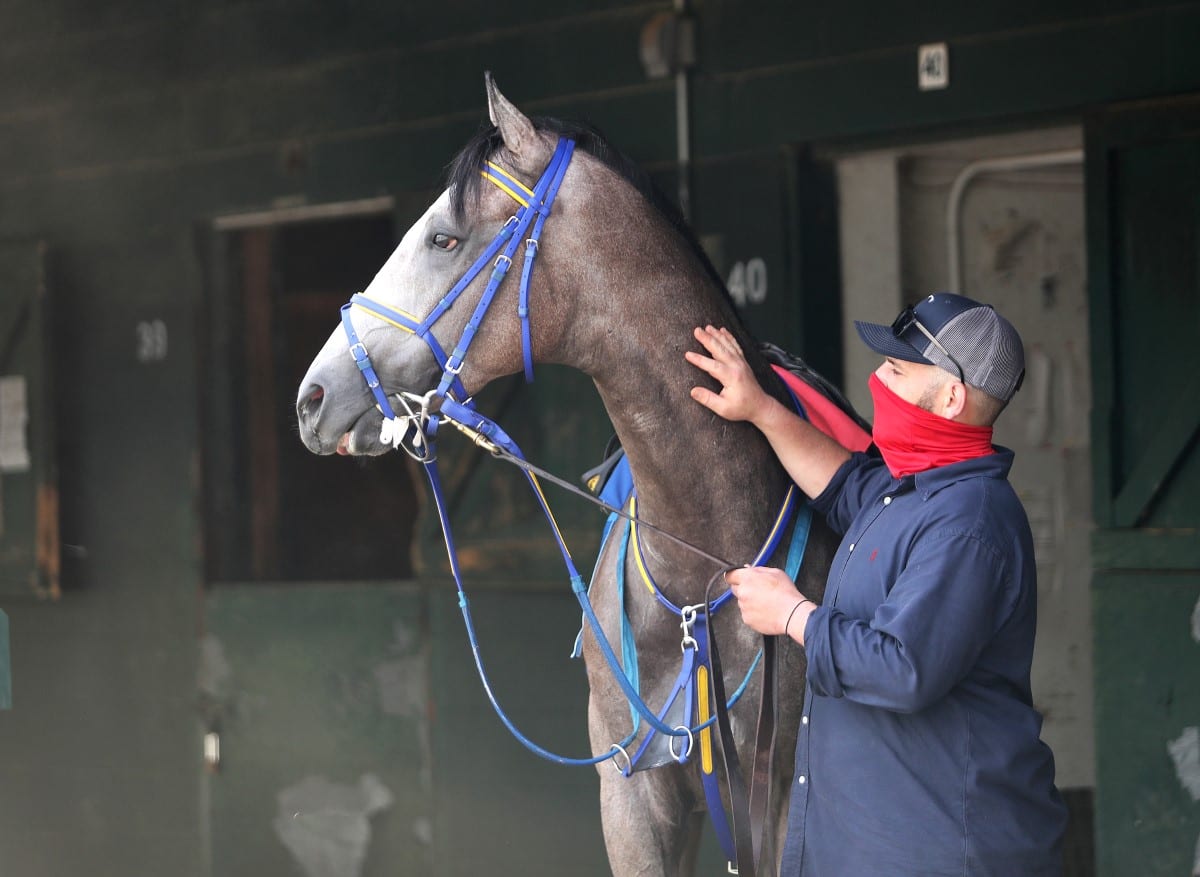 Charlatan, who won a division of the Grade 1 Arkansas Derby in May, tested positive for an overage of lidocaine following the race. Arkansas state stewards on July 15 announced they would disqualify Charlatan from all purse moneys and suspend Baffert for 15 days. Baffert's attorney has indicated an appeal is in the offing, and Charlatan subsequently suffered a minor ankle injury expected to keep him out until the fall.
"You have a situation where horses get injured and that changes things," said Baffert. "To lose those horses prior to the (Kentucky) Derby was unbelievable. They would have been right there. But you just have to move on. I have learned to never look back. You can't change the past. We have to move on. We were on a tremendous schedule in May. Things couldn't have been better for us and then the whole thing gets blown up."
Authentic was also rolling along with his own career, winning his first three starts, including the Grade 3 Sham Stakes and the Grade 2 San Felipe Stakes at Santa Anita.
Authentic was the favorite in the Santa Anita Derby, but Honor AP ran past Authentic as the horses turned for home.
"He had a rough trip," Baffert said of Authentic's trip in the Santa Anita. "He didn't break well and ended up being caught wide. He was a little rank and got tired and the winner ran by him. He got beat that day, that's all."
The Haskell's field is a little less competitive than it usually is – but the state of thoroughbred racing in the coronavirus COVID-19 world has a lot to do with that. The Haskell is usually held when the Triple Crown races are long over. But in this year's topsy-turvy COVID world, the Haskell will be run long before the Sept. 5 Kentucky Derby and October 3 Preakness Stakes. In addition to the Derby points, the winner of the Haskell gains an automatic invitation to November's Breeders' Cup Classic.
Because of the unique scheduling this year, there will be an additional $1 million bonus given to the connections of the horse that wins the Haskell, the Kentucky Derby and the Breeders' Cup Classic — no mean feat.
The scheduling of the race means nothing to Baffert.
"The Haskell has always been an important race for me," Baffert said. "I always thought of it as being the preview for the Travers (in Saratoga in August). Once the Kentucky Derby was bounced back to September, it threw everything out of whack. We might have run Charlatan at the Haskell, but Authentic is a top horse. I look at the Haskell as a great race to win."
Dr Post, trained by Todd Pletcher and ridden by Monmouth Park favorite "Jersey" Joe Bravo, was the second choice in the morning line, set by handicapper Brad Thomas, at 5-2. Ny Traffic, trained by Saffie Joseph, Jr. and ridden by Monmouth's top jock Paco Lopez, was given the 7-2 morning line.
Dr Post drew the No. 1 post, with Authentic in the second gate and Ny Traffic on the far outside No. 7 gate in the race at a 1 1/8-mile distance.
Others in the field are Jesus' Team (Jose D'Angelo-Nik Juarez), 15-1; Ancient Warrior (Jerry Hollendorfer-Trevor McCarthy) 20-1; Fame to Famous (John P. McAllen-Jose C. Ferrer) 30-1; and Lebda (Claudio Gonzalez-Alex Cintron) 20-1.
It will mark the first time that Baffert will have the Haskell favorite since Triple Crown winner American Pharoah drew a crowd of more than 60,000 to Oceanport.
"I'll always remember bringing Pharoah there," Baffert said. "We were all really nervous. The pressure was on me bringing the Triple Crown winner there. There is always a lot of pressure on you when you're around good horses. The place was packed. But I'll never forget the jockey's room was emptied out and every jockey was lined up near the finish line to watch Pharoah run. I'll never forget that. American Pharoah brought so much joy to everyone there."
But because of the coronavirus, there will only be a few hundred fans in attendance Saturday. Some 500 general admission tickets were sold out the first day of availability and another 100 or so tickets will be sold at the park's outdoor restaurants.
Baffert said that he's looked at the Haskell as a race that rewards a good horse.
"I've always brought my best horses there," Baffert said. "We always had good horses. I have never been able to win with a horse that wasn't the best."
Last year, Baffert's Mucho Gusto just didn't have enough to beat Maximum Security in the Haskell. Maximum Security had been first-past-the-post in the Kentucky Derby but was disqualified for bumping at the head of the lane.
"We were not going to beat Maximum Security (last year) if we went around the track twice," Baffert said.
Baffert now trains Maximum Security in California, after Maximum Security's former trainer Jason Servis was indicted for allegedly doping several horses.
"I don't like the circumstances how we got the horse," Baffert said of Maximum Security.
Servis, along with more than two dozen others, was charged with a conspiracy to dope horses, including Maximum Security, and defraud the betting public. Maximum Security's owner Gary West yanked the reins away from Servis and handed them to Baffert, and the silver-haired trainer had been slated to send out Maximum Security in the Grade 2 San Diego Handicap Saturday at Del Mar before Covid-19 forced that track to cancel the weekend's racing.
Even for a powerful barn like that of Bob Baffert's, horse racing has its share of downs to go with the ups. And he may not like the way in which Authentic became the best sophomore in his barn or the favorite in this year's Haskell. But none of that will matter if Authentic gets him his ninth Haskell title.
LATEST NEWS