Laurel Park picks and ponderings July 3, 2020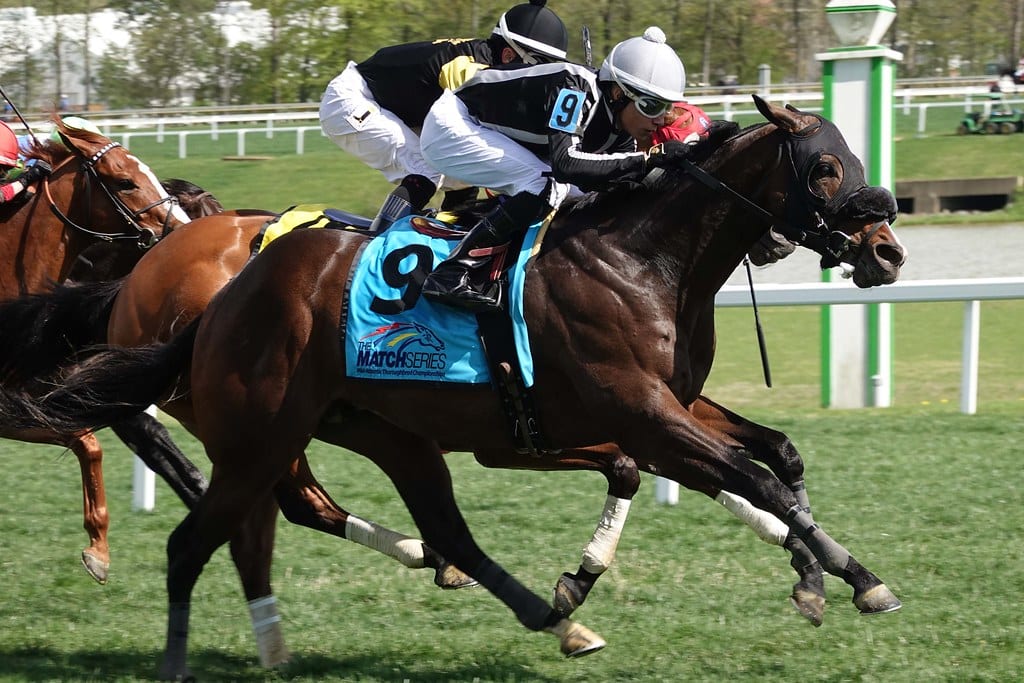 Dirty. Photo by Allison Janezic.
In which we pick the races from Laurel Park each day…
Post time: 12:40 p.m.
Carryovers: Rainbow Jackpot Pick 6 — $0  Super High 5 –$0  Late Pick 5 — $0
Notable: Until further notice, no fans are allowed to attend the races at Laurel Park. For more info, click here.
ANALYSIS
RACE 1: MAIDEN CLAIMING $16,000, 3-YEAR-OLDS AND UP, FILLIES AND MARES, 1 1/16 MILES (GRASS)
6-3-10-2
#6 Notroubleatall (5/2): Goes out for Jonathan Sheppard for the first time, and makes her first start of 2020. She was very wide in all three of her starts last year, but closed well every time nonetheless. Faces a field of almost entirely fellow three-year-olds for her return, and has been working well getting ready for this spot.
#3 Thunderturtle (8/1): Lightly-raced filly closed from the clouds in her last start at Charles Town, only to give way in the last strides and lose by a nose. Tries grass for the first time and stretches out for Ollie Figgins, who is 29% first time routing. That big rally over a track not always amenable to closers makes me optimistic about her going forward.
#10 Kate Carmack (9/2): Closed well last out at Penn National to lose by 1 3/4 lengths. That was her first start in for a tag; now she runs for a career-low tag. She's also making her debut on grass, and gets Feargal Lynch up. Lynch is a solid 5-for-22 on the Laurel grass this meet, making him one of the most adept riders on the surface at this track. 
RACE 2: CLAIMING $10,000 (CONDITIONED), 3-YEAR-OLDS AND UP, 7 FURLONGS
2-7-6-4
#2 Hizaam (6/1): Raced very wide in his first start off the layoff last out, and held on well against better n/w3L types earlier in the year. Consistently ran brisnet figures in the 80s over the winter, which would win this race easily. This'll be his first local start, and his first under the care of James Lawrence. 
#7 Hero's Return (3/1): Takes a double-jump in class after a very impressive maiden win, where he crushed a $10,000 maiden claiming group by nineteen lengths. Makes his first start against winners, and should stalk the pace on the outside. Trombetta has had this one working well for his first start since February. 
#6 Girls Love Me (5/2): He won easily against n/w1x allowance company in his last start over this track, earning a brisnet figure of 82. What's the hesitation? That last race came in August 2018. He returned to the worktab in May, and has been working well for his 4-year-old debut. If he found his 2-year-old form again, he'd probably win, if he improved on it, he'd win easily. Those, of course are big "ifs". Still, the backclass and ability are there. 
RACE 3: STARTER OPTIONAL CLAIMING $25,000, 3-YEAR-OLDS AND UP, FILLIES AND MARES, 1 1/16 MILES (GRASS)
5-8-6-4
#5 Nevisian Sunset (7/2): Stretches out from 5 1/2 furlongs first off the claim for Claudio Gonzalez. She closed like a rocket in her last start, making up nine lengths in a quarter-mile. She won going a mile over this track, and ran her year-best figures going long last year. Should be on or near the pace, and will get first run if the leaders back up. Interestingly, Weston Hamilton keeps the mount after riding her last out; he doesn't usually ride for Gonzalez.
#8 Champagne Horizon (2/1): Goes third off the layoff after a big rally in her last start at Gulfstream Park. She has two dull efforts within her last five starts. Before one of them, she ran off in the post parade, the other one was her first start in almost two months. Any of the other three are probably good enough to win this race. Don't be surprised if she's last early on; she does her best running at the end. 
#6 Love's Legend (9/2): Ran a huge figure of 89 in her first start off the layoff last out, when she stalked the pace and got outkicked by a sharp Tampa Bay invader. She runs good races, but hates winning. In eighteen starts over the Laurel grass, she's won one time, with eight seconds and thirds. Use her underneath, but win betting looks like a sucker's bet. 
ANALYSIS
RACE 4: STARTER OPTIONAL CLAIMING $25,000, 3-YEAR-OLDS AND UP, 6 FURLONGS
5-8-3-6
#5 Thatwouldbegrand (3/1): Takes a drop from the n/w1x allowance level, where he was fifth behind several horses much better than anyone he'll see here. Makes his second start since September 2019 here, and gets a jockey upgrade from Whisman to Russell. He had a few rough near-misses last year, and may end up being the kind of horse who doesn't like to win. Still, he may simply have found a field that he can beat without any trouble. We'll see. 
#8 Cam's Carter (5/2): Cruised to an emphatic maiden win in his last race, which was his first race in several months. He ran a 90 in that race, a figure good enough to win this one. This'll be his first try against winners, one of five in here exiting their maiden win. In that last win, he stalked the pace and drew off; he could get a similar trip here. 
#3 Bourbon Street (6/1): Broke his maiden going gate-o-wire last out. There's cheaper speed drawn to his direct inside, and he should be able to press them and make them wilt turning for home. From there, he's got good enough late pace that he should be able to pick up the pieces. They key will be to avoid a duel. 
RACE 5 – MAIDEN CLAIMING $16,000, 3-YEAR-OLDS AND UP, FILLIES AND MARES, 1 1/16 MILES (GRASS)
2-9-1-4
#2 Laska (2/1): Made a strong wide move in her last start, finishing second despite running into a very slow pace. She usually runs figures in the 70s, if she can duplicate those races, she'll be tough. Her deep-closing running style puts her vulnerable to being pace-compromised, however.
#9 Lagom (4/1): Lightly-raced filly drops for a tag on the grass for the second time, and makes her first start since August of last year. She raced well on the grass last year, including a strong second over this track about a year ago. Should be near the pace and will enjoy the class relief.
#1 Sophie Rules (6/1): The biggest enigma in the race. We know she's got plenty of speed, having shown it and tired in her two starts in New York last year. This'll be her first race since September, and her first one going beyond six furlongs. She'll definitely be the controlling speed, and it'll be Sheldon Russell's task to nurse her along as long as possible. The worktab has been steady since March, and you have to figure they've been working on improving her stamina.
RACE 6: MAIDEN CLAIMING $25,000, 3-YEAR-OLDS AND UP, 6 1/2 FURLONGS
9-7-3-12
#9 First Fighter (9/2): Battled gamely on the lead in his last dirt start, and gave way in the last eighth of a mile, holding on for second. The winner of that race, Willmakeyouhappy, came back to win his next start. That race was in February; he got a grass prep in for a spot like this. Damon Dilodovico is 23% with horses second off the layoff. 
#7 Robber Bob (9/2): Raced well against $40,000 horses two starts back, dueling down the stretch before flattening out. His first start off the layoff, at that same level, was dull, as he sat off a great trip and fell flat. The drop in class and the race under his belt should help the cause. 
#3 Royal Thunder (3/1): Also takes a career-low drop in class, and has been steadily improving his form. In his last dirt start, he ran a figure of 75 while going a mile, which may have been too far for him. His tactical speed should serve him better going 6 1/2 furlongs.  
ANALYSIS
RACE 7 – CLAIMING $16,000 (N/W2L), 3-YEAR-OLDS AND UP, FILLIES AND MARES, 5 1/2 FURLONGS (GRASS)
6-5-4-8
#6 Pins and Needles (4/1): Recent grass form has been an asset this meet, and she's raced on the surface fairly recently. She was last seen at Tampa Bay in April, checking early on in a n/w1x allowance race and showing little. In the race before that, she was on a fast pace against better, and held on well to get third. Her mid-70s figures would be good enough here. She's also going first-time out for Bruno Tessore, who is a solid 3-for-12 sending out horses for the first time. 
#5 Gennie Highway (3/1): Another lightly-raced sort, she's coming off a second-place finish against starter optional claiming foes back in September at this track, going 1 1/16 miles. Broke her maiden last spring going five furlongs at Pimlico, so the distance is not a concern. Her figures are good enough to win it, if she can bounce back first off the long break. 
#4 Judi Blue Eyes (4/1): Hasn't been seen on grass since September, but has been racing on dirt recently, finishing fourth against better in her last start. Gets much-needed class relief after a string of starter optional claiming tries, and she showed plenty of promise at that level on the lawn last year. 
RACE 8: ALLOWANCE (OPEN), 3-YEAR-OLDS AND UP, 1 MILE
1A-7-8-3
#1A Name Changer (9/2): He had to shake off some rust in his last start; it was just his second outing in the prior 16 months. He had a tough trip in that race, chasing a loose leader who set a very slow pace, but still rallied to get second. Should keep improving on the comeback trail, and will likely get a more honest tempo to run into. 
#7 Cordmaker (7/2): He's a winner of five of eight last year, and his last four races at Laurel. Made his last start last fall in the Governor's Day Handicap, grinding out a half-length win. Rodney Jenkins is 22% with horses off a 90+ day layoff, and the horse had a bullet workout two races back. He's got the necessary class to beat this tough field.
#8 Alwaysmining (3/1): Exits the Blame Stakes at Churchill Downs, when he was bumped at the start and lost all chance. In the start prior, in the Harrison Johnson, he couldn't get to the lead and tired in the stretch. Now returns to a track he likes and a distance he enjoys. Can he get clear on the front end against a tough bunch? If he can, look out.
RACE 9: ALLOWANCE OPTIONAL CLAIMING (N/W1X), 3-YEAR-OLDS AND UP, 1 1/16 MILES (GRASS)
1-4-8-5
#1 J. Beresford Tipton (2/1): Made a strong move in his last race at this level, closing from way behind to lose by half a length. The horse that beat him, Outofthepark, came back to win a n/w2x race in his next start. He's been running great figures at this level all winter and spring long, but he hasn't been able to break through. This is a weaker field than what he saw last time, which should help. Daniel Centeno, who rode him at Tampa Bay two back, picks up the mount. 
#4 Speed Game (5/1): Showed speed and tired in the last eighth in his first start off the bench, while setting a contentious pace for this distance. There's no serious competition for the lead here, so he should be able to coast on the front end. 
#8 Aransas (6/1): Tries winners for the first time after getting up to win against maiden claimers last out at Gulfstream. His figure improved dramatically in that race, going all the way up to an 85, a 24-point improvement. That was his first race of the year; perhaps he's turned a new leaf as a 4-year-old. 
RACE 10: ALLOWANCE OPTIONAL CLAIMING (N/W2X), 3-YEAR-OLDS AND UP, FILLIES AND MARES, 6 FURLONGS
3-5-7-6
 #3 Cruise and Danze (3/1): Makes her first start since winning the Ruthless Stakes at Aqueduct back in January, now tries her elders for the first time. She ran a big figure of 87 in that win, and earned an 89 two starts back when second in a n/w1x race. Looks fast enough to clear to the lead and hold her rivals at bay. 
#5 Three Hawk (5/2): Faces a much easier n/w2x field than she did last out. In that race, she broke awkwardly and lost crucial early position. She recovered well to finish third, but didn't run as well as she had been over the winter. Makes her second start off the layoff here, and if she breaks cleanly, has a big shot. 
#7 Foxy Mischief (9/2): Goes first off the claim for Mike Trombetta, after a wide trip and a dull effort in her last start at Tampa Bay. In the race before that, she was on an honest pace, but shook off her rivals and drew off to a sharp score. The key for Julian Pimentel will be to get her on or near the pace while saving as much ground as possible. Not easy to do from the outside post.
RACE 11: STARTER OPTIONAL CLAIMING $25,000, 3-YEAR-OLDS AND UP, FILLIES AND MARES, 5 1/2 FURLONGS
9-2-6-1
#9 Beantown Baby (6/5): Drops from the n/w1x allowance level, where she finished a strong-closing second as the favorite. She was likely the best horse two starts back, but encountered traffic trouble and lost by a length. A repeat of any of her last three efforts wins this one handily. 
#2 Can the Queen (10/1): Won a n/w2L race last out with a big effort. She was pressed on the lead while setting a grueling pace, but drew off to a convincing win. She'll have to fend off better horses here, but also should be able to set a more moderate tempo.
#7 Mary's Jewel (5/1): Gets back on the grass, where she showed some life going longer last year. Easily won a n/w2L claiming contest three back on dirt, and has been knocking on the door at this level. Should be prominent early on.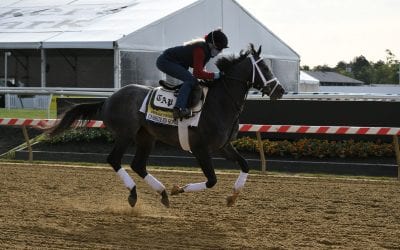 Who'll win the Preakness, Dinner Party, and the other graded stakes on the Saturday card? We asked our experts for their opinions.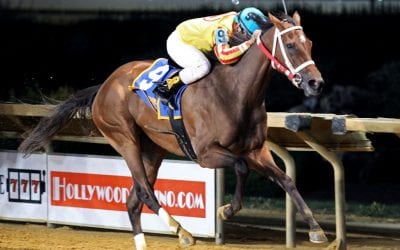 We provide picks and analysis for this evening's card at Charles Town Races.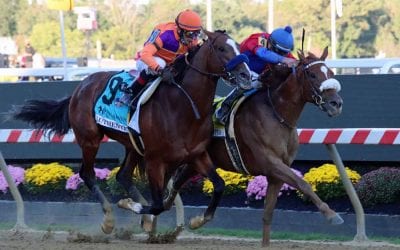 We provide full-card picks and analysis for this afternoon's Preakness day card from Pimlico!