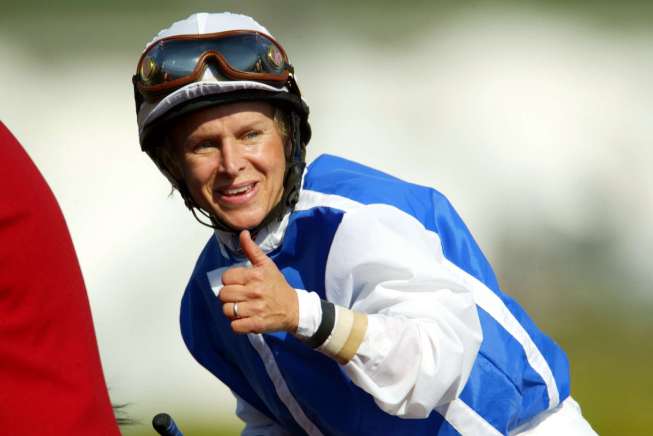 It's been a while since Hall of Fame jockey Julie Krone took on a challenge in racing. She remains the only female jockey to win a Triple Crown race in winning the Belmont Stakes win in 1993. She concluded her riding career in 2003, finishing with 3,704 wins in 21,412 mounts that earned over $90 million in purses.
On a visit to Del Mar last summer a younger version of herself caught Krone's attention, motivating her to reengage with the sport. Krone saw the apprentice jockey, Ferrin Peterson, full of commitment, and recognized a way she could help.
Krone shared her experiences on the June 20 edition of Off to the Races Radio.
Krone's career isn't solely defined by the Belmont Stakes win but is certainly distinguished bu the feat, though the potential consequence of a victory weren't readily apparent to the connections prior to the event. A recent viewing of that rainy winner's circle photo spurred her recollection of the event.
"When Scotty (trainer Flint Schulhofer) presented the fact that I was going to ride Colonial Affair, he never even flinched. So as far as Scotty and (Centennial owner) Don Little, Sr., was concerned, I'm just a jockey," recalled Krone. "They had no gender attachment to that whatsoever. Like me being female did not disqualify me from being capable of riding Colonial Affair and winning the Belmont. It wasn't even an issue. We know that it's up to the individuals. One person doesn't define the other people."
Krone had an inkling of Colonial Affair's Belmont Stakes potential when the Virginia-bred was a slowly emerging two-year old, even going to the extent of vocalizing the future race call of the Belmont when exercising the young colt.
"I always had in my mind that he was going to win the Belmont when he was developing as a two-year-old," explained Krone. "He raced once, a short distance and he just couldn't even get going. And then he raced again. He raced again, and he had blinkers on because he got a little lost in his first race. He was a big, gangly, kind of slow learner, and he was kind of like a horse that just came into himself slowly. He had to do everything like two or three times before he would understand it."
After a disappointing debut and having been named with another riding assignment, Krone recommended jockey Richard Migliore for his second race. Krone recalled the conversation going something like….
"Hey, Richie, you want to break the maiden? He's going to win the Belmont next year."
"Heck yeah," Migliore responded, "And I want to ride him in the Belmont."
"No," responded Krone, "but you can break his maiden."
Krone's instructional quest, perhaps suffering from a bit of overcoaching, may have begun with that race.
"So, needless to say, I gave Richie like a billion directions that day, like go pet him in the post parade and trot him this way, and silly, silly attention to details. Richie came through and Colonial Affair broke his maiden."
Krone remembers Colonial Affair progressing through the remainder of his 2-year season, albeit without wins. He kicked off his sophomore season with two allowance wins as things started to come together.
"Every single day it was the craziest thing was him getting there, starting with that race, everything that he did-it seemed something was just moving forward. When finally, the Belmont came up, everything was perfect."
Even the weather was perfect. Not for others but for Krone and Colonial Affair.
"We had a little water on the track, which he just loved. He loved that globby, hard-to-get-through surface," she remembered. "He was such a beautiful horse and just so strong. His big stride was just amazing. So yeah, that was like the whole story going up to the Belmont. I had a lot of confidence and I really felt really close to him."
Colonial Affair used that big stride coming out of the turn at the Belmont Stakes quarter-pole and, despite being four-wide, charged down the stretch to win by over two lengths. She was recognized as the first Triple Crown race winner before she hit the wire by track announcer Tom Durkin.
Krone's career continued for another decade, delivering Grade 1 wins with horses such as Candy Ride, Lite the Fuse, Peaks and Valleys, and, near the end of her career in 2003, with Halfbridled, becoming the first female jockey to win a Breeder's Cup race. In 2005 she gave birth to her daughter Lorelei and along with her husband Jay Hovdey of the Daily Racing Form began to live a more conventional life, including homeschooling her daughter.
Krone raises her daughter in San Diego, California and is active in the Carlsbad Community Theater located there. She has carried her racetrack experiences into her domestic life.
"I was really active in theater because Lorelei loves theater, and I did props, got some theater awards for costumes and set pieces, group and individual awards. And the last part was just so fun — to share the theater career with her," Krone said. "Theater is, to me almost a lot like racing where the people that did it were my kind of people. They invest in the event, and it's big and it's huge and everybody's together, and there's so many people doing different things, and I think it has a lot qualities that racing had. After about two months, being around the theater people, I was like, 'Oh, these are my people, like my racetrack people.' They have the same qualities of giving 100% to what they're participating in."
On that aforementioned visit to Del Mar, Krone met Peterson, seeing "an amazing little jockey — horses just love her." Krone considered the current California racing situation "disastrous" for an apprentice jockey and saw some benefits in slowing down the pace of her progression.
"It was like literally; main riders aren't even riding. How is an apprentice jockey ever going to get a chance?" observed Krone. "So, we came to the conclusion that she would just stop her bug and do some continued learning."
Peterson is not your average pupil. She's a certified veterinarian, graduating from UC-Davis. Recently she's added equine acupuncturist to her resume.
"Underneath all that is just this person that wants to ride racehorses, and I have never been around anybody, other than myself, with an unmeasurable desire to ride and I just loved everything about her," Krone said.
Krone spent six months together with Peterson putting in work in the weight room to develop upper body strength and in the film room, watching how races develop. Peterson currently has 15 wins in 240 starts but hasn't taken a mount since closing day at Del Mar — September 2 of last year.
"Not only has she changed the way I think about being a rider, she's changed the way I think about being a veterinarian thru her horsemanship," acknowledged Peterson in an interview.
Krone will be Peterson's agent this summer for the meet at Monmouth Park that begins July 3 and hopes to add starts for Colonial Downs when that meet starts July 27. Likely many teachers, Krone is hoping that the protege exceeds the accomplishments of the mentor, perhaps by, dare I say it, winning the Kentucky Derby.
"What a story that would make," visualizes Krone.
Peterson could follow the path of the many female jockeys at Colonial Downs who have found success there. That roster includes riders such as Rosemary Homeister who won the riding title in 2009. Rosie Napravnik, Katie Crews and Jennifer Stisted also had successful ventures in New Kent.
"That would be a great thing about riding on the East Coast, the opportunity to ride at different venues," said Peterson.
Peterson wouldn't have a lot to work to do to surpass Krone's visit to New Kent in Colonial's inaugural season. Prior to racing that day, Krone found herself stranded in the Richmond airport when a driver went to the nearby New Kent County airport by accident.
"Where the heck are you? I'm gonna be late for my race. I got to get to the jockey's room," Krone remembered telling the driver in a phone call.
She happened upon a horse owner that was headed to Colonial Downs and hitched a ride. She would finish second that day in the Chenery Stakes aboard Fight for M'Lady to another eventual Belmont Stakes winner, Victory Gallop.
The good news is that Peterson shouldn't expect to have that much trouble getting to her races. Krone is determined to get her there.
LATEST NEWS