Sheldon Russell off to speedy start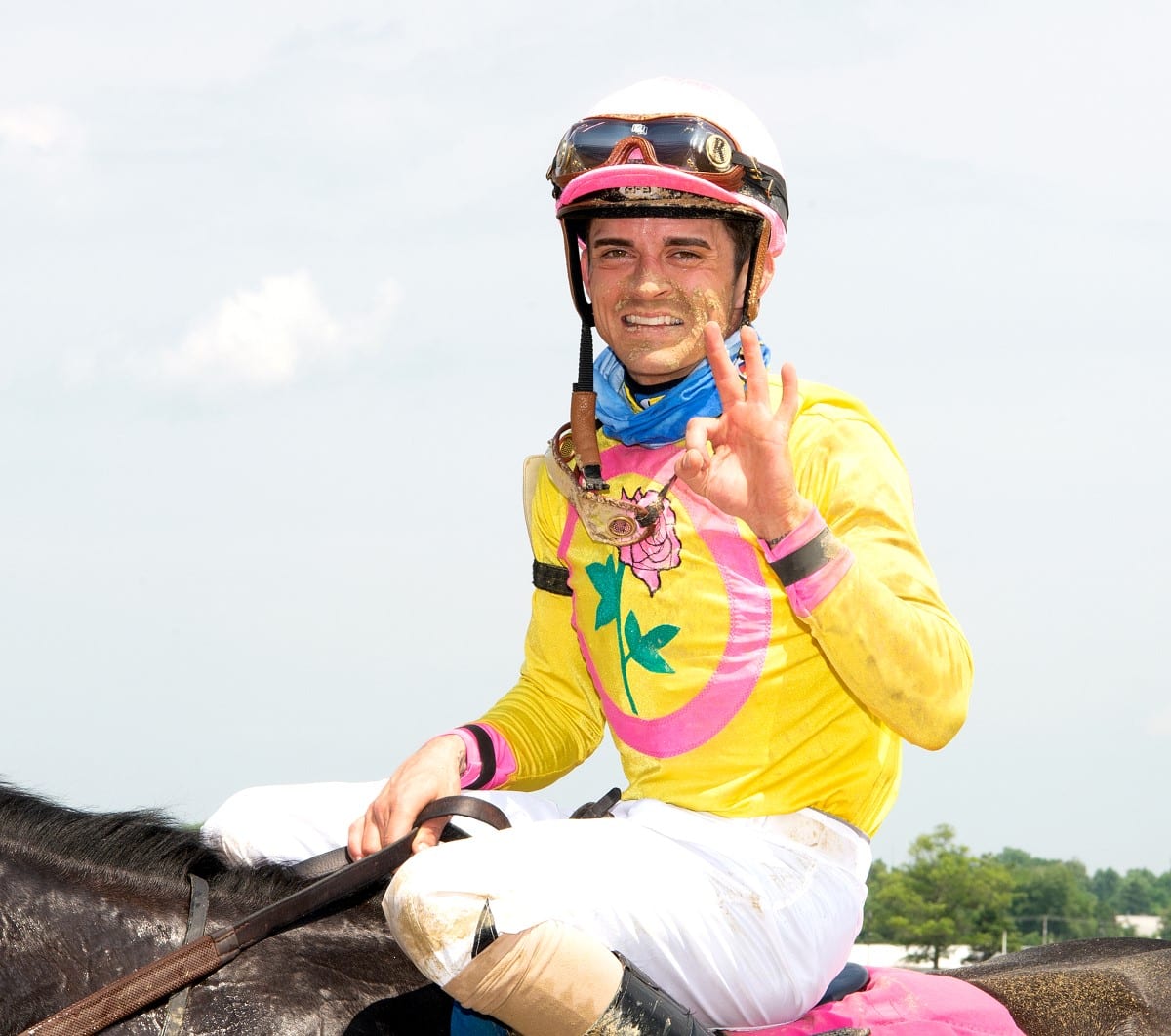 Jockey Sheldon Russell. Photo Jim McCue, Maryland Jockey Club.
Coming off his healthiest and most productive season in half a decade, journeyman Sheldon Russell came into 2020 with both confidence and momentum. Once the calendar flipped, he maintained his spot among Maryland's leading riders – until the world stopped.
The coronavirus pandemic put the state's live racing on pause from mid-March until returning in late May at Laurel Park, and the 32-year-old Russell hasn't wasted any time getting back in the groove.

Entering the fourth weekend of Laurel's summer meet Russell sits atop the rider standings with 12 wins, two ahead of Jevian Toledo – who, like Russell, is represented by agent Marty Leonard – and Trevor McCarthy.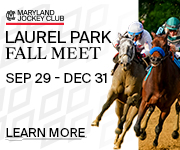 Russell is named in eight of nine races when live racing resumes Friday, June 19 and has calls in seven of nine races on the Saturday, June 20 program. Post time both days is 12:40 p.m.
"All I can really say is last year we got back up and rolling and things were good. I was getting on the right horses and then, unfortunately, we were forced to shut down," Russell said. "If anything, it just makes me feel good that once we got back up and started again I sort of picked up where we left off.
"I'm getting the support from some good trainers and riding some really nice horses," he added. "It's easy to say it makes my job easier, but the trainers I'm riding for are winning so it certainly helps."
A winner on the May 30 re-opening program, Russell has won with 11 of his last 25 mounts (44 percent), including a stretch of six-for-11 (55 percent) June 6 and 8. He registered hat tricks on both days, and had two more on Laurel's most recent card June 13.
Married to trainer Brittany Russell, who is tied for third with four wins from just 10 starters, Russell is 12-for-41 (29 percent) overall and ranks second in purse earnings with $284,604, less than $40,000 behind McCarthy.
"We sat on the sidelines and, of course, you're anxious to get back, But, at the same time we're running two days a week, and to be able to win two or three races a day it puts you in a good spot," Russell said. "I'm very fortunate. My agent is doing a great job. Our other rider, he's winning races, too, so he's definitely doing something right.
"We've got the support from really good outfits and luckily enough the horses coming off the shelf have all been running well. It helps that Brittany's barn is on fire right now, so that gives me a push, as well," he added. "I'm very fortunate. I'm happy to be back and riding, I'm happy to be healthy, and I couldn't have asked for a better start."
Maryland's leading rider in 2011 who owns seven individual meet titles, five coming at Laurel, Russell had the unique pleasure of winning aboard Russeldoingthings in a waiver maiden claimer June 8. In addition to sharing his name, the 3-year-old Golden Lad colt is trained by his wife.
"Everyone thinks there's a story behind it, but to tell you the truth he was actually named before he came into Brittany's barn. Brittany would love to be the one to say, 'Let's name this one, he's working good,' but he was already named," Russell said. "It's just funny how it worked out and that he's in Brittany's barn. He ran great."
Russeldoingthings also benefitted from a great ride by Russell, who saved ground early breaking from Post 3 in a bulky field of 13 before weaving through traffic to take the lead in the stretch, then pull clear and finish up in hand to capture his unveiling by 1 ½ lengths in the six-furlong sprint. It wasn't altogether surprising for the connections, whose 3-year-old stablemate Wondrwherecraigis also debuted with a victory March 13 then came back with an allowance triumph June 6.
"To be fair, he always works good in the morning. His workmate was Wondrwherecraigis and Craig won the maiden special weight and then wheeled back and won the a-other-than, so we were sort of waiting for [Russel's] time to shine," Russell said. "It was nice to see him run like that because those stablemates were working heads up against each other, and to see how Craig ran we were very excited to run Russel. He's a cool horse and that was a special win for us."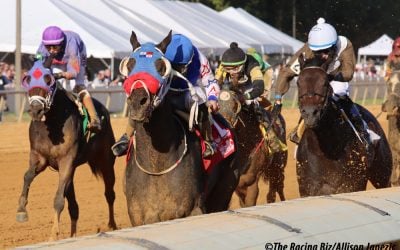 We provide full-card picks and analysis for this afternoon's races at Laurel Park.