Laurel Park stats and facts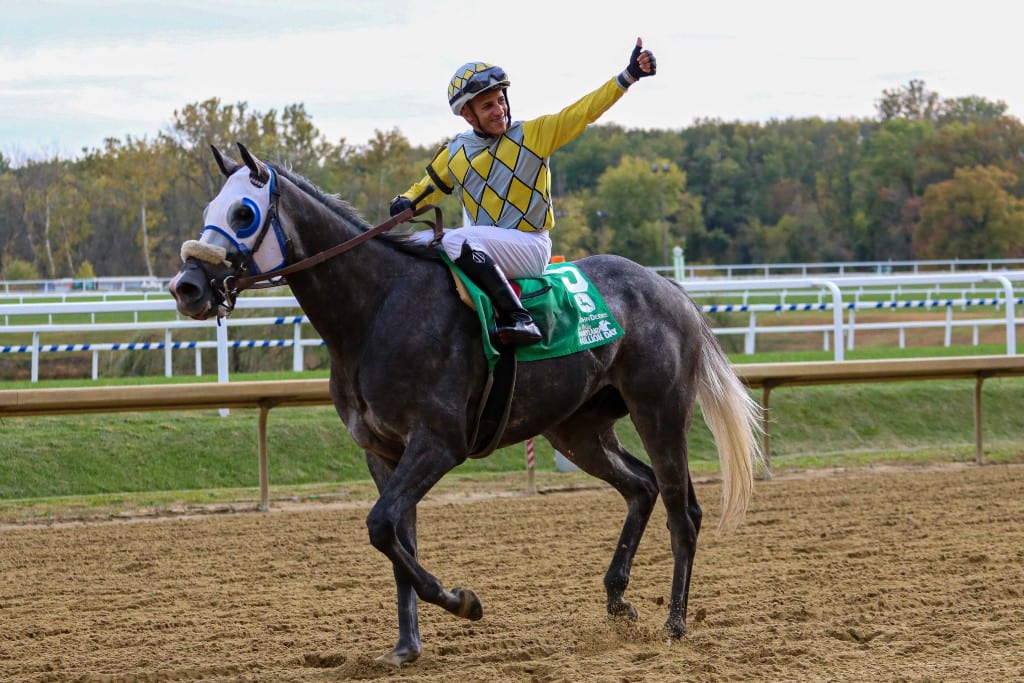 Thumbs up for Mr. d'Angelo after the 2019 Maryland Million Turf from jockey Jevian Toledo. Photo by Dottie Miller.
We're three weekends — eight racing days — into Laurel Park's return to action.
We've seen about enough at this point to ask the bettor's question: Who's hot, and who's not?
Which trainers and jocks are making bettors money, and which are burning it? And perhaps most important: which who are burning it now figure to heat up soon?
JOCKEYS
It's been a three-man show thus far among riders at Laurel Park. Sheldon Russell won five over this past weekend to push his meet-leading total to 12. But Trevor McCarthy and Jevian Toledo both are close at hand, each with 10 wins, Toledo's in part courtesy of finishing up the weekend with three consecutive victories. In fact, he wasn't worse than second in five mounts on Sunday. No other rider has more than four wins.
Russell (+31%) and Toledo (+109%) both are providing bettors a positive return on investment. The leaders in that category are both women, Tais Lyapustina (+225%) and Rebecca Labarre (+162%). Lyapustina is 3-for-20 thus far and won twice this past weekend, both times for trainer Wayne Potts and both horses more than 20-1. Labarre has a single win from 13 starts at the meet, but that one was the 33-1 Saratoga Style — also for Potts.
A couple riders who've been cold but figure to heat up sooner or later: Alex Cintron, a 15% winner on the year but just 3-for-47 so far; Horacio Karamanos (14% but off to a 3-for-41 start); and most of all Angel Cruz, who's won at a 13% clip on the year despite an unsightly 0-for-38 start to the meet.
TRAINERS
Claudio Gonzalez holds a one-win lead – 6-to-5 – over Mike Trombetta and Hugh McMahon in the trainer standings. Gonzalez thus far has just a 15% strike rate – that's quite low for him – but has made up for it in volume, sending out 39 starters, 13 more than any other trainer.
Among trainers with at least 10 starts at the meet, Brittany Russell leads in win percentage. She's 4-for-10 so far for a 40% strike rate. That's one more win than Rodolfo Sanchez-Salamon, who's 3-for-10.
Trombetta is the only one of the top three trainers who's giving bettors a positive ROI. He's at +30%. Wayne Potts leads all trainers in this category with a +341% mark with a 4-for-21 record. Three of his four winners have paid more than 20-1.
Look for trainers Phil Schoenthal, Ferris Allen, Kieron Magee, and Mark Reid to start winning some races. All are 0fer the meet with at least 10 starts, and all have proven track records in Maryland. In particular, Magee is 0-for-16 to date but is winning at a 23% clip overall this season.
HORSES
About three dozen horses have started twice at the current meet – but none has won twice. In fact, only 10 of those two-time starters has won even once.
One of those two-time starters, Dendrobia, has a narrow lead in earnings at the meet. She's bagged a win and $35,225 in earnings at this meet – about $400 more than Harper's First Ride, who's one-for-one.
The oldest horse to win a race at the meet is Chocolate Ride. The 10-year-old, a multiple graded stakes winner in his career, won a $12,500 claiming race June 12 for his 12th career win (in just 34 starts) for trainer Brittany Russell, with husband Sheldon Russell in the irons. The gelding is one of just four 10-year-old starters at the meet.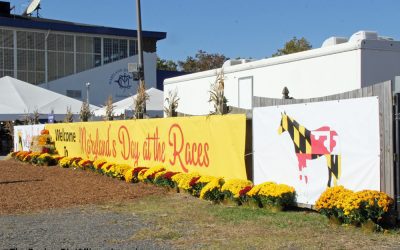 A bevy of defending champions and local stars headline the pre-entries for Jim McKay Maryland Million, which will take place at Laurel Park on Oct. 14.