Pleasant Colony: Dozing to greatness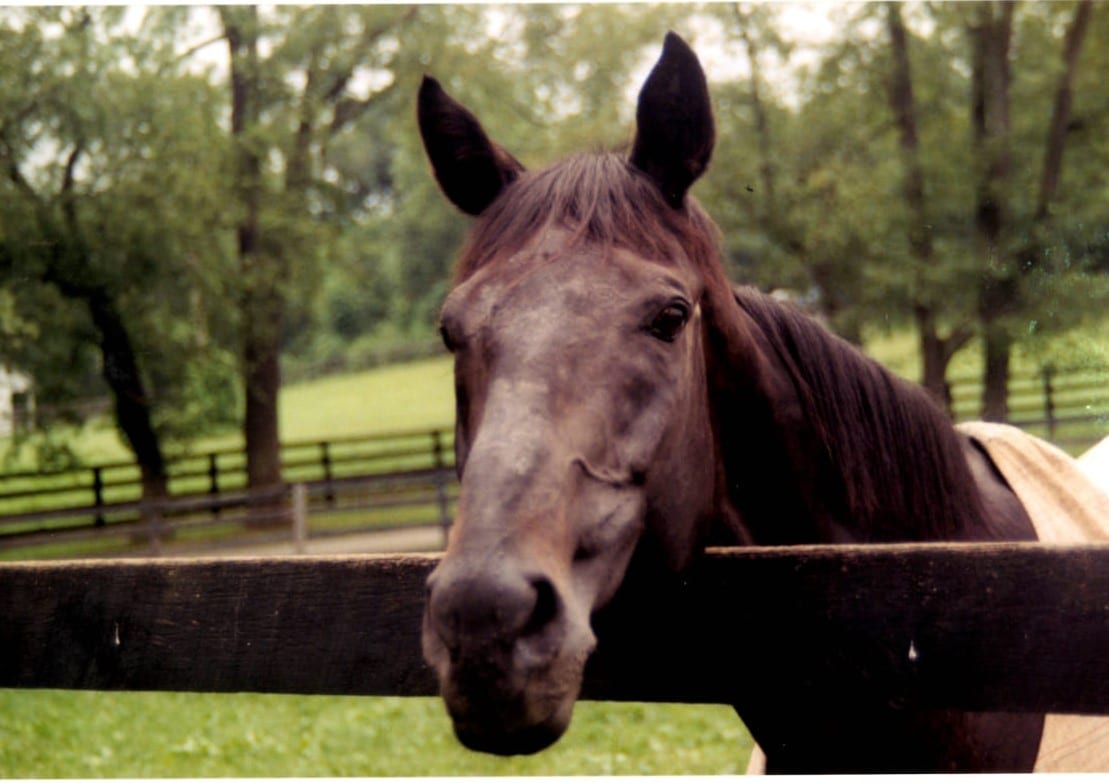 Pleasant Colony in later years. Photo by Nick Hahn. When it came to the lead up to the 1981 Triple Crown, you could have considered Virginia-bred Pleasant Colony, a sleeper in more ways than one. His Triple Crown campaign didn't ignite until he left the starting gate of the Wood Memorial at odds over 12-1. The unexceptional attention Pleasant Colony received coming into the Wood was merited. Previously Pleasant Colony had shown a double-digit length setback in his debut, three second-place finishes to the same horse, Akureyri, (a DQ did result in a Remsen stakes win for Pleasant Colony), and a dull Florida Derby effort, finishing fifth and over 12 lengths behind the winner. Only a nine-length maiden breaking win at the Meadowlands in his second start kept him from never having crossed the finish line first entering the Wood.
Owner Thomas Mellon Evans assigned John Campo the training duties prior to the Wood. He gave Pleasant County a new jockey, Jeffrey Fell, one of six different jockeys who would ride Pleasant Colony in his 14 career starts. After spotting pacesetters Cure the Blues and Noble Nashua a sizable lead, Fell and Pleasant Colony took advantage of a weigh-anchor third quarter and took the lead at the 3/16ths pole to win by three lengths.
"When he won the Wood, I thought we had a pretty good chance to win the Derby with the extra furlong," said Robert "Shel" Evans, T. M. Evans' son. His father had also bred Pleasant County at his Buckland Farm ranch near Warrenton, Virginia.
As the Kentucky Derby approached, another redemption opportunity appeared, this time for veteran jockey, Jorge Velasquez, winless in five prior Kentucky Derby attempts. Velasquez, you could say, toppled onto Pleasant Colony when Fell took the mount on Proud Appeal as part of the coupled entry favored in the Derby. It was the first Derby mount for Velasquez since riding Alydar in his each of his gallant second place Triple Crown races of 1978, when he lost to another horse three times in a row, Affirmed.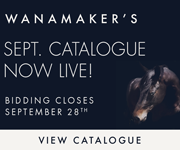 "Too bad he ran into Affirmed. That Belmont Stakes was the best I saw in my life," said Velasquez who had a great seat.
The special relationship between jockey and horse surfaced quickly for Velasquez and Pleasant Colony in his first workout leading up to the Derby.
"He was kinda tall with long legs and a long body. He was good to ride because he suited my style of coming from behind," recollected Velasquez in an interview earlier this year. "He could go very fast at the end, so you can choose your spots easier, you can go in, out, and in between. It makes it easier. He had no speed; he was a plodder. He's not comfortable to ride until he takes off running; then he's very comfortable."
With the styles of the jockey and horse rapidly becoming in sync, Campo infused confidence into the lineup.
"I worked him a mile at Belmont and I told Campo I liked the way he worked," said Velasquez. "I said he was going to be tough. He said he was going to win."
After a quarter-mile in the Derby, Pleasant Colony was 17th in the 21-horse field, the last Derby that started more than twenty. He wouldn't receive another call until after he had worked his way through traffic, straightened up just inside the quarter-pole and targeted Partez, who now taken the lead.
As in the Wood, Pleasant Colony took the lead at the 3/16ths pole and prevailed by three-quarters of a length. If not for the late bid of hard charging Woodchopper, the margin would have been substantially larger. Velasquez finally had his Derby.
"I got to see the light at the end of the tunnel. I didn't know what to do I was so happy. Should I jump off the horse?" Velasquez wondered. "A tear started to come out (and Velasquez had to gather thinking…) you can't be crying on TV so I had to stop myself."
As Velasquez entered the winner's circle, he heard "What, I'd tell you?" as Campo approached. "Preakness, too. You'll see."
"Shel" Evans had fond memories of the winner's circle, as well, using the Derby to advance a courtship underway at the time.
"I was dating my wife and asked her if she wanted to go to the Derby," remembered Evans in an interview earlier this year. "After the race we are down in the winner's circle and she said, 'This is fun. Let's do it again next year.'"
Evans follows an ownership principle of not attending the Derby unless you have a horse in it and responded that he wouldn't be back to the Derby until they ran in it again. He hasn't been back for a Derby since.
With Derby success, Pleasant Colony finally achieved favoritism for the first time in his career in the Preakness when he was backed at 3-2 in the wagering. The emerging colt appeared to be feeding on the frenzy.
"He went to the track on his hind legs," said Evans of his appearance at Pimlico. "He was ready for war."
Trailing the field where he was comfortable, eighth at the first Preakness call among 13 horses, he stayed back, avoiding some of the brushes, bumps and walls ahead of him. Velasquez went wide and late again turning for home, this time attaining the lead at the sixteenth pole, only gradually, to win by a length over Bold Ego.
"You wait 'til he gets good, that's yet to come. This horse does it for fun," Campo said to ABC's Jim McKay on the Pimlico cupola porch after the Preakness.
"And then (in the Belmont) I thought we'd be a cinch," admitted Velasquez.
In under a month, Pleasant Colony went from 12-1 in the Wood starting gate to 2-5 to win the race for the Triple Crown as he sought to become the fourth Triple Crown winner in eight years.
In the 11-horse Belmont stakes, the Pleasant Colony ran last up the long Belmont backstretch behind a pack of slow-moving frontrunners. After working into third, perhaps second briefly as they straightened up at the top of the lane, Velasquez didn't like what he was seeing.
Summing, who'd taken the lead after six furlongs in a dawdling 1:14 1/5, spurted clear in upper stretch, opening a three-length lead.
"Pace killed me in the Belmont," said Velasquez. "Turning for home, I knew I was beat because I was not gaining, I was in trouble. They began to pull away from me again."
Pleasant Colony fought back to gain third, but his Triple Crown bid was negated. He had faced likely a record 42 rivals total in the three Triple Crown races (20 in the Derby, 12 in the Preakness, and 10 in the Belmont). Evans recollected his father accepting the Belmont loss in stride. No excuses, no complaints.
"When he lost the Belmont, my father got up and just walked out," said Evans.
Pleasant Colony would live to race other days, finishing second in the Travers before winning the Woodward in a return to Belmont Park. An Eclipse Award for champion three year awaited him at the finish line in 1981, when Pleasant Colony retired with six wins in 14 starts, earning just shy of a million.
For the younger Evans, the memory of Pleasant Colony's 1981 season continued into the 21st century. For decades, the space for the Belmont Stakes trophy in the Evans' family Triple Crown case remained empty. The quest for the missing trophy moved forward when Evans was shown, nearly dragged, by Cathy Sweezey to see a promising young horse with lineage to Pleasant Colony. Evans immediately spotted a characteristic that was eerily familiar. It took him back to Louisville.
"When we went to the barn in the morning before the Derby, the media was all over the place and (Pleasant Colony) was asleep with his head laying underneath the netting," said Evans. "He was dead asleep. I thought to myself, 'This horse is going to run big today.'''
The dozing trait was no secret to those around him.
"I used to stop by the barn all the time because I was riding a lot of races for Campo," said Velasquez. "I didn't mind he was resting, so I thought 'Let him rest.' Instead of going to eat after a work, Pleasant Colony would sleep and then go eat."
The prospect Shel Evans saw was Tonalist, who like his maternal grandsire, liked a good snooze. When Evans approached, he found Tonalist laid out dozing with his head underneath the stall netting and liked what he saw.
"There's a lot of Pleasant Colony in that horse," thought Evans when he sought the horse in a year when he bought four of his own yearlings. In fact, he cautioned himself, "I really shouldn't do this."
If Tonalist had been a more attractive a prospect, he may not have enjoyed the success he later achieved with Evans. He brought a top bid of $195,000 from Sweezey and partners, but that did not meet Tonalist's reserve. Eventually, Evans purchased him privately from his breeder, Woodslane Farm in the Plains, VA.
Tonalist would later thwart California Chrome's 2014 bid to win the Triple Crown, winning in a style similar to his grandsire.
"He won the leg of the Triple Crown that PC didn't," said Evans, hence, completing the Evans family career Triple Crown.
Pleasant Colony was by His Majesty out of Sun Colony, by Sunrise Flight. Despite having a limited number of mares each year, he would himself sire 1993 Belmont Stakes winner Colonial Affair, Forbidden Apple, Shared Interest, and Pleasant Tap, among others. Pleasant Colony now rests at Buckland Farm, where was buried after passing away on New Year's Eve in 2002.
His grandson satisfied a quest for Evans that began when the great sleeper awoke, rose and besieged the Triple Crown.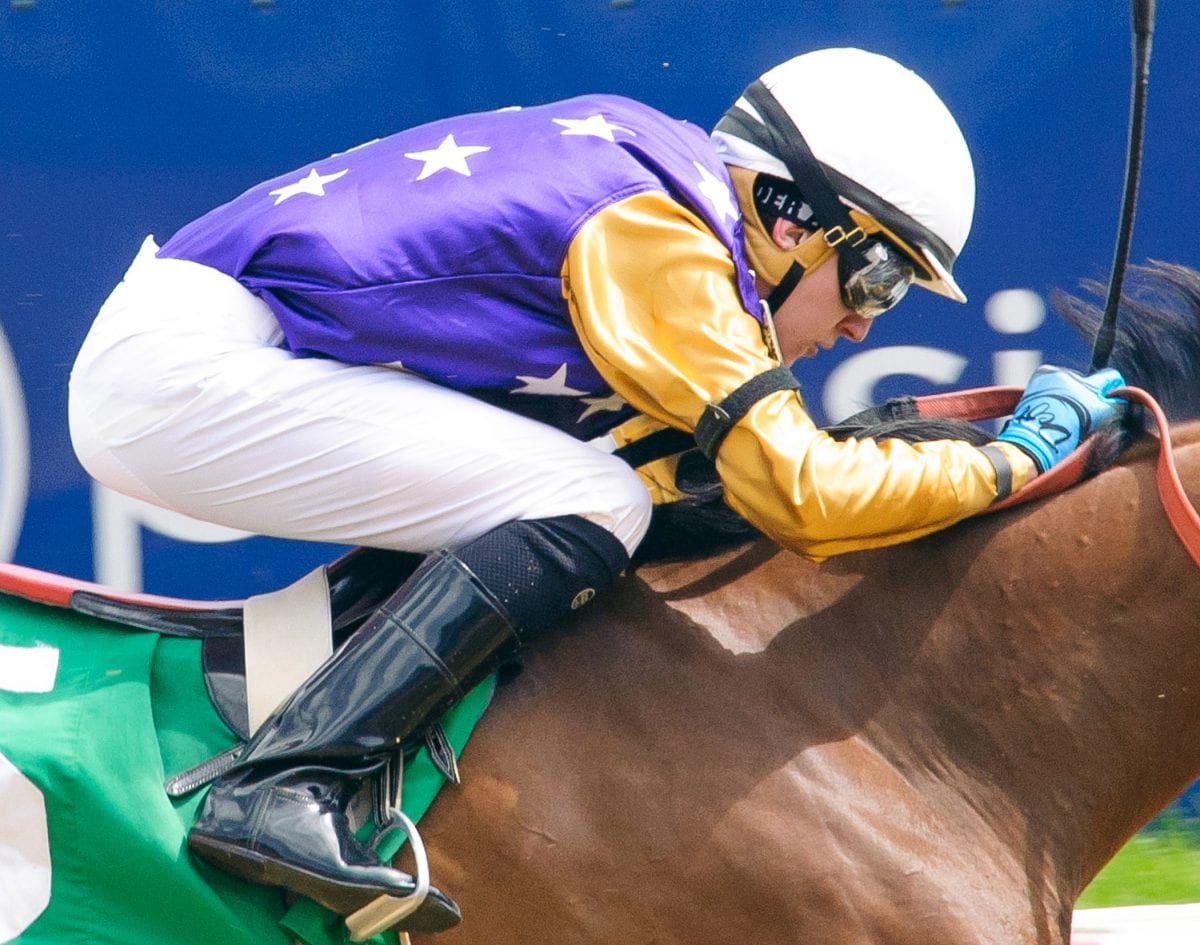 Our correspondent caught up with some jockeys who previously rode regularly at Delaware Park to learn their fondest moments or memories in the First State.