Long wait grown longer for race sec'y Jillian Tullock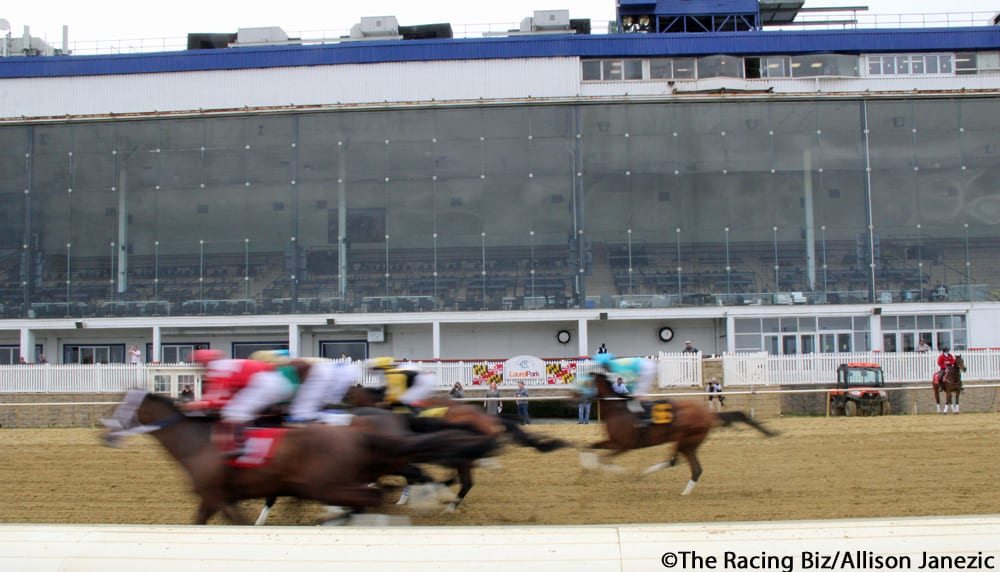 Racing at Laurel Park without fans. Photo by Allison Janezic.
On March 4, Jillian Tullock walked into Laurel Park to begin work as the racing secretary for the Maryland Jockey Club. She oversaw exactly six days of racing before Covid-19 led to the suspension of racing in Maryland, a suspension that is ongoing, much to the frustration of the state's racing community.
"It's mind-boggling to me," she said of the ongoing prohibition of live racing. "We've submitted protocols, and we've been training every day with those protocols. I wrote a condition book, and it's online at Equibase. It's at the printer. I wanted something I could put into trainers' hands so that they know they have something to point to."
How do you write a condition book when you don't know when you can start racing?
"It has no dates in it," Tullock said. "It's a 15-day book, and it says, 'First day,' 'Second day,' 'Third day,' 'Date TBD.'"
Governor Larry Hogan has largely left it to individual counties to determine the extent of re-opening. Neither Hogan nor Anne Arundel County has given Laurel the green light.
But the Maryland Jockey Club announced Wednesday evening via text that on Thursday it would seek approval to resume racing from the Maryland Racing Commission and that it "fully expect[s] official approval to be granted."
If it is, opening day would be Saturday.
Not exactly the conditions under which Tullock expected to begin the job she'd been waiting for for 25 years.
She grew up in Saratoga Springs, New York, born into a family whose racing connections go back decades. Her mother Holly is from the Cassidy family, which produced generations of legendary starters. Marshall Cassidy, the NYRA race caller from 1979 to 1990, is her mother's cousin. Tullock's father, Robert Sofarelli, is a veterinarian.
Despite her geographical and familial connections to Thoroughbred racing, she paid little attention to the sport, finding her passion in other equestrian events, showing horses on the national level, including at Madison Square Garden, the one-time storied home of the National Horse Show. The event was held at the venue from 1883 until 2002, when it moved to Kentucky.
"I didn't go to the prom. I didn't go to homecoming," she said. "I was riding."
That commitment eventually led to burnout, so when Tullock headed to Ithaca College, she stopped riding and focused on academics, earning a degree in sports management. As part of that program, she did a summer internship at Saratoga Race Course, working in the racing office with Marylander Lenny Hale, a vice-president of racing at the New York Racing Association.
"I had no clue about any of it," said Tullock. "Mike Lakow had just started working there, [current NYRA stakes coordinator] Andrew Byrne was there, [former NYRA and Stronach Group executive] P.J. Campo was there.
"As far as I knew, horses ran around the racetrack. I didn't know about levels and conditions and eligibility. I had a lot to learn."
After spending two summers at Saratoga, Tullock was sent to Australia to work at the Victoria Racing Club in Melbourne, Australia, where she "kind of did everything."
"They didn't take entries like we did," she said. "There, 30 years ago, the people in the racing office put the horses where they belonged."
When Tullock enrolled at the University of Maryland to earn a master's degree in sports management, her old mentor Hale hired to work in the racing office for the Maryland tracks. She held a variety of positions, including claims clerk, patrol judge, placing judge, horse identifier, and paddock judge.
In about 2000, when Georganne Hale was named racing secretary at the Maryland Jockey Club, she asked Tullock to be her assistant, a position she held until last summer.
Georganne Hale's tenure as racing secretary ended in July 2018, when she was named vice president of racing development. To replace her, the MJC hired Chris Merz, who at the time was the stakes coordinator at Santa Anita and Del Mar and the assistant racing secretary at Los Alamitos.
A year later, Tullock left the organization that had been her employer for her whole adult life.
"I was happy to be Georganne's assistant for 25 years, but when I didn't get the job when she left, I thought, 'OK. The writing is on the wall. I'm stuck here as an assistant, and I have to advocate for myself,'" she said. "I started to think about how to further my career."
She accepted a position as the manager of racing operations for the National Steeplechase Association, eager to learn about another equine discipline and remain in Maryland.
A few months later, her phone rang. Merz was leaving Maryland to return to California. Would she like to return to the MJC as racing secretary?
"The NSA was very understanding," Tullock said with gratitude. "They were so nice and it was hard leaving. It was a hard decision, but I felt like it was what I needed to do."
Less than a week after her return to Laurel, trainers Jason Servis and Jorge Navarro, both of whom raced occasionally at Laurel, were indicted by the FBI on charges of administering illegal substances to their horses. A few days later, the spread of Covid-19 led to the decision to hold live racing without on-site customers. And less than a week later, racing of any kind came to a screeching halt.
Oh, and a couple days before that, the Maryland legislature approved a plan for the re-development of Pimlico Racecourse and Laurel Park, a plan that will affect Maryland racing for years to come.
Nothing like a smooth transition to a new job.
Tullock continues to work towards the resumption of live racing, helping to design and implement safety protocols for both humans and horses, and now there's at least one target that she can circle on her calendar: Saturday, Oct. 3, the day that the re-scheduled Preakness Stakes will be run at Pimlico.
"I don't want us to be behind when we get back to live racing," she said, explaining that there is money in the purse account while acknowledging that the stakes program may be on hold for the moment, given the dearth of revenue from wagering and Maryland casinos.
She's also thinking long-term, about how the MJC will operate while Pimlico is closed—if, given the current economic devastation, that plan remains in place.
"There are going to be a lot of changes," she said. "We're going to need to figure out where everybody is going to be stabled and what will happen when Laurel is closed."
But for now, her concerns are more immediate. First and foremost, she wants to get the OK to get racing again.
"And then I'd like to slowly try and make our product better," she said. "I want to give our bettors solid races to wager on" — a goal that would be good for her, good for the Maryland Jockey Club, and good for husband Tim Tullock, who serves as an on-air handicapper for the MJC.
Then she added, "Nothing is going to happen overnight. We've got to take things slowly."
Perhaps, though, not quite as slowly as these first three months have been.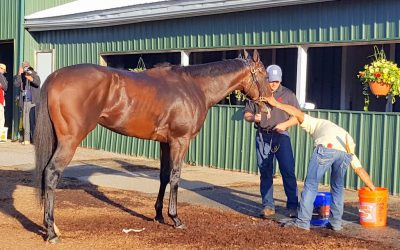 Tough new stable-area rules that include sanctions for violations will help the Maryland Jockey Club (MJC) avoid trouble with the state, the company says.