JP's Picks: Charles Town May 23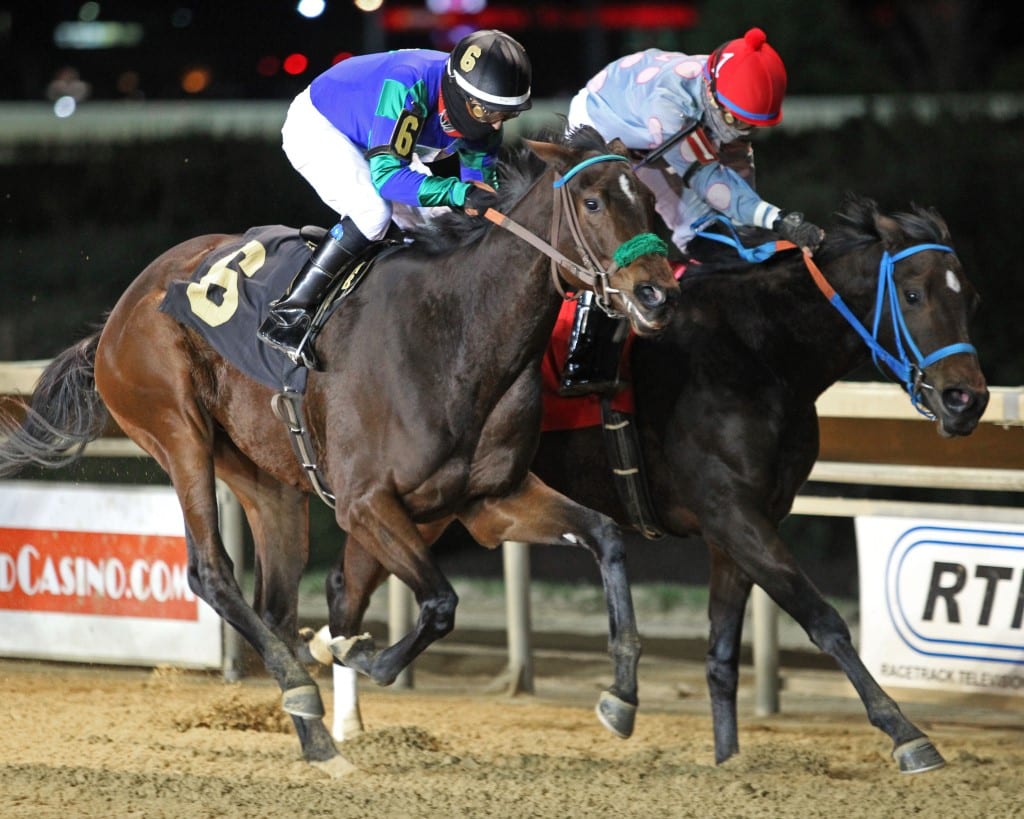 Angle of Attack (outside) narrowly defeated Boundtobebad to win the 2019 Eleanor Casey Memorial Stakes. Photo by Coady Photography.
Our John Piassek provides full-card picks and analysis for this evening's card at Charles Town Races:
RACE 1
#1 Doctor McCoy (5/2): He was entered in a similar spot last week, but didn't draw in off the AE list. 

Drops in class after a decent second-place finish on debut at Laurel Park. He's got a big class edge over most of these: he's never lost a West Virginia-bred maiden race.

#6 Lucky Penguin (3/1): Runco and Bocachica missed with a well-bet firster last week; they're back to the well with a similar-looking horse. He's been working solidly in the morning, but only has one timed drill since April 1. The board will tell the story.
#7 Shameless Risk (7/2): Another first-timer, this one for the Ronney Brown barn. He had a brilliantly fast four-furlong drill in 46.3 seconds last week, setting himself up for a potentially big debut.
RACE 2
#7 Prank Call (6/1): Maryland shipper beat a better field two races back, getting a great trip and drawing off to victory. She hasn't seen these shores in a while, but does have a win here way back in her lines. Should sit a great stalking trip off the leaders.
#1 Party Rock (3/1): Beat a similar field three races back, getting light pressure on the lead and drawing off. She had to battle for the lead last out, but still held well to finish second. She will encounter some pressure, but has the advantageous post position and good enough speed figures to outrun them early and establish good position.
#5 Madeitouttaharlan (9/2): Ollie Figgins had an unconsciously good opening week, with five winners from six starters. He'll send out this mare, making her first start since February 27, when she was non-factor against open claimers. Drops into a restricted class tonight, and beat similar horses three back. Will be coming from far back.
RACE 3
#7 Willie the Whale (6/5): Won two in a row in the fall, then was a solid second after pressing the pace at this level. He's got the most early speed in the field, and should be aggressively used by Latchman. 
#6 Father Don (15/1): Another relative newcomer to the level, he was in the midst of a move last out when he clipped heels and lost all chance. In the race before that, he won a n/w2L claiming contest going away, despite a wide trip.  Should prompt the pace and get first run at the leaders.
#1 Boppin Bob (6/1): He's been picking up checks at this level, and has been working solidly getting ready for his first start since March 5. Battled for third last out after sitting midpack and got nailed on the wire.
RACE 4
#2 Dust to Diamonds (5/2): Makes her first start at Charles Town, after spending last year in Kentucky and Ohio. She's crossed the wire first twice, but was disqualified from her maiden win three back. Easily won gate-to-wire two races ago, then got hung wide against better and lost all chance. Now faces a weak field and has the most early speed in a 4 1/2 furlong contest.
#9 Pure Romance (7/2): Tries winners for the first time after going gate-to-wire last out. That was far and away her best race from a speed figure standpoint, and she's lightly-raced enough to merit respect. 
#3 Witchy Windsor (9/2): Held third in her last race against similar, and should be a prominent pace presence here. 
RACE 5
#2 Prime Line (3/1): In Patterson we trust! This mare hasn't raced since a disastrous effort going 6 1/2 furlongs back in February, when she dueled and gave way. She's now taking a gigantic drop in class, cutting back in distance, and has early speed to spare. She'll either win going away, or lose by the length of the stretch.
#6 Exclusive Symphony (6/1): Got fanned five-wide in her last start and flattened out. Her brisnet figures have improved from her 2019 form, with two figures in the mid-70s on the year.
#3 Intractable (9/2): If Prime Line doesn't fire, this one's most likely to set the pace. Takes a slight drop in class, gets a new jockey in the hot-riding Carlos Delgado.
RACE 6
#7 Wizard of Odds (15/1): In a salty field that's absolutely loaded with speed, he's the type to sit in mid-pack and make a big move on the turn. He beat lesser in two of his last three with that closing style, and if things fall apart, he could shock them. 
#4 Gold Shark (5/1): Battled on the lead last out, but fought on and pulled away late. This is his first race since March 20; trainer Kevin Patterson is a blindingly good 40% off that type of layoff.
#1 Rescue Five (9/2): Gets a cutback in distance after running steady figures in the mid-80s back in March. He'll seek to control the pace from the inside.
 (0 RACE 7
#3 Love That Jazz (7/2):

Runs first off the claim for Ronney Brown after winning two of his last three at Penn National. Goes from open claiming company there to allowance company here, which is not as big a class jump as you might think. Got great stalking trips in those wins at Penn, and should get a similar setup here. 

#8 Runabout (6/1): Ran a non-theatening second in his last start at this level, going 1 1/16 miles. That may have been a bit too far for him; his best figures are generally going a mile or less. Three starts back, he lost an open claiming race at Laurel Park by a head while going 6 1/2 furlongs, the same distance he'll run tonight.
#5 Hockey Puck (5/1): I'm very interested to see this one run. He won the Pennsylvania Nursery at Parx last year in a 13/1 upset, then turned in a dull effort against open stakes company next out. He ran figures in the high 80s and low 90s last year, which would be good enough to win this race, but he is getting a big class shock facing his elders for the first time. 
RACE 8: COIN COLLECTOR STAKES
#5 Bright Dawn (4/1): Showed a ton of fight breaking his maiden last out at Laurel Park. He dueled for the lead, shook clear late, then held off a late run from next-out winner Al Brown for the win. His dueling partner, meanwhile, lost that race by seventeen lengths. Speed figures have been fantastic, and he's got plenty of speed for this 4 1/2 furlong dash.
#4 Muad'dib (5/2): A perfect 3-for-3 over this track, he's cleared his West Virginia-bred allowance conditions without any challenges at all. His figures have improved each time, too, peaking at a 79 last out. He's never faced a horse nearly as good as Bright Dawn before, so this will be the test to see if he's the real deal.
#1 Chief Randel (12/1): Ohio invader is coming off a sharp allowance score at Mahoning Valley back in December. His figure jumped ten points off his prior lifetime top in that race. Might need a screw-tightener, but is still worth a look.
RACE 9
1. #4 Super Garner (2/1): He's got two poor races on his lines against tougher, but against West Virginia-bred claiming types, he's an uncatchable speed demon. He's been no worse than second in five of his last seven, and is coming off a gate-to-wire win against similar.
2. #6 Morning Muse (3/1): A perfect underneath type, he's got a record of 10-1-6-1 over the past two calendar years. He always sits just off the pace, and makes a run that always falls short. The move in here might be a cold Super Garner-Morning Muse exacta.
3. #10 Mighty Bop (10/1): Closed well in his last start, running a career-best figure while getting second at 35/1. Could upse the exotics at a price. 
LATEST WEST VIRGINIA NEWS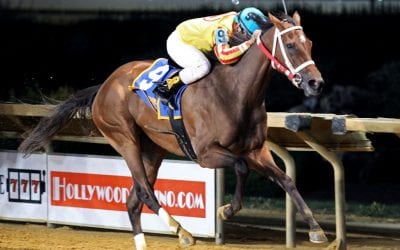 We provide picks and analysis for this evening's card at Charles Town Races.