Maryland horsemen: "We'll get through this"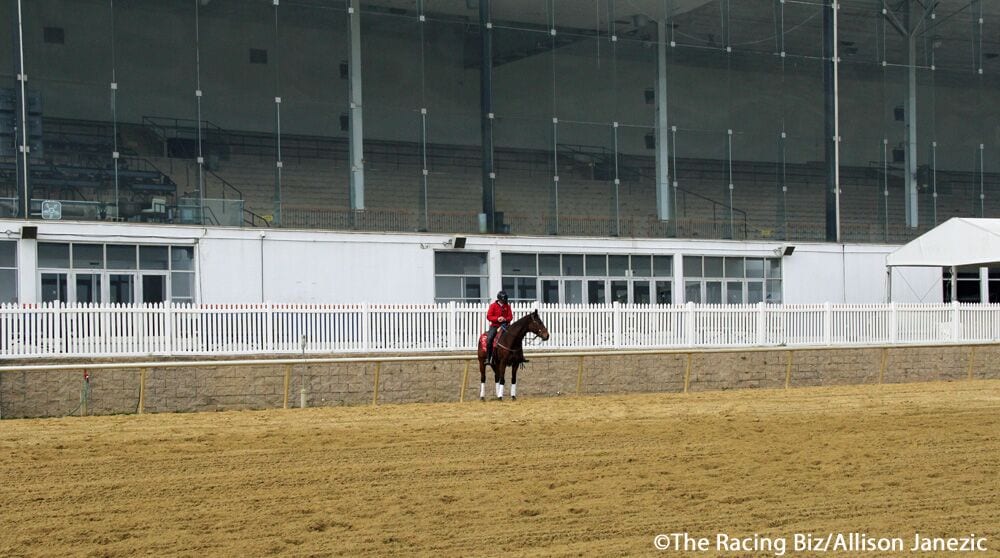 A lonely vigil on March 14 at Laurel Park without fans. Photo by Allison Janezic.
After sweeping each of Laurel Park's first two stakes for 3-year-olds this year, Euro Stable's Lebda was on track to run later this month in the $200,000 Federico Tesio with a free pass to the 145th Preakness (G1) at stake.
Lebda returned to the work tab March 27, two weeks after his triumph in the Private Terms, going a half-mile in 48.20 seconds over Laurel's main track. Leading trainer Claudio Gonzalez said the Raison d'Etat colt won't breeze again until next weekend.
"I'm going to try to breeze every two weeks," Gonzalez said. "Now I skip one week because you never know when we'll be back. Everybody is on the same page – you, me, the horses. Everybody."
Like all Maryland horsemen, Gonzalez has had to adjust his training program with Thoroughbred racing on pause amid the coronavirus outbreak. Laurel Park hosted its last live program March 15.
"It's different. You go easier. All my horses run a lot and now I have to give them a little break and not train them too hard," Gonzalez said. "Now I have five 2-year-olds that are in training. All the horses, I have to go easy because we don't know when we're going to run."
Gonzalez, a 43-year-old cancer survivor, was leading Laurel's trainer standings with 40 wins, 22 more than runner-up Kieron Magee, when racing was suspended with six days remaining in the calendar year-opening winter meet, scheduled to run through March 29.
Maryland's winningest trainer for three consecutive years, Chile-born Gonzalez has 45 horses stabled at Laurel
"We are doing everything we can to keep everyone safe, because it's dangerous. I'm scared, for the families. That's why I told my employees they have to take care because it's tough for everybody. Everybody is always washing their hands and not getting too close, everything we can do to be safe," Gonzalez said.
"A lot of people don't understand, the racehorses are different than other jobs. If you leave them in the stalls, they're going to get hurt because they want to do something," he added. "They have to go outside and jog or do something, anything, gallop nice and easy. They need it. And no matter what, you have to bathe them and you have to put the feed out. Somebody has to be there. They depend on us."
Trainer Dale Capuano has 40 horses on the Laurel backstretch. A winner of 3,479 career races, the 57-year-old Washington, D.C. native has reached $1 million in purse earnings for 27 consecutive years dating back to 1993.
"In this business, you're adapting to things all the time. Every day, you have issues. So, it's not like you're not used to having to call audibles every time you turn around," Capuano said. "It's just part of this business, but this one is a tough one. There's only so much you can do, because there's so many restrictions."
Capuano lauded the Maryland Jockey Club's efforts to protect its horses and horsemen by setting up and enforcing rigid guidelines.
"The track is really strict on so many things – who goes in, who goes out. The racetrack is doing a very good job at policing things and keeping people as safe as possible. I have to give them a lot of credit there," he said. "When you come into the stable area, they take your temperature. That's how it works. So they're really doing as much as they possibly can."
Capuano has also tweaked his training regimen, taking stock on a case-by-case basis.
"Each horse is different based on their needs, but obviously the ones that aren't ready to run and that are getting ready to run, it's a non-issue for them because they wouldn't be racing yet anyway. They're still on their regular training schedule," Capuano said. "As far as the ones that were racing on a regular basis, you just have to evaluate each individual and decide what you need to do with them – whether you want to lighten up with them, and how much.
"Of course, the unknown is when we are going to be back racing again," he added. "Obviously, when you have them at the track you want to have them ready to run when racing does start. It's a balancing act for each horse."
Capuano echoed Gonzalez in stressing the essential nature of caring for the horses, especially when they don't have afternoon racing as an outlet.
"They can't just sit in the stall. You can't just throw them some feed and water and that's it. There's a lot more to it than that," Capuano said. "You don't want them to injure themselves or injure somebody else. They need to exercise and everything has a cost. But right now we're getting through it.
"We're good so far," he added. "I'm safe, my people are safe, and we're doing the best we can. The horses are in good shape, so that's all we can do."
Said Gonzalez: "We are doing everything we can to keep everyone safe, because it's dangerous. I'm scared, for the families. That's why I told my employees they have to take care, because it's tough for everybody."
Both Capuano and Gonzalez credited their clients with keeping the horses in training, which maintains essential jobs for backstretch workers.
"It's tough on the people that own the horses, as well. Their expenses don't really change much because they're still training every day. You have to do the things just like when you're racing, when you're not racing," Capuano said. "It's a tough situation and I feel badly for the owners. Hopefully the horses are able to stay in training and you're able to keep your employees. If not, if the horses go then they have to go, and where do they go? I don't know that the states really realize the effects it has when one horse leaves. As each horse leaves, there's about a person that's almost going to follow it."
Capuano noted the resiliency of the racing industry in banding together to weather tough times, particularly in a state where the Maryland Jockey Club can trace its roots back to 1743 and counted George Washington among its members.
"We're working through it. We usually survive. That's generally what most of these horse people are – survivors," he said. "I'm sure we'll get through this."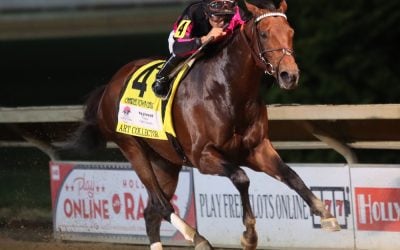 Art Collector's win in Saturday's Grade 1 Pegasus got us wondering: which winners of the Charles Town Classic had the best careers after their Classic win?