Charles Town horsemen pondering uncertain future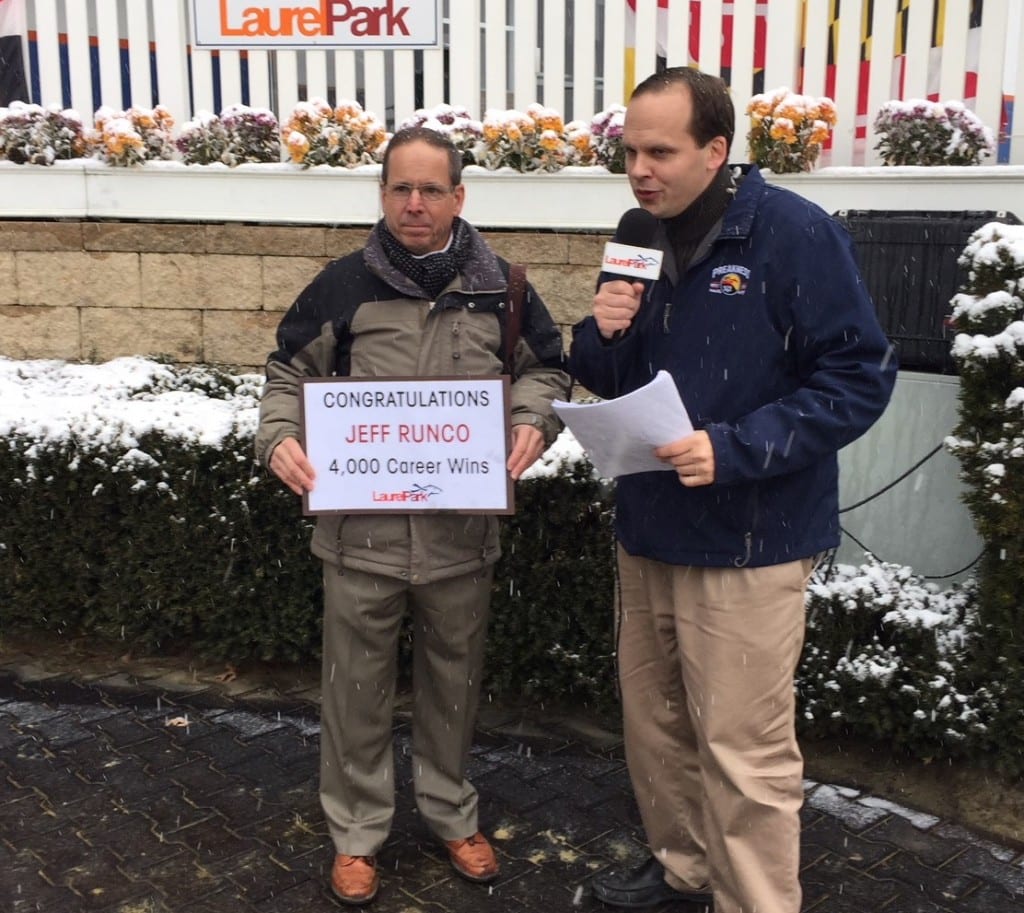 Neither rain nor snow could prevent Jeff Runco (left) from winning his 4,000th race at Laurel Park back in 2017. Photo by Gary Quill.
Talk about a roller coaster.
Owners, trainers, jockeys and everyone else who derives a living from the Charles Town race track has ridden the ups and downs in the last two weeks. Racing was nixed last Wednesday and Thursday but contested as scheduled on Friday and Saturday. The track drew for its Thursday, March 26 card, but live racing has been put on hold indefinitely as West Virginia Governor Jim Justice (R) issued a "stay at home" order for non-essential workers of the Mountain State.
Charles Town had offered an eight-race card on Saturday night that featured the 2020 debuts of Runnin'toluvya and Penguin Power – who were one-two in a state-bred allowance – and the undefeated Muad'dib, the sophomore full-brother to Late Night Pow Wow. With Maryland tracks already shut down by order of Governor Larry Hogan (R), more than 100 horses were entered for the Thursday card that would be preempted by the latest order from West Virginia Governor Justice. Seven of the eight races had horses on the also-eligible list.
"We're pretty much just taking it one day at a time," said trainer Jeff Runco. "Who knows, it could be two to three weeks, it could be a month. We just don't know right now. We're still able to train and get the horses out to the track each morning. We just don't know when we're going to have a chance to run. It's very much up in the air. I am staying optimistic that we can start running again sooner than later, but at this point no one really knows."
Last Saturday night Runnin'toluvya made his seasonal debut for trainer Tim Grams and overhauled the Runco-trained Penguin Power in a two-turn allowance for state-bred older runners. Like Runco, Grams understands the fluid situation regarding the spread of COVID-19 regionally and nationally and the impact that it has had on all facets of life throughout the country, including horse racing in the Mid-Atlantic. The Maryland, Pennsylvania, and West Virginia tracks – the only ones in the region scheduled to be running – all are in mothballs for the time being.
"We were lucky just to be able to run last weekend and we're still open for training," Grams said. "You just don't have anywhere to race right now. Me and [wife] Judy [Grams] are going to be okay, and we have four grooms, five hot walkers and three exercise riders that we need every day. We're not going to let any of them go, but we can't really hire more help right now. We have horses staying ready to run, but we just don't know when we'll be able to run."
Trainer John A. Casey of Down Town Allen pondered what would happen if the live racing hiatus extended into the summer.
"Right now, this is usually the time of year when we're just bringing back some of the horses that didn't get a chance to race last winter," Casey said. "A lot of our better horses have still not made it back to the barn to start training. My guess is it could be three weeks to maybe a month and hopefully we're back running by May first. But no one really knows. We'll be fine for a while. We can still get the horses trained every morning, but we just don't know when we could run."
Casey, Grams and Runco noted their operations are designed to withstand a moderate shutdown, but for some smaller stables, the future is murky.
"There are a number of guys up here that will be fine for a while," Grams said. "Our horses have been running all winter and doing okay. But there are a lot of smaller guys up here that are hurting. If the shutdown lasts for more than a month they might not be able to make it that far. There are a few guys in our barn who might not be able to survive [a prolonged shutdown]. We need those guys. Without those horses we're not going to be able to fill many races."
LATEST WEST VIRGINIA NEWS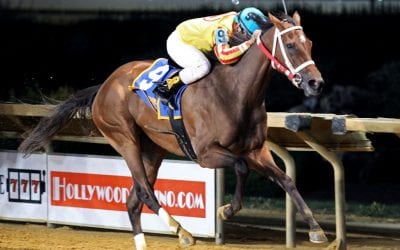 We provide picks and analysis for this evening's card at Charles Town Races.