On Breeding: Fortheluvofbourbon product of generations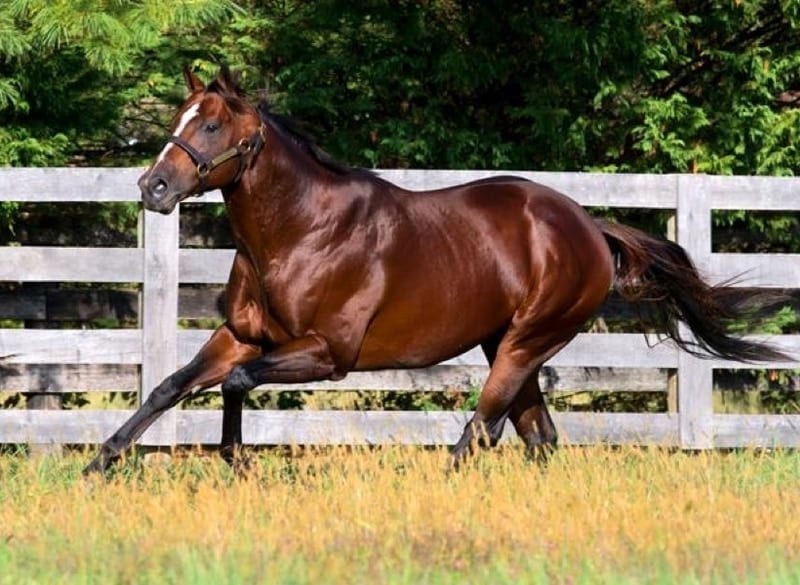 Bourbon Courage. Photo Anchor and Hope Farm.
When Fortheluvofbourbon broke his maiden in commanding fashion at Parx Racing February 4, he represented a deep and successful female line nurtured by the Wilkinson family's Hidden Acres 4-D Farm in Allentown, NJ for several decades.
A 3-year-old Pennsylvania-bred son of Bourbon Courage out of the Not For Love mare Nosubstituteforluv, Fortheluvofbourbon's pedigree is an intriguing blend of speed and stamina, and chock-full of hard-knocking, durable runners by important Maryland stallions.
One of them, Preakness Stakes (Gr. 1) winner Deputed Testamony, figures prominently; he's the sire of Fortheluvofbourbon's second dam, Substitute Witness. Her dam, Jaime W, is a half-sister to Hidden Acres' matriarch, Laura Who, who was also sired by Deputed Testamony.
While Deputed Testamony overcame long odds when he recorded his Preakness victory, he went on to record another Grade 1 victory in the Haskell Invitational Handicap at Monmouth Park, and subsequently became a successful regional stallion after retiring with 11 wins from 20 starts and $674,329.
Bred by Bonita Farm, he stood at that Maryland nursery for his entire stud career, and was a source of stamina during a time when speed was king, as well as one of the last representatives of the Alibhai (GB) sire line.
The son of Traffic Cop, who also stood at Bonita Farm, sired 21 stakes winners, including three graded winners, and his daughters have proven to be valuable as broodmares, having produced Grade 1 winners Bellamy Road and Whitmore's Conn.
Mares by Deputed Testamony are responsible for 17 blacktype winners and 55 percent winners from starters, which have earned nearly $19 million to date.
While his daughter Laura Who was not bred by Hidden Acres 4-D Farm, but by DAJ Stable in New Jersey, she raced for Hidden Acres's founder, David Wilkinson, after having been claimed early in her career. Laura Who was tough and durable, making 88 starts, winning 20 times while earning $248,376. Her career was highlighted by placings in the Lilac, Meadowgoer, and Blakeley stakes, as well as the Northfield Handicap.
As a broodmare, she produced a slew of good horses, nearly all of whom had long careers on the racetrack. Six of her foals earned over $100,000, while Love Who, a foal of 2007 by Not For Love, won the New Jersey Juvenile Stakes and $216,524 from 68 starts. Sonawho, a son of Evening Kris foaled in 2002, was third in the New Jersey Futurity and earned $103,827.
Belong to Who (1997, by Belong to Me), made 43 starts and earned $149,595, while Who's This (1998, by Pappa Riccio), started 52 times and earned $141,897.
"She was our blue hen," said David Todd Wilkinson, one of the four "D"s in the Hidden Acres 4-D Farm name, along with mother Doris, father David, and sibling Dana. "We bred a lot of good horses from her."
Building upon the success of their Deputed Testamony broodmare Laura Who, Hidden Acres had another daughter of that sire, Substitute Witness, in its broodmare band.
Substitute Witness, a multiple allowance winner of nearly $100,000, is out of the Rock Talk mare Jaime W, a half-sister to Laura Who. Jaime W produced a number of good horses, including Stitch N Hitch, New Jersey-bred champion 3-year-old filly in 2000, and Pappa Purdy, a stakes-placed winner of nearly $200,000.
When Substitute Witness was bred to Not For Love, the result was Nosubstituteforluv, who was described by Wilkinson as a very fast filly who unfortunately was retired after one start.
She was sent to young Maryland sire Bourbon Courage, who stands at Anchor and Hope Farm in Port Deposit; and the result was Fortheluvofbourbon.
The mare has since produced a filly by Northview-Pa sire Uncle Lino in 2018 named Gateway Love, and is in foal to Medallist. She is scheduled to be bred back to Bourbon Courage, a millionaire son of Lion Heart out of Shine Forth, by Carson City, who had three stakes horses in his first crop to tie for the region's lead among first-crop sires.
This is English Family 14-C of the stud book, tracing back to Pretty Polly (IRE), a foal of 1901, through her daughter, Molly Desmond, the 10th dam of Fortheluvofbourbon. It is through Molly Desmond that the family got its first classic winner, St Paddy (1957), who won the Derby, Eclipse Stakes and St Leger in 1960. Among successful stallions in this family are Nearctic, who sired Northern Dancer.
Hidden Acres 4-D Farm is located on 220 acres and home to 28 horses. The farm is half planted with crops such as alfalfa, with the other half pasture for horses. About five years ago, the farm began diversifying, breeding warmblood foals and raising a herd of Black Angus cattle.
The family patriarchs, Doris and David Wilkinson, are natives of Bedford, Pa., and became involved in Thoroughbred racing in the late 1960's, when Wilkinson, now 82, was an exercise rider for the late trainer Sonny Hine. Son David Todd now runs the farm and plans the breedings each spring. In the last few years he's decided to foal a few mares at Northview-Pa in Pennsylvania to take advantage of that state's lucrative breeding program. He's also a member of the Burlington County farmland preservation advisory board.
"I love what I'm doing," he said. "I still foal the mares on the farm."
Wilkinson said that Hidden Acres 4-D stands Love Who as a private stallion, as he possesses the blend of Not For Love on top and Deputed Testamony on the bottom in his pedigree. That cross, while from a limited sample of only eight foals, has produced 75 percent winners from starters and two blacktype winners.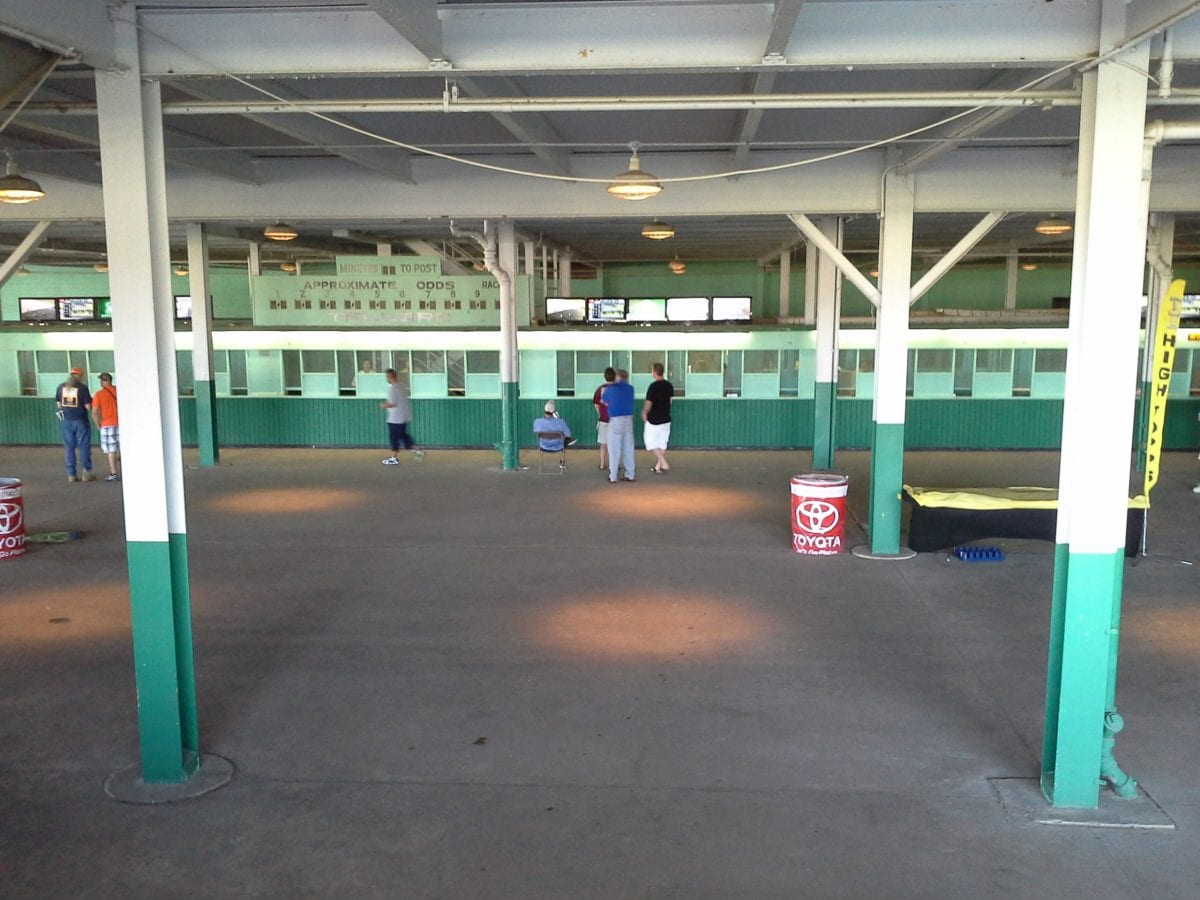 In a new Off the Pace, Mike Valiante shares a dozen rules for handicappers to follow to help them turn accurate prediction into profits.